Vetechy.shop is a deceptive online store, promising irresistible deals on King Crab Legs. However, our investigation shows this to be a far cry from the truth. Continue reading to understand why we believe Vetechy.shop is a scam and why we recommend avoiding transactions with this store.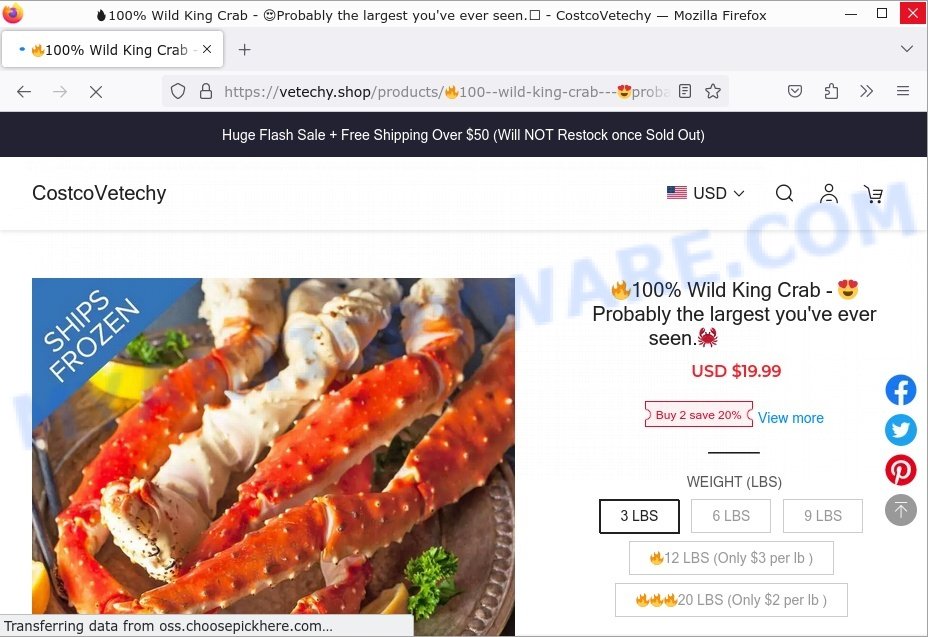 Quick links
Signs of Vetechy.shop Scam
It is important to consider the following red flags when assessing the legitimacy of Vetechy.shop:
The domain was recently created on 2023-07-20 and its WHOIS contacts are hidden.
Contact information is suspicious, only available through an email address (support@billbo.shop) that is linked to other scam shops.
The company behind the shop, Meledo Company Limited, has been associated with other scam activities.
The offers on King Crab Legs, along with freebies like Hand Rolled Salted Butter and 'Just Add Butter' Seafood Seasoning, are unbelievably low, enticing potential victims with a "Big Sale".
No links to any social media platforms have been provided.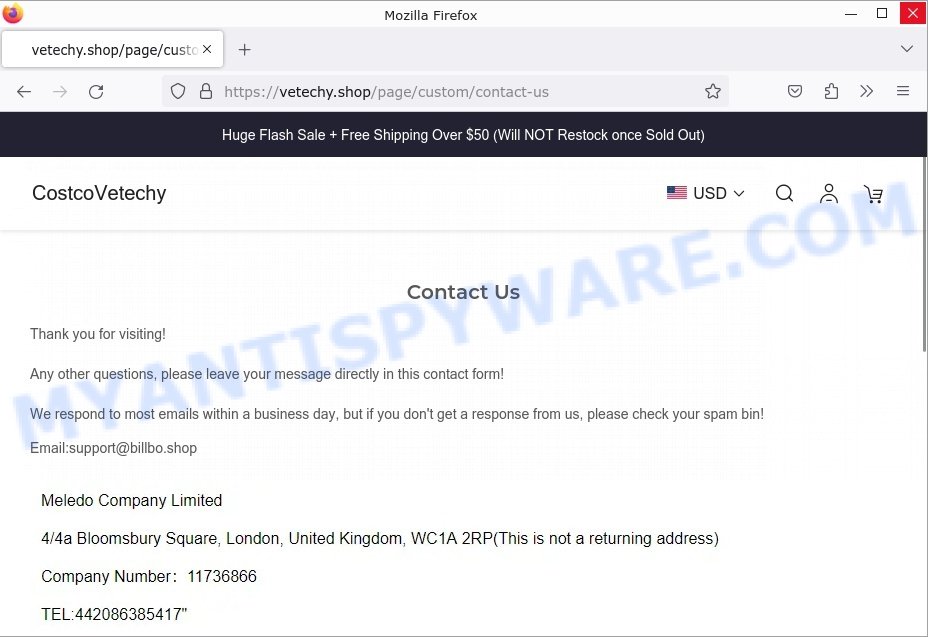 How the Vetechy.shop Scam works
Vetechy.shop is a front for fraudsters who aim to deceive unsuspecting online shoppers. They utilize Facebook ads to lure people in with attractive deals on Colossal Alaskan King Crab Legs and free gifts.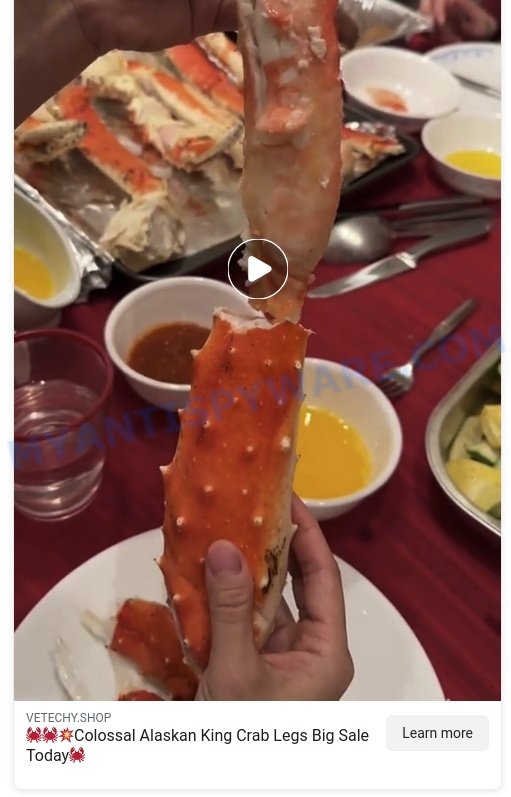 However, these deals are too good to be true. After payment is made, victims either receive nothing or get counterfeit products of negligible value. The scammers provide contact information linked to other scam shops, further confirming the illegitimacy of Vetechy.shop. They have no social media presence, making it even more challenging for victims to get help or information after a scam.
What to do if you become a victim of Vetechy.shop
If you've unfortunately fallen victim to the Vetechy.shop scam, take the following actions:
Contact your bank immediately and explain your situation. They may be able to help you reverse the charges.
Report the scam to your local law enforcement.
Submit a report to your country's consumer protection agency.
Post about your experience on social media and online platforms to warn others.
Other Scam Online Shops to Avoid
In our bid to protect readers from potential scams, we've compiled a list of other suspicious online shops that exhibit similar characteristics to Vetechy.shop. Deceptive practices are their game, and their aim is to lure unsuspecting buyers.
Below are a few examples of the scam online shops you should avoid: Factorydirect-us.com Bed Bath & Beyond Store Scam, Oputcre.shop QVC Store Scam, and Heerful.com $37.95 Hoka Running Shoes Scam.
Summary table for Vetechy.shop
| | |
| --- | --- |
| Name | Vetechy.shop |
| Type | Online Shopping Scam |
| Damage | Loss of Money, Personal Data Risk |
| Distribution | Worldwide, primarily through Facebook Ads |
| Tactics | Fraudulent Sales of King Crab Legs |
| Prices | Unbelievably low |
| Contacts | Email: support@billbo.shop, Company: Meledo Company Limited |
| Prevention Tips | Check the legitimacy of the online store before purchase, Be skeptical of 'too-good-to-be-true' deals |
| Reporting Info | Contact Local Law Enforcement, Report to Consumer Protection Agency |
FAQ About the Vetechy.shop Scam
Is Vetechy.shop a Ыcam?
Vetechy.shop is a scam shop, an online fraud where the site offers unrealistically low prices on King Crab Legs through Facebook Ads. However, customers either receive nothing or substandard products after payment.
Why does the Vetechy.shop scam use Facebook Ads?
Facebook Ads are a popular and effective means of reaching a wide range of potential victims. The scammers exploit this platform due to its extensive user base.
How can I protect myself from scams like Vetechy.shop?
Always research an online store before making a purchase. Be skeptical of incredibly low prices and 'too-good-to-be-true' deals. Check for secure payment options and avoid stores with suspicious or missing contact information.
Conclusion
Vetechy.shop is a scam online store leveraging the popularity of King Crab Legs to lure potential victims. The store presents unrealistic deals to appear attractive and legitimate. However, customers end up receiving nothing or counterfeit items. Protect yourself by being wary of such deals and thoroughly researching any online store before making a purchase.