Koojase.com is a fraudulent online shop posing as a Bed Bath & Beyond store. It's making its scam more enticing by declaring a clearance and closing sale. Continue reading to get a detailed understanding of this scam and how to safeguard yourself.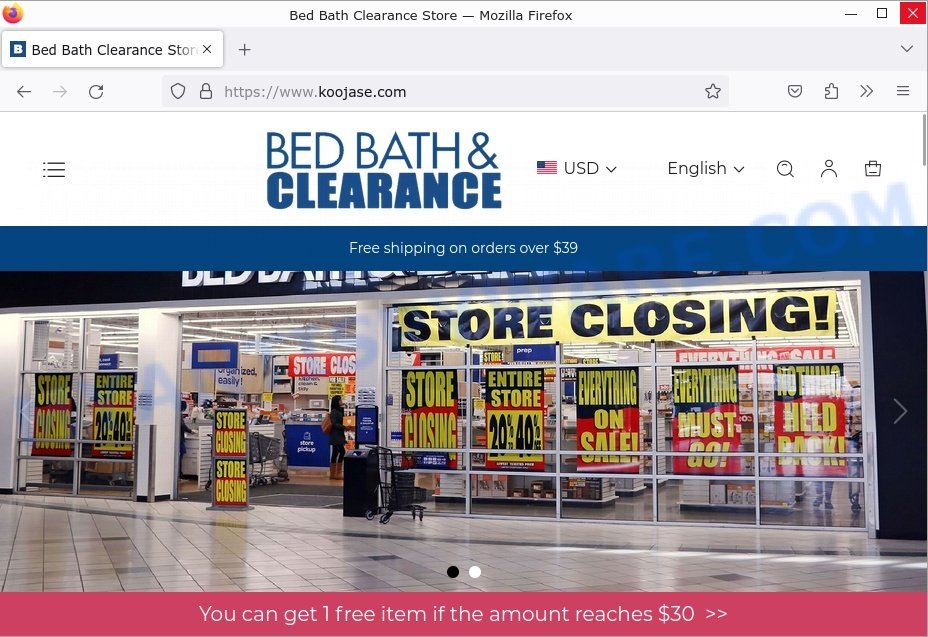 Quick links
Signs of Koojase.com Scam
Here are some common signs of scam that can help you identify such fraudulent websites:
The website is very new as its domain was recently created.
They are offering highly attractive deals and extremely low prices.
The website uses a common template with content and images that may be copied from other sites.
They use catchy slogans like "Clearance Sale" or "Store Closing Sale" to attract customers.
There is no presence or links to any social media platforms.
They provide limited contact information, and the available email address (koojase@ggsfg.com) is associated with other scam shops.
The company information (FADEL-BEATTY LIMITED; Registered office: SUITE 10542, BALMORAL INDUSTRIAL ESTATE, ABBEYLANDS,NAVAN MEATH, C15 DD72, IRELAND) is suspicious, linked with other scam shops.
Customer complaints and delivery issues have been reported.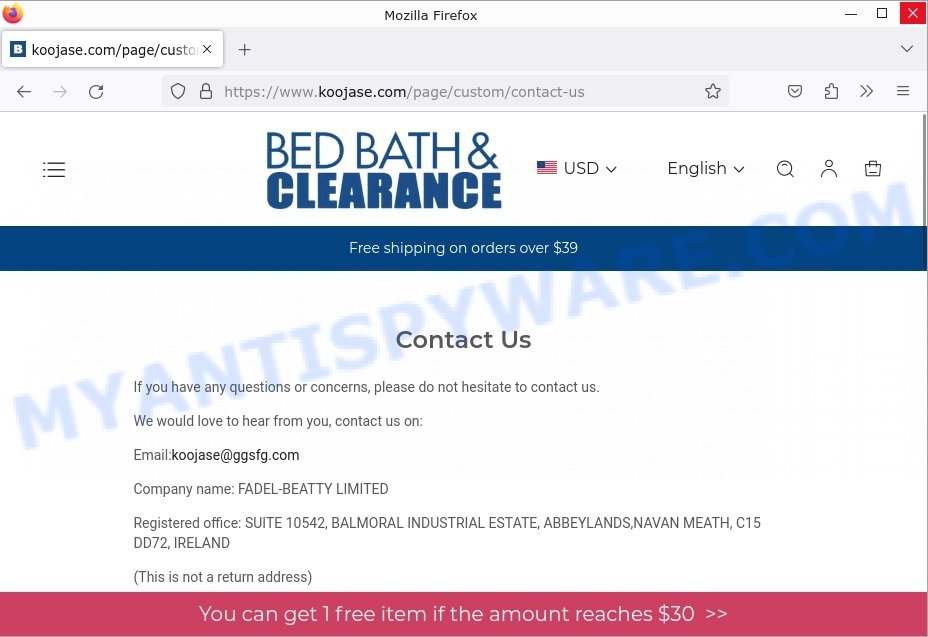 How the Koojase.com Scam works
Koojase.com operates by pretending to be a Bed Bath & Beyond shop and offering clearance sales with items at remarkably low prices. However, once a purchase is made, the promised goods are not delivered, causing a financial loss for the buyer.
What to do if you become a victim of Koojase.com
If you have fallen victim to this scam, you can take the following steps:
Contact your bank or credit card company to inform them about the fraudulent transaction.
Report the scam to local law enforcement.
Change any passwords and security information that might have been compromised.
Other Scam Online Shops to Avoid
Below we will highlight some other suspicious online shops that use deceptive practices similar to Koojase.com. It's crucial to remain vigilant when shopping online and to be aware of the warning signs of potential scams.
Here are a few examples of scam online shops: Ahodenare.com Bookstore Scam, Acstoreus.com DICK'S SPORTING GOODS Store Scam, Axerxm.com Bed Bath & Beyond Store Scam.
| | |
| --- | --- |
| Name | Koojase.com |
| Type | Online Shopping Scam |
| Damage | Financial loss, potential identity theft |
| Distribution | Internet, Email marketing |
| Tactics | Low prices, misleading advertising, no goods delivered |
| Prices | As low as $2.99 |
| Contacts | Email: koojase@ggsfg.com, Company: FADEL-BEATTY LIMITED |
| Prevention Tips | Check authenticity of the website, Be cautious of deals that are too good to be true, Always read reviews before purchasing |
| Reporting Info | Report to local law enforcement, Contact your bank |
Conclusion
Koojase.com is a fraudulent online shop that pretends to be a legitimate Bed Bath & Beyond store. They use misleading tactics and advertising to trick online shoppers. Always exercise caution when shopping online and look out for potential scam indicators to protect your personal and financial information.
FAQ About the Koojase.com Scam
1. Can I get my money back if I fell for the scam?
Yes, if you contact your bank or credit card company immediately after realizing you fell for a scam, they may be able to reverse the transaction.
2. Are there any legitimate clearance sales?
Yes, legitimate businesses do run clearance sales. However, they usually provide contact information, have positive customer reviews, and do not offer items at unrealistically low prices.
3. How can I tell if a website is a scam?
Check the contact information, read customer reviews, watch out for unrealistically low prices, and check how long the website has been operating. Scam websites often have hidden or false contact information, negative reviews or none at all, unrealistically low prices, and are usually recently created.