Myhomedepot.store is a fraudulent online shop that imitates a legitimate retail store, Bed Bath & Beyond. If you've come across an enticing ad about it, you must take the time to read this article before you fall into their trap.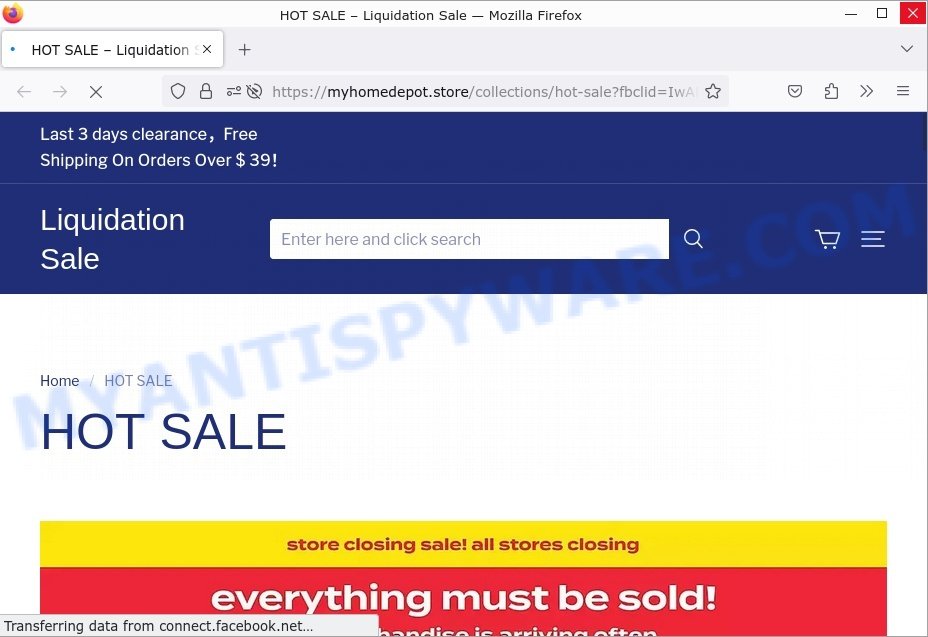 Quick links
Signs of Myhomedepot.store Scam
Noticing these common signs of scam can help you avoid falling victim:
Recently created domain. Myhomedepot.store was just created on July 20, 2023
Unbelievable deals and incredibly low prices. They offer a clearance sale of products as low as $2.99, which is too good to be true
Template design, content, images, descriptions taken from other sites
Enticing slogans like "Clearance Sale", "Free return", "Huge Discounts", "Limited Time Sale"
Time counter on the product page, pressuring you to make a hasty purchase
Lack of contact information. Only an email address, myhomedepot@xbhgd.com, is provided
No real info about the company behind. Registered under AIMARK LTD, which is linked with other scam shops
No social media presence or links to any social media platforms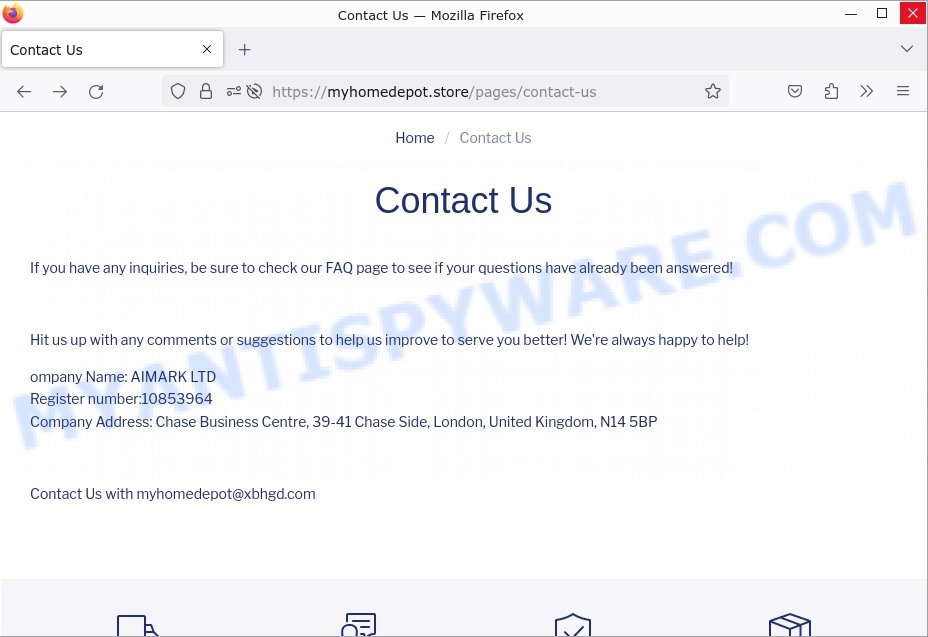 How the Myhomedepot.store Scam works
Myhomedepot.store is designed to impersonate a well-known retail store, Bed Bath & Beyond. The scammers start by luring potential victims through Facebook ads that advertise clearance sales of up to 85% off with product prices as low as $2.99. This enticing promotion coupled with the pressure of a "limited time sale" and "3 days clearance" push unsuspecting customers to make purchases hastily.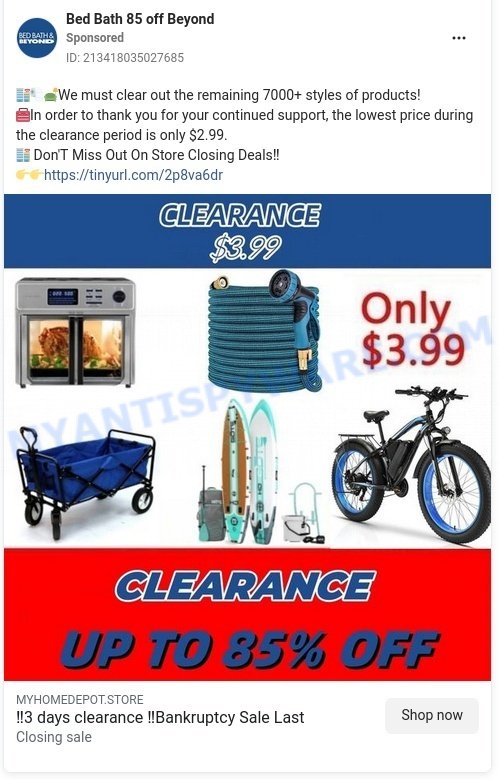 Upon completion of the payment, the customer will either receive counterfeit products or nothing at all. The provided email for contact is linked with other scam shops and no real information about the company behind is provided, making it nearly impossible for customers to get any assistance or refunds.
What to do if you become a victim of Myhomedepot.store
If you suspect that you have fallen victim to the Myhomedepot.store scam, it's crucial to act quickly to protect your personal and financial information. Here's what you can do:
Contact your bank or credit card company to report the fraud and dispute any transactions
Report the scam to your local law enforcement agency
Change your online banking passwords and other sensitive information
Monitor your financial accounts for any unusual activities
Other Scam Online Shops to Avoid
As part of our ongoing effort to protect our readers from potential scams, we have compiled a list of other suspicious online shops that you should be aware of. These shops share similar characteristics and tactics to Myhomedepot.store, and they use deceptive practices to lure in unsuspecting buyers. It's crucial to remain vigilant when shopping online and to be aware of the warning signs of a potential scam.
Here are a few examples of the scam online shops: Ahodenare.com Bookstore Scam, Acstoreus.com DICK'S SPORTING GOODS Store Scam, Axerxm.com Bed Bath & Beyond Store Scam.
| | |
| --- | --- |
| Name | Myhomedepot.store |
| Type | Online Scam (Fake Shop) |
| Damage | Loss of Money, Potential Identity Theft |
| Distribution | Primarily via Facebook ads |
| Tactics | Fake clearance sales, incredibly low prices, time-limited sales |
| Prices | As low as $2.99 |
| Contacts | Email: myhomedepot@xbhgd.com; Company: AIMARK LTD |
| Prevention Tips | Check the legitimacy of the website before making any purchase, be wary of too good to be true deals |
| Reporting Info | Report to local law enforcement agency and financial institution |
Conclusion
Myhomedepot.store is a scam online shop designed to trick innocent buyers into purchasing non-existent or counterfeit products. The site employs various deceptive tactics including false clearance sales and unrealistically low prices to lure potential victims. It's crucial to always be vigilant and conduct due diligence before making purchases from unfamiliar online stores.
FAQ About the Myhomedepot.store Scam
Is Myhomedepot.store a legitimate online shop?
No, Myhomedepot.store is not a legitimate online shop. It's a scam that imitates the reputable retailer, Bed Bath & Beyond, to trick people into making purchases.
What are the red flags to look out for when identifying online shop scams like Myhomedepot.store?
Common red flags include recently created domains, lack of contact information or real company information, unbelievable deals and low prices, and a lack of social media presence.
Can I get my money back if I fell for the scam?
Yes, in most cases, if you contact your bank or credit card company immediately after realizing you fell for a scam, they may be able to reverse the transaction.
Are there any legitimate clearance sales?
Yes, legitimate businesses do run clearance sales. However, they usually provide contact information, have positive customer reviews, and do not offer items at ridiculously low prices.