Antivirus Agent Pro is a rogue antivirus/antispyware program that uses scare tactics (display fake alerts and false positives) to trick you into buying the fake software and distributed through the use trojans (trojan Vundo, for example).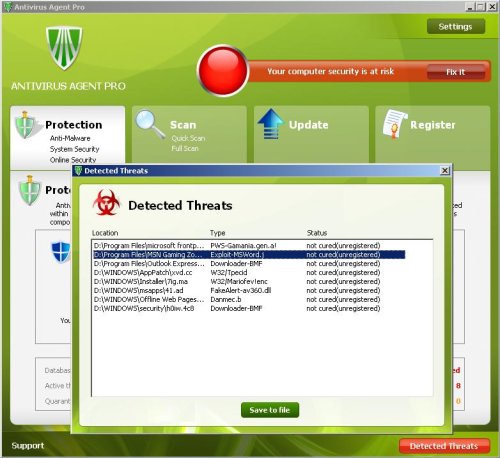 During installation, Antivirus Agent Pro configures itself to run automatically every time, when you start your computer. Once running, it will scan your computer and reports false or exaggerated system security threats on the computer that cannot be removed unless you first purchase the software. In addition the program creates a few files:
%programfiles%\microsoft frontpage\ot.dk6
%programfiles%\MSN Gaming Zone\6ehoj.s0
%programfiles%\Outlook Express\7om3.km
%windir%\AppPatch\xvd.cc
%windir%\Installer\7ig.ma
%windir%\msapps\41.ad
%windir%\Offline Web Pages\nfy8o.rk
%windir%\security\h0iw.4c8
These files during the scan will determine as trojans and spyware. For example: %programfiles%\MSN Gaming Zone\6ehoj.s0 labels as Exploit-MSWord.j, %programfiles%\microsoft frontpage\ot.dk6 labels as PWS-Gamania.gen.a!.
Antivirus Agent Pro also generates fake security alerts:
Your computer is infected!
8 virus threat(s) are detected.
Click here to cure and protect your computer from spyware.
and may drastically slow the performance of your computer. Use the free instructions below for removing the Antivirus Agent Pro and any associated malware from your computer.

Symptoms in a HijackThis Log.
O4 – HKLM\..\Run: [guard] C:\WINDOWS\guard.exe
O4 – HKLM\..\Run: [Antivirus Agent Pro] C:\Program Files\Antivirus Agent Pro\aap.exe
Use the following instructions to remove Antivirus Agent Pro(Uninstall instructions).
1. Remove trojan Vundo.
Some variants of Antivirus Agent Pro uses trojan Vundo to install itself.
2. Remove Antivirus Agent Pro files and registry keys.
3. Remove Antivirus Agent Pro associated malware.
Using Malwarebytes Anti-Malware.
Using SuperAntispyware.
Note: if you need help with the instructions, then post your questions in our Spyware Removal forum.
Antivirus Agent Pro creates the following files and folders.
%windir%\guard.exe
%DesktopDir%\Antivirus Agent Pro.lnk
%ProgramFiles%\Antivirus Agent Pro 1.00\Antivirus Agent Pro.lnk
%ProgramFiles%\TriTech Software\Antivirus Agent Pro\aap.exe
%ProgramFiles%\TriTech Software\Antivirus Agent Pro\Infected.wav
%ProgramFiles%\TriTech Software\Antivirus Agent Pro\Uninstall.exe
%ProgramFiles%\TriTech Software\Antivirus Agent Pro\Uninstall.ini
%programfiles%\microsoft frontpage\ot.dk6
%programfiles%\MSN Gaming Zone\6ehoj.s0
%programfiles%\Outlook Express\7om3.km
%windir%\AppPatch\xvd.cc
%windir%\Installer\7ig.ma
%windir%\msapps\41.ad
%windir%\Offline Web Pages\nfy8o.rk
%windir%\security\h0iw.4c8