Many people recently encountered a seemingly attractive offer while browsing their social media or checking emails: the Temu Mystery Box. These posts and emails promise a mystery box from Temu, filled with various items, for a small price. However, it's important to understand that this is a scam.
The reality is that the Temu Mystery Box is a deceptive tactic used to trick people into giving away their personal and financial information, leading to unauthorized charges and subscriptions. In the following article, we will explore the specifics of this scam, how it operates, and why it's a threat. Read on to learn how to identify and protect yourself from such online scams.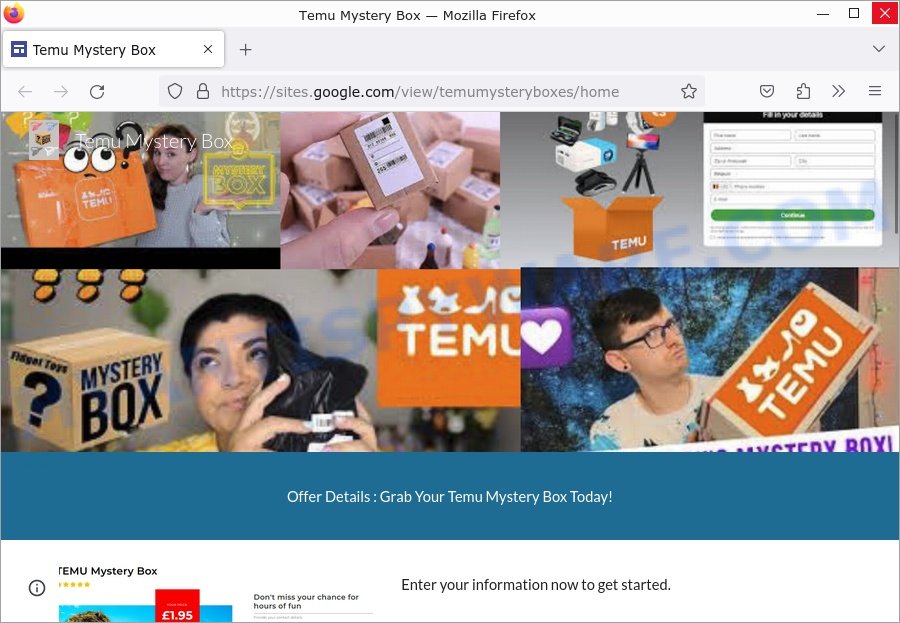 Table of Contents
🚨 Is the Temu Mystery Box a Scam?
The Temu Mystery Box scam is a sophisticated online scheme 🌐 circulating on social media platforms like Facebook 📘 and through spam emails 📧. It lures individuals with the promise of receiving a mystery box 🎁 from Temu, a known online marketplace, for a seemingly small fee 💸. The scam begins with an invitation to claim this mystery box by visiting a website, often hosted on Google Sites with names like "temumysteryboxes" or "grab-your-temu-mystery-box."
🚩 Red Flags of the Scam
📧 Suspicious Promotion Channels: The use of spam emails and social media advertisements is a common tactic in online scams. Legitimate offers usually come from verified sources and not through unsolicited messages.
🛑 Misleading Websites and Redirects: The initial website is often a facade, leading users through a series of redirects to various websites, some flagged as malicious. This tactic is a red flag for phishing operations.
💳 Requests for Personal and Financial Information: The final destination of these redirects is a website asking for personal details and credit card information, purportedly for a minimal shipping fee. Any legitimate offer wouldn't require extensive personal information for a small transaction.
📄 Deceptive Terms and Conditions: The terms and conditions associated with the Temu mystery box are misleading. They indicate that the fee is not for shipping the box but for a chance to win it, with subsequent hidden charges and automatic subscriptions.
💰 Automatic Recurring Charges: The scam involves automatically enrolling users in a monthly subscription service with high charges. This is a common tactic in scams, where small initial charges lead to larger, recurring fees.
🤔 Difficulty in Cancellation and Obtaining Refunds: The provided terms of service make it seem easy to cancel subscriptions or obtain refunds, but in reality, such processes are often complicated and frustrating, trapping users in ongoing payments.
In summary, the Temu Mystery Box scheme exhibits several hallmarks of an online scam. It employs deceptive marketing tactics, misleading terms, and manipulative practices to ensnare individuals into a cycle of recurring charges under the guise of a tempting offer 🕸️. The difficulty in canceling subscriptions and obtaining refunds further compounds the issue, making it a clear trap for unsuspecting victims. It's crucial for consumers to remain vigilant against such schemes, always verify the legitimacy of offers, and approach unsolicited online deals with a healthy dose of skepticism.
🕵️‍♂️ How the Temu Mystery Box Scam Works
The Temu Mystery Box scam is a fraudulent scheme that targets users online, promising them a valuable product for a seemingly small cost. It cleverly manipulates users from the moment they click on an ad or email to the point where they are trapped in a cycle of recurring charges. Here, we'll outline each step of this scam in detail, showing how it operates to deceive and exploit its victims.
📘 Online Ads and 📧 Emails
The scam often begins with digital ads on platforms like Facebook or unsolicited emails. These ads and emails promote the Temu Mystery Box 🎁, enticing users with the prospect of getting a valuable box for a small fee.
🌐 Redirecting to a Fake Website
Individuals who show interest are redirected from these ads or emails to a fake website. These websites, often named with variations of "Temu" and "mystery box" are designed to look professional and legitimate to gain the user's trust.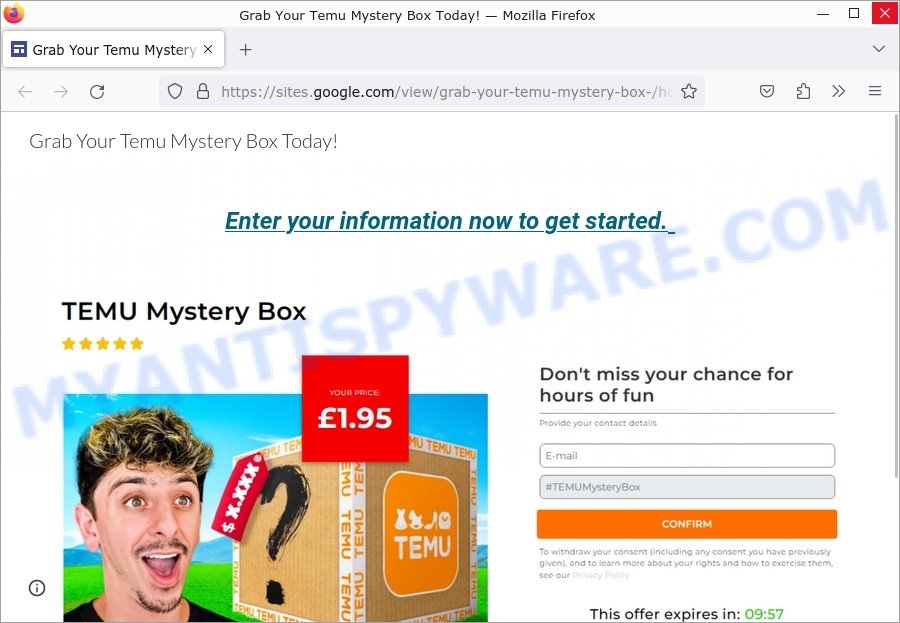 🎁 Offering the Mystery Box
The website features an offer for the Temu Mystery Box. It is presented as an amazing deal, where the user can get the box for what is claimed to be a minor shipping and handling fee.
📋 Asking for Personal Details
To proceed with getting the mystery box, the site asks the user to enter personal information such as name, address, and sometimes email. This step is framed as necessary for shipping but is actually used to harvest personal data.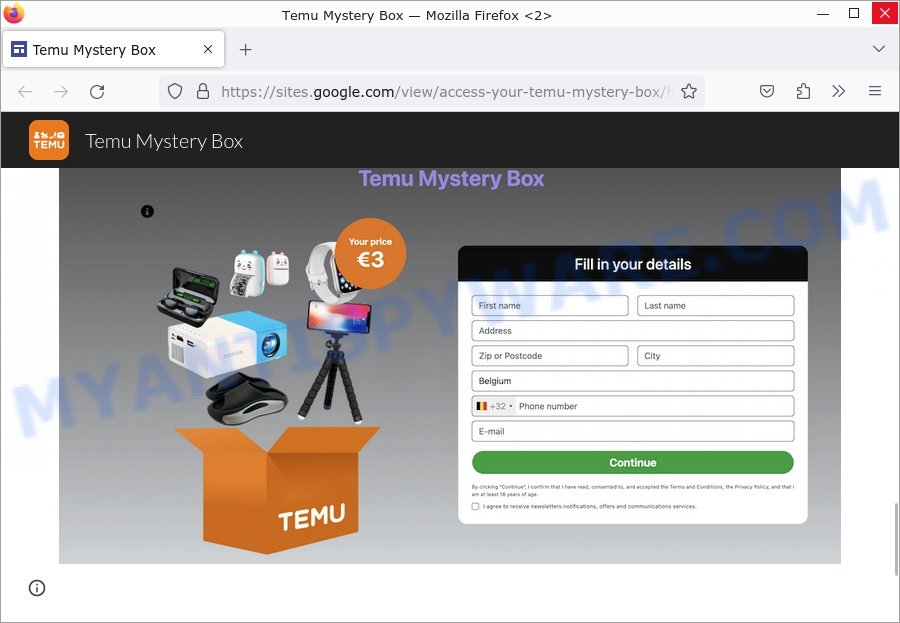 💳 Credit Card Information for Supposed Shipping Fees
The most critical step is when the site asks for credit card details, allegedly to cover the shipping fee. In reality, this information is used to enroll the user in a subscription service with recurring monthly charges, often hidden in the terms and conditions.
📜 Misleading Terms and Conditions
The terms and conditions on these websites are often complex and misleading. They reveal that the initial payment is not actually for the mystery box, but rather for a chance to win it. Additionally, they include clauses for automatic subscription renewals and hefty monthly charges.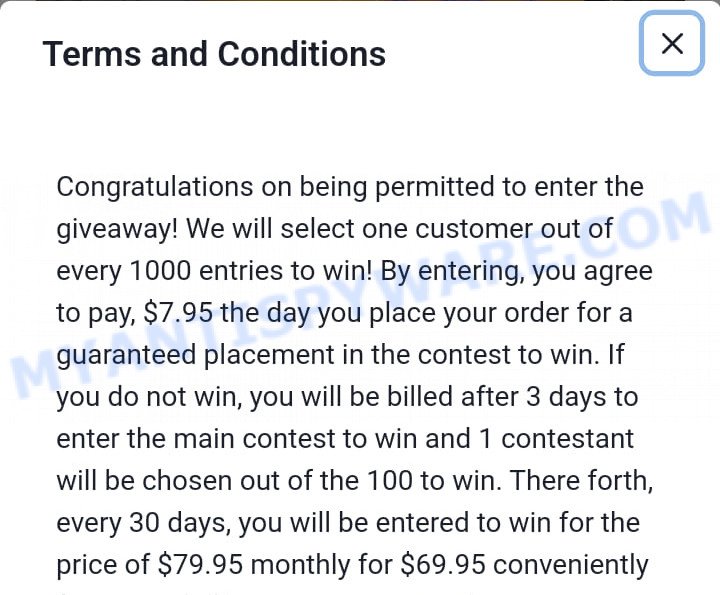 🔀 Complex Web of Redirections
The process often involves a series of redirects through various websites: singingfiles.com, mbuncha.com, sprkcvr.com (these sites are flagged by VirusTotal as malicious and phishing). This tactic serves to confuse the victim, making it harder to understand the scam and trace its origin.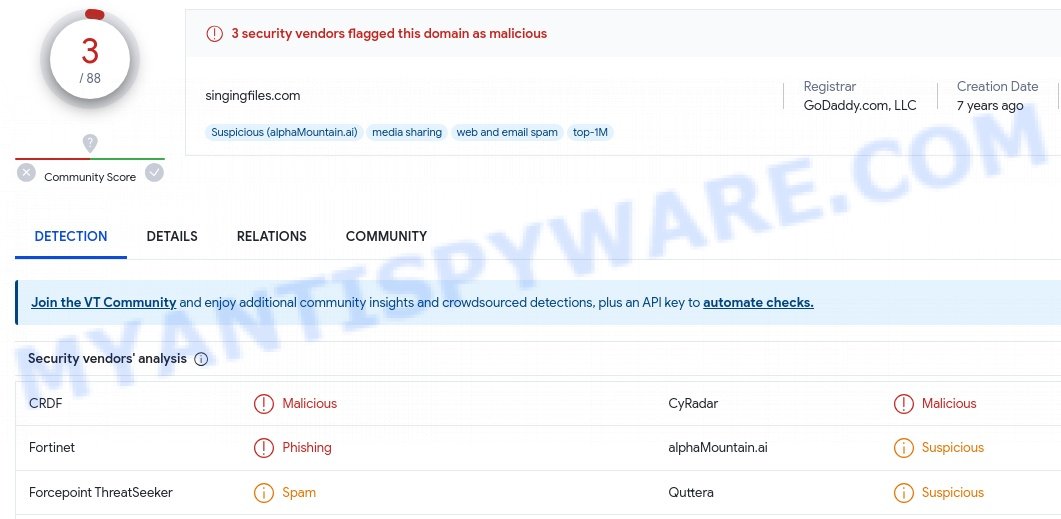 🔄 Difficult Cancellation and Refund Process
When a user tries to cancel the subscription or ask for a refund, they usually face a complicated and discouraging process. This is intentionally designed to make it hard to stop the recurring charges and to prolong the financial extraction from the victim.
---
In summary, this scam is a calculated operation using deceptive ads, fake websites, and complex terms to trick people into recurring payments. It highlights the need for vigilance and caution when dealing with online offers, especially those requiring personal and financial information. Always read terms carefully and be skeptical of offers that seem too good to be true. To stay safe, double-check any promotions through official and recognized channels. Avoid sharing personal or financial information on suspicious platforms.
💡 Beware of Similar Scams
Scams like the Temu Mystery Box are not isolated incidents. They are part of a broader pattern of online fraud targeting fans of celebrities and popular products. Here are other notable examples:
This scam promises users a chance to win $750 if they complete certain tasks, often circulating on social media or via text messages. The scam involves completing surveys, providing personal information, and sometimes downloading apps, which can lead to data theft or unwanted charges. Genuine Cash App giveaways will not require completing surveys or downloading unknown apps. Verify any such offers through Cash App's official channels.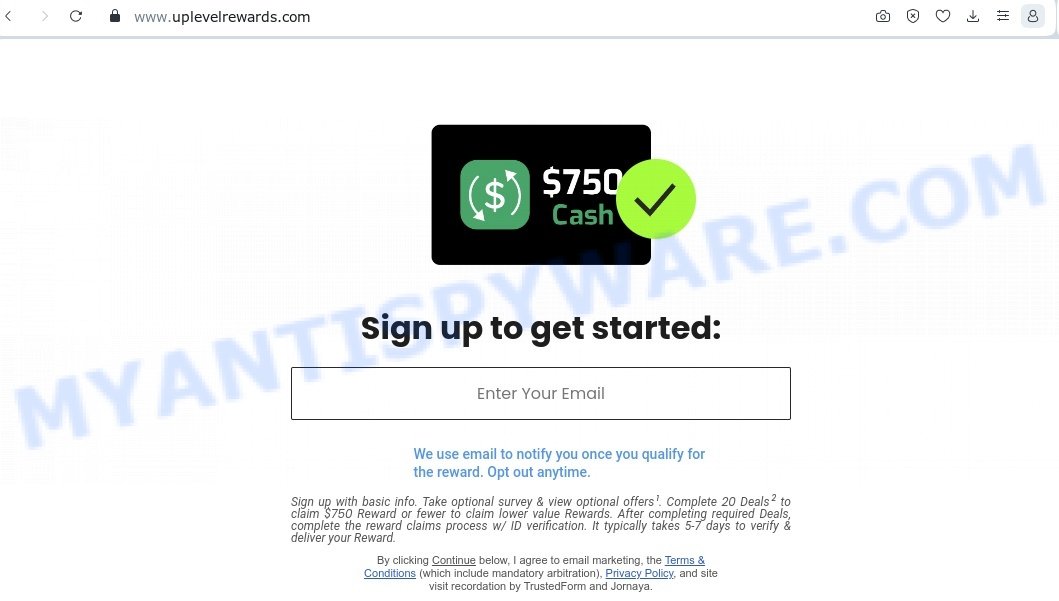 This scam leveraged the popularity of celebrity chef Guy Fieri to deceive people on Facebook. It promised a free Pit Boss grill, a popular brand in the barbecue community, supposedly endorsed by Fieri. Similar to the Temu Mystery Box scam, users were led through a series of steps, including surveys and personal information submission, under the guise of winning a grill. This scam likely ended with requests for shipping fees or other payments, harvesting both personal data and financial information.
Similar to the Temu Mystery Box scam, this one promised users a chance to get a premium Le Creuset product from KOHL'S for a fraction of its regular price or as a giveaway. However, those who fell for the trap either never received the product or found unrelated items added to their online shopping carts.

The popular YouTuber Mr Beast is known for his legitimate and extravagant giveaways. Scammers took advantage of his reputation by creating fake giveaway campaigns in his name, asking participants to provide personal details or even make a small payment to qualify.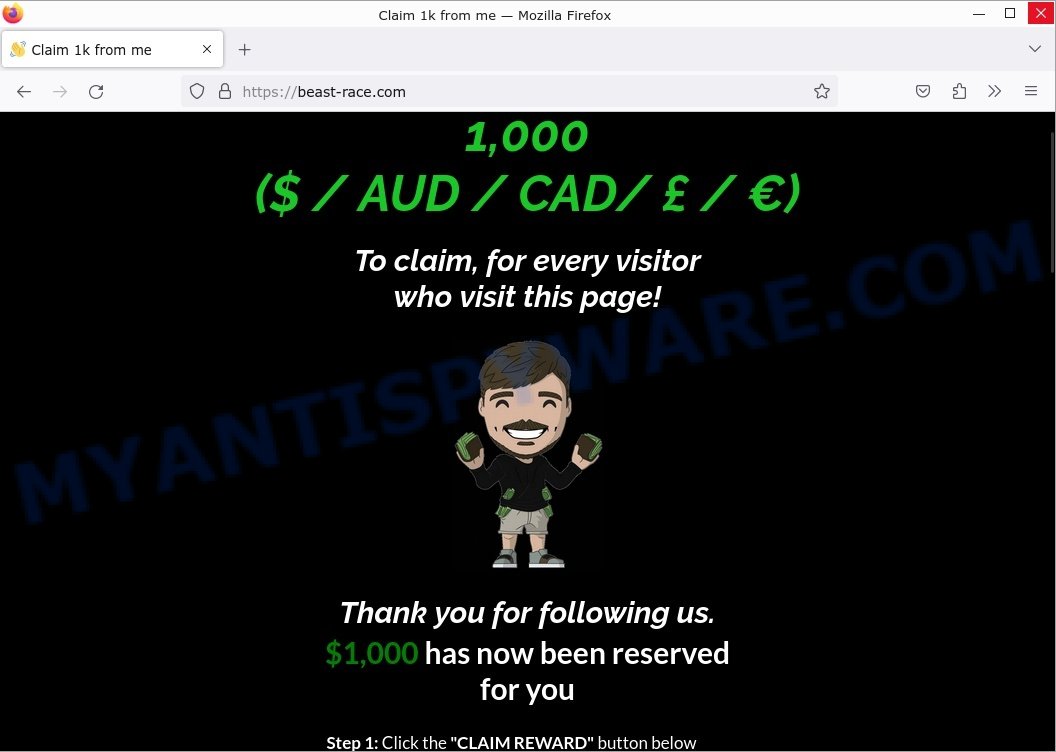 😱 What to Do If Scammed
If you've been caught up in the "Temu Mystery Box" scam, don't panic. It's important to act quickly to protect yourself and your finances. Here's a step-by-step guide on what to do next:
🏦 Contact Your Financial Institution
Immediately inform your bank or credit card company about the unauthorized transaction. They may be able to stop the transaction, reverse it, or even issue a chargeback. Request a new credit/debit card if you believe your card details have been compromised. Document any financial losses. This can be essential for investigations and potential reimbursements.
🔐 Change Passwords
If you suspect your personal information, especially passwords, have been compromised, change them immediately. This is crucial for accounts linked to financial institutions or personal data. Consider using a reputable password manager to ensure strong, unique passwords for each account.
👀 Monitor Your Accounts
Keep a close eye on your bank and credit card statements for the next several months. Look for any unauthorized or suspicious transactions, no matter how small. Consider enrolling in a credit monitoring service. Some services will alert you to changes in your credit report, potentially indicating identity theft.
🚔 Report the Scam
If you encountered scam ads on Facebook, Instagram, TikTok or other platforms, report them so they can be removed.
💻 Check Your Computer
If you've downloaded any file or clicked on any links, your device might be infected. Run a comprehensive antivirus scan.
📘 Educate Yourself
Familiarize yourself with common scam tactics to avoid falling victim in the future. Stay updated on recent scams or phishing methods by following news sources or official government warnings.
📢 Inform Others
Warn friends and family about the scam, especially if it's widespread. Sharing your experience can help protect others from the same pitfalls.
Summary Table
| | |
| --- | --- |
| Name | Temu Mystery Box Scam, "Grab Your Temu Mystery Box Today" Scam, TEMUMysteryBox |
| Type | Online Giveaway/Shopping Scam |
| Fake Claims | Offering a "Temu Mystery Box" for a minimal fee (often disguised as shipping costs) |
| Disguise | Advertisements on social media and spam emails; websites mimicking legitimate shopping sites |
| Scammers' websites | Sites hosted on platforms like Google Sites with names like "temumysteryboxes" or similar variations |
| Damage | Loss of personal and financial information, unauthorized recurring charges on credit cards, potential identity theft |
| Distribution | Primarily through social media ads (like Facebook) and spam emails |
| Indicators of the scam | Too-good-to-be-true offer; Countdown timers to create urgency; Redirected to an unfamiliar website after clicking; Unusual URLs not linked to official brands; Hidden charges or subscription details |
| Prevention Tips | Verify the legitimacy of offers through official channels, be cautious with unsolicited emails, read terms and conditions carefully, avoid sharing credit card information on unverified sites |
| Reporting Info | Report suspicious ads directly on social media platforms; For financial fraud, contact your bank immediately; In the U.S., consider reporting to the Federal Trade Commission (FTC) at reportfraud.ftc.gov. |
Conclusion
The Temu Mystery Box Scam is an example of how online scams operate. It starts with ads or emails offering an attractive product for a small fee, but this is a trick to collect personal and financial information. The scam leads to fake websites that ask for credit card details and then enroll victims in expensive subscription services without clear consent.
This scam highlights the need for 🔍 diligence in verifying online offers, particularly when they involve entering personal information or making payments. Being aware of 🕵️‍♂️ scammers' tactics and the nature of ⚠️ fraudulent sites is crucial in protecting oneself from similar online scams.