Beware of the Hey Dude Shoes $19.99 sale scam! Recent reports have uncovered a disturbing trend of fraudulent websites masquerading as official Hey Dude stores, luring unsuspecting customers with irresistible prices. These scam shops, sporting the familiar Hey Dude logo and product images, claim to offer their entire collection at a fraction of the real price. However, the truth is far from what it seems. In reality, these websites are cleverly designed traps, aiming to steal your hard-earned money and personal information.
Want to protect yourself from falling victim to this sneaky scheme? Read on to uncover the red flags and learn how to spot these fake websites. Don't be the next victim—arm yourself with knowledge and stay one step ahead of scammers. Read the full article to learn more about the Hey Dude Shoes $19.99 sale scam and safeguard your online shopping experience.
QUICK LINKS
How the scam works
The Hey Dude Shoes $19.99 sale scam is a deceptive scheme that preys on unsuspecting online shoppers. The scam operates by creating fake websites that mimic the appearance of legitimate Hey Dude stores, such as the official website (www.heydude.com). Scammers cleverly use genuine product photos sourced from the official Hey Dude website and other reputable sources to give their fake websites an air of authenticity.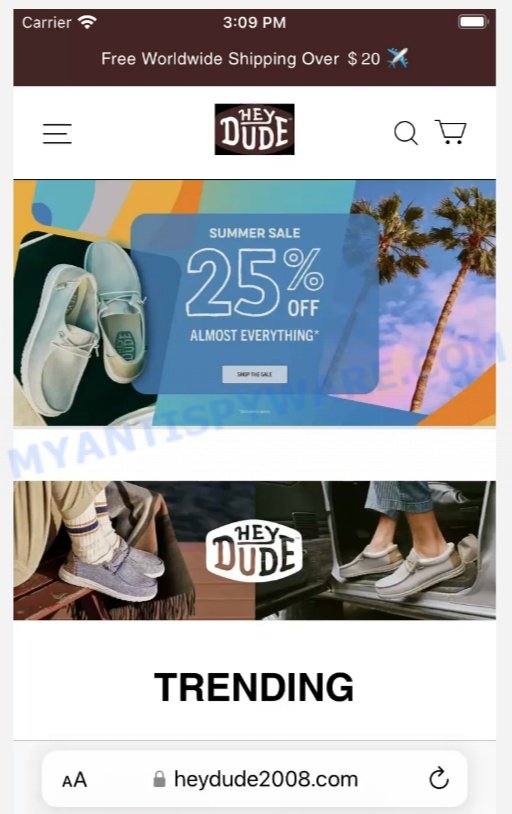 To attract potential victims, the scammers heavily rely on Facebook ads. These ads strategically target users, promoting the incredible deal of purchasing Hey Dude shoes for a mere $19.99. The ads create a sense of urgency by claiming limited quantities and often include phrases like "last day sale" or "today only," urging users to take immediate action.
Once users click on the ad and land on the scam shop's website, they are greeted with a generic template design, complete with the replicated Hey Dude logo and product descriptions. However, a closer look reveals that these websites lack crucial information. Instead of providing a legitimate contact page, they only offer an email address (often the same one used across multiple scam shops) and the name of a company called AIMARK LTD.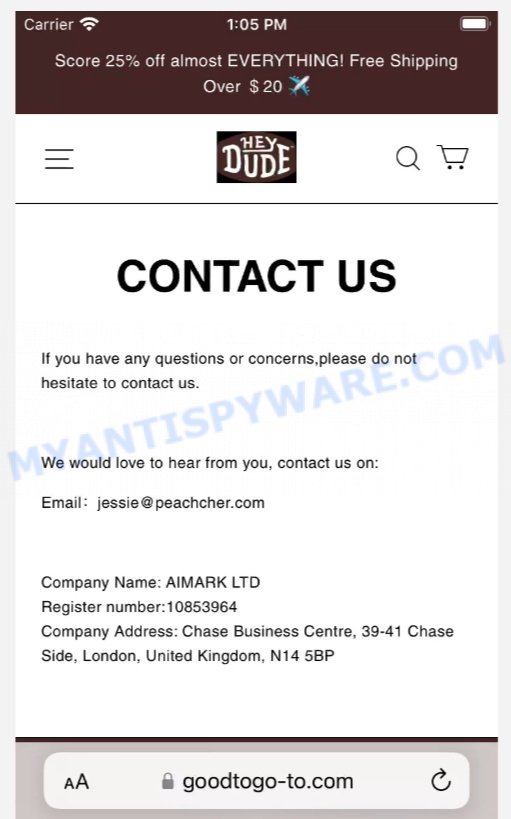 The scammers register new domains for each scam shop, making it difficult to track their fraudulent activities. Consequently, when checking the details of these scam shops, you'll find that the domains are recently created and registered for a short duration, typically one year. Furthermore, the scammers deliberately hide or delete all contact information, leaving victims with no reliable means to resolve issues or seek refunds.
In addition to their deceptive tactics, the creators of these fake Hey Dude stores employ a sneaky JavaScript technique to further complicate the analysis of their scam shops. By implementing this JavaScript, the scammers can detect the device from which a user enters their website. If the user is accessing the site from a mobile phone, they are shown the main page and product pages, creating the illusion of a legitimate online store.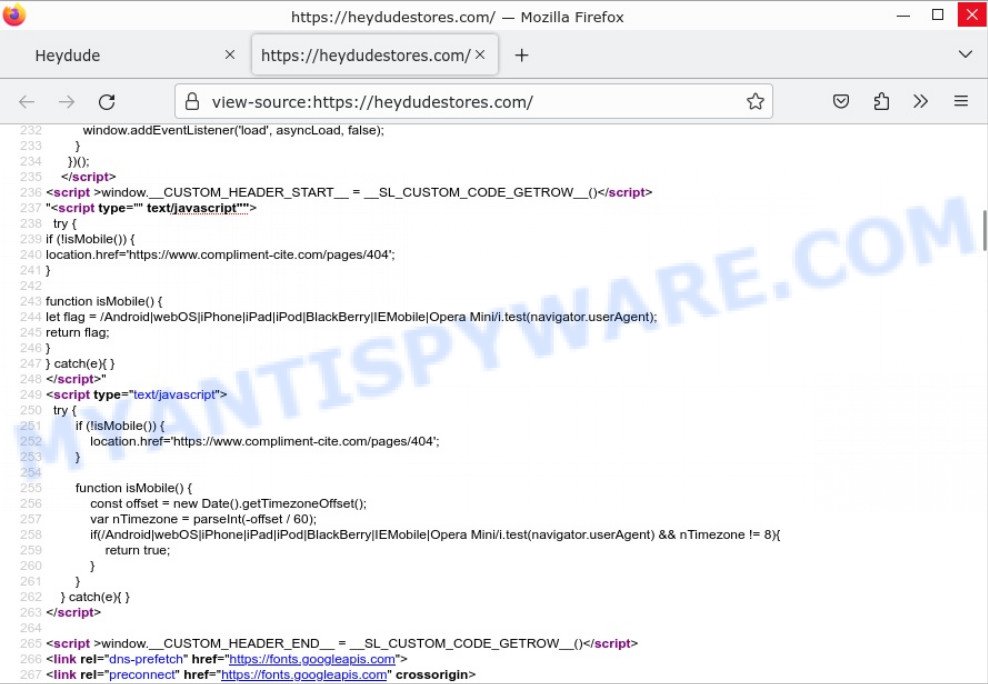 However, if the user is using a device other than a mobile phone, such as a computer, they are immediately redirected to a different page with the address "https://www.compliment-cite.com/pages/404". This deliberate redirection to an error page makes it challenging to investigate and analyze these fraudulent operations. It appears that the scammers are employing this technique to obscure their scam shops, adding another layer of complexity to their scheme.
To avoid falling for the Hey Dude Shoes $19.99 sale Scam, it is crucial to be cautious when buying products online, especially if they are being offered at a suspiciously low price. Always verify the legitimacy of the website and the seller before making any payment, and only use reputable and trusted online marketplaces or retailers. If you come across any suspicious or fraudulent activity online, report it to the relevant authorities immediately to help prevent others from becoming victims of these scams.
Examples of similar scams
The Hey Dude Shoes $19.99 sale scam is just one of many fraudulent schemes targeting unsuspecting online shoppers. Scammers have become increasingly adept at creating fake online stores, mimicking well-known brands and enticing customers with unbelievably low prices. Here are a few examples to highlight the prevalence of such deceptive schemes:
Beta Tool Box Scam: This scam specifically targets tool enthusiasts and bargain hunters, leveraging their desire for quality tools at affordable prices. At the center of the Beta Tool Box Scam is an alluring offer—a Beta Tool Box bundled with an impressive collection of 273 tools, priced at an unbelievably low $39.99. Scammers orchestrate this deceptive operation by creating fraudulent websites and advertisements, designed to deceive unsuspecting buyers into making a purchase.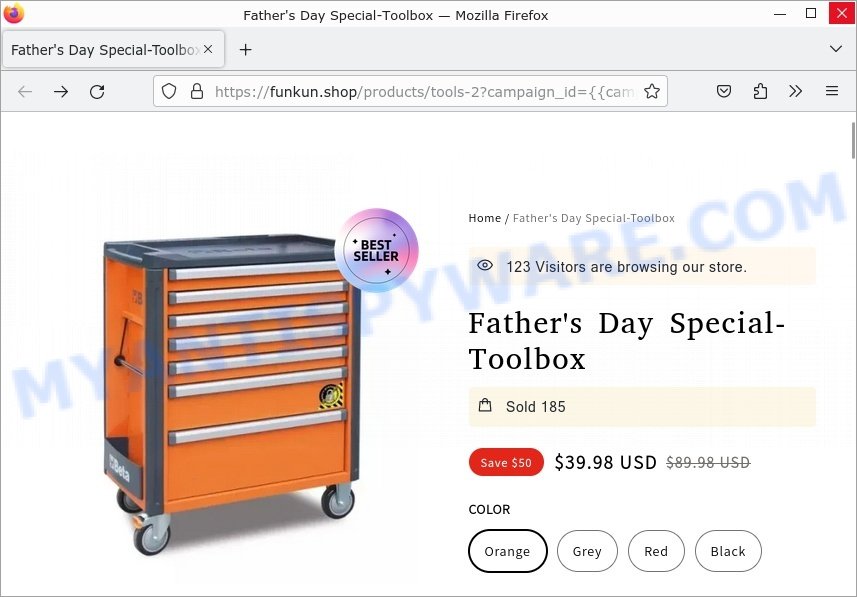 Electric Go Kart Pro Scam: One notable example is the Facebook's Electric Go Kart Pro Scam, a deceptive operation that targets individuals interested in purchasing electric go-karts. Scammers create enticing Facebook ads showcasing the Electric Go Kart Pro at unbelievably low prices, far below the market value. These ads often include limited-time offers, compelling users to make impulsive purchases. However, upon clicking the ads, victims are directed to fraudulent websites that not only fail to deliver the promised product but also compromise personal and financial information.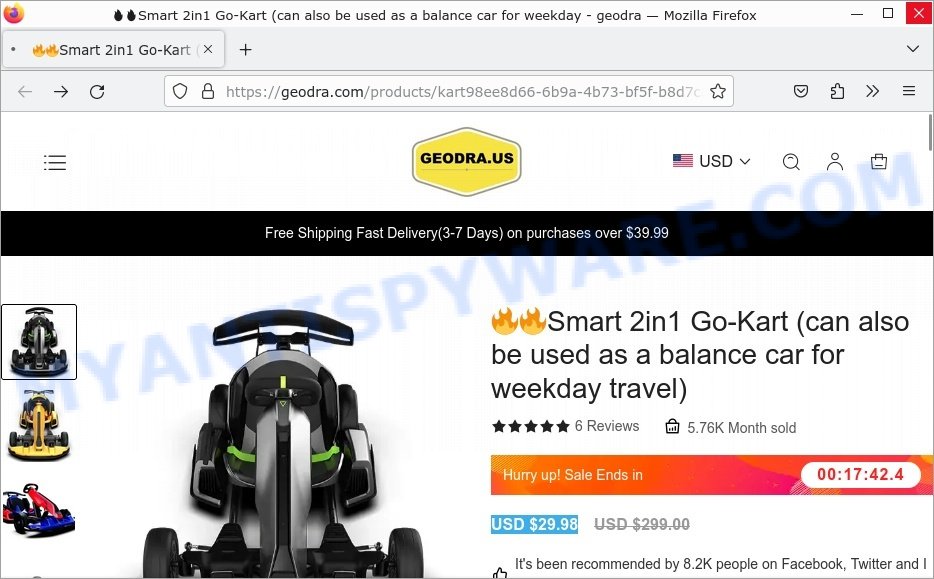 BSX 110 Mini Bike Scam: Scammers offer to sell a high-end mini bike at an unbelievably low price. The scammers use the name of a legitimate motorcycle company, Buscadero Motorcycles, to trick people into thinking they are getting a great deal on a high-quality product.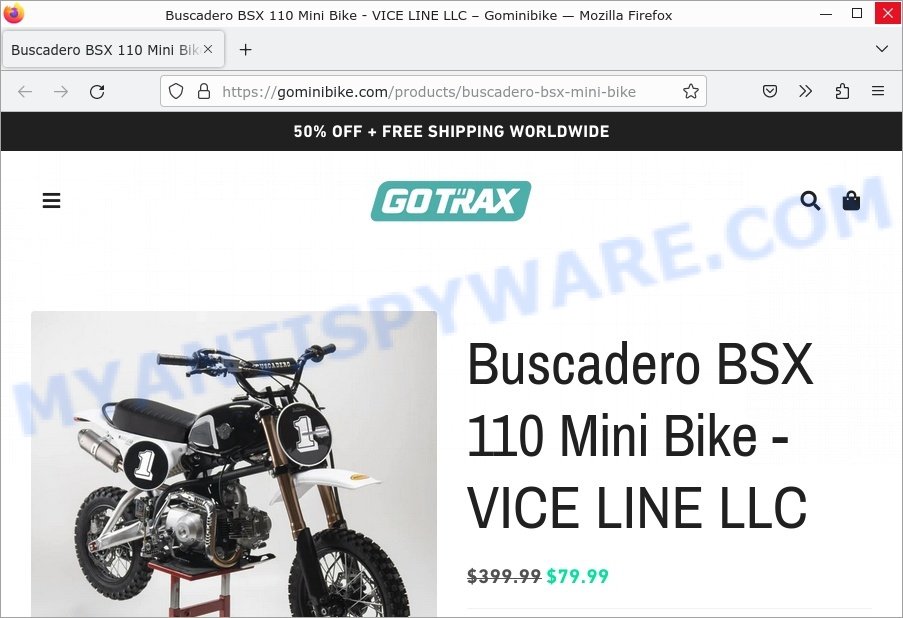 Electric bike scam: Scammers pretended to be well-known retailers like Costco and Macy's and offered to sell electric bikes for just $32.89. The scammers took advantage of people's trust in well-known brands and used fake listings to trick them into buying the bikes.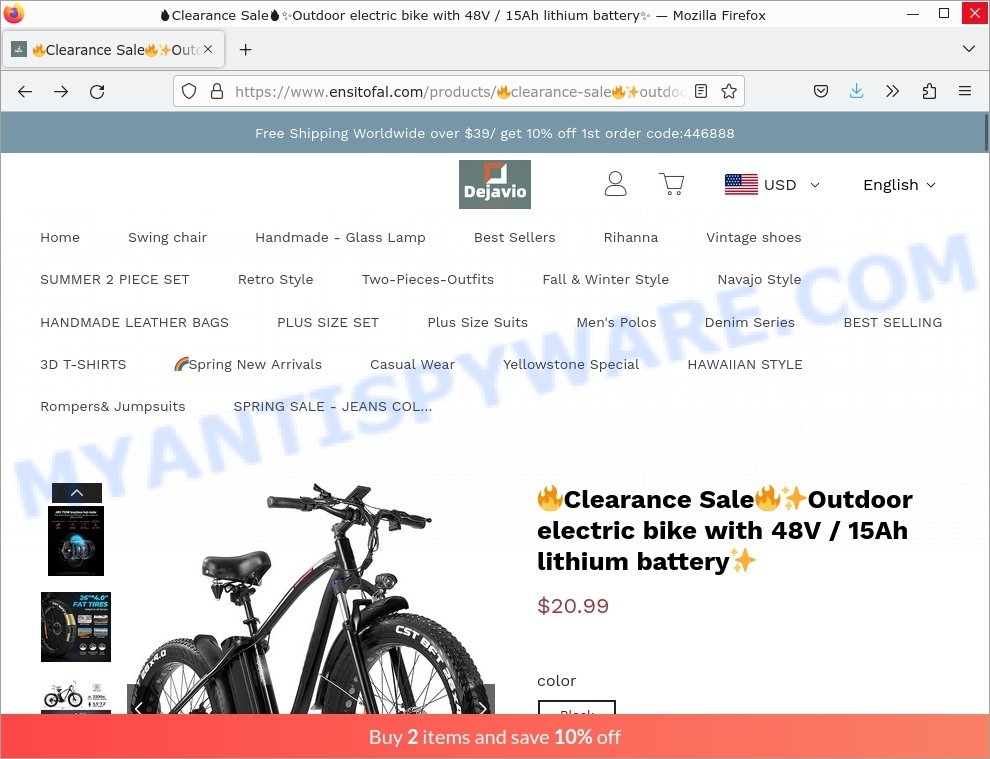 These are just a few examples of the many scams that exist online. It's important to be aware of the signs of a scam and to use caution when making online purchases, especially from unknown or unverified sellers.
What To Do if You Were Scammed
If you have been scammed by the "Hey Dude Shoes $19.99 sale" scam, there are several steps you can take to protect yourself:
Contact your bank or credit card company. If you used a credit card to make the purchase, contact your credit card company immediately and dispute the charge. They may be able to reverse the charges and investigate the transaction.
Report the scam. File a complaint with the Federal Trade Commission (FTC) at https://reportfraud.ftc.gov/. This will help law enforcement agencies track and shut down the scammers.
Contact the manufacturer. If you are unsure whether the product is genuine or not, contact the manufacturer of the real product to confirm whether the online store you used is authorized to sell their products.
Monitor your financial accounts. Keep a close eye on your bank and credit card statements to make sure there are no unauthorized charges or suspicious activity. If you see any, report it immediately to your bank or credit card company.
Stay vigilant. Scammers are always coming up with new tactics to deceive consumers, so it's important to be cautious when making purchases online. Do your research, verify the authenticity of the product and the legitimacy of the online store, and only purchase from reputable sources.
Remember, prevention is key when it comes to protecting yourself from online scams. Stay informed and stay vigilant to keep your personal and financial information safe.
Threat Summary
| | |
| --- | --- |
| Name | Hey Dude Shoes $19.99 sale Scam |
| Type | Online Purchase Scam |
| Fake claims | Offers Hey Dude Shoes for $19.99 |
| Disguise | Creates fake websites resembling official Hey Dude stores |
| Scammers' websites | usatideshoes.com, bonh.online, footwearuzone.com, dudewally.com, dudewendy.com, clearancestoreuk.com, DEIRDR.ONLINE, salestation.co, dealsitee.com, goodtogo-to.com |
| Scammers' contacts | jessie@peachcher.com; AIMARK LTD; Register number:10853964; Company Address: Chase Business Centre, 39-41 Chase Side, London, United Kingdom, N14 5BP |
| Damage | Financial loss, personal information theft, counterfeit products |
| Distribution methods | Facebook ads, TikTok, fake websites, social media platforms |
| Indicators of the Scam | Unrealistically low prices, generic website design, lack of contact information |
| Prevention Tips | Be cautious of offers that seem too good to be true, verify the legitimacy of the website, purchase from official sources |
| Reporting Info | Report the scam to the relevant authorities and platforms, dispute the charge with the credit card company, leave positive reviews for legitimate sellers |
How to spot and avoid such scams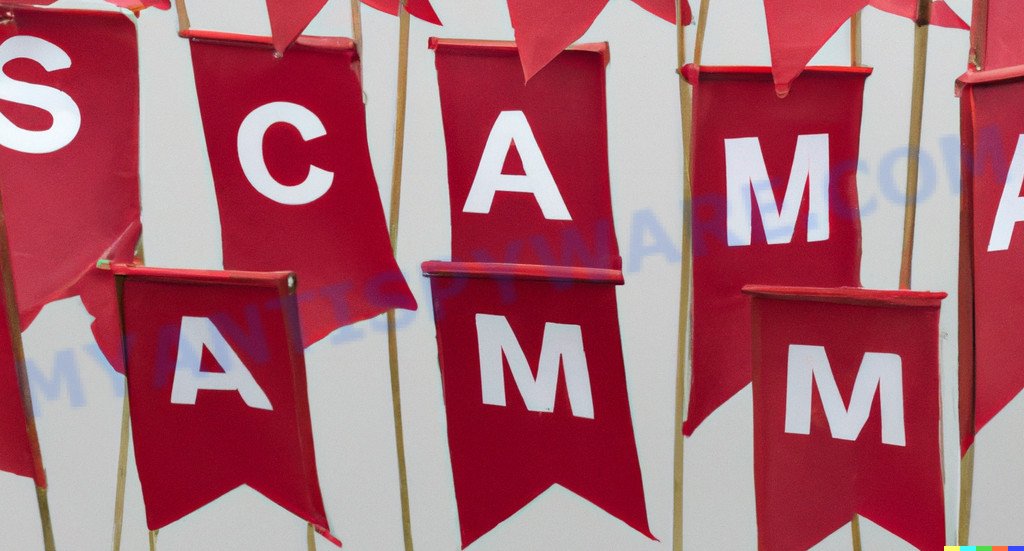 To avoid falling victim to scams like the "Hey Dude Shoes $19.99 sale" scam, here are some tips to keep in mind:
Before making a purchase, research the product and the seller. Look for reviews and ratings, and check the seller's website for information about their return policy, shipping information, and contact details.
If you're unsure whether a product is genuine or not, contact the manufacturer to confirm whether the seller is authorized to sell their products.
Scammers often lure consumers with low prices that are too good to be true. If the price seems too low for a product, it's likely a scam.
Look for the padlock icon in the URL bar and "https" in the website address. This indicates that the website is secure and your personal and financial information is encrypted.
When making online purchases, use a credit card instead of a debit card. Credit cards offer more protection against fraudulent transactions, and you can dispute charges with your credit card company.
Be cautious of websites or sellers that ask for personal information beyond what is necessary to make a purchase.
Don't click on links in unsolicited emails or messages, and be wary of emails that ask for personal or financial information.
Conclusion
The Hey Dude Shoes $19.99 Sale Scam is a concerning example of how scammers are exploiting the popularity of well-known brands to deceive unsuspecting online shoppers. The key red flag in this scam is the incredibly low price offered for Hey Dude shoes, with claims of purchasing them for just $19.99. Such steep discounts should immediately raise suspicion, as they deviate significantly from the official retail price of $65 on the legitimate Hey Dude website. Moreover, the fake websites created by scammers often lack crucial information, such as valid contact details and secure payment options, which further emphasizes their fraudulent nature.
Additionally, the use of Facebook ads to promote these scam shops adds another layer of deception. The ads create a sense of urgency, urging users to act quickly to secure the limited-time offer. However, it is essential to remain vigilant and verify the legitimacy of any online store before making a purchase.
To protect yourself from falling victim to the Hey Dude Shoes $19.99 Sale Scam and similar schemes, it is crucial to exercise caution while shopping online. Look out for warning signs, such as generic website designs, misspellings, unusually low prices, and limited contact information. Always purchase products directly from official websites or authorized retailers to ensure authenticity. Additionally, use secure payment methods and report any suspicious activity or scams to the relevant authorities.
By staying informed and adopting safe online shopping practices, you can safeguard your financial well-being and protect yourself from becoming a victim of scams like the Hey Dude Shoes $19.99 Sale Scam. Remember, if an offer appears too good to be true, it likely is. Stay alert, trust your instincts, and prioritize your online security.