Beware of a new online scam targeting unsuspecting consumers with an unbelievably tempting offer. Scammers are luring individuals with the promise of an Electric Go Kart Pro at an astonishingly low price of $49.85, while its actual value exceeds $1800. Using clever tactics, these fraudsters create fake websites adorned with images and descriptions of the renowned Segway-Ninebot Go Kart, aiming to deceive shoppers seeking a great deal. By employing different product names like "Electric Go Kart Pro", "Smart 2in1 Go-Kart", and simply "Go-Kart", they further muddy the waters. To make matters worse, the scammers promote their bogus sites through Facebook advertisements, making it easier to reach a vast audience. Don't fall victim to this cunning ploy; read on to uncover the details behind this scam and learn how to protect yourself from such fraudulent schemes.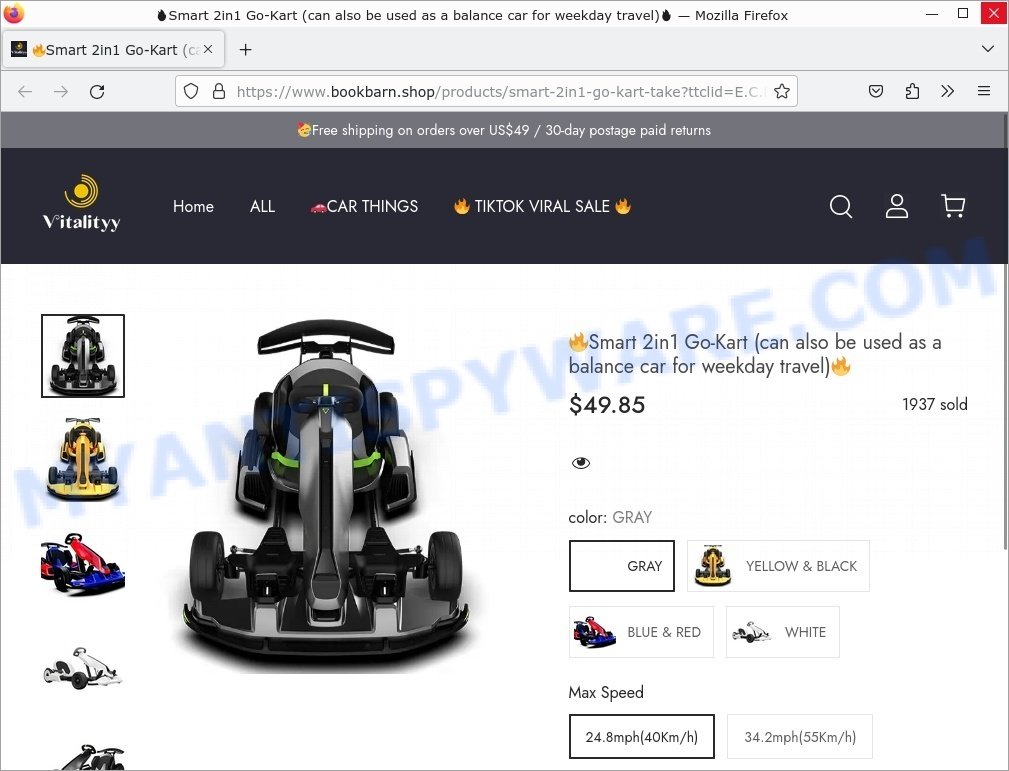 QUICK LINKS
How the scam works
The Electric Go Kart Pro Scam is an elaborate scheme that preys on unsuspecting online shoppers with the promise of a fantastic deal. Scammers have gone to great lengths to create a web of deceit by setting up fake shops and using clever tactics to lure in their victims.
At the heart of this scam is the Segway-Ninebot Go Kart, a high-quality product valued at over $1800. The scammers, operating through fake shops like bookbarn.shop and vitalityy.shop, present a counterfeit version of the Go Kart, rebranded as the "Electric Go Kart Pro", "Smart 2in1 Go-Kart", and simply "Go-Kart". They advertise this supposedly sought-after item at an unbelievably low price of $29.98, $35.99 or $49.85, a fraction of its true value.
To add an air of legitimacy, the scammers employ various techniques. They utilize images and descriptions of the authentic Segway-Ninebot Go Kart, tricking unsuspecting buyers into believing they are getting a great deal on a high-quality product. However, the truth is far from it.
One of the notable tactics used by the scammers is the promotion of their fraudulent websites through Facebook ads. These ads display enticing offers, such as the "Smart 2in1 Go-Kart" or a "Smart 2in1 Go-Kart Prices As Low As $35.99", or a "$29.98 Get The Smart 2in1 Go-Kart 2 years warranty" designed to capture the attention of potential victims. By clicking on these ads, users are directed to the scam shops where they are presented with the alluring but deceitful deal.
Additionally, the scammers often associate themselves with various companies such as Supic Company Limited, SAYHI INTERNATIONAL CO., LIMITED, Meledo Company Limited and YINO (Registration Number: 839937422). These companies may be involved in managing multiple scam shops, impersonating famous brands, or selling other expensive goods at unrealistically low prices.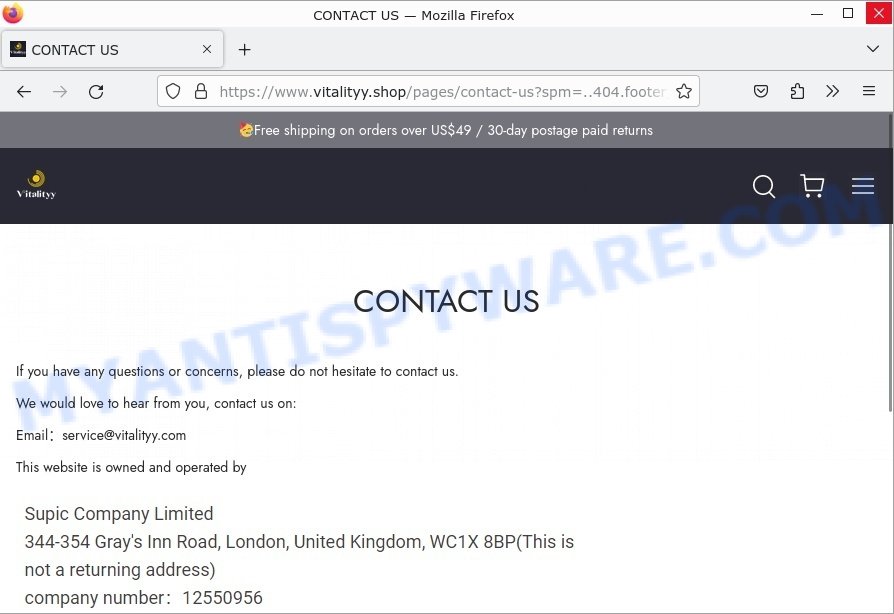 In an attempt to conceal their fraudulent activities, the scammers have employed additional techniques. Firstly, they hide their information in the Whois database, making it difficult to trace their identities. The newly created scam shops have intentionally concealed their contact details, further raising suspicions about the legitimacy of their operations.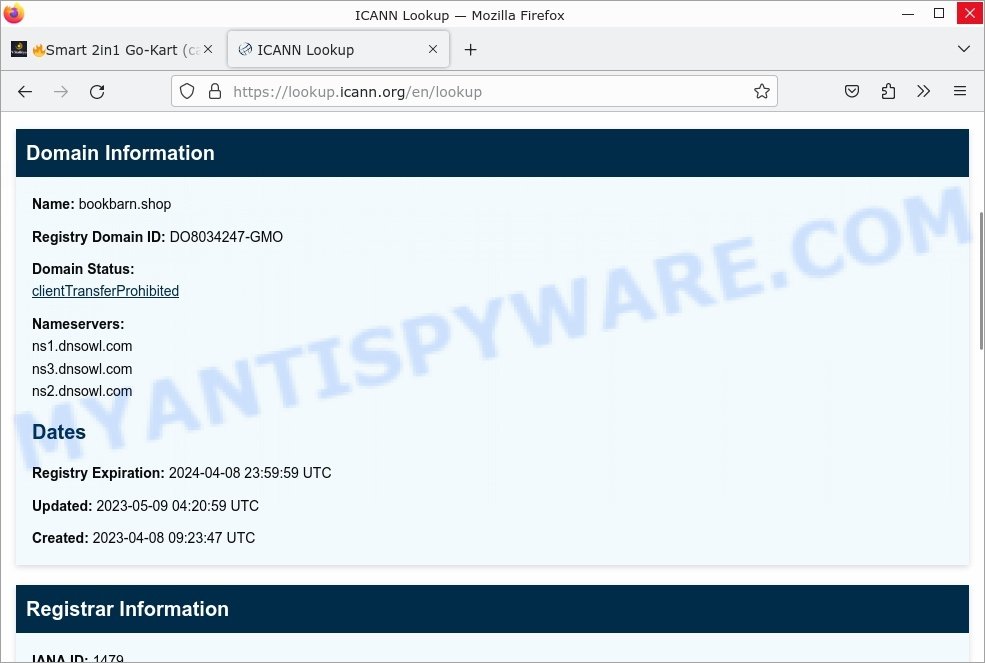 Moreover, the scammers have implemented covert page hiding methods to hinder investigations. By utilizing JavaScript coding, they create obstacles that impede analysis of their websites. This technique makes it challenging for security researchers and representatives of the law to access specific content or even find the pages associated with the "Electric Go Kart Pro Scam". Their aim is to evade scrutiny and prolong their fraudulent activities.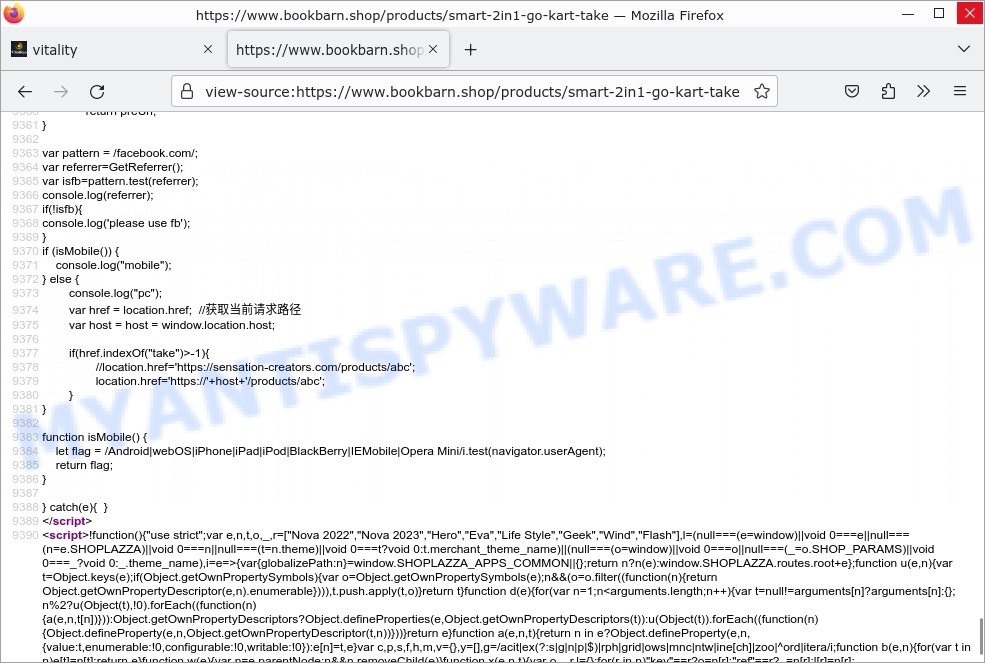 To avoid falling for the Electric Go Kart Pro scam, it is crucial to be cautious when buying products online, especially if they are being offered at a suspiciously low price. Always verify the legitimacy of the website and the seller before making any payment, and only use reputable and trusted online marketplaces or retailers. If you come across any suspicious or fraudulent activity online, report it to the relevant authorities immediately to help prevent others from becoming victims of these scams.
Electric Go Kart Pro Scam on TikTok – Deceptive Videos and Enticing Prices
In addition to Facebook ads, the Electric Go Kart Pro scam has now expanded its reach to TikTok, a popular social media platform. Scammers have started promoting the scam through videos that showcase the product and its enticingly low price. These videos often feature individuals riding "Smart 2 in 1 Go-Kart", with captions claiming they purchased it for as little as $29. The scammers use these videos to create a sense of authenticity and urgency, making viewers believe they can also get the same deal.
Within the TikTok videos, the scam shop pages are displayed, highlighting the product at the advertised price. This visual representation further entices potential victims, as they see what appears to be a legitimate product and a great bargain. However, it is important to remember that these videos and associated scam shops are part of the deceptive scheme aimed at defrauding unsuspecting consumers.
It is crucial for TikTok users and viewers to exercise caution when encountering such videos. The scammers use persuasive tactics, leveraging the popularity and influence of social media platforms to reach a wide audience. However, it is important to remain skeptical and not fall prey to these fraudulent schemes.
Examples of similar scams
The Electric Go Kart Pro Scam is not an isolated incident. Unfortunately, there have been other similar scams targeting consumers with enticing offers on high-value products. Here are a few examples to highlight the prevalence of such deceptive schemes:
BSX 110 Mini Bike Scam: Scammers offer to sell a high-end mini bike at an unbelievably low price. The scammers use the name of a legitimate motorcycle company, Buscadero Motorcycles, to trick people into thinking they are getting a great deal on a high-quality product.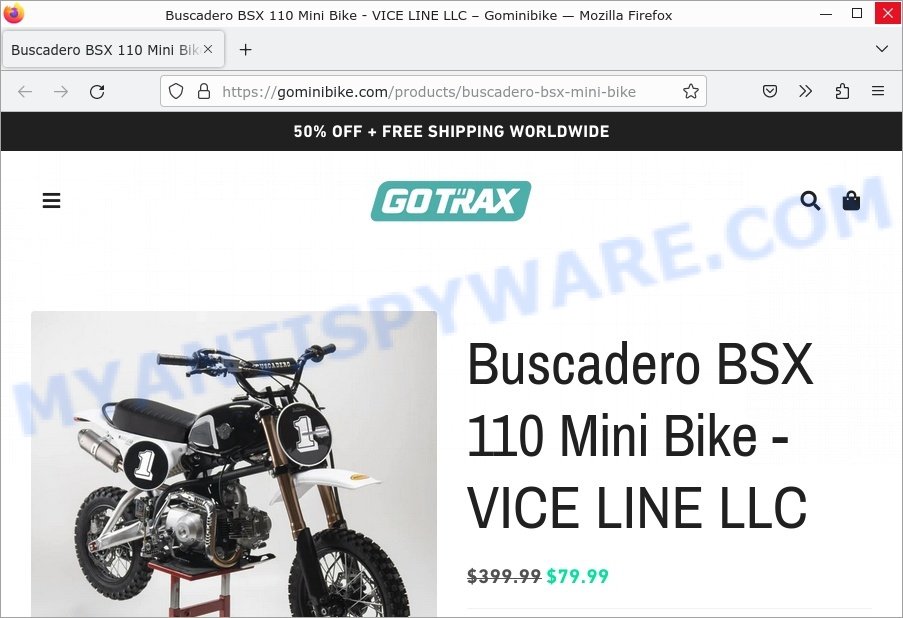 Electric bike scam: Scammers pretended to be well-known retailers like Costco and Macy's and offered to sell electric bikes for just $32.89. The scammers took advantage of people's trust in well-known brands and used fake listings to trick them into buying the bikes.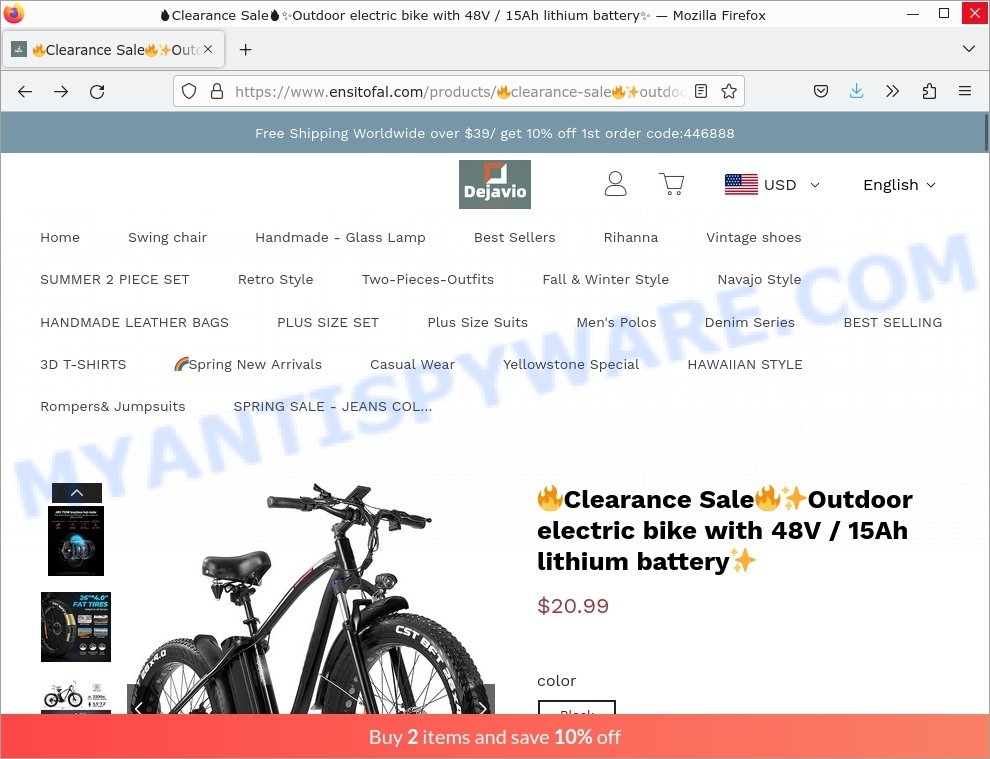 Mini-trike scam: Scammers offered to sell a mini-trike called "Pioneer Flame Mini Trike" for just $29.99, even though its real price is over $4,000. They used false advertising to make the trike seem like a high-end product, and they created fake shops or listings to trick people into buying it. Like the mini bike scam, the mini-trike scam relied on people's desire to get a good deal on a popular product.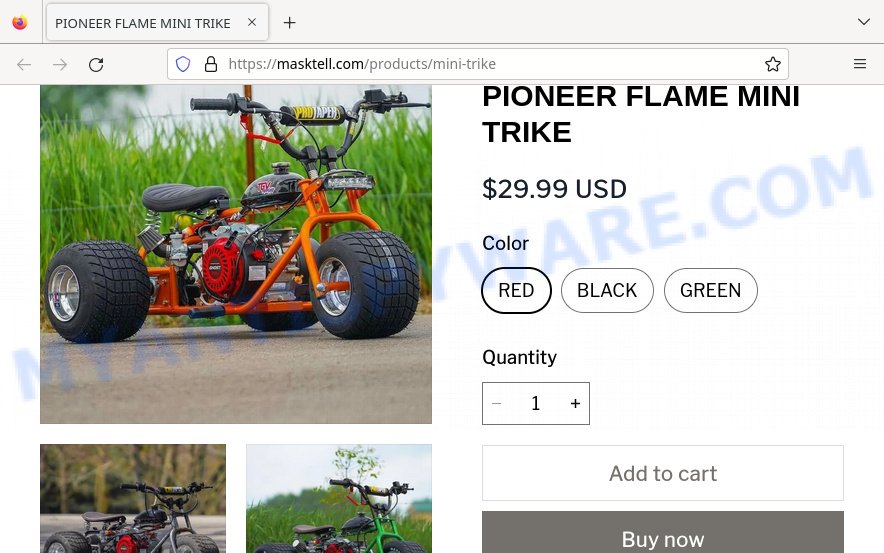 These are just a few examples of the many scams that exist online. It's important to be aware of the signs of a scam and to use caution when making online purchases, especially from unknown or unverified sellers.
What To Do if You Were Scammed
If you have been scammed by the "Electric Go Kart Pro" scam, there are several steps you can take to protect yourself:
Contact your bank or credit card company. If you used a credit card to make the purchase, contact your credit card company immediately and dispute the charge. They may be able to reverse the charges and investigate the transaction.
Report the scam. File a complaint with the Federal Trade Commission (FTC) at https://reportfraud.ftc.gov/. This will help law enforcement agencies track and shut down the scammers.
Contact the manufacturer. If you are unsure whether the product is genuine or not, contact the manufacturer of the real product to confirm whether the online store you used is authorized to sell their products.
Monitor your financial accounts. Keep a close eye on your bank and credit card statements to make sure there are no unauthorized charges or suspicious activity. If you see any, report it immediately to your bank or credit card company.
Stay vigilant. Scammers are always coming up with new tactics to deceive consumers, so it's important to be cautious when making purchases online. Do your research, verify the authenticity of the product and the legitimacy of the online store, and only purchase from reputable sources.
Remember, prevention is key when it comes to protecting yourself from online scams. Stay informed and stay vigilant to keep your personal and financial information safe.
Threat Summary
| | |
| --- | --- |
| Name | Electric Go Kart Pro Scam, Smart 2in1 Go-Kart Scam |
| Type | Online Purchase Scam |
| Fake claims | Offer to buy an Electric Go Kart Pro for $49.85 ($35.99, $29.98), although its real price is $1800 |
| Scammers' websites | fnbabs.com, takena.shop, renpbaofa.com, patioeshome.com, rancholico.com, progrowz.com, fyreaur.com, olednova.com, bookbarn.shop, vitalityy.shop, feelbeatca.com, geode.us, symmosa.us, cirouh.com, geodra.com, symmosa.com, etc |
| Scammers' contacts | service@fnbabs.com, support@jaidservice.com, kefu@XJBM.com, support@patioeshome.com, customerservices@rancholico.com, support@progrowz.com, support@fyreaur.com, support@olednova.com, support@geodra.com, etc |
| Damage | Financial loss, stolen personal and financial information, identity theft |
| Distribution methods | Facebook, YouTube, fraudulent online stores |
| Indicators of the Scam | Extremely low price, fake online shop or listing, unresponsive seller, no delivery or fake delivery confirmation |
| Prevention Tips | Be cautious of offers that seem too good to be true, verify the authenticity of the seller and the product, use secure payment methods |
| Reporting Info | Report the scam to the relevant authorities and platforms, dispute the charge with the credit card company, leave positive reviews for legitimate sellers |
How to spot and avoid such scams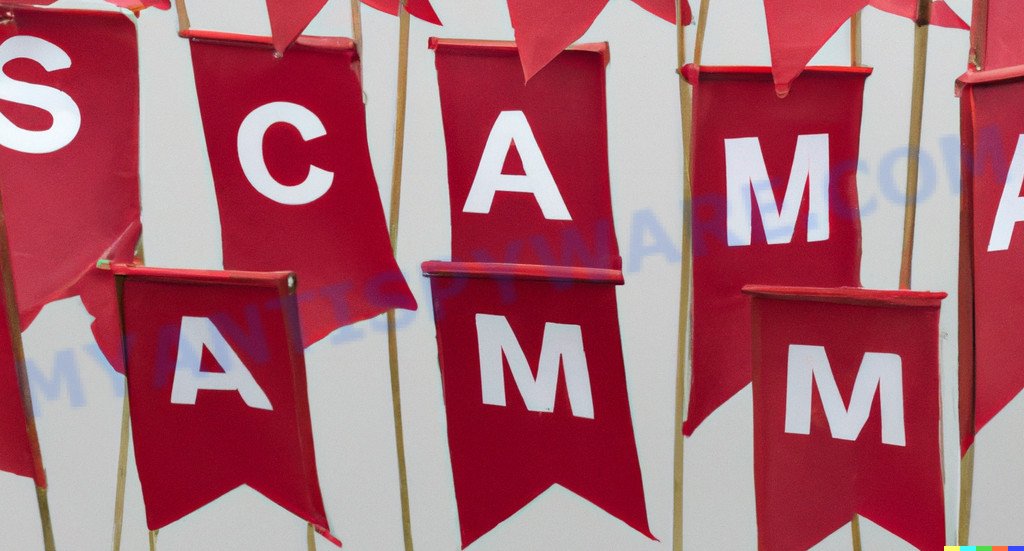 To avoid falling victim to scams like the "Electric Go Kart Pro" scam, here are some tips to keep in mind:
Before making a purchase, research the product and the seller. Look for reviews and ratings, and check the seller's website for information about their return policy, shipping information, and contact details.
If you're unsure whether a product is genuine or not, contact the manufacturer to confirm whether the seller is authorized to sell their products.
Scammers often lure consumers with low prices that are too good to be true. If the price seems too low for a product, it's likely a scam.
Look for the padlock icon in the URL bar and "https" in the website address. This indicates that the website is secure and your personal and financial information is encrypted.
When making online purchases, use a credit card instead of a debit card. Credit cards offer more protection against fraudulent transactions, and you can dispute charges with your credit card company.
Be cautious of websites or sellers that ask for personal information beyond what is necessary to make a purchase.
Don't click on links in unsolicited emails or messages, and be wary of emails that ask for personal or financial information.
Conclusion
The Electric Go Kart Pro Scam, along with similar deceptive schemes, highlights the importance of vigilance and caution when engaging in online shopping. Scammers have become increasingly sophisticated in their tactics, utilizing fake websites, clever marketing strategies, and hidden identities to lure unsuspecting consumers into their traps.
It is essential to remember that if a deal appears too good to be true, it likely is. Conduct thorough research on the legitimacy of sellers and websites before making any purchases. Look for genuine customer reviews, verify contact information, and be cautious of heavily discounted prices on high-value products.
In the face of these scams, it is crucial to remain informed and stay updated on the latest fraud tactics. By reading articles, staying connected with reputable sources, and sharing information with others, we can collectively combat these fraudulent activities.
Additionally, reporting any suspected scams to the relevant authorities is vital in preventing others from falling victim to these schemes. By working together, we can help disrupt the operations of scammers, protect our communities, and promote safer online shopping experiences.
Remember, your awareness and diligence are your strongest defenses against these deceptive practices. Stay informed, exercise caution, and spread the word to protect yourself and others from falling prey to scams like the Electric Go Kart Pro Scam.