Are the phone calls from UR Refund LLC a legitimate opportunity or a potential scam? This question has been on the minds of many individuals who have received these calls. With the rise of scam phone calls, it is essential to remain vigilant and skeptical when receiving unexpected offers or claims.
One such case that has caught attention is UR Refund LLC phone calls. While concerns have been raised regarding the legitimacy of these calls, it is important to exercise caution and delve into the facts before drawing any conclusions. In this article, we will explore the nature of UR Refund LLC phone calls, discuss the potential risks involved, and provide guidance on how to navigate such situations effectively. By understanding the facts and exercising caution, you can protect yourself from potential scams and make informed decisions.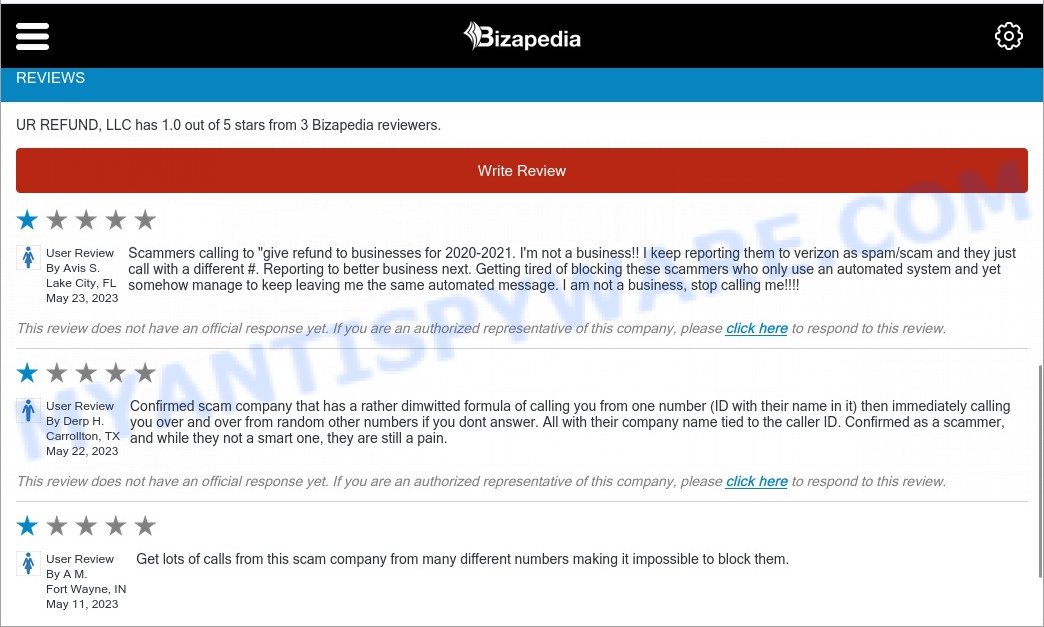 QUICK LINKS
What is UR Refund LLC?
When investigating UR Refund LLC, it becomes apparent that there is a lack of substantial information about the company. Online searches yield limited results, with little to no official website, business registration details, or verifiable contact information available. The absence of transparent company information raises concerns about the legitimacy and credibility of UR Refund LLC.
Suspicious Phone Calls
Individuals have reported receiving calls from UR Refund LLC, wherein the callers make bold refund claims that raise suspicions. Some people have been informed about potential refunds of up to $26,000 per employee, even if they do not own a business or have employees. These extravagant claims and mismatched information cast doubt on the legitimacy of the calls.
UR Refund LLC's questionable activities and lack of transparency contribute to the overall suspicion surrounding the company. Several factors contribute to this skepticism, including manipulated caller IDs displaying the company's name and the absence of positive reviews or endorsements from credible sources.
User Reviews on ScamWatcher and Bizapedia:
User reviews on platforms like ScamWatcher and Bizapedia provide valuable insights into UR Refund LLC's activities and public perception. ScamWatcher reports highlight the unrealistic refund claims made by UR Refund LLC scammers, targeting potential business owners and exploiting their trust. Bizapedia reviews reveal individuals receiving persistent calls from different numbers, making it challenging to block them effectively.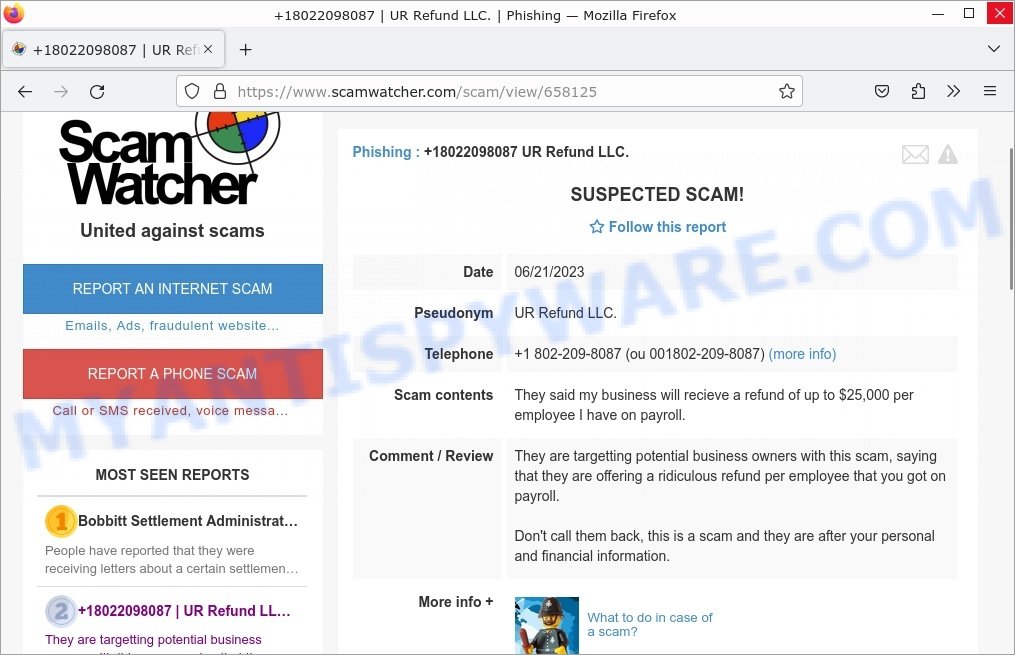 Threat Summary
| | |
| --- | --- |
| Name | UR Refund LLC Phone Calls |
| Claims | Offers refunds up to $26,000 per employee, regardless of business ownership |
| Phone Numbers | 802-209-8087, 855-483-6556 |
| Suspicious Signs | Inconsistent refund claims, targeting individuals without businesses/employees |
| Reviews | Limited reviews found on ScamWatcher and Bizapedia, highlighting suspicions |
| Verdict | Exercise caution and remain skeptical |
Conclusion
While definitive evidence regarding the legitimacy of UR Refund LLC phone calls is currently lacking, there are several red flags and concerns that warrant caution. The combination of suspicious phone calls, a lack of transparent company information, and user reviews outlining unrealistic refund claims creates a situation that should be approached with skepticism. Exercise caution when engaging with UR Refund LLC or any similar calls, independently verify the legitimacy of the caller, and refrain from sharing personal or financial information without proper verification. Staying informed and vigilant is crucial in protecting yourself from potential scams.