Echtspecials.com is an online store that claims to offer a range of products at very low prices. However, our investigation into the site suggests that it may be a fraudulent operation. For one, the site uses the logo of "Dick's Sporting Goods" in an attempt to mislead customers into thinking it is a legitimate store. This unauthorized use of the well-known brand's logo is a major red flag and suggests that the site is not to be trusted. Furthermore, the site's Whois information and company address appear to be fake, and the company behind the site, Bin Estrella GmbH, is known to be associated with other fraudulent websites. To learn more about the potential risks of shopping at Echtspecials.com, please read our detailed review below.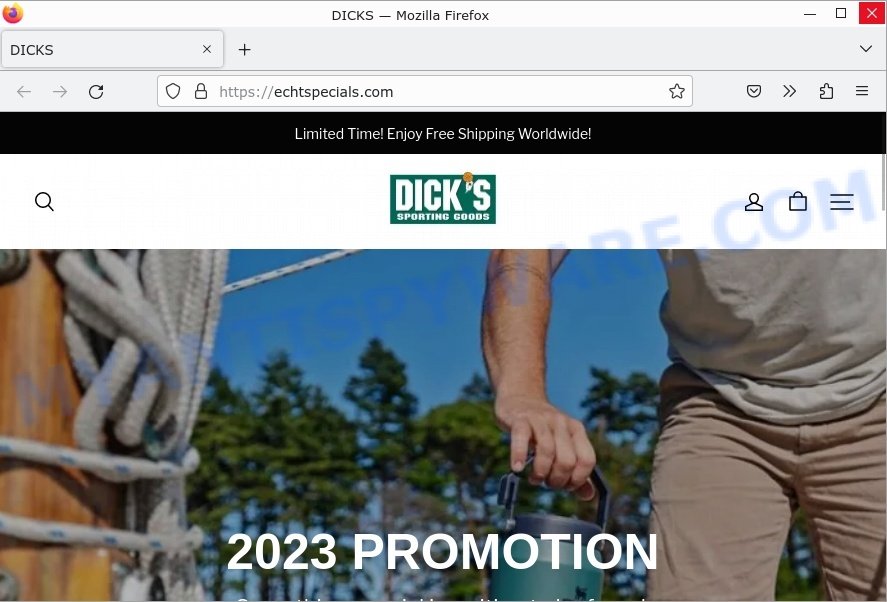 Design and User Experience
The design of Echtspecials.com is very basic and lacks any unique features. The site's design creates the feeling of being made according to a template, which is often a sign of a fraudulent operation. The site has no categories and only 16 products, which is also a red flag. Additionally, the product images on the site have been taken from other websites, alongside the content that was copied too. Overall, the site's design and user experience are very poor and do not inspire confidence.
Customer Reviews
Our investigation found that Echtspecials.com has no positive reviews online. Some reviews even claim that the site is a scam. This lack of positive reviews and the presence of negative ones is a major warning sign.
Company Information
Echtspecials.com claims to be managed by a company called Bin Estrella GmbH, which is registered at Pallaswiesenstraβe 180, 64293 Darmstadt, Germany. However, upon checking the address on maps, it appears that no such company is located there. This suggests that Bin Estrella GmbH is a shell company that scammers use whenever they are building their fraudulent websites.
Furthermore, Echtspecials.com has no phone number listed on the website and its only provided email address is dobby@autumce.com. The lack of communication options is a major red flag for any online store.
In addition, the website's about us page talks about "Clearance Supermarket" and provides a link to another website (ffrtrs.online) that has nothing to do with Echtspecials.com. This further adds to the suspicion that Echtspecials.com may be a fraudulent website that has been created to scam people.
Logo Misleading Customers
The logo used by Echtspecials.com is the official logo of Dick's Sporting Goods, a well-known American retail company. It is concerning that Echtspecials.com is using this logo without any authorization, which is a clear indication of the store's lack of credibility and legitimacy. The use of a well-known company's logo without permission is a red flag and raises questions about the authenticity of the website. It is likely that Echtspecials.com is attempting to mislead customers into believing that they are affiliated with Dick's Sporting Goods, which is a cause for concern. Therefore, customers should be cautious when dealing with Echtspecials.com and verify any claims made by the website.
Whois Information
Upon conducting a Whois lookup for Echtspecials.com, we found that the domain was registered on March 31, 2023. The domain is set to expire on March 31, 2023, indicating that it is a new website.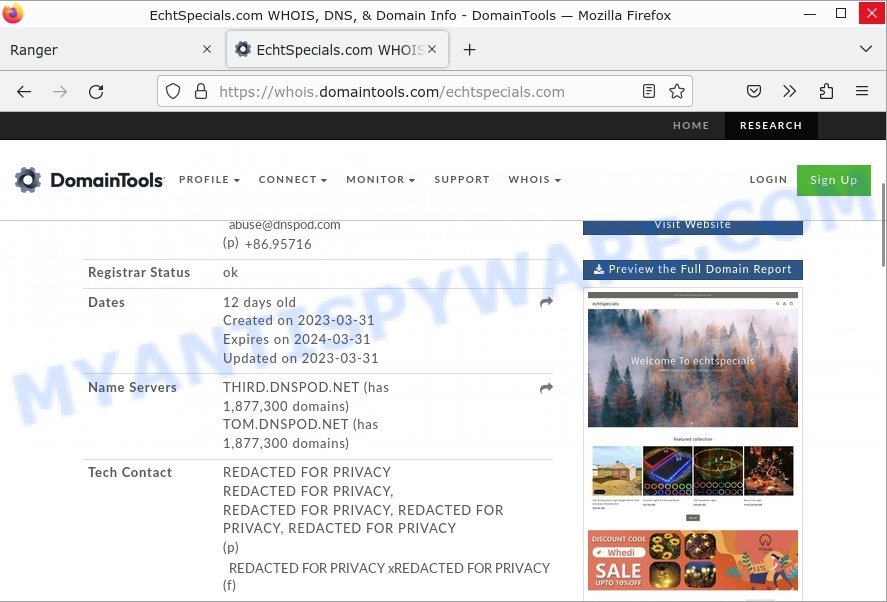 The registrant's details are hidden and no information is provided regarding the owner or the administrator of the website. This is a common tactic used by fraudulent websites to hide their identity and evade accountability.
The lack of transparency in the Whois information for Echtspecials.com is a red flag and should serve as a warning to potential customers to exercise caution when dealing with this website.
Conclusion
After analyzing the various aspects of Echtspecials.com, it is clear that there are several red flags that suggest caution should be exercised when considering making a purchase from this site. The use of a stolen logo, the lack of clear company information, and the suspicious Whois information are all concerning.
While the prices offered by Echtspecials.com may seem attractive, it is important to remember the old adage, "if it seems too good to be true, it probably is." With so many reputable online retailers to choose from, it is wise to shop from a source with a proven track record of trustworthiness and reliability.
In conclusion, we strongly advise users to exercise caution when considering making a purchase from Echtspecials.com. The evidence suggests that this site may not be a legitimate or trustworthy source for online shopping.
Other Suspicious Online Shops to Avoid
Unfortunately, Echtspecials.com is not the only online shop that uses misleading tactics to deceive unsuspecting customers. There are many similar websites that operate in the same way and should be avoided at all costs. To help you stay safe, we have compiled a list of some of the most notorious fraudulent online shops that share the same modus operandi as Echtspecials.com. Please take the time to review this list and protect yourself from falling victim to these scams.
Here are a few examples of the suspicious online shops: Dazzlinga.shop, Planterbox.store, and Costco Clearance Sale Electric Bike.
How to spot and avoid a fake online store?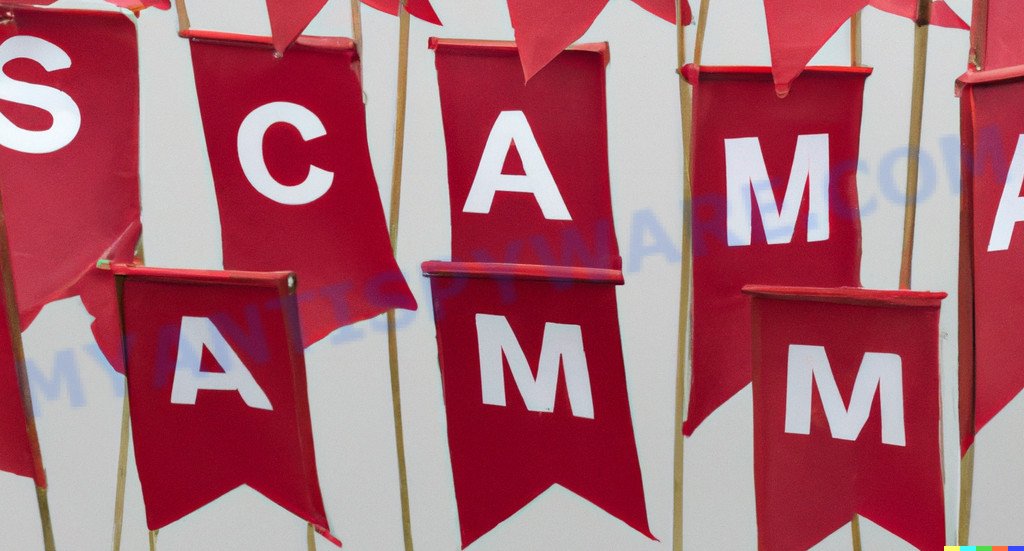 Online shopping has become increasingly popular, but it also carries certain risks, particularly when it comes to fake or fraudulent online stores. Here are some tips on how to spot and avoid a fake online shop:
Check for HTTPS and a padlock symbol in the URL bar. This indicates that the website is using encryption to protect your data.
Look for reviews and ratings of the website. Genuine websites will usually have positive feedback from customers, while fake ones may have little to no reviews or negative feedback.
Check the website's contact information. A legitimate online store will have a physical address, phone number, and email address for customer support.
Research the website on the internet. Search for the website's name and reviews, complaints or any warning signs about it before making a purchase.
Be wary of deals that are too good to be true. Fake online stores may offer steep discounts to lure in customers, but these deals may be a ploy to steal your money.
Avoid using payment methods that are not secure. Use payment methods such as credit card, PayPal or other payment methods that provide buyer protection.
Be wary of pop-ups or unsolicited emails directing you to a website. This may be a phishing attempt to get your personal and financial information.
By taking these precautions, you can reduce the risk of falling prey to fake online stores and ensure a safe and enjoyable online shopping experience.
What to do if you ordered something from a fake online store?
If you have already ordered something from a fake website and you suspect that it may be a scam, there are several steps you can take:
Contact the website's customer support.
If the website has provided contact information, try reaching out to their customer support to inquire about the status of your order. If the website does not respond or gives you unsatisfactory answers, it could be a sign that it is a fake website.
Check your payment method.
If you have paid for your order with a credit card, check your statement to see if the payment has gone through. If it has not, then you may have caught the scam in time, but if it has, you may need to dispute the charge with your bank.
File a dispute or chargeback with your payment provider.
If you have paid for your order with a credit card or other payment method that offers buyer protection, you may be able to dispute the charge or request a chargeback to get your money back. Use the steps (https://consumer.ftc.gov/articles/what-do-if-you-were-scammed) to try to stop a transaction, get a transaction reversed, or get a refund.
Report the fake online store.
You can report the fake website to authorities such as the Federal Trade Commission (FTC) at https://ftc.gov/ or the Internet Crime Complaint Center (IC3). This can help prevent others from falling victim to the same scam.
Learn from your experience.
Be more cautious in the future and take steps to ensure that you are shopping on legitimate websites that are secure and reputable.