Planterbox.store is an online store that has raised suspicion among potential buyers due to its shady business practices. The site appears to be posing as a Costco website, using a logo that is strikingly similar to that of the popular retail chain. It also employs questionable tactics such as hiding heavily discounted products from users by using JavaScript code. The site has been known to offer such products as luxury tool chests and mobility scooters at ridiculously low prices, which are not in line with the merchandise displayed on the main page. In this review, we will delve into the details of these practices and provide an in-depth analysis of the site's credibility. If you're considering making a purchase on planterbox.store, be sure to read on before making a decision.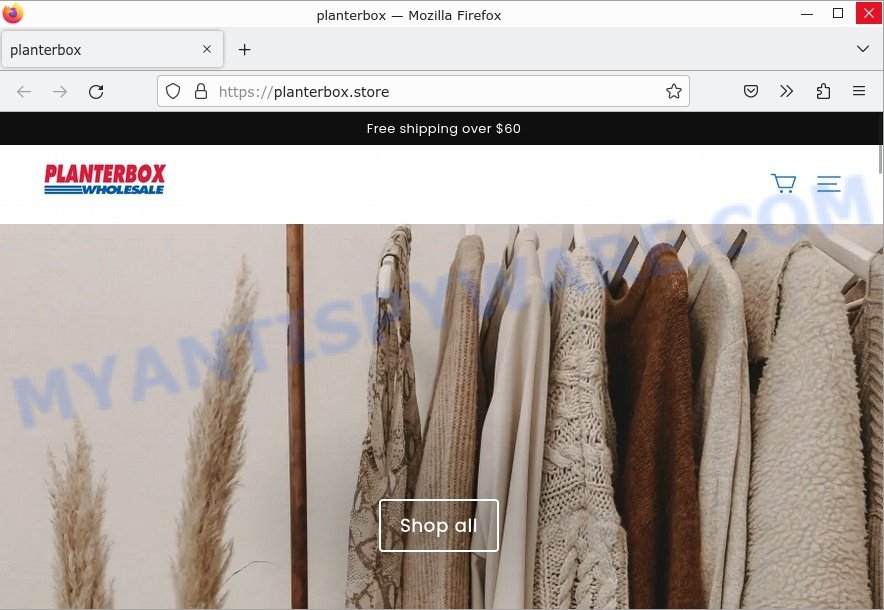 Design and Layout
The design of planterbox.store appears to be very basic and unprofessional, with minimal effort put into the website's layout and appearance. The website has a simple design that seems to have been created using a template, giving the impression that little effort was put into its creation. Furthermore, the website's logo has been designed to resemble that of Costco, which is a major red flag for any online store. The logo features the word "planterbox" in red letters, similar to Costco's logo, and also includes the word "WHOLESALE" below it, which is also similar to Costco's logo. This appears to be an attempt to deceive potential customers into believing that planterbox.store is affiliated with Costco, which is a well-known and trustworthy brand.
Product Listing
The products on Planterbox.store seem to be a mix of casual and formal wear for women. Some of the products include Casual Solid Color Wide Leg Yoga Pants, Original Solid Color Irregularity Lapel Shirt Dress, and Original 3 Colors Simple Casual Wide-Leg Pants.
However, there are some red flags with the product listing, including the fact that some products are hidden from visitors and cannot be opened from the main page or category pages. These products have heavily discounted prices, which are not consistent with the product categories on the main page.
Furthermore, the site uses a javascript code to hide these discounted products from users accessing the site on a computer. That is, if a user enters the site from a mobile phone, they are shown a page with a product, and if they enter from a computer, they are shown an empty page.
The hidden products include a 🔥Multifunctional Luxury Tool Chest🔥(CONTAINS 429 TOOLS)for 45.80 euro, real price 1800, a New Arrivals!!!Transformers 4-Wheel Remote Control Folding Mobility Scooter for 45.79 euro, real price 2775, and an Electronics Mystery Box for 27.48 euro.
Company Information
The company name and address are inserted as a picture, and there are no phone numbers or links to pages in social networks. This lack of contact information makes it difficult for customers to contact the company with questions or concerns. The company's email address is planterbox@gmail.com, and the company name is NOVVA LIMITED. The company address is FLAT 1512,15/F,LUCKY CENTRE,NO.165-171 WAN CHAI ROAD,WAN CHAI,HONG KONG. However, the suspicious lack of information and the use of a generic email address suggests that the site may be a scam.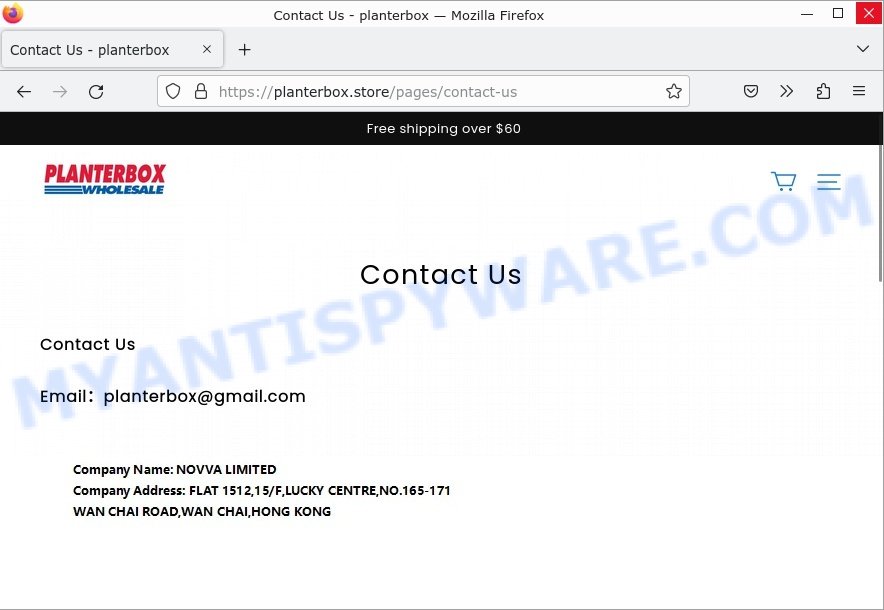 Whois information
The Whois information for planterbox.store reveals that the website was created very recently, on April 6th, 2023, and is set to expire one year later on April 6th, 2024. This short lifespan is a significant red flag, as legitimate online stores typically register their domain names for longer periods of time.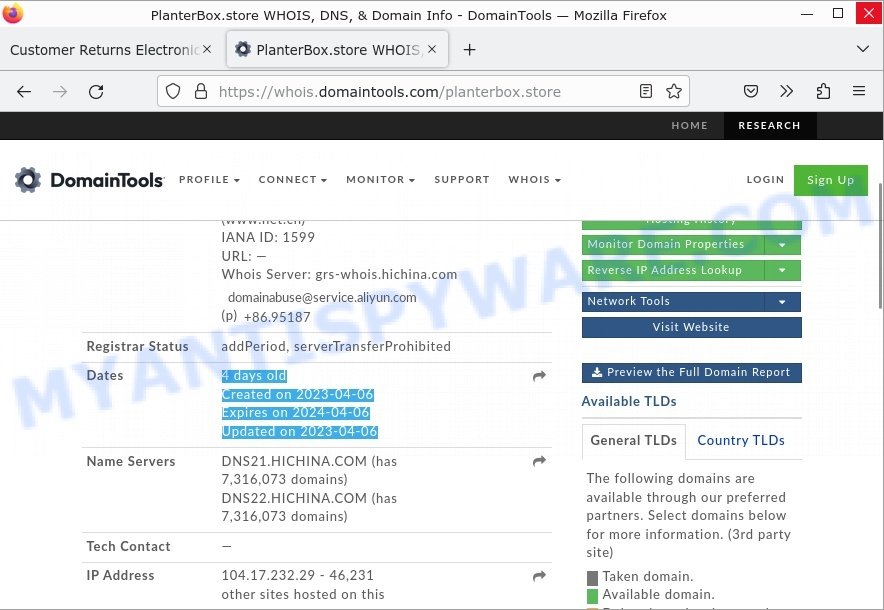 These details suggest that planterbox.store may be a newly created website that is attempting to deceive customers into making purchases from an untrustworthy source. The short lifespan of the website, combined with the suspicious nature of the Whois information, should be cause for concern for anyone considering making a purchase from this online store.
Reviews and Reputation
There are no positive reviews of Planterbox.store online, and some reviews say that the site is a scam. This lack of positive reviews and the fact that the site uses heavily discounted products as bait to attract customers is a red flag.
Conclusion
Planterbox.store has several red flags that raise concerns about the legitimacy of the site. The design of the site is similar to Costco's logo, and some of its products are hidden from visitors and have heavily discounted prices that are not consistent with the product categories on the main page. The absence of positive reviews, lack of contact information, and use of a generic email address also suggest that the site may be a scam. If you are considering shopping on this site, it is important to be cautious and do your research before making a purchase.
Other Suspicious Online Shops to Avoid
It's important to be vigilant when shopping online, as fraudulent websites can easily deceive customers into making purchases that result in financial loss. Unfortunately, planterbox.store is not the only suspicious online shop out there. In fact, there are many other online shops with similar characteristics and practices that should also be avoided. In this section, we will highlight some of these other suspicious online shops to help you stay informed and avoid becoming a victim of online scams.
Here are a few examples of the suspicious online shops: Costco Clearance Sale Electric Bike, Maosap.com, and Wonuse.com.
How to spot and avoid a fake online store?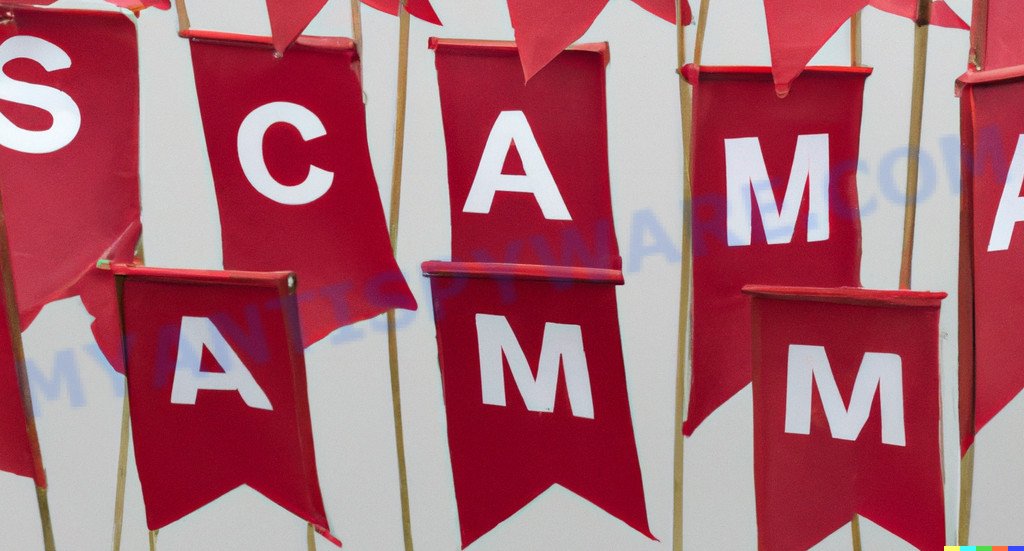 Online shopping has become increasingly popular, but it also carries certain risks, particularly when it comes to fake or fraudulent online stores. Here are some tips on how to spot and avoid a fake online shop:
Check for HTTPS and a padlock symbol in the URL bar. This indicates that the website is using encryption to protect your data.
Look for reviews and ratings of the website. Genuine websites will usually have positive feedback from customers, while fake ones may have little to no reviews or negative feedback.
Check the website's contact information. A legitimate online store will have a physical address, phone number, and email address for customer support.
Research the website on the internet. Search for the website's name and reviews, complaints or any warning signs about it before making a purchase.
Be wary of deals that are too good to be true. Fake online stores may offer steep discounts to lure in customers, but these deals may be a ploy to steal your money.
Avoid using payment methods that are not secure. Use payment methods such as credit card, PayPal or other payment methods that provide buyer protection.
Be wary of pop-ups or unsolicited emails directing you to a website. This may be a phishing attempt to get your personal and financial information.
By taking these precautions, you can reduce the risk of falling prey to fake online stores and ensure a safe and enjoyable online shopping experience.
What to do if you ordered something from a fake online store?
If you have already ordered something from a fake website and you suspect that it may be a scam, there are several steps you can take:
Contact the website's customer support.
If the website has provided contact information, try reaching out to their customer support to inquire about the status of your order. If the website does not respond or gives you unsatisfactory answers, it could be a sign that it is a fake website.
Check your payment method.
If you have paid for your order with a credit card, check your statement to see if the payment has gone through. If it has not, then you may have caught the scam in time, but if it has, you may need to dispute the charge with your bank.
File a dispute or chargeback with your payment provider.
If you have paid for your order with a credit card or other payment method that offers buyer protection, you may be able to dispute the charge or request a chargeback to get your money back. Use the steps (https://consumer.ftc.gov/articles/what-do-if-you-were-scammed) to try to stop a transaction, get a transaction reversed, or get a refund.
Report the fake online store.
You can report the fake website to authorities such as the Federal Trade Commission (FTC) at https://ftc.gov/ or the Internet Crime Complaint Center (IC3). This can help prevent others from falling victim to the same scam.
Learn from your experience.
Be more cautious in the future and take steps to ensure that you are shopping on legitimate websites that are secure and reputable.