What is Savefrom.net?
Savefrom.net is a website created for the purpose of downloading videos from video-sharing websites such as YouTube. The process involves the user providing a link to the video they want to download, selecting a desired format, and finally hitting the "Download" button.
It's important to note that downloading videos through the Savefrom.net website is safe and will not result in computer infections or any other similar issues. However, downloading videos from YouTube or other similar websites is considered illegal.
Furthermore, based on online reviews, people who use this website are frequently redirected to questionable sites due to its use of multiple advertising networks, which may lead to unwanted downloads or installations.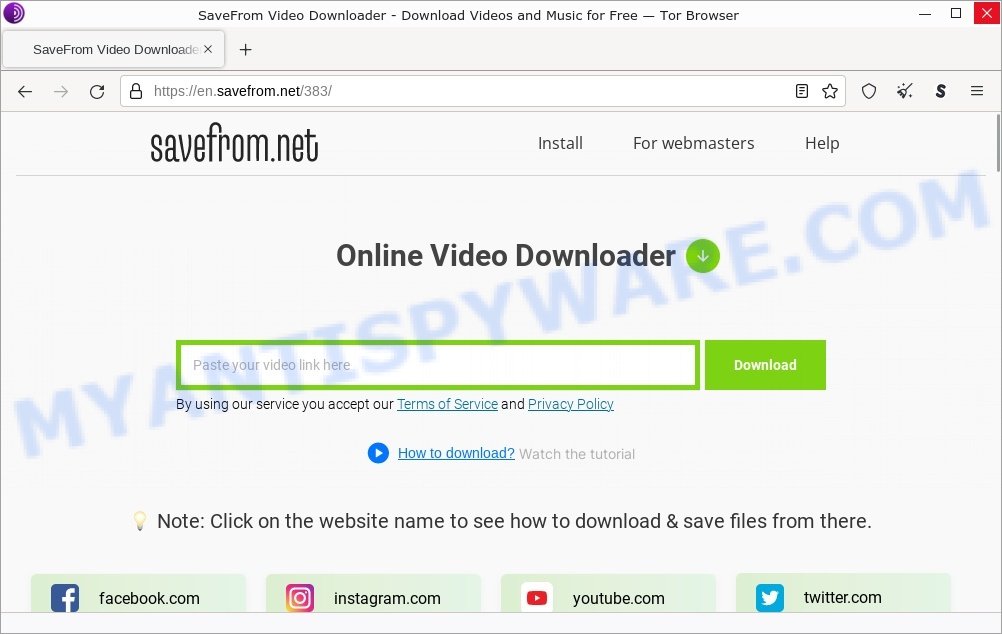 QUICK LINKS
Savefrom.net in detail
The Savefrom.net website has various advertisements that, upon clicking, take the user to potentially untrustworthy websites. Visiting these sites and clicking on their ads can result in the download and installation of potentially unwanted applications.
These websites may contain scripts that trigger the download and installation of unwanted apps, and some may even be scam websites that deceive people into downloading such apps by displaying fake errors, virus alerts, or other misleading notifications and pop-ups.
These scam websites often claim that the visitor's computer is infected or has errors and urge them to download dubious apps or contact scammers, who often try to trick people into paying for unwanted apps or fake tech support services.
Additionally, the Savefrom.net redirects often take users to websites that ask for permission to show push notifications, which people may unintentionally grant. This allows the website to feed the user with unwanted pop-ups and ads, leading to redirects to untrustworthy pages, unwanted downloads, installations, and other issues.
Here are some examples of the push notifications:
During the research, Savefrom.net redirects users to Ak.hetaruwg.com. VirusTotal flagged Ak.hetaruwg.com as malicious: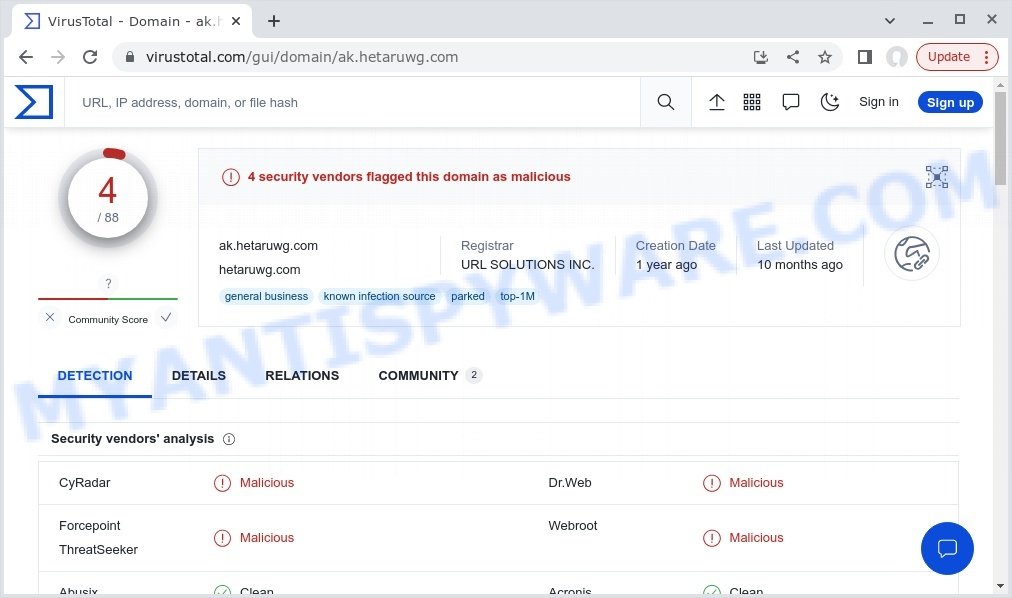 Ak.hetaruwg.com is part of a redirect chain, it means that users who access the site are being redirected to one or more harmful websites. This can expose users to security risks, such as the installation of malware, phishing attacks, and the theft of personal information. Additionally, the user's device may become infected with malware, which can compromise their data, slow down their device, or cause other issues. In such cases, it is recommended to avoid accessing the website and to take appropriate measures to secure your device, such as running a malware scan and updating your security software.
SaveFrom redirects users the Checking your browser Scam: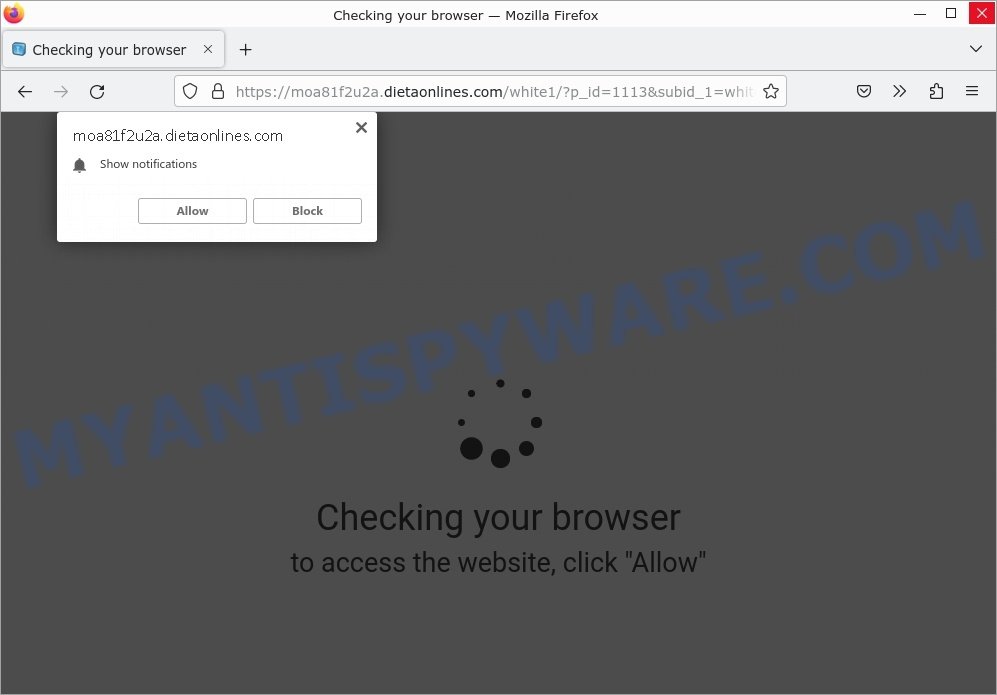 Is Savefrom.net Safe?
Using Savefrom and similar YouTube downloaders can be unsafe for several reasons:
Copyright infringement: Downloading videos from YouTube or other video-sharing websites is illegal and violative of their terms of service. This could result in legal consequences, including fines and lawsuits.
Security risks: Many YouTube downloaders are unreliable and may contain malware or other malicious software that can harm your device or steal your personal information.
Unwanted downloads: Downloading videos from these websites can also result in unwanted software installations, including toolbars, browser extensions, and other unwanted programs.
Poor quality: The quality of the downloaded video may be lower than the original due to the compression and conversion processes used by the downloader website.
Spam and ads: Some YouTube downloaders are filled with pop-up ads, banners, and other unwanted promotions, which can be annoying and distracting.
Therefore, it is generally safer to use legitimate and trustworthy methods to download videos, such as those provided by the video-sharing website itself or official third-party apps.
Examples of similar websites
Y2mate.guru, Yts.mx, Liveonscore.tv, Youtube-to-mp3.org, Sharez.cc are other sites that use rogue ad networks.
While these sites often offer highly demanded online services, it is dangerous to use them as they can redirect your browser to malicious and scam pages. Never allow these sites to send notifications (by clicking the ALLOW button), do not click on the links they contain. Better yet, refrain from visiting such sites.
Below are some examples of phishing scam sites:
How to protect yourself when using Savefrom.net?
Here are some steps you can take to protect yourself when using a YouTube downloader:
Use a reputable antivirus program: Make sure you have a reputable antivirus program installed on your computer and keep it updated.
Keep your software updated: Keep all your software, including your web browser, operating system, and other applications, up to date to patch any security vulnerabilities.
Enable pop-up blocking: Install a reputable ad-blocker and enable the pop-up blocker in your web browser to prevent unwanted pop-ups and downloads.
Avoid clicking on suspicious ads: Be wary of ads on the website, especially those that ask you to download software or plugins. They may contain malware.
Check the site's privacy policy: Read the site's privacy policy to see what data it collects and how it's used. Avoid sites that collect too much personal information or use it for malicious purposes.
Use a reputable video downloader: Consider using a reputable video downloader, such as 4K Video Downloader https://www.4kdownload.com/, to download videos from YouTube. These tools are designed specifically for this purpose and often have built-in security features to protect your computer.
It's also important to be cautious and avoid downloading videos from sources that are not trustworthy. Additionally, regularly backup your important data to prevent data loss in case of a malware attack.
Threat Summary
| | |
| --- | --- |
| Name | savefrom.net (youtube downloader), en.savefrom.net, Ads by savefrom.net, savefrom.net redirects |
| Type | push notifications, pop-ups, pop up ads, pop up virus, malware |
| Distribution | potentially unwanted apps, misleading pop-up advertisements, social engineering attack, adwares |
| Symptoms | slow performance, increased pop-up ads and other unwanted advertisements, unwanted software installations, changed browser settings (homepage, search engine, or installed extensions), malicious redirects, security warnings, modification of files |
| Damage | malware infection, loss of personal information, unwanted software installations, financial loss, changes to browser settings |
| Removal | if you suspect that your computer has been infected after visiting the website, follow the steps |
What to do If you suspect that your computer has been infected?
If you experience any symptoms of malware infection after using a YouTube downloader, here are some steps you can take:
Disconnect from the Internet: Disconnect from the Internet to prevent the malware from spreading.
Run a malware scan: Run a malware scan on your computer using a reputable antivirus program.
Uninstall suspicious software: If the malware scan detects any suspicious software, uninstall it immediately.
Remove unwanted push notifications: If you've granted permission for a website to show push notifications, you can remove them from your web browser's settings. In Google Chrome, for example, go to Settings > Advanced > Privacy and security > Site Settings > Notifications, and remove any unwanted notifications.
Reset your browser: Reset your web browser to its default settings, as the malware may have changed your browser settings.
Keep your software updated: Make sure you have the latest updates installed for your operating system and all installed software, including your web browser.
Seek professional help: If you're unable to remove the malware on your own, seek the help of a professional computer repair service.
It's important to act quickly and take the necessary steps to prevent the malware from spreading or causing more damage. Regularly backing up your important data can help you recover your files if they become corrupted or lost due to a malware attack.
Remove unwanted push notifications
Below we will teach you how to turn them off.
Google Chrome:
Click on 'three dots menu' button at the top-right corner of the Google Chrome window.
Select 'Settings', scroll down to the bottom and click 'Advanced'.
At the 'Privacy and Security' section click 'Site settings'.
Click on 'Notifications'.
Locate Savefrom.net and click the three vertical dots button next to it, then click on 'Remove'.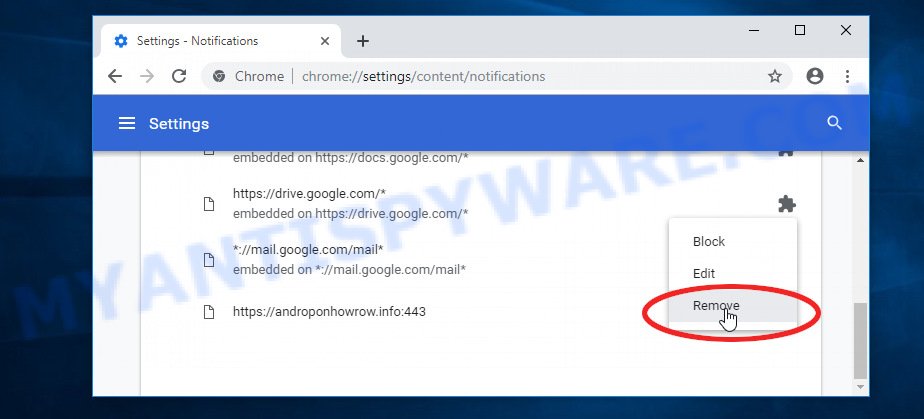 Android:
Open Chrome.
Tap on the Menu button (three dots) on the top right corner of the screen.
In the menu tap 'Settings', scroll down to 'Advanced'.
In the 'Site Settings', tap on 'Notifications', locate Savefrom.net and tap on it.
Tap the 'Clean & Reset' button and confirm.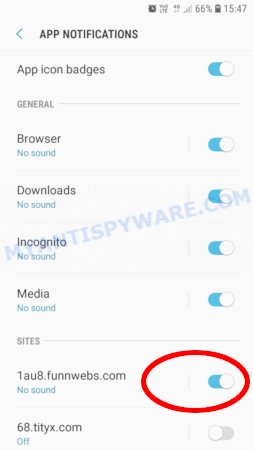 Mozilla Firefox:
In the top right corner, click the Firefox menu (three bars).
In the drop-down menu select 'Options'. In the left side select 'Privacy & Security'.
Scroll down to 'Permissions' section and click 'Settings…' button next to 'Notifications'.
Find Savefrom.net, click the drop-down menu and select 'Block'.
Click 'Save Changes' button.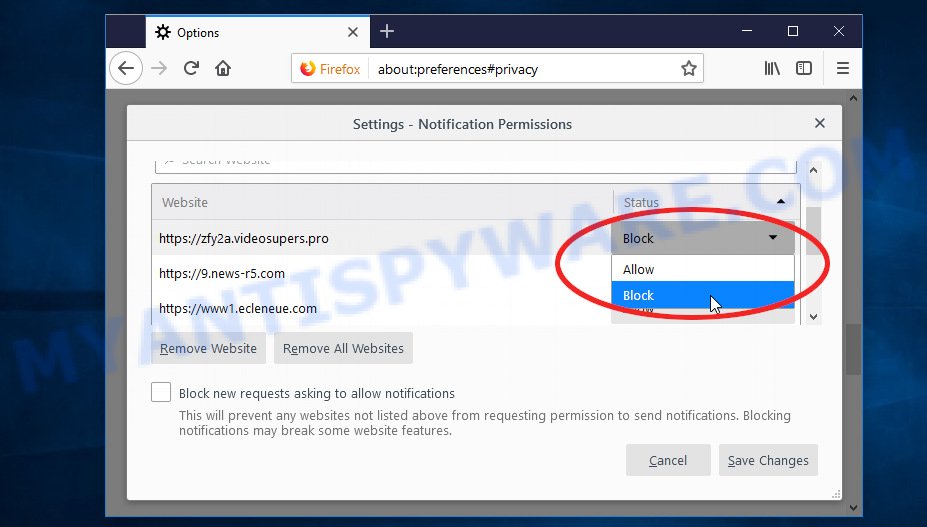 Edge:
Click the More button (three dots) in the top-right corner of the window.
Scroll down, locate and click 'Settings'. In the left side select 'Advanced'.
In the 'Website permissions' section click 'Manage permissions'.
Disable the on switch for Savefrom.net.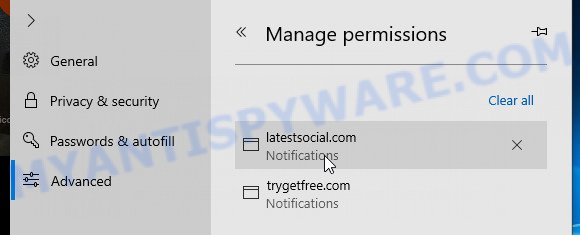 Internet Explorer:
Click the Gear button on the top-right corner of the browser.
Select 'Internet options'.
Click on the 'Privacy' tab and select 'Settings' in the pop-up blockers section.
Locate Savefrom.net and click the 'Remove' button to delete the site.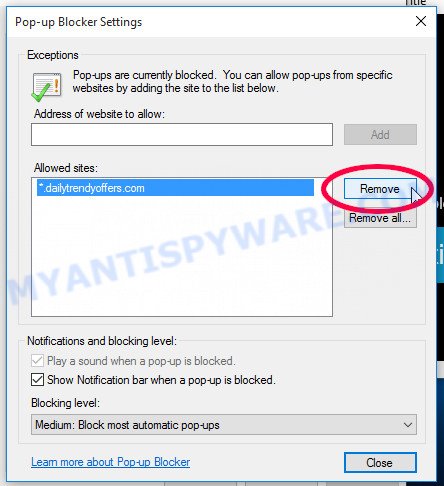 Safari:
Go to 'Preferences' in the Safari menu.
Select the 'Websites' tab and then select 'Notifications' section on the left panel.
Find Savefrom.net and select it, click the 'Deny' button.
Run a malware scan
You can use Malwarebytes to run a malware scan on your computer. Malwarebytes is a well-known and reputable security software that is designed to detect and remove malware, including viruses, spyware, and other malicious software. Running a scan with Malwarebytes can help identify and remove any malware that may have infected your computer after visiting a suspicious website.
It's important to note that Malwarebytes is just one of the many security tools available, and it's always a good idea to use multiple security tools for the best protection against malware. The 5 Best Malware Removal Tools.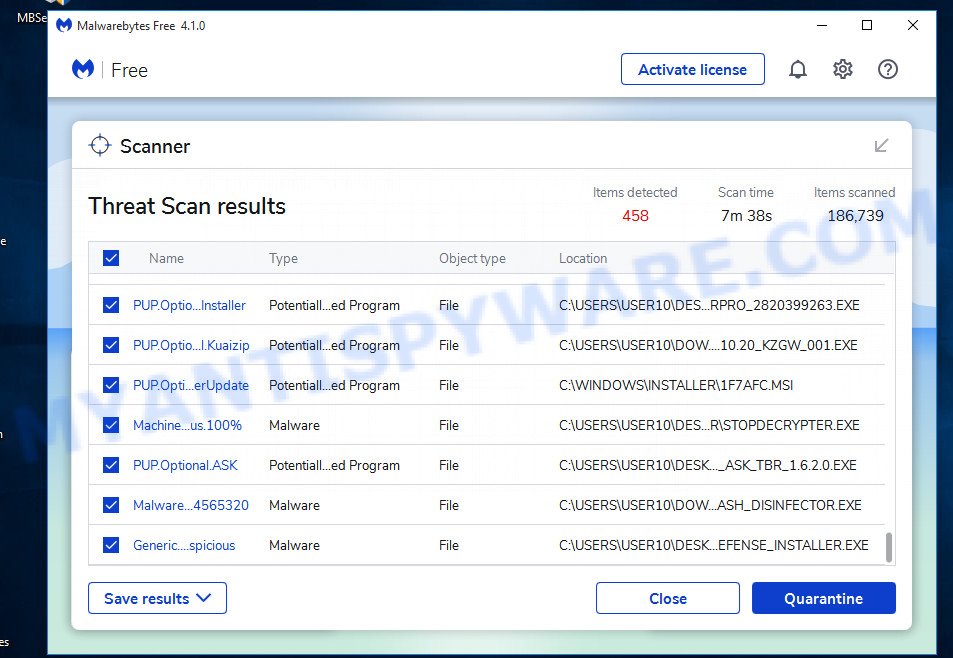 Here is a step-by-step guide to using Malwarebytes:
Download Malwarebytes to your computer, use a link below. Follow the on-screen instructions to install it.


Find the Malwarebytes icon on your desktop or in your start menu and double-click it to launch the program.
Once Malwarebytes is open, click the "Scan Now" button to start the scan. Malwarebytes will scan your computer for malware and other malicious software.
After the scan is complete, Malwarebytes will display a list of any malware or other threats it has found. Review the results to see what needs to be removed.
Click the "Quarantine Selected" button to remove the identified threats from your computer.
If prompted, restart your computer to complete the removal process.
Make sure to keep Malwarebytes up-to-date by regularly checking for updates.
Note: If the scan detects a threat that cannot be removed, you may need to use additional security software.
The following video demonstrates how to use MalwareBytes to remove browser hijackers, adware and other malware.

Finish words
It's a good idea to practice safe browsing habits, such as only downloading software from reputable sources and keeping your software and browser extensions up-to-date. Using antivirus software can also help to detect and remove any adware or other malicious software that may be installed on your device.
We hope this article helped you learn more about Savefrom.net. If you have questions or additional information for our readers, please leave a comment.