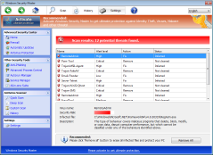 Those of you, who have ever dealt with some kinds of fake scanners, have certainly come across Windows Security Master antispyware tool. In case you haven't, you should pay attention to the way it acts. This guide will help you to detect and indicate this misleading application at short notice. Windows Security Master is actually a Windows Antivirus Master clone and it belongs to Win32/FakeVimes rouges family as well. This misleading application is being pushed by the Trojans which come from other harmful or infected web resources along with fake scanners. It imitates the operation of real antivirus program while scanning your PC. In other words you will see the progress bar as well as certain results of scanning. But all of them are false. Every casual user will naturally try to fix all those problems. In this case he will be asked to download and install Windows Security Master antispyware. You will be forced to believe that this application is truly able to help you recover your PC from all those viruses and infections. You are not supposed to trust this false scanner. Otherwise it can lead to serious problems.
Moreover Windows Security Master will always make you think that your PC is infected and has lots of problems. As soon as you logon to Windows, Windows Security Master is automatically configured to system. You will get numerous messages regarding all kinds of infections while running OS. In addition this misleading program will use real names of different viruses, worms and infections. The main aim is to make you believe that your PC is truly infected. However it is not. Always keep in mind that all those viruses are nothing more but fake. Remember about it especially when you will be asked to buy a full version of Windows Security Master or download any kind of additional applications. All you need is to ignore it.
You will also get different types of security warning and alerts while operating on the computer. All of them will also be sent by Windows Security Master. This is all made in order to make you scared. In other words it becomes obvious that Windows Security Master is absolutely of no use. To say the truth, the rogue was created only for getting money from users. Moreover in some occasions it can turn out to be rather harmful for your PC.
So, be quick and take effort to remove Windows Security Master immediately.  As the rogue is part of the Win32/FakeVimes rogues family, Windows Security Master can be removed in almost the same way. If you have already purchase this misleading application, then call to your credit card company and tell them what has happened!