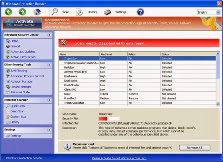 Windows Protection Booster is a not legitimate security tool, it is a rogue anti-spyware program from the big family of Win32/FakeVimes rogues. Nothing new here, like before, it is distributed through misleading webpages. These webpages claims that the user's computer is infected by malware and it advises the user to perform an online scan. The would-be online scanner will claim to have found malware. Finally, it will advise the user to download and install Windows Protection Booster to keep the computer safe and protected. Important to know, that online scanner is fake. The site couldn't possibly detect malware on your computer.

Moreover, the authors of Windows Protection Booster may use a lot of various methods to trick people into installing their fake security software, e.g. trojans, fake plugins, fake flash updates, various misleading applications, social networks (Twitter, Facebook, etc) and spam emails. Please be careful when opening attachments and downloading files or otherwise you can end up with a rogue program on your PC. Remember that the rogue is a highly dangerous software and you need remove Windows Protection Booster as soon as possible!
If you happen to download and install Windows Protection Booster, it will configure itself to run automatically when Windows loads. Next, the rogue will perform a fake system scan and report numerous infections or system security threats to make you think that your computer is infected with spyware, viruses, adware, trojans, rootkits, worms, keyloggers, information stealers, bots, and other form of malicious threats. Windows Protection Booster uses the real names of threats to make the scam look more realistic. In order to remove the supposed infections you will be asked to pay for a full version of the program. Remember, all these "infections" are fake. So, you may easily ignore the scan results.
Furthermore, Windows Protection Booster will display various misleading security alerts and notifications. Moreover, the rogue may block the Task Manager, Regedit and even disable system restore. It will likely disable legitimate anti-virus software too.
As you can see, Windows Protection Booster is absolutely useless. Its a dangerous software. The scan results and warnings and alerts that generated by the rogue are totally fabricated and must by no means be trusted! Use a reputable anti-virus or anti-spyware program to scan your PC and remove Windows Protection Booster. Also read a removal instructions written below to see step-by-step guide how it can be deleted manually.
As the Windows Protection Booster virus is part of the Win32/FakeVimes rogues family, it can be removed in almost the same way. The detailed removal program can be followed by anyone as it really does take you step-by-step.