Sunbelt blog reported about new rogue Anti-Spyware application Spyware Quake – replacement for Spy Falcon and SpyAxe.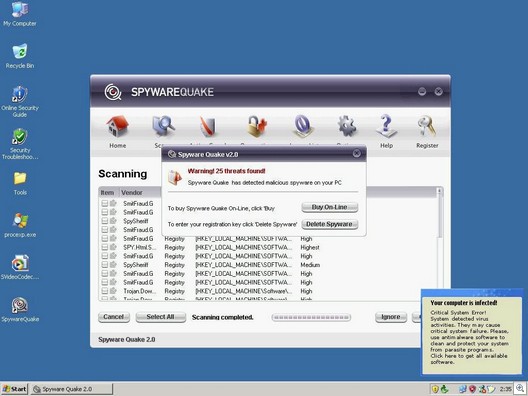 Spyware Quake is installed through the infamous VCodec trojan as well as various exploits.
WHOIS Information:
Domain Name: SPYWAREQUAKE.COM

Registrant:
SafeSurf LLC
Kevin Gerad (Whois Privacy and Spam Prevention by Whois Source)
U-12 Gamma Commercial Complex # 47 Rizal Highway cor. Manila
Olongapo City
null,98101
PH
Tel. +201.6753332
In addition to just a stealth install of Spyware Quake, an infected machine will exhibit other unwanted symptoms such as Internet Explorer browser hijacks, a stealth installed "Security Toolbar", and pop-up advertising that is often adult in nature. Also commonly seen is pop-up advertising for WinFixer.
Now availbale How to remove SpywareQuake
If you can`t uninstall or remove, tell us about your problem.