Sunbelt reported about new CWS site – Coolwebsearch.info.
This site is an affiliate of Coolwebsearch.com that installs a toolbar which hijacks the home page without a EULA.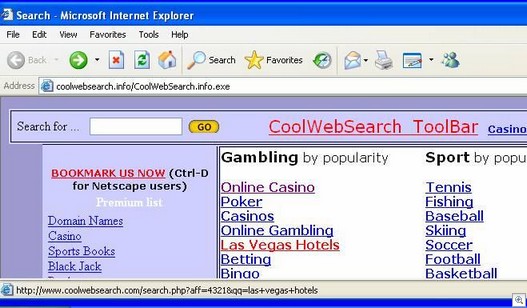 Run by our Best Friend Ever, Vadmim Praha
Whois Data:
Fedorov Vadim Praha CZ hali @ volny.cz
Fedorov Vadim Praha CZ sp @ prague-sex.com
Fedorov Vadim Prtaha 5 CZ sovsem @ nevest.net
Fedorov Vadim Praha CZ radmin @ radmin.kirov.ru
And he's got lots more sites under the IP 194.187.96.195, which you are welcome to put into your blocklists.
Mirotino.com Domainname4you.com
Shopknights.com Fukingmachines.info
Adult-friends-finder.net Girls-porn-life.com
nevest.net Hogtied.info
Best-porn.biz Machinesboys.com
Analmaids.com Meninpain.biz
Boyknights.com Mirotino.com
Ultimatesurrender.biz pansion.cz
Mirotino.com Pereulok.net
coolsearcher.info Pornfree.info
Coolwebsearch.info Pornosaity.com
coolwebsearch.org Pornpic.org
Domainname4you.com Porn-sex-free.biz
Fukingmachines.info Prague-porn.biz
Girls-porn-life.com prague-sex.com
Hogtied.info rape-cool-video.com
Machinesboys.com Salabon.com
Meninpain.biz Sebastacz.com
Onlyfuck.com Sex-prague.com
pansion.cz Shopknights.com
Pavlovbooks.com Spviphost.com
Peniscontent.com Ultimatesurrender.biz
Pereulok.net Waterbondage.biz
Pornfree.info Zaseyan.com
Pornosaity.com Adultdvdlist.com
Pornpic.org Analmaids.com
Prague-porn.biz Boyknights.com
prague-sex.com nevest.net
rape-cool-video.com Onlyfuck.com
Sebastacz.com Zaseyan.com
Waterbondage.biz Adult-friends-finder.net
Zaseyan.com 100pantyhose.com
100pantyhose.com Pavlovbooks.com
Best-porn.biz jonnylinks.com
coolsearcher.info beesearch.info
Coolwebsearch.info Pantyhose-bangs.com
coolwebsearch.org planet-high-heels.com
If you don`t know how to block this sites, try next howto: How to use HOST file for block sites
Also if you can`t remove CWS hijacker or toolbar, try it: How to remove CWS Hijacker