Cold weather is coming, and as usual, scammers are trying to cash in on your need to stay warm. One product that's getting a lot of attention is the AEXZR™ Mini Portable Kinetic Heater, with ads popping up on Facebook, TikTok, and other social media platforms. These ads make it seem like a simple and efficient solution for heating, claiming the device is safe for children and even solar-powered. But is it too good to be true? Our investigation into the product and the company behind it reveals multiple reasons to be skeptical. If you've been thinking about buying this heater, you'll want to read on to find out why it's likely a scam.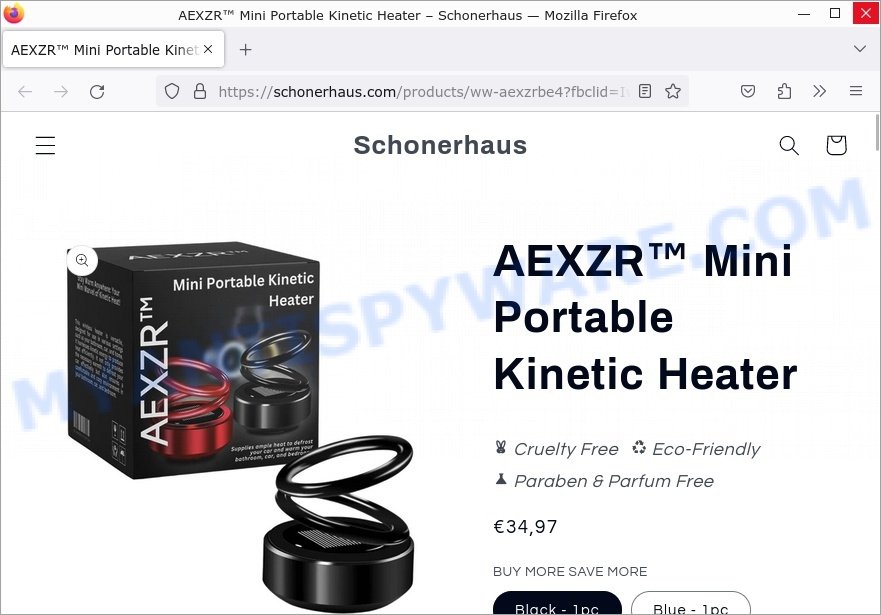 Table of Contents
🚨 Is AEXZR™ Mini Portable Kinetic Heater a Scam?
Yes, the AEXZR™ Mini Portable Kinetic Heater is a scam. One of the biggest red flags is that this so-called "innovative heater" is actually an air freshener. You can find the exact same product being sold on AliExpress and other websites for a fraction of the price—almost 10 times cheaper. In the sections below, we'll lay out all the facts and warning signs that point to this product being a scam.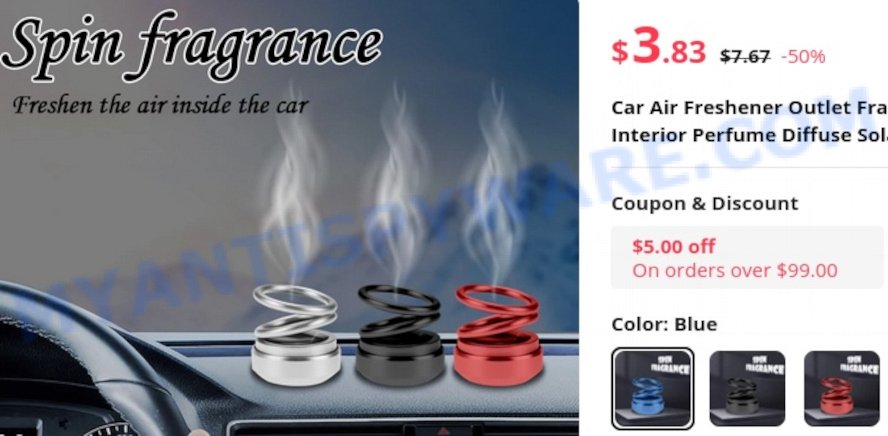 🔍 Fake Science
The product claims to generate heat through kinetic energy in a way that current science doesn't support. The explanation given is either not accurate or is too vague to be reliable.
⚠️ Fake Reviews
The product uses customer testimonials that are likely fabricated, as they can't be verified and seem too good to be true.
💡 Deceptive Marketing
The advertisements and product descriptions are filled with high-sounding but empty terms. They promise a lot but don't realistically explain how the device works.
💸 Unrealistic Price
The low price for a supposedly revolutionary device is a red flag. Such technology, if real, would cost much more to produce.
🌐 Questionable Company Information
The contact details for the company are linked to other suspicious or downright fraudulent websites.
📷 Misleading Product Photos
An internet search reveals that the device is actually a much cheaper air freshener. This shows that the product is not what it claims to be.
👥 Social Media Traps
The scam appears to be heavily promoted on social media platforms like Facebook, a common tactic used to lure in unsuspecting victims.
---
Given these points, it's safe to say that the AEXZR™ Mini Portable Kinetic Heater is not a legitimate product and is likely designed to deceive and defraud consumers. If you come across this product, it's advisable to report it and inform others to avoid falling into the trap.
🕵️‍♂️ How the 'Mini Portable Kinetic Heater' Scam Works
The AEXZR™ Mini Portable Kinetic Heater is a fraudulent product that promises to be an innovative, solar-powered heating device but is in reality a rebranded air freshener sold at a 10x markup. This scam falls under the category of Product Misrepresentation and Deceptive Marketing. The company makes false promises about what the product can do, including claims that aren't scientifically supported, and then heavily markets it on platforms like Facebook.
How the Scam Operates:
1️⃣ Creating Hype: The scammers heavily invest in social media marketing, especially on platforms like Facebook. They run ads that make the product seem revolutionary and a must-have for everyone. This creates a sense of urgency and FOMO (Fear Of Missing Out).
2️⃣ Fake Website and Domains: They create polished websites that mimic legitimate online stores. These websites may even have SSL certificates (the lock symbol in the web address) to give an illusion of security.
3️⃣ False Science: They use terms like "kinetic energy", "dual-ring suspension system", and "360° Ice Removal Coverage" to baffle buyers with scientific-sounding but meaningless jargon. There is no real explanation or verified scientific principle supporting how the device supposedly works.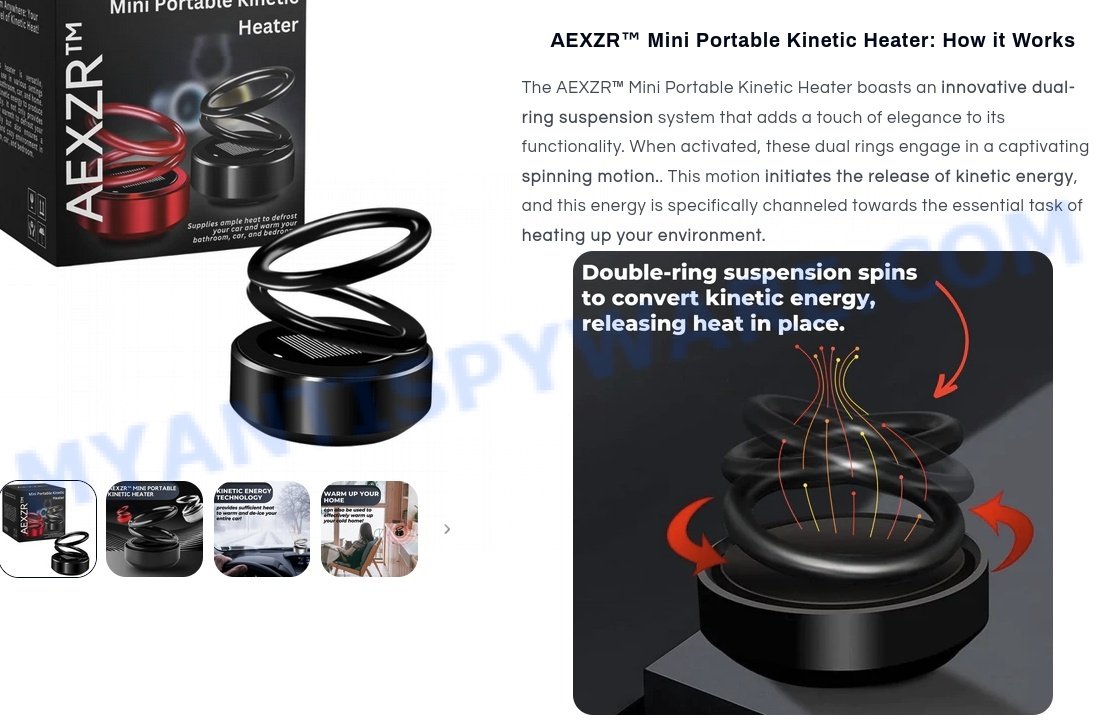 4️⃣ Fake Reviews and Testimonials: Fabricated reviews from supposed satisfied customers like "Marco Peltz" and "Kevin Reynolds" are displayed on the website to show that the product is trustworthy and effective.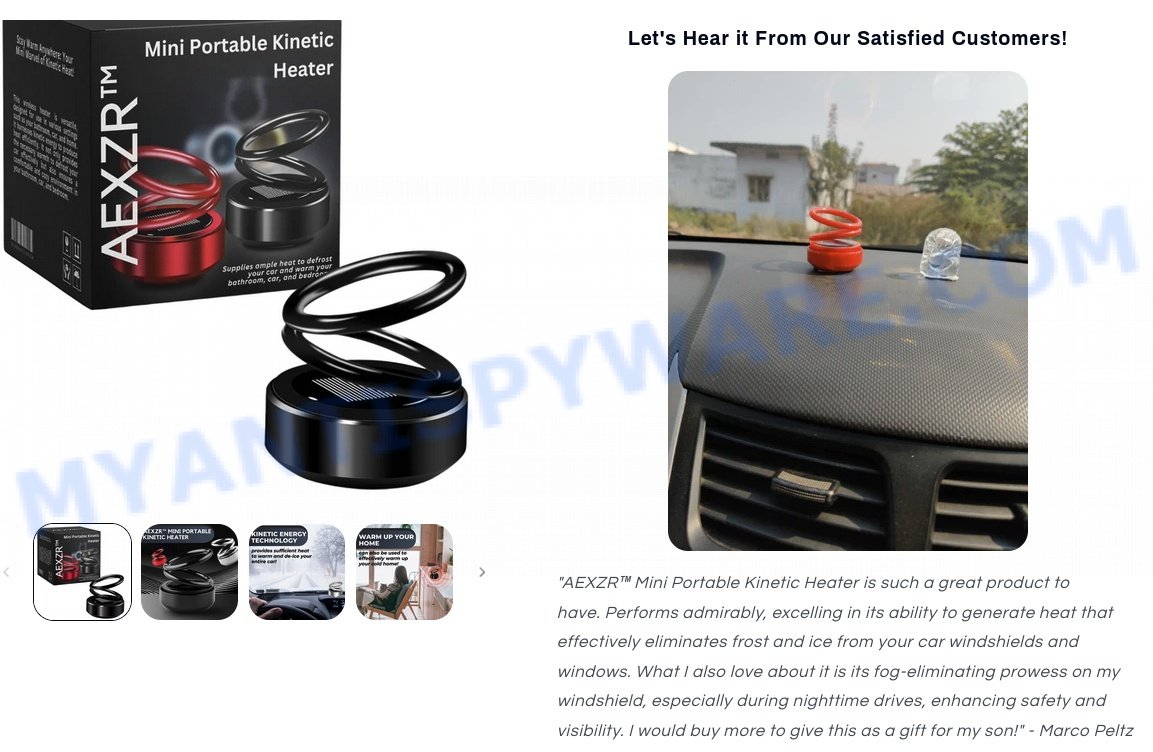 5️⃣ Promotional Deals and Countdown Timers: Often, the site will show limited-time offers or countdown timers to push the buyer into making a quick decision without properly evaluating the product.
6️⃣ Deceptive Pricing: The actual device is an air freshener available for around $3.83 on platforms like AliExpress. The scammers rebrand it and hike the price to around €34.97, exploiting the consumer's lack of knowledge about the actual product.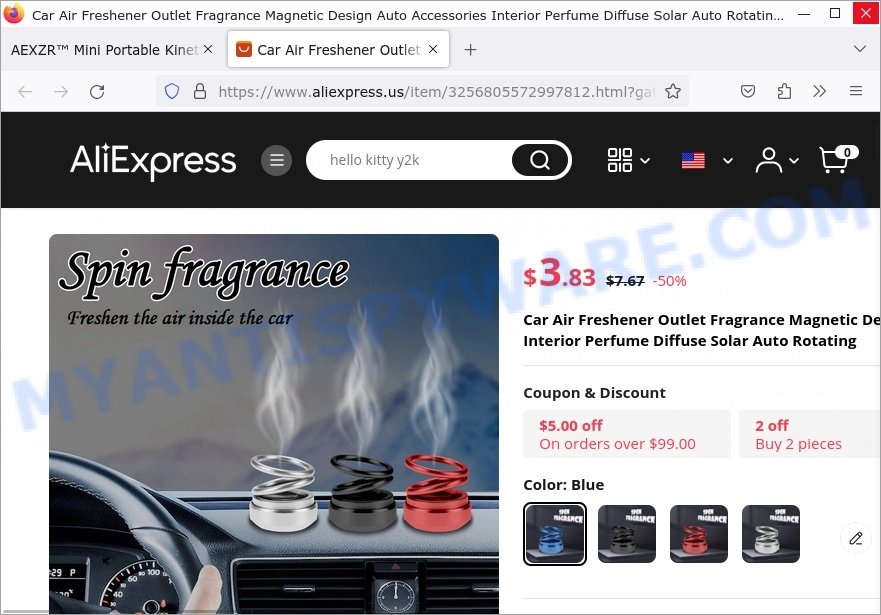 7️⃣ Obscure Payment Methods: These websites may encourage payment methods that are not easily reversible, making it hard for you to get your money back once you realize it's a scam.
8️⃣ Contact Info Trick: An email and an address (often linked to other suspicious or fraudulent activities) are provided, but they are generally unresponsive or unhelpful when you try to get a refund or even basic customer service.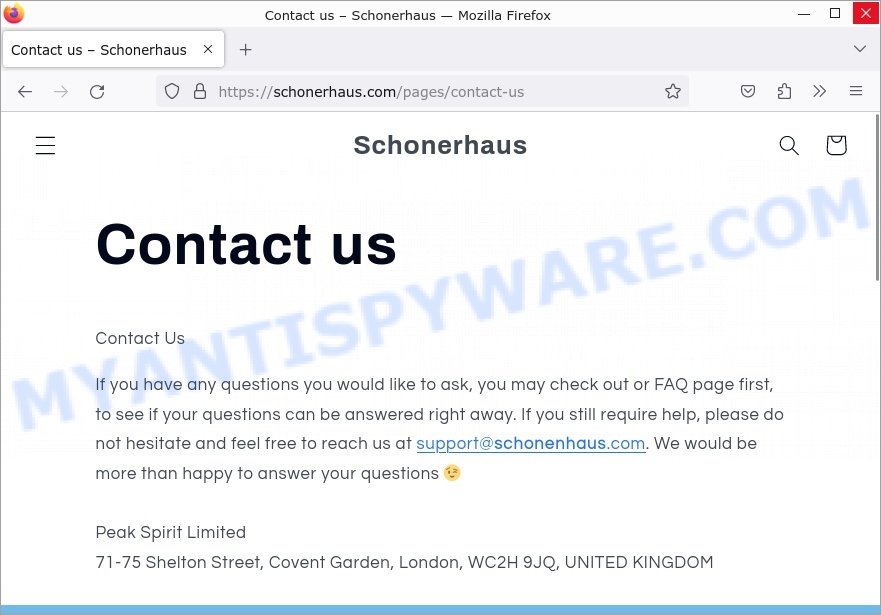 9️⃣ Shipping the Fraudulent Product: If you end up purchasing, you'll likely receive an air freshener that does nothing related to heating or ice removal, making it clear that you've been deceived.
🔟 Blocking and Ignoring: Once they have your money, the scammers may block any further communication, leaving you with no recourse to claim a refund.
---
In summary, scams like the AEXZR™ Mini Portable Kinetic Heater are able to flourish because they exploit gaps in public knowledge and take advantage of the trust people place in what appear to be credible sources. Always do your research before making a purchase, and if something seems too good to be true, it probably is. Report scams when you encounter them and warn your friends and family to prevent these fraudsters from succeeding.
🤔 Why Such Scams Are Possible
Quick Profit Motive
Scammers are in it for the quick buck. They don't care about long-term consequences because they usually disappear before anyone catches on.
Limited Oversight on Ad Platforms
While social media websites have policies against scams, the sheer volume of ads makes it challenging to police every single one. Scammers take advantage of this gap to promote their fake products.
🧠 Human Psychology
Scammers know that people are looking for quick, easy solutions to their problems. The desire for an immediate fix can sometimes cloud judgment, making individuals more susceptible to scams.
⚖️ Lack of Legal Consequences
In many cases, these scammers operate across international borders, making legal pursuit complicated and unlikely. This reduces the risk for scammers, encouraging such fraudulent activities.
👤 Anonymity on the Internet
It's easy for scammers to hide their identity online. A fake name, a throwaway email address, and they're in business. This makes it hard to trace and take down these fraudulent schemes.
💡 Beware of Similar Devices
It's not just the AEXZR™ Mini Portable Kinetic Heater you need to watch out for; there are other products claiming extraordinary benefits that often turn out to be scams. Here are some similar products to be wary of:
This device claims to use "advanced electromagnetic technology" to remove snow and ice effortlessly. Like the AEXZR, it employs scientific jargon to confuse and lure potential buyers, but there's no substantial evidence to support its claims.
This portable air conditioner claims to cool down your room in minutes using "rapid cooling technology". It often comes with a flashy website and fake reviews to make it seem legitimate. However, similar devices have been found to be mere humidifiers or fans with no real cooling capabilities.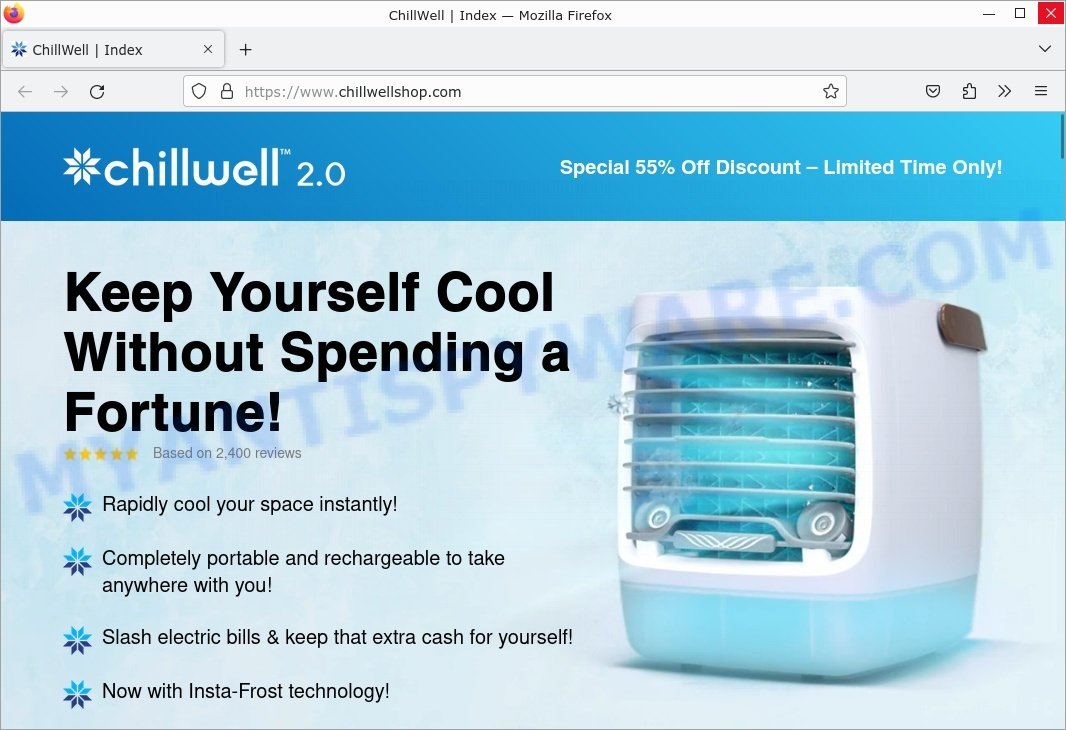 This product promises to drastically improve your car's fuel efficiency using a "revolutionary chip". It boasts a hassle-free installation and quick results, but there's no verified data to back these claims. Plus, messing with your vehicle's electronics can be risky and void your warranty.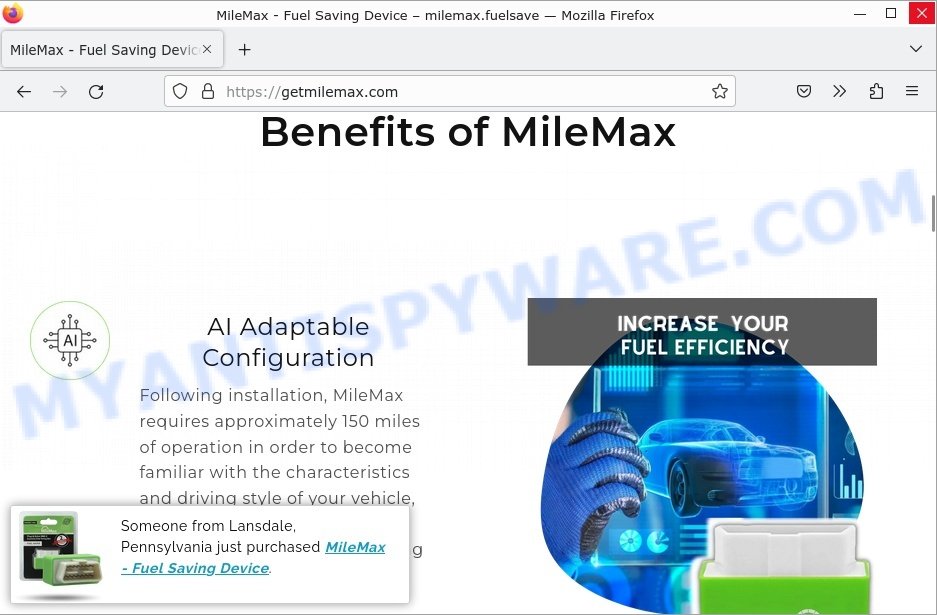 This device claims to reduce your electricity bill by optimizing your energy usage. It often comes with a money-back guarantee to appear more trustworthy. But consumers have reported either no change or an increase in their energy bills after using it.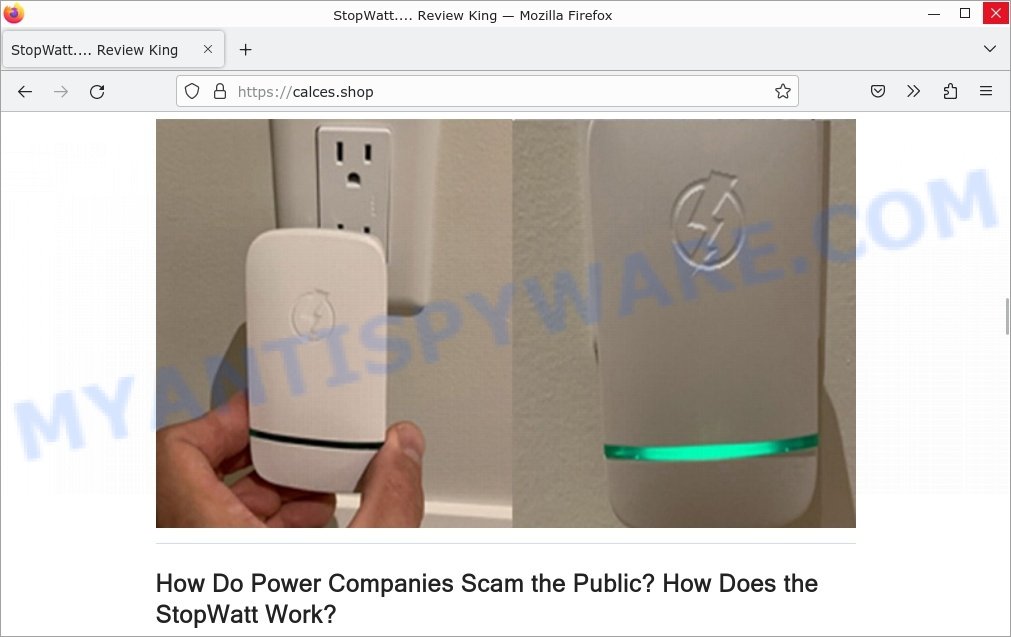 These products share common red flags:
🚩 False Science: They use scientific-sounding language that lacks credible backing.
🚩 Fake Reviews: Customer testimonials often seem scripted and too good to be true.
🚩 Pressure Tactics: Limited-time offers and countdown timers urge quick purchasing decisions.
🚩 Unclear Contact Information: They provide an email or an address often linked to fraudulent activities.
😱 What to Do If Scammed
If you find yourself ensnared by the AEXZR™ Mini Portable Kinetic Heater Scam, immediate action is crucial. Here's what you should consider doing:
🛑 Stop Further Transactions
The first step is to halt any additional transactions that might be in process. Contact your bank or credit card provider and inform them that you've fallen victim to a scam. They can help by blocking the card or reversing any unauthorized transactions.
📞 Report the Fraud
File a report with your local police and provide all the available evidence, such as screenshots, emails, and website URLs. Additionally, report the scam to online portals like the Better Business Bureau (BBB) at www.bbb.org or the Federal Trade Commission (FTC) at reportfraud.ftc.gov. If you're in another country, reach out to your national consumer protection agency.
💻 Take Screenshots
Before the scam website gets taken down or changes, make sure to capture screenshots of your transactions and communications. These can serve as evidence if you decide to pursue legal action.
⚖️ Consult Legal Advice
Speak to a legal advisor about your situation. While pursuing legal action may be time-consuming and costly, it could be a possible avenue for recovering your lost money.
📢 Share Your Experience
Use social media platforms to share your experience and warn others about the scam. Your story could prevent someone else from falling victim to the same or similar scams.
Summary Table
| Factor | Observations | Impact on Legitimacy |
| --- | --- | --- |
| Product Description | Uses complex and scientific language to describe how it works. Lacks a clear physical explanation. | Negative |
| Reviews | Reviews appear to be scripted and exaggerated. No verified purchase data. | Negative |
| Marketing Channels | Heavily promoted on social media like Facebook, often employing urgency tactics like "Last Day Sale". | Neutral (Many legit products do this) |
| Technology Claimed | Claims to use "kinetic energy" to generate heat. No scientific backing for this claim. | Negative |
| Price | Listed at €34.97, but similar devices identified as car air fresheners sell for around $3.83 on AliExpress. | Negative |
| Real Functionality | When searched, the same product image shows up as an air freshener sold at a much lower price. | Negative |
| Company Contacts | Provided email and address have been used by other suspicious or fraudulent websites. | Negative |
| Power Source | Claims to be solar-powered, but no details are given on how effective this power source is. | Negative |
| Safety Claims | Claims to be safe for children and to emit no heat or radiation, which contradicts its supposed purpose as a heater. | Negative |
Conclusion
After thoroughly investigating the AEXZR™ Mini Portable Kinetic Heater, the evidence strongly suggests that this product is a scam. From the misleading product description to the sketchy reviews and shady company contacts, the signs of fraud are hard to ignore.
Be cautious and always do your own research before making any purchases, especially for products that claim to utilize advanced or "revolutionary" technology. It's easy to get fooled by sophisticated language and compelling marketing tactics. However, if something sounds too good to be true, it probably is. Always opt for verified, well-reviewed products when you're shopping online to avoid getting scammed.
By understanding how these scams work and what red flags to look for, you can protect yourself from falling victim to such schemes. Remember, scams like these are possible because they prey on quick decision-making and a lack of information. Being informed and cautious is your best defense.