A new bitcoin wallet, 1P28gw81epAv9RfjhaJikNjukboCrj8Lvn, has been identified as part of 'Sextortion' scam. Scammers are using this wallet to extort money from victims by threatening to release personal information if payment is not made to the wallet. However, it's important to remember that this wallet is just one of many used by scammers, and it's best to be cautious when receiving any emails that demand payment to a bitcoin address.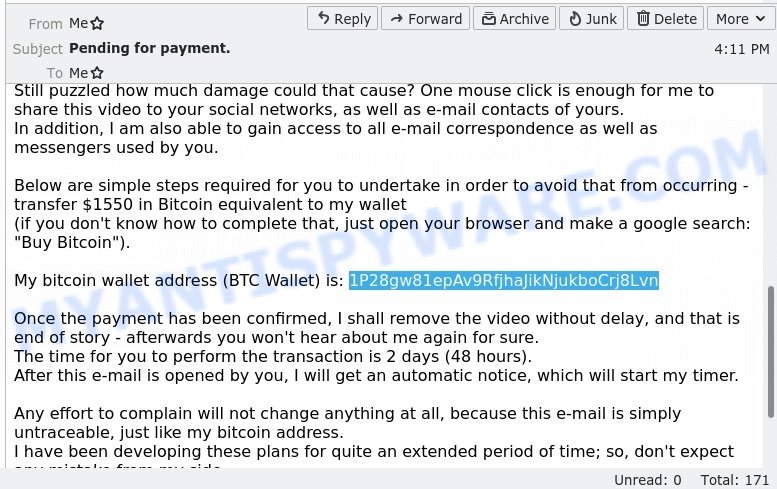 Sextortion scams are a growing problem on the internet, where scammers use the threat of releasing sensitive or embarrassing information to extort money from victims. These scams often start with an email that claims to have compromising images or videos of the victim obtained through hacking or malware. The scammers will then demand payment in the form of bitcoin or other cryptocurrency to a specific wallet address.
If you receive an email like this, it's important to not panic and to avoid sending any money to the bitcoin address provided. Instead, carefully review the email and consider if it's credible. Keep in mind that scammers will often use tactics such as urgency, threats, or promises of confidentiality to trick victims into sending money. For more information about sextortion scams and how to protect yourself, read our article on the "Greetings! Have you seen lately my e-mail to you" Sextortion Email Scam.
In conclusion, it's crucial to stay informed and to be cautious when receiving any emails that demand payment to a bitcoin address. Remember that scammers are always looking for new ways to trick people out of their money or personal information. By being vigilant and educating yourself about these types of scams, you can protect yourself and help prevent others from falling victim to them.
Examples of such bitcoin scams
1J19XKeUhXdG67Xt9MnGEM9c18ts2UJ9CB, 1JSYZui6naWDUuqRjih9vZgetbkqWY4cTq, and 1CK41adce6KuM3UM2eySnzUyR9SAJnf4wu are other bitcoin wallets that are used in extortion schemes. Bitcoin, as a decentralized digital currency, allows for relatively anonymous transactions. This makes it a common payment method for ransoms, as it allows the scammers to receive payment without having to reveal their identity.
Threat Summary
| | |
| --- | --- |
| Type | Bitcoin Blackmail Scam, Sextortion Scam |
| NAME | Greetings! Have you seen lately my e-mail to you EMAIL SCAM |
| Ransom amount | $1550 |
| BTC Wallet | 1P28gw81epAv9RfjhaJikNjukboCrj8Lvn |