If you're experiencing unwanted changes in your browser settings and unexpected redirects to https://searchtabs.io/trclk?q=QUERY when you search, you might be dealing with the Searchtabs.io browser hijacker. This malicious program infiltrates your computer and alters your web browser without your consent. It then takes control, directing your searches through its domain, which can result in misleading search outcomes and possible exposure to risky sites. Below is a comprehensive breakdown of what you need to know about the Searchtabs.io hijacker: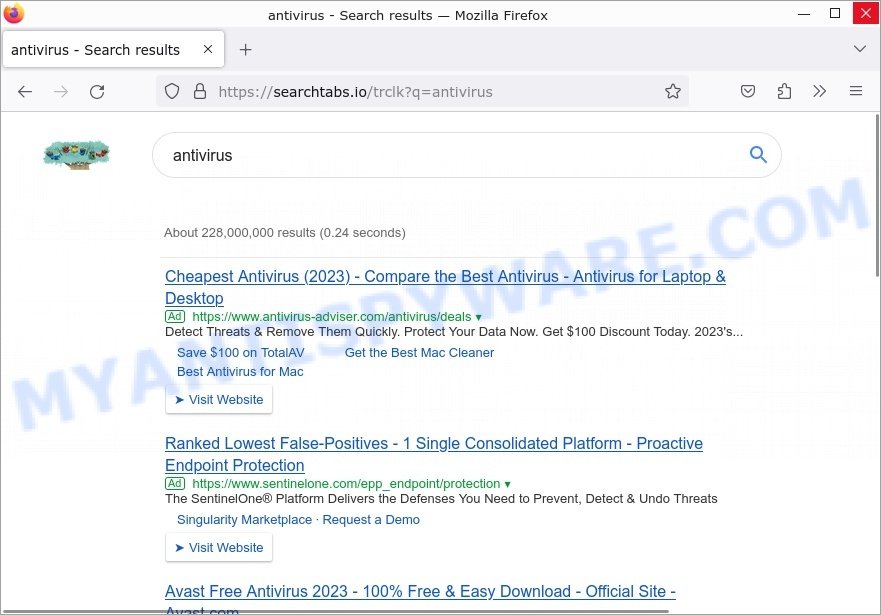 Table of Contents
What is Searchtabs.io?
Searchtabs.io is not a legitimate search engine but rather the address of a fake search engine. It masquerades as a genuine search provider, often fooling users into thinking it's a trustworthy tool. However, during routine inspections of suspicious websites, researchers have uncovered the deceptive nature of this page.
The Searchtabs.io redirect typically occurs when your browser is affected by malicious extensions or settings changes. It can be both annoying and potentially harmful as it can expose you to unwanted advertisements and unreliable search results. Here's an overview of the key facts about Searchtabs.io:
🕵️‍♂️ Stealthy Entry
Often sneaking in through free software downloads, bogus Google Docs extensions, or deceptive "Your File Is Ready To Download" prompts.
🔄 Homepage & Search Engine Alteration
Once inside, it alters your homepage and default search engine to Searchtabs.io without your explicit consent.
🔒 Restrictive Settings Lock
To make matters worse, Searchtabs.io can use Google Chrome's "Managed by your organization" feature to lock browser settings, making its removal quite challenging.
🔀 Misleading Search Results
Instead of authentic search results, users are redirected to its manipulated page with a format like "https://searchtabs.io/trclk?q=QUERY". This can often lead to questionable websites promoting scams, counterfeit products, or even explicit content.
🕵️ Privacy Concerns
Not just content manipulation, it also poses a significant privacy risk. It can collect data on your online activities, potentially capturing search terms, visited sites, and even personal data.
---
In a nutshell, while Searchtabs.io might seem like a regular search engine at first glance, it's an entity that thrives on deception and user manipulation. Always approach with caution! ⚠️🔍
Examples of Browser hijackers
Browser hijackers are a prevalent and persistent threat that can significantly disrupt users' online activities and compromise their privacy. These malicious programs manipulate browser settings, redirect searches, and often exhibit intrusive behavior. In this section, we present a list of browser hijackers similar to Searchtabs.io, including Gosearches.gg and other notable variants.
Fake Google Drive extension, Chromstera Browser Hijacker, and Ook.gg redirect virus are examples of other browser hijackers similar to Searchtabs.io that you should be aware of. By familiarizing yourself with these examples, you can better recognize the characteristics and potential risks associated with these hijackers.
How did Searchtabs.io get installed?
Understanding how browser hijackers like Searchtabs.io infiltrate systems is crucial in preventing their unwanted presence. Searchtabs.io can get installed through various means, often taking advantage of users' unsuspecting actions. Common methods include deceptive pop-up advertisements, malicious email attachments, fake software updates, or bundled downloads of freeware or shareware programs. Users may unintentionally grant permission for the installation of Searchtabs.io by hastily clicking through installation prompts or neglecting to read the terms and conditions. Here are some of the main ways this browser hijacker gets installed:
Searchtabs.io often piggybacks on free software downloads. When users install applications from untrustworthy sources or neglect to opt out of additional offers during the installation process, the hijacker may stealthily sneak in.
Malicious ads and pop-ups can trick users into clicking on them, leading to the unintended installation of Searchtabs.io. These ads may appear on compromised websites or be triggered by adware infections.
Scammers may present fake software updates or security alerts, urging users to download and install certain files. Unfortunately, these updates are often a guise for delivering malware like Searchtabs.io onto unsuspecting systems.
Opening email attachments from unknown or suspicious sources can introduce browser hijackers like Searchtabs.io onto your computer. Always exercise caution and scan attachments with reliable antivirus software before opening them.
Clicking on links from unreliable sources, such as suspicious websites or unverified emails, can lead to the inadvertent installation of Searchtabs.io. Avoid interacting with unfamiliar links, especially those promising free downloads or claiming urgent action is required.
Examples of scam pages that are designed to trick users into installing browser hijackers:
To protect yourself from Searchtabs.io and similar browser hijackers, practice safe browsing habits. Be cautious when downloading software, keep your operating system and security software up to date, and exercise skepticism when encountering unfamiliar links or email attachments.
Threat Summary
| | |
| --- | --- |
| Name | Searchtabs.io, "Searchtabs.io redirect", "Searchtabs.io virus" |
| Type | browser hijacker, fake search engine |
| Affected Browser Settings | home page, search provider, newtab URL |
| Affected Browsers | Google Chrome (primary target), may affect others (Edge, Opera, etc) |
| Searchtabs.io installer (malware) | SuperStar Setup.exe, Your File Is Ready To Download.exe, Recent Posts.exe, TrollLock IPA.exe, ZiegenSimulator 3 kostenloser Download.exe, donotrun.exe, SECRET to BOOST FPS in FiveM GTA RP in 2022.exe, Download_ Anon SE v1.2.rar (311.3 KB).exe, Cognitive Submission Therapy.exe, Rainbow Six Siege Cheat.exe, SomeSomeConvenienceStoreRepackGames.com.exe, 1920×1080 new super mario bros wallpaper.exe, |
| Distribution | Bundled downloads, fake extensions, malicious ads, fake software updaters |
| Symptoms | Unwanted changes to browser settings, redirects, ads |
| Risks | Privacy invasion, system security compromise, fraud |
| Removal | Use the Searchtabs.io removal guide |
How to remove Searchtabs.io from Windows 11 (10, 8, 7, XP)
When the Searchtabs.io browser hijacker infiltrates your Windows computer, immediate action is essential. Such malware doesn't just disrupt your browsing; it poses a genuine threat to your digital safety. In the subsequent steps, we'll guide you through a clear and concise method to remove Searchtabs.io from your Windows system. Dive in, and let's restore your computer's health.
To remove Searchtabs.io, perform the steps below:
Read this section to know how to manually remove the Searchtabs.io redirect virus. Even if the step-by-step guide does not work for you, there are several free removers below which can easily handle such hijackers.
Uninstall any suspicious programs
The first step is to check your computer for any suspicious programs or extensions and remove them. To do this, go to the Control Panel (on Windows) or Applications (on Mac) and uninstall any programs that you don't recognize or that you think may be associated with the Searchtabs.io hijacker.
Windows 7
Windows 8

Click 'Start'.
In the Start menu select 'Control Panel'.
Find and select 'Programs and Features' or 'Uninstall a program'.
Select the program.
Click 'Uninstall'.

Press and hold Windows key and hit X key.
Select 'Programs and Features' from the menu.
Select the program.
Click 'Uninstall'.

Windows 10
Mac OS

Press and hold Windows key and hit X key.
Select 'Programs and Features' from the menu.
Select the program.
Click 'Uninstall'.

On the top menu select 'Go', then 'Applications'.
Drag an unwanted application to the Trash bin.
Right-click on the 'Trash' and select 'Empty Trash'.
Fix Windows Policies to Remove the Searchtabs.io hijacker
Sometimes, the removal of the Searchtabs.io virus is hindered by certain malware-induced policies. By making changes to the Windows Registry and addressing group policies, you can overcome this obstacle. Here's how:
Open Windows Registry Editor:

Press the Windows key (🪟) and "R" simultaneously. This will bring up the Run dialog box.
Type "regedit" and hit Enter. The Windows Registry editor will now be visible.

Navigate and Remove Malicious Registry Entries:

Head over to "Computer\HKEY_LOCAL_MACHINE\SOFTWARE\Policies\". Use this path as your guide.
Identify and delete the folders named Chromium and Chrome which are associated with the "Managed by your organization" malware.
Once done, exit the Windows Registry editor.

Address Group Policy Folders:

Hold the Windows key (🪟) and "X" together to open a quick-access menu.
From the menu, choose Command prompt (Administrator). You'll be presented with a command prompt window.

Execute the Following Commands:

Input rd /S /Q "%WinDir%\System32\GroupPolicyUsers" and hit Enter.
Next, type rd /S /Q "%WinDir%\System32\GroupPolicy" and press Enter.
Lastly, enter gpupdate /force and press Enter. If executed correctly, you'll be greeted with messages indicating both the Computer Policy and User Policy have been updated successfully.

Restart Your Computer:

After executing the above steps, it's crucial to restart your computer to ensure the changes take effect.
Remember, modifying the registry and group policies are advanced actions. Always proceed with caution and ensure you're following the steps correctly.
Remove Searchtabs.io from Chrome
Having successfully fixed any restrictions that might have prevented the removal of unwanted extensions, it's now time to tackle and eliminate Searchtabs.io from your Chrome browser.
Access Chrome Extensions: Open your Google Chrome browser. Locate the three horizontal dots at the top-right corner (the Chrome menu button) and click it to reveal a drop-down. From this list, opt for 'More Tools' and subsequently select 'Extensions'. Alternatively, quickly navigate by typing chrome://extensions into Chrome's address bar.
Inspect and Remove: Examine the list of installed extensions. Identify any unfamiliar or suspicious ones, or those you simply don't need anymore. Click the "Remove" button beneath these extensions. A confirmation pop-up will appear; press "Remove" again.
Reset Your Browser: To ensure no traces remain, consider resetting your browser settings. This action disables all extensions, clears cookies, and undoes unwanted changes but preserves your bookmarks and saved passwords. To do this:

Revisit the Chrome main menu.
Choose "Settings".
Find and select "Reset settings".
Click on "Restore settings to their original defaults".
Confirm by selecting the "Reset settings" button.
Note: If an unwanted extension remains despite these steps, consider using a trustworthy antivirus tool to scan your computer for any related malware or threats.
Scan your computer for malware
After you've tried to remove Searchtabs.io and reset your browser, there might still be hidden problems. Some bad files can stay hidden or look like normal ones. It's always a good idea to do a full computer scan to catch these. This way, you can be sure everything harmful is gone. Let's make sure your computer is clean and safe!
To fully ensure your computer's safety, consider using MalwareBytes to automatically remove the Searchtabs.io redirect virus. MalwareBytes is a trusted anti-malware tool with a strong track record. It's been widely recognized for its efficiency in detecting and eliminating a broad range of threats, from sneaky browser extensions to more aggressive forms of malware. By employing advanced scanning techniques, MalwareBytes digs deep into your system, ensuring no malicious elements go unnoticed. Simply download, install, and run a full scan with MalwareBytes to clear out any lingering threats related to the Searchtabs.io or other potential risks.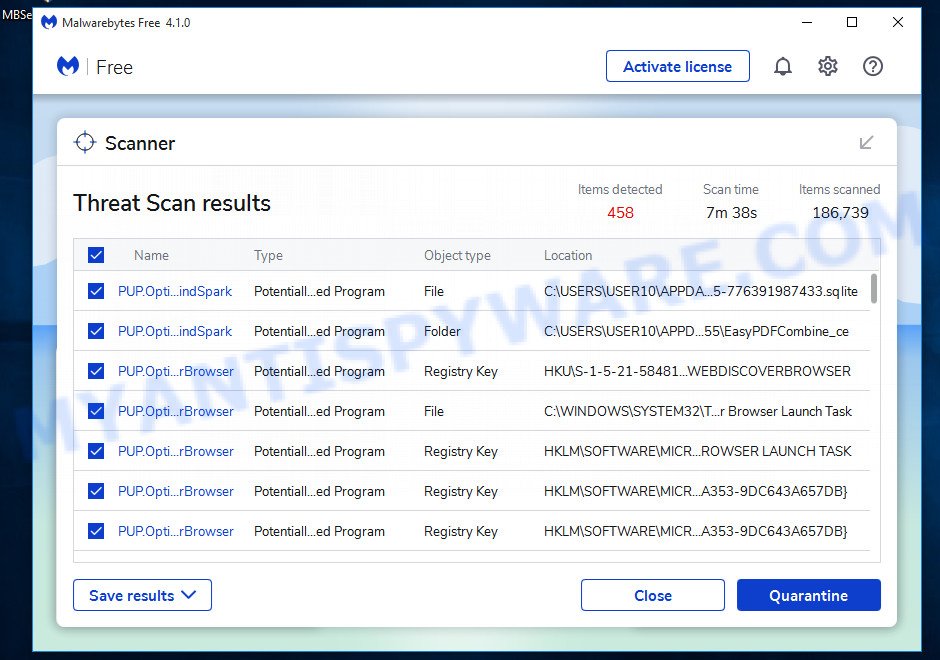 Download Malwarebytes by clicking on the link below. Save it on your Windows desktop.


Once the download is done, close all applications and windows on your personal computer. Open a folder in which you saved it. Double-click on the icon that's named MBsetup.
Choose "Personal computer" option and press Install button. Follow the prompts.
Once installation is finished, scan your computer. Run a full scan of your computer to detect and remove any browser hijackers and other forms of malware. The scan may take several minutes to complete, depending on the size of your hard drive and the speed of your computer.
Remove detected threats. If the scan finds any threats, click Quarantine to remove them. The software will automatically remove the browser hijacker and any associated malware. After the removal process is complete, restart your computer to ensure that any changes made by the hijacker are fully removed.
The following video demonstrates how to remove hijackers, adware and other malware with MalwareBytes.
What to Do After Removing the hijacker
After successfully removing malware, especially one as deceptive as a browser hijacker, it's crucial to take a few additional steps to ensure the safety and security of your device and data. Here are some recommended actions to take:
It's important to change your browser settings back to your preferred search engine and homepage. Make sure that the Searchtabs.io virus is completely removed from your browser's settings and that it cannot reappear.
If you entered any sensitive information such as login credentials or passwords while the browser hijacker was active, change them immediately. This will prevent any potential identity theft or unauthorized access to your accounts.
To remove any traces of the browser hijacker, clear your browser history and cache. This will help ensure that any data or information collected by the hijacker is removed from your system.
Use a reputable anti-malware program like Malwarebytes to scan your computer for any remaining malware or potentially unwanted programs (PUPs). This can help ensure that there are no hidden threats or malicious files on your computer.
Make sure that your browser and operating system are up-to-date with the latest security patches and updates. This can help prevent future security issues and keep your system protected.
To avoid getting infected with similar malware in the future, be cautious of downloads and only download from reputable sources. Avoid clicking on suspicious links or downloading attachments from unknown sources.
In Conclusion: Your Online Safety Matters! 🛡️
Searchtabs.io is a malicious browser hijacker that affects Chrome, Edge, and Firefox users. Its deceptive tactics compromise both user experience and privacy. By recognizing its signs and employing dedicated removal steps tailored to each browser, you can restore your settings and safeguard your online activities.
To keep yourself safe, remember to be cautious when downloading things online, and think twice before adding anything to your web browser. Always keep your computer updated and use reliable antivirus software. If Searchtabs.io or any other suspicious software sneaks in, don't hesitate to seek help from tech experts to keep your online experience smooth and secure. Your online safety is in your hands! 🌐🔒