Geographyi.com is not just another online store claiming to offer "must-have" summer pants for women. Behind its flashy Facebook advertisements lies a deeper story that every consumer should be aware of. With catchy emojis and enticing descriptions like 😻"Women's new summer pants, a must-have before your vacation"😻, it's easy to be drawn into the appeal of these ads. But diving into its background reveals some concerning red flags.
A quick look into Geographyi.com raises eyebrows. The domain is recently created, a common trait among fly-by-night scam shops. Moreover, a search for their WHOIS information reveals hidden contacts, another shady tactic often employed by dubious online platforms. While their email, support@geographyi.com, might seem legit, it's crucial to think twice before making any transactions. 🚫 Be wary of short-lived sites that rely on social media for promotions and always ensure that your financial information is secure. 🛡️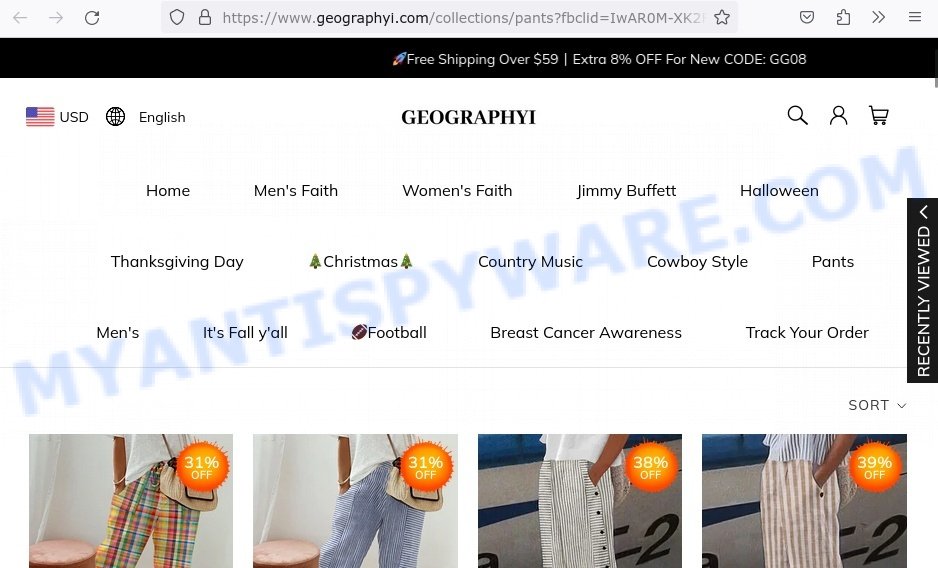 Read on to find out more about the red flags associated with Geographyi.com and how to protect yourself from such scams.
Table of Contents
🚨 Is Geographyi.com a Scam? Beware!
At first glance, Geographyi.com seems like a haven for bargain hunters, offering various discounted items at prices way lower than you'd find at major retailers. But dig a little deeper, and you'll uncover the grim reality: Geographyi.com is nothing but a scam designed to trick you out of your hard-earned money and sensitive personal information.
The Deceptive Tactics 🕵️‍♀️
The scammers running Geographyi.com aren't shy about using multiple platforms to lure in victims. They're on Facebook, Instagram, and even TikTok, spreading the word about their "amazing deals". They use astonishingly low prices and stolen product images to make their bait even more enticing.
😻Women's new summer pants, a must have before your vacation😻
👇Click on the picture or button to order
🎉🎉Hot Sale❗️❗️ 🏃‍♀️Come on and rock it
😽Comfy 😽Flattering 😽Soft
Shop now>>https://t.site/3O5NzAF
GEOGRAPHYI.COM
Pants
geographyi
What Happens When You Fall for It? 🤔
Once you take the bait, place an order, and submit your payment details, that's when they reveal their true colors. Here are some likely outcomes you can expect:
Nothing at all: You pay, but you get nothing. Your order just disappears after you've paid.
Knock-off or bad copies: You get something cheap and poorly made, not like what you thought you were buying.
Used or broken stuff: Some people get items that are already used, broken, or messed with.
Totally wrong items: You might even get something completely different from what you ordered.
But Wait, There's More! 👀
The scam doesn't just stop at taking your money. Geographyi.com also harvests your personal and financial information during the checkout process, including your name, home address, phone number, and credit card details. This data is then likely used or sold for nefarious purposes, such as identity theft or credit card fraud.
Red Flags Galore 🚩
Our investigation has unearthed some alarming details:
Discounts that are too good to be true—up to 90% off.
All product information is pilfered from major retailers.
Legal pages are simply copies and don't contain real policies.
There's no way to contact customer service—because there isn't one.
The website owners remain anonymous.
Zero social media presence.
The Bigger Picture 🌐
According to our research, Geographyi.com appears to be part of a larger, interconnected scam network based in China, which operates numerous fake online retail sites.
The Final Word ⚠️
Stay far, far away from Geographyi.com. It's a dishonest website that will do more harm than good. Don't fall for the allure of cheap prices and seemingly great deals—your wallet and your peace of mind will thank you.
🕵️‍♂️ How the Geographyi.com Scam Works
Understanding the specifics of how Geographyi.com operates can help you avoid falling into the scam's trap. Let's delve into the nitty-gritty of their deceptive practices.
Step 1: The Hook 🎣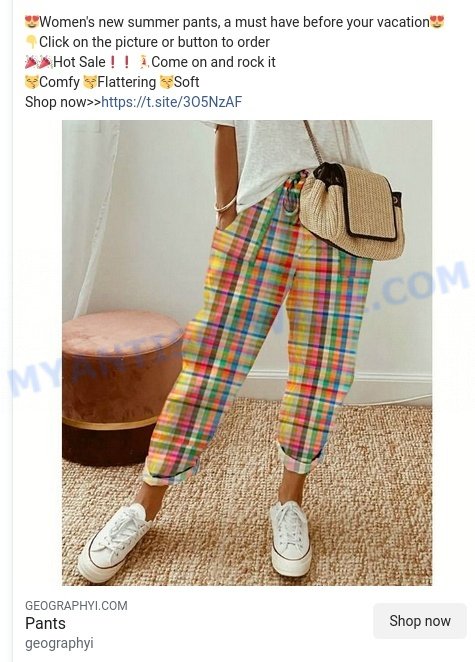 Fake Social Media Ads: You could encounter too-good-to-be-true advertisements on Facebook, Instagram, and TikTok, all designed to catch your eye.
Spam Emails: You might receive unsolicited emails with clickable links leading you straight to Geographyi.com.
Fraudulent Articles: The scam doesn't stop at just emails and social ads. They also create fake news or review articles to sing the praises of Geographyi.com's "amazing deals".
The purpose of these tactics? To drive traffic to their scam site.
Step 2: The Trap 🕸️
Once you're reeled in and you've placed your order, here's what often happens:
Empty Promises: After payment, you're left with nothing—just stolen money.
Deceptive Deliveries: You might receive cheap counterfeits instead of the quality products shown in the ads.
Unpleasant Surprises: Expect the worst—like used or tampered-with items instead of the brand-new products you thought you were buying.
Step 3: The Silence 🤐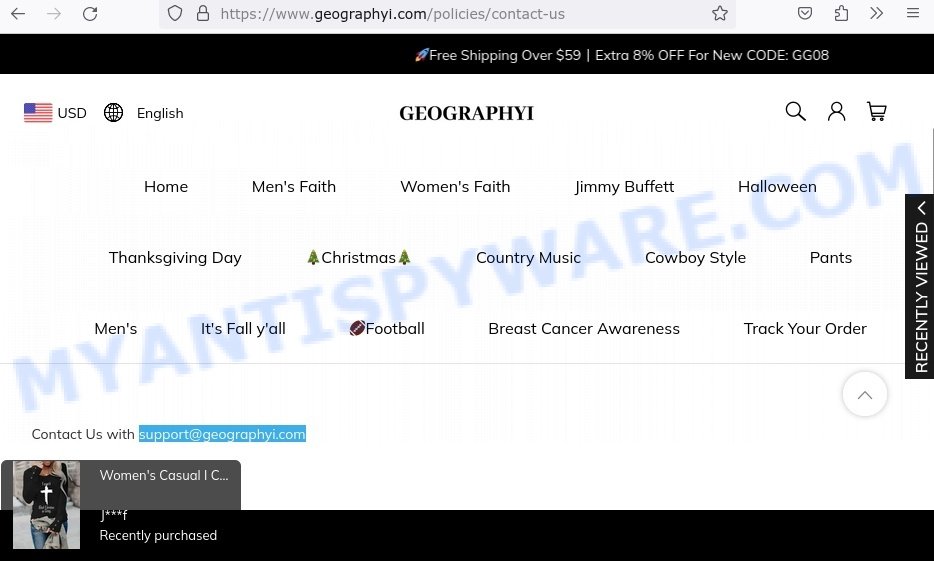 If you attempt to contact Geographyi.com about your fraudulent order, don't expect customer service. What you'll likely encounter is:
Radio Silence: No one will respond to your complaints or requests for refunds.
Blocked Access: Even worse, you may find that your account or email has been blocked, cutting off any chance of resolution.
Minimal Refunds: In some instances, they might offer a meager refund, far less than what you paid, as a supposed "goodwill gesture".
Geographyi.com skillfully dodges accountability by ignoring disgruntled customers, thereby perpetuating their scam without leaving a trail of customer service interactions.
In Summary 🚫
Geographyi.com is a carefully orchestrated scam that uses multiple channels to lure you in, switches out your expected products for something far less valuable or nothing at all, and then ensures you can't get a word in when you try to complain. Be aware, be cautious, and steer clear of this deceitful website.
🚩 Red Flags Alert: How to Recognize Scams Like Geographyi.com
We've put together a table of warning signs to help you spot scams like Geographyi.com. The most important red flags are at the top, so you can quickly see what to watch out for. Before you risk your money or personal info, take a look at this table.
| Red Flags 🚩 | What It Means 👀 | Why It's a Concern 😟 |
| --- | --- | --- |
| Too Good to Be True Prices | Prices are way lower than other retailers. | Scammers use unreal discounts to lure you in. |
| No Contact Info | There's no way to reach customer service. | Legitimate businesses offer multiple ways to contact them. |
| Anonymous Owners | You can't find who owns or runs the site. | Scammers often hide their identity to avoid getting caught. |
| Copied Legal Pages | Terms and Conditions, Privacy Policy look copied and pasted. | A lack of original legal content signals a sketchy business. |
| No Social Media Presence | They're not on Facebook, Instagram, TikTok, etc. | Legit businesses often have active social media profiles. |
| Fake Reviews or News Articles | You see glowing reviews or articles, but they seem fake. | Scammers create these to seem more trustworthy. |
| Asking for Too Much Info | They want personal and financial info beyond what's needed. | Excessive data collection could be used for fraud. |
| No Order Tracking | After you pay, you get no updates on your order status. | Legit businesses usually provide tracking info. |
| Blocked If You Complain | You're blocked or ignored if you try to contact them. | A real business would try to resolve issues, not block you. |
| Unrealistic Deals or Promotions | Deals that promise way more than they can deliver. | These are usually baits to get you to part with your money. |
Other Online Shopping Scams 🛒
While Geographyi.com is one scam you should definitely avoid, it's far from the only one out there. Other websites also promise amazing deals and steals, only to deliver disappointment and financial loss. Just like Geographyi.com, these sites often use fake reviews, super low prices, and even counterfeit goods to trick you into handing over your money. Here are some other examples of similar scams that have been observed. 🛡️💳
👟 Fake Nike Sales
Scammers set up counterfeit websites claiming to offer limited-time clearance sales on Nike products. Unsuspecting customers are lured with offers of "70-80% off on all items".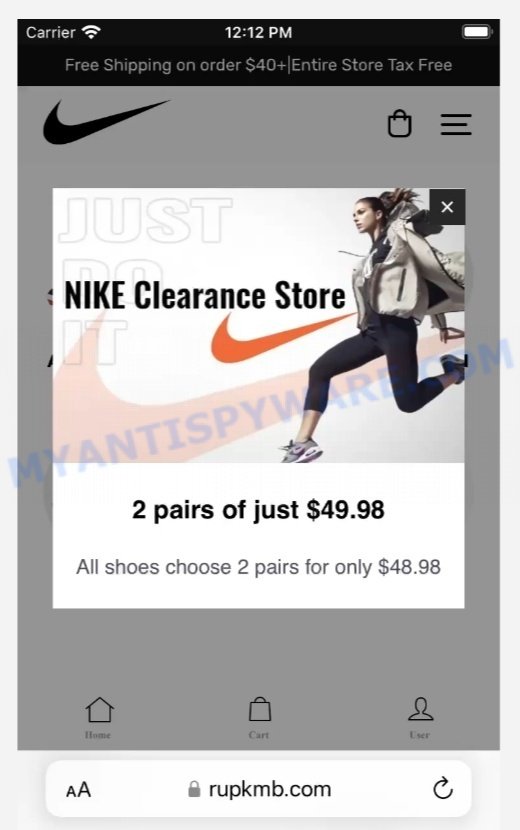 💍 Imitation Jewelry Scams
Brands like Tiffany & Co. and Pandora are also not immune. Scam sites offer "exclusive" and "limited-time" deals on high-end jewelry, only to send products that are far inferior to the genuine articles.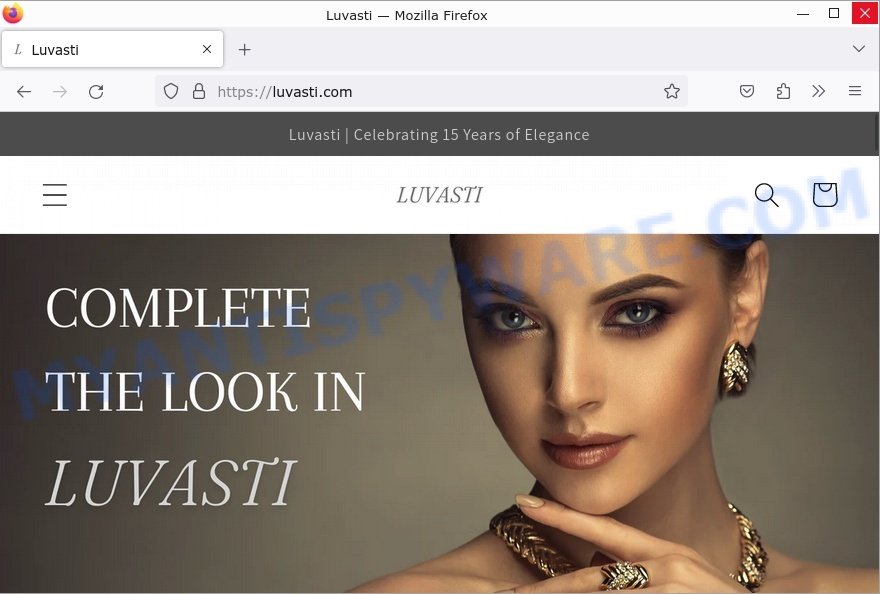 📚 Fake Bookstores
Even book lovers aren't safe. Fake online bookstores claim to offer bestsellers at deep discounts, but once paid for, either send pirated or photocopied versions or don't deliver at all.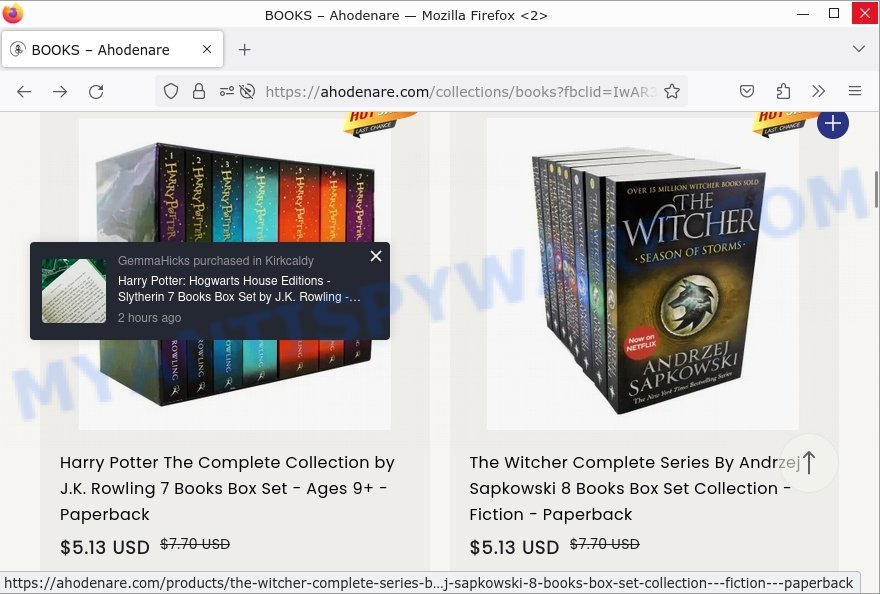 What to Do If Scammed 🚨
If you find yourself ensnared by a Geographyi.com Scam, immediate action is crucial. Here's what you should consider doing:
🛑 Stop Further Transactions
The first step is to halt any additional transactions that might be in process. Contact your bank or credit card provider and inform them that you've fallen victim to a scam. They can help by blocking the card or reversing any unauthorized transactions.
📞 Report the Fraud
File a report with your local police and provide all the available evidence, such as screenshots, emails, and website URLs. Additionally, report the scam to online portals like the Better Business Bureau (BBB) at www.bbb.org or the Federal Trade Commission (FTC) at reportfraud.ftc.gov. If you're in another country, reach out to your national consumer protection agency.
💻 Take Screenshots
Before the scam website gets taken down or changes, make sure to capture screenshots of your transactions and communications. These can serve as evidence if you decide to pursue legal action.
⚖️ Consult Legal Advice
Speak to a legal advisor about your situation. While pursuing legal action may be time-consuming and costly, it could be a possible avenue for recovering your lost money.
📢 Share Your Experience
Use social media platforms to share your experience and warn others about the scam. Your story could prevent someone else from falling victim to the same or similar scams.
🚫 Conclusion: Don't Get Tricked!
In simple terms, Geographyi.com is not to be trusted. It's a scam. They pull you in with eye-catching deals, fake reviews, and ads everywhere from your email to social media. Once they get your money, they might send you junk, something you didn't order, or even nothing at all. Plus, they'll likely ignore you if you try to complain or get a refund.
Bottom Line: Stay away from Geographyi.com and sites that show the same red flags. Keep your money and personal info safe. 🛡️💳
Being aware and cautious can save you a lot of trouble. If a deal looks too good to be true, it probably is. 🤔