Iforeven.com is a scam online shop that is gaining notoriety through social media platforms like Facebook and Instagram. Claiming to offer unbelievable clearance sales, this website is luring in customers with promises of incredibly low prices. Continue reading to understand why you should stay away from this site.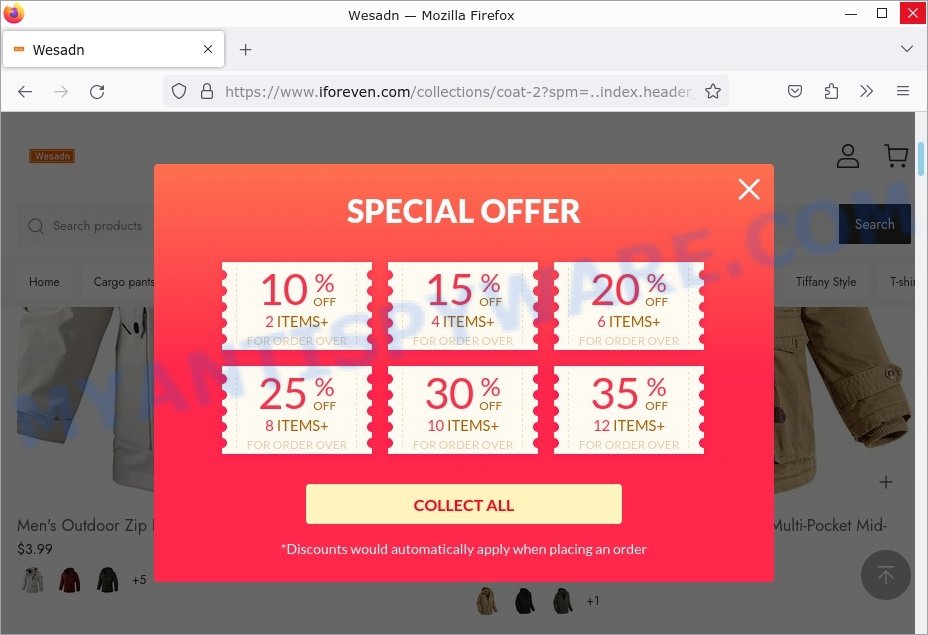 Quick Links
Is Iforeven.com a Scam?
This section outlines why Iforeven.com is undoubtedly a scam. Here are some red flags:
Recently created domain
Lack of genuine contact information: Only an email address available (service@juicecoke.com)
No real information about the company
Unbelievably low prices ("Clearance! Only $3.99!")
Content appears to be taken from other sites
Enticing slogans used in promotions ("Clearance Sale", "Millions of customers buy", etc.)
No social media presence aside from scam promotions
Customer complaints regarding non-delivery and poor quality
Associated with other scam shops via the contact email
How the Iforeven.com Scam Works
Iforeven.com is promoted aggressively on social media platforms, particularly Facebook and Instagram. The site employs enticing language like "Clearance! Only $3.99!" to lure in victims.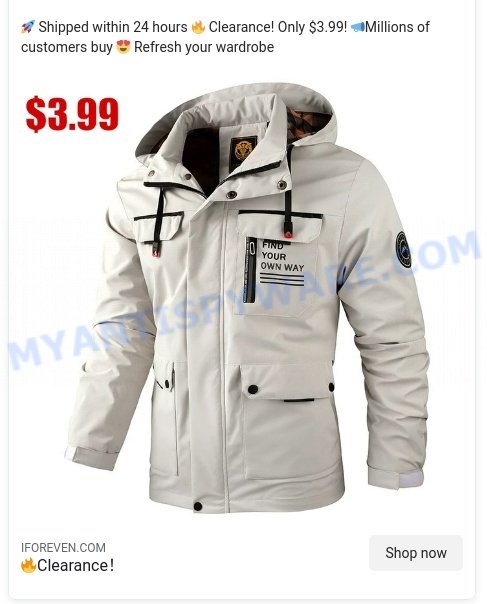 Once a customer takes the bait, they're led to a website with plagiarized content and images. Despite the flashy ads and seemingly legitimate setup, orders either never arrive, or if they do, they're of poor quality. The associated email service@juicecoke.com is also linked to other scam shops.
What to Do if You Become a Victim of Iforeven.com
If you've fallen victim to Iforeven.com, take the following steps to protect yourself:
Contact your bank to reverse the charges
Report the scam to FTC
Leave a comment on this review to alert others
Other Scam Online Shops to Avoid
We constantly strive to protect our readers from scams. Iforeven.com is not alone in its deceptive practices. Be vigilant when shopping online and look for warning signs of potential scams.
Here are a few examples of the scam online shops: Acstoreus.com, Luvasti.com, Babyjoynewyork.com
Summary Table for Iforeven.com
| | |
| --- | --- |
| Name | Iforeven.com |
| Type | Online Scam Store |
| Damage | Financial Loss, Non-Delivery |
| Distribution | Social Media (Facebook, Instagram) |
| Tactics | Enticing language, low prices |
| Prices | As low as $3.99 |
| Contacts | service@juicecoke.com |
| Prevention Tips | Check reviews, Avoid unknown shops |
| Reporting Info | FTC |
Conclusion
Iforeven.com is a scam online shop that employs various tactics to deceive consumers, such as unbelievable low prices and stolen content. Avoid this site and others like it to protect your financial and personal information.
FAQ About the Iforeven.com Scam
Why is Iforeven.com promoting through social media?
The scam exploits the reach and trust associated with platforms like Facebook and Instagram to find potential victims.
Is the email service@juicecoke.com associated with other scams?
Yes, this email is linked to other known scam shops, enhancing the risk associated with Iforeven.com.
How can you recognize a scam like Iforeven.com?
Always check for red flags such as too-good-to-be-true prices, lack of contact information, and customer complaints about non-delivery or poor quality.