Bdtee.online is a website that claims to be a LEGO Factory Outlet, enticing customers with promises of limited-time clearance sales, fast delivery, and money-back guarantees. However, upon closer inspection, several red flags emerge, strongly indicating that this online store is nothing more than a scam. The first telltale sign is the hidden LEGO section, which can only be accessed through direct links from deceptive Facebook ads. Additionally, the prices offered on Bdtee.online are ridiculously low. Furthermore, the website employs JavaScript to redirect users accessing it from a computer to an unrelated page, making it difficult to analyze its true nature. These alarming indicators, coupled with the association of Bdtee.online's email address with numerous other scam shops, strongly suggest that this website is involved in fraudulent activities.
To uncover more about the deceptive practices employed by Bdtee.online and protect yourself from falling victim to their schemes, read the full review below. For a quick summary of our findings, please refer to the table Summary of Bdtee.online Review below.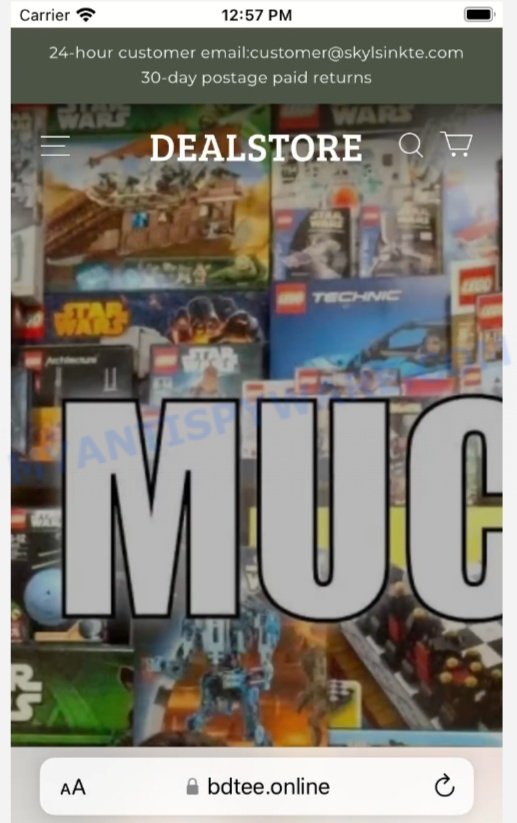 Bdtee.online Review
Website Design and Impersonation
One of the most concerning aspects of Bdtee.online is its website design and impersonation tactics, which further solidify the suspicion that it is a scam. The creators of this fraudulent website have gone to great lengths to mimic the appearance of a legitimate LEGO Factory Outlet shop, using the title and logo "DEALSTORE" to deceive unsuspecting visitors.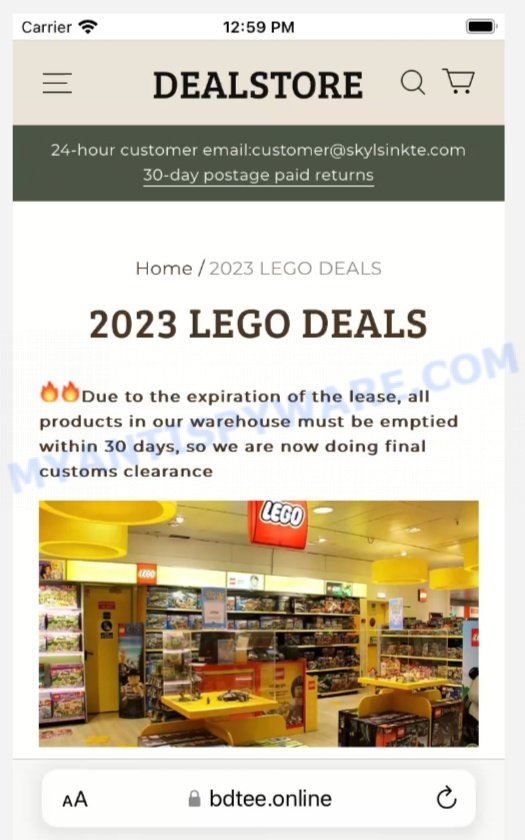 However, upon closer inspection, it becomes evident that the website's true purpose is to trick customers into making purchases unrelated to LEGO. If you access Bdtee.online directly, without clicking on their Facebook ads, you'll find that the shop offers various products that have no connection whatsoever to LEGO. This deceptive practice is a clear attempt to lure in potential victims by presenting a facade of authenticity while offering a wide range of unrelated goods.
Facebook ads
Bdtee.online relies heavily on Facebook ads to attract potential customers, employing various tactics aimed at grabbing attention and enticing users to click. These deceptive advertising practices are an integral part of the scam operation, designed to create an illusion of credibility and legitimacy. Here are some of the tactics used in their Facebook ads:
The Facebook ads used by Bdtee.online feature attention-grabbing slogans such as "LEGO Factory Outlet Limited Clearance Time!" and "Don't miss out on our sizzling hot deals!". These phrases are carefully crafted to create a sense of urgency and excitement, urging users to take immediate action.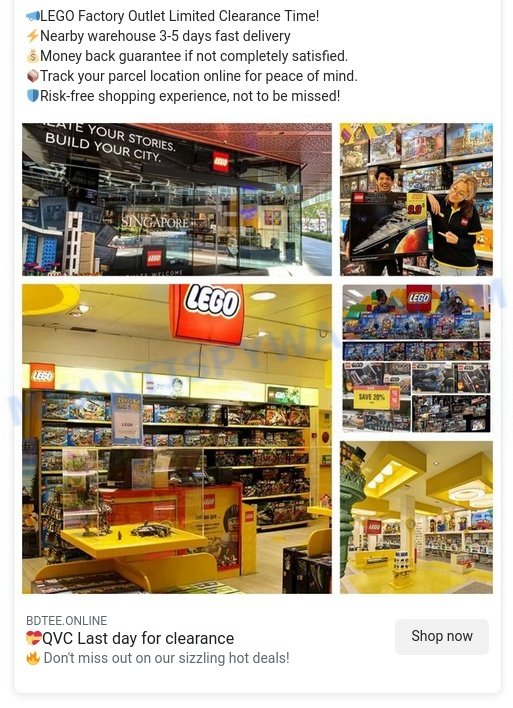 To further entice users, Bdtee.online's Facebook ads emphasize limited-time offers. They claim that nearby warehouses can deliver products within 3-5 days, creating a sense of urgency and making potential customers believe they might miss out on exclusive deals if they don't act quickly. These time-limited offers play into the psychology of impulse buying, a common strategy employed by scammers.
Bdtee.online's Facebook ads also mention a "money back guarantee" if customers are not completely satisfied with their purchases. This tactic is aimed at instilling a sense of security and trust, making users believe they have nothing to lose by making a purchase. However, in reality, the scammers rarely honor such guarantees or provide any legitimate means of customer support.
It's important to remember that these Facebook ads are carefully crafted to manipulate and deceive potential customers. They employ tactics such as attention-grabbing slogans, fake prices, limited-time offers, and false promises to entice unsuspecting users into visiting the fraudulent Bdtee.online website.
Product Pricing
One of the glaring signs of a scam on Bdtee.online is the extremely low pricing of their products. The scammers behind this fraudulent website utilize unrealistically discounted prices to entice unsuspecting customers into making purchases. Here are some key details about the deceptive product pricing:
Bdtee.online advertises jaw-dropping discounts that are significantly lower than the market value. For example, they list the LEGO 75257 STAR WARS MILLENNIUM FALCON at a mere $14, while the actual retail price for this item is $169.99. Such drastic price reductions should immediately raise suspicions, as legitimate retailers typically do not offer such substantial discounts on popular and sought-after items like LEGO sets.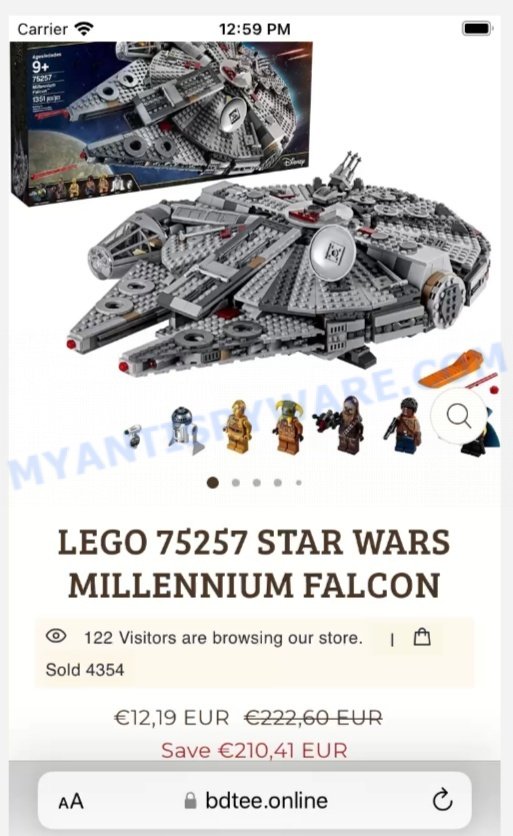 In addition to LEGO sets, Bdtee.online claims to offer unbelievable deals on other unrelated products. This tactic is employed to attract a broader range of customers who may not be specifically searching for LEGO products. However, it's important to note that the scam website's intention is to deceive users into making purchases unrelated to LEGO, further highlighting its fraudulent nature.
The incredibly low prices serve as bait, targeting impulsive buyers who may be swayed by the temptation of an extraordinary deal. Scammers exploit the desire for a bargain and the fear of missing out on limited-time offers, pressuring users to make hasty purchasing decisions without properly verifying the legitimacy of the website.
It is crucial to exercise caution when encountering such significantly discounted prices, especially on platforms like Bdtee.online. Remember that if an offer seems too good to be true, it probably is. Genuine retailers typically maintain reasonable pricing in line with the market value, while scammers use unrealistically low prices as a tactic to deceive and defraud unsuspecting consumers.
Customer Reviews
Customer reviews are a crucial factor in determining the legitimacy of an e-commerce website. However, Bdtee.online has no positive reviews online. In fact, some reviews suggest that the website is a scam, which is a red flag that cannot be ignored.
Contact Information
The contact information provided by Bdtee.online is concerning and raises doubts about its legitimacy. The only contact option available is an email address, customer@skylsinkte.com, which is associated with multiple scam shops.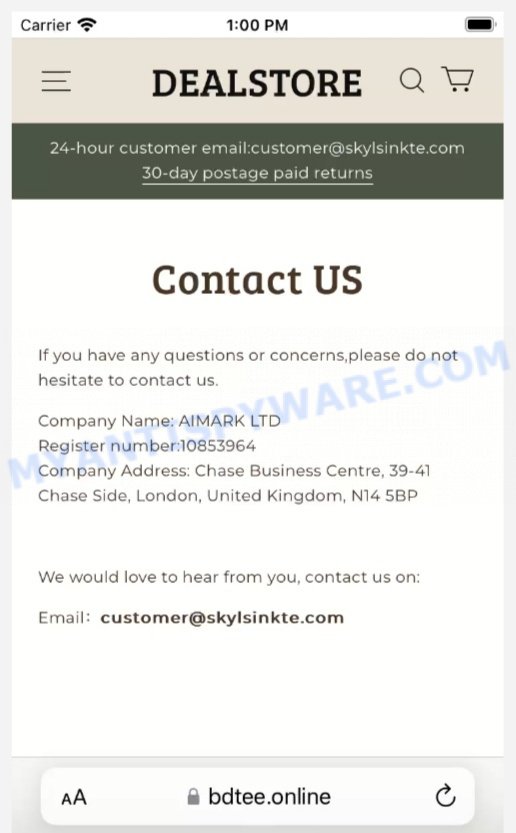 The company name, AIMARK LTD, and register number, 10853964, may be fabricated to create an illusion of legitimacy. The listed address, Chase Business Centre, 39-41 Chase Side, London, United Kingdom, N14 5BP, could be fictitious or non-existent. The lack of comprehensive and reliable contact information adds to the suspicion surrounding Bdtee.online.
Whois information
According to the Whois records, Bdtee.online was created on July 05, 2023, and is set to expire on July 05, 2024. The relatively recent creation date may indicate that the website is part of a newly established scam operation.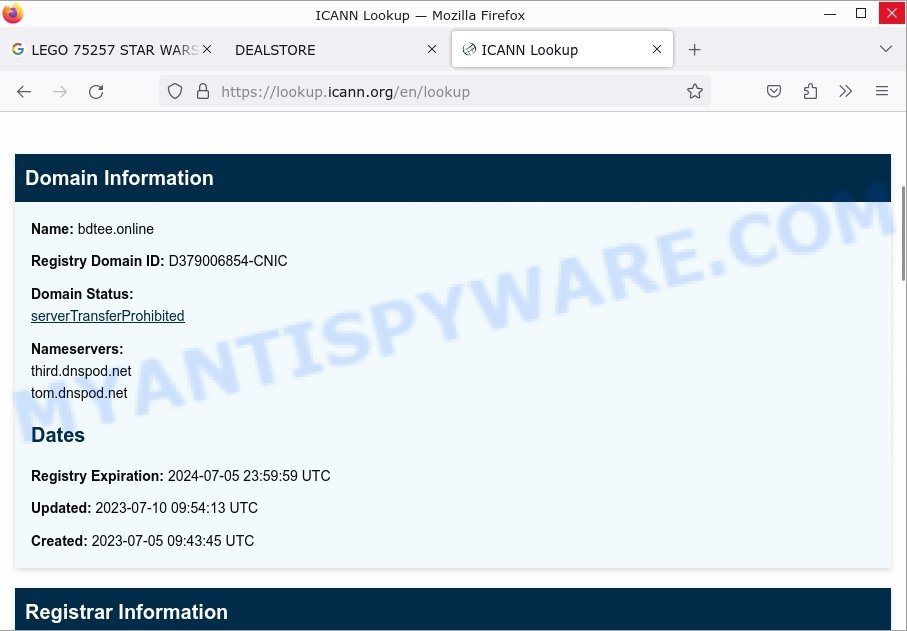 However, what raises more red flags is the fact that the Whois information for Bdtee.online hides the registrant's contact details. This lack of transparency is often associated with illegitimate websites and is a common tactic used by scammers to avoid identification and accountability.
Site Obfuscation Techniques Used by Bdtee.online
Bdtee.online uses a Java script to detect the device from which the user accesses the website. If the user enters the site from a mobile phone, they are able to view the main page. However, if the user accesses the site from any other device, such as a computer, they are automatically redirected to an page with the URL "https://www.compliment-cite.com/pages/404".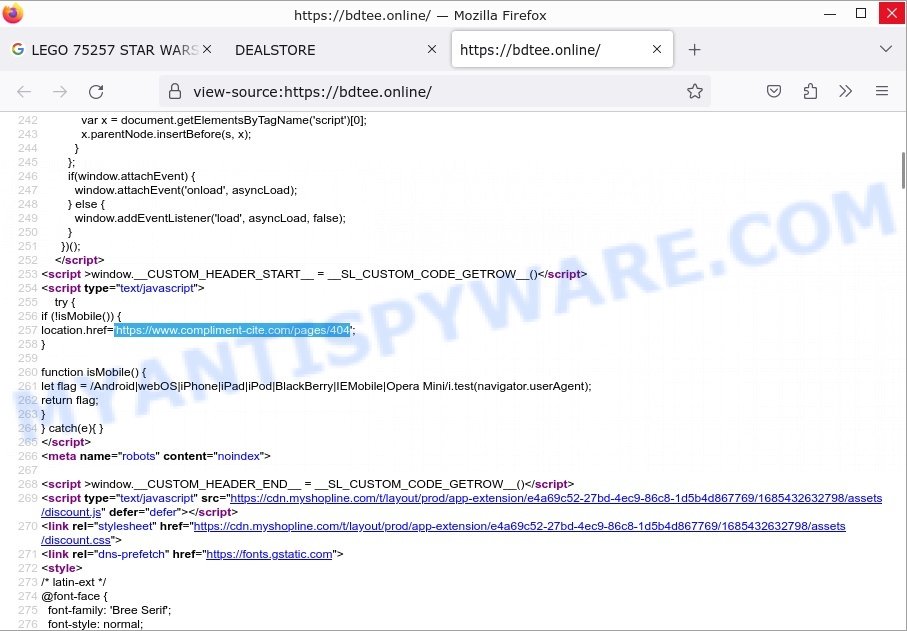 This technique is known as device targeting and it is often used by fraudulent websites to prevent analysis by security researchers or law enforcement agencies. It is possible that the creators of Bdtee.online are trying to make it difficult for authorities to investigate their activities by using this technique. This raises suspicion about the legitimacy of the website and the products being sold on it.
Conclusion
Bdtee.online exhibits numerous clear signs of being a scam website impersonating a LEGO Factory Outlet shop. From its deceptive advertising tactics to hidden LEGO sections and the use of JavaScript redirects, the website's true intentions become evident. The Facebook ads with attention-grabbing slogans, unrealistically low prices, and limited-time offers are designed to attract unsuspecting users seeking a bargain. However, upon closer examination, it becomes apparent that Bdtee.online is not a legitimate retailer.
The extremely low pricing, including the significant discounts on popular LEGO sets, is a major red flag. Legitimate retailers rarely offer such drastic price reductions, and these unbelievably low prices are used as bait to entice impulsive buyers into making hasty purchasing decisions. The contact information provided by Bdtee.online, limited to an email address associated with other scam shops, raises further doubts about its credibility.
Considering the website's deceptive design, misleading advertising, suspicious pricing, and questionable contact information, it is crucial to exercise caution and avoid making any purchases from Bdtee.online. Engaging with scam websites not only puts your financial information at risk but also supports fraudulent activities.
To protect yourself and others from falling victim to scams, it is advisable to report Bdtee.online to the relevant authorities and notify LEGO's official customer service or brand protection team. By raising awareness and sharing information about fraudulent websites, we can help prevent others from being deceived.
Remember to prioritize shopping from reputable and trusted sources to ensure a safe and secure online shopping experience. Stay vigilant and always verify the authenticity of websites before making any transactions.
Summary
| | |
| --- | --- |
| Store Name | Bdtee.online |
| Pricing | Very low, with products sold at a fraction of their real cost |
| Examples | LEGO 75257 STAR WARS MILLENNIUM FALCON for $14, real price $169.99. |
| Reviews | No positive reviews found online, some reviews suggest that the site is a scam |
| Logo and Design | "DEALSTORE" logo. The website has a typical template design. |
| Contact Information | Email: Email: customer@skylsinkte.com; Company Name: . No phone or social media links. Managed by AIMARK LTD (Register number:10853964; Company Address: Chase Business Centre, 39-41 Chase Side, London, United Kingdom, N14 5BP), which is associated with a network of fraudulent websites. |
| WHOIS Information | Created on 2023-07-05, expires on 2024-07-05. Registrant information is hidden. |
| Recommendation | It is recommended to avoid making purchases from Bdtee.online. |
Other Suspicious Online Shops to Avoid
It's important to be vigilant when shopping online, as fraudulent websites can easily deceive customers into making purchases that result in financial loss. Unfortunately, Bdtee.online is not the only suspicious online shop out there. In fact, there are many other online shops with similar characteristics and practices that should also be avoided. In this section, we will highlight some of these other suspicious online shops to help you stay informed and avoid becoming a victim of online scams.
Here are a few examples of the suspicious online shops: Wealthygoods.shop, G2kayak.com, and Tvbestdeal.com.
How to spot and avoid a fake online store?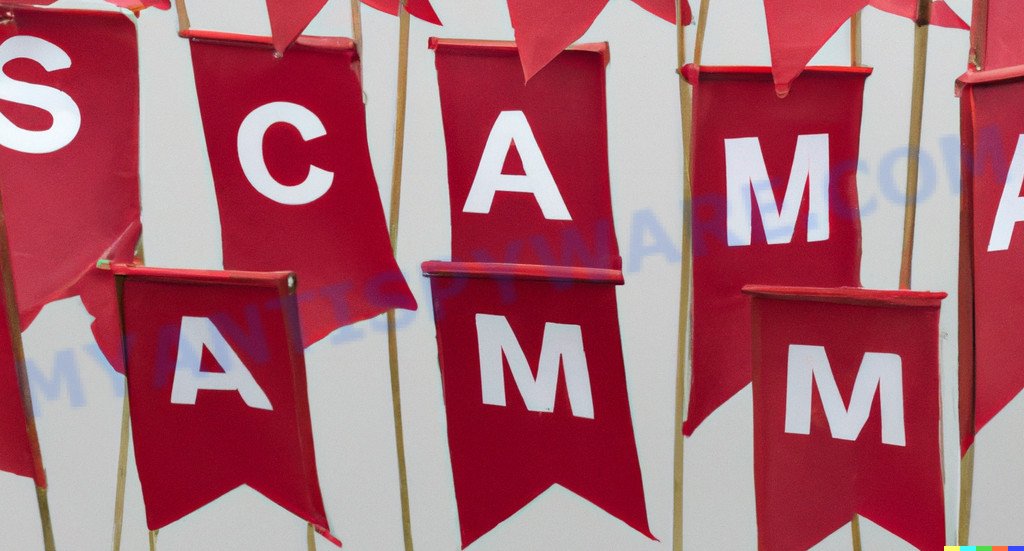 Online shopping has become increasingly popular, but it also carries certain risks, particularly when it comes to fake or fraudulent online stores. Here are some tips on how to spot and avoid a fake online shop:
Check for HTTPS and a padlock symbol in the URL bar. This indicates that the website is using encryption to protect your data.
Look for reviews and ratings of the website. Genuine websites will usually have positive feedback from customers, while fake ones may have little to no reviews or negative feedback.
Check the website's contact information. A legitimate online store will have a physical address, phone number, and email address for customer support.
Research the website on the internet. Search for the website's name and reviews, complaints or any warning signs about it before making a purchase.
Be wary of deals that are too good to be true. Fake online stores may offer steep discounts to lure in customers, but these deals may be a ploy to steal your money.
Avoid using payment methods that are not secure. Use payment methods such as credit card, PayPal or other payment methods that provide buyer protection.
Be wary of pop-ups or unsolicited emails directing you to a website. This may be a phishing attempt to get your personal and financial information.
By taking these precautions, you can reduce the risk of falling prey to fake online stores and ensure a safe and enjoyable online shopping experience.
What to do if you ordered something from a fake online store?
If you have already ordered something from a fake website and you suspect that it may be a scam, there are several steps you can take:
Contact the website's customer support.
If the website has provided contact information, try reaching out to their customer support to inquire about the status of your order. If the website does not respond or gives you unsatisfactory answers, it could be a sign that it is a fake website.
Check your payment method.
If you have paid for your order with a credit card, check your statement to see if the payment has gone through. If it has not, then you may have caught the scam in time, but if it has, you may need to dispute the charge with your bank.
File a dispute or chargeback with your payment provider.
If you have paid for your order with a credit card or other payment method that offers buyer protection, you may be able to dispute the charge or request a chargeback to get your money back. Use the steps (https://consumer.ftc.gov/articles/what-do-if-you-were-scammed) to try to stop a transaction, get a transaction reversed, or get a refund.
Report the fake online store.
You can report the fake website to authorities such as the Federal Trade Commission (FTC) at https://ftc.gov/ or the Internet Crime Complaint Center (IC3). This can help prevent others from falling victim to the same scam.
Learn from your experience.
Be more cautious in the future and take steps to ensure that you are shopping on legitimate websites that are secure and reputable.