Be cautious of the newly discovered fraudulent online store called Peneloper.shop (Peneloper Shop). This deceitful website is a part of the notorious Bed Bath & Beyond Clearance Sale Scam, which aims to deceive unsuspecting shoppers with enticing offers and substantial discounts.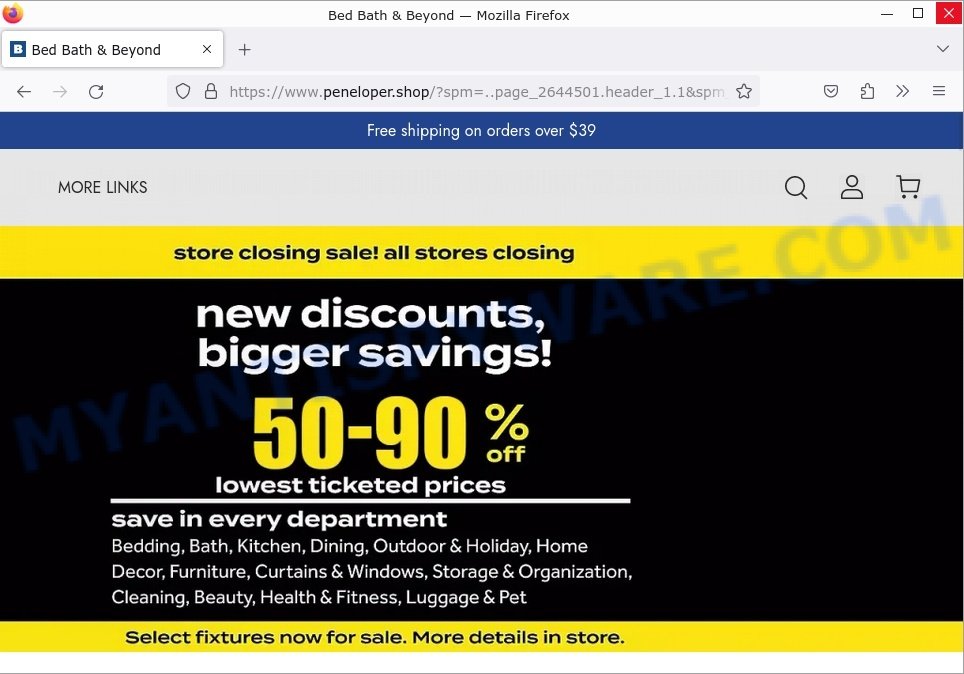 Peneloper.shop claims to offer a wide range of categories, including Best sellers, Kitchenware, Bedding sets, Luxury Sofas, Dressers, Chairs, Garden tools, Pets, Outdoor sets, Area Rugs, Table Lamps, Wardrobes, Bathrooms, Health fitness, Summer limited items, Hunting & Shooting, and more. However, it's important to note that this is a scam operation, and customers have reported not receiving their orders.
The main page of Peneloper.shop prominently displays a message about a store closing sale, with claims that all stores are closing and everything must be sold. They lure shoppers with promises of new merchandise arriving frequently and discounts ranging from 70% to 90% off the lowest ticketed prices. However, it's all a ruse to trick consumers into making purchases.
Peneloper.shop utilizes Facebook ads to promote their supposed clearance sale. The ads falsely claim that all Bed Bath & Beyond stores are closing, offering prices as low as $3.99 and stating that the company has declared bankruptcy. They use these tactics to create a sense of urgency and entice shoppers into making impulsive purchases.
Some examples of suspiciously low prices on Peneloper.shop include the Professional 600 bowl – lifting series 10-speed 6 quarts for $8.49 (real price over $600) and the 2023 Patio wicker swing chair for $9.99 (real price over $800). These prices are far below market value, indicating a scam.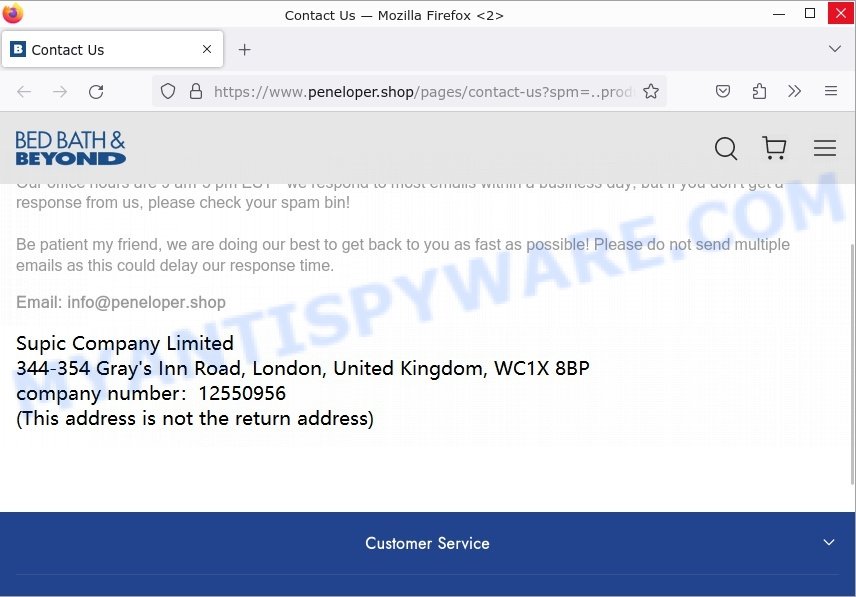 When it comes to contact information, Peneloper.shop provides an email address (info@peneloper.shop) and claims to be associated with Supic Company Limited, with an address at 344-354 Gray's Inn Road, London, United Kingdom, WC1X 8BP, and company number 12550956. However, please note that this address may not be the actual return address. It is worth noting that Supic Company Limited is a known entity associated with numerous fraudulent ecommerce websites, indicating a vast network of scams sharing similar characteristics.
Examining the WHOIS information of Mommyloveshop.com reveals that the site was created on May 3, 2023, and is set to expire on May 3, 2024. The contact details in the WHOIS records are hidden, further adding to the suspicion surrounding the website.
In conclusion, it is truly alarming to see an increasing number of scams preying on innocent consumers, particularly when it comes to the Bed Bath & Beyond Clearance Sale. As we have exposed multiple fraudulent websites, such as Mommyloveshop.com, Bedbathclosing.com, Olkbmon.shop, Bedbathbeyondca.com, Yusicoun.shop, Wild-ant.com, Betteronsite.com, and Bedbathandbeyondgo.com, it is evident that a vast network of deceitful operations is at play. These scam stores mimic the design and logo of the renowned retailer, lure customers with unrealistically low prices, and employ various tactics to instill a sense of urgency. The contact information provided often leads to sham companies, and the WHOIS details are deliberately hidden.
It is imperative to stay informed and exercise caution when encountering such offers online. We strongly encourage you to read our detailed article on the Bed Bath & Beyond Clearance Sale scam to learn more about these deceptive practices, understand the red flags, and safeguard yourself against falling victim to these fraudulent schemes. Your awareness is the first line of defense in combatting online scams and protecting your hard-earned money.
Summary
| | |
| --- | --- |
| Name | Peneloper.shop Scam, Peneloper Shop Scam |
| Logo and Design | Resembles the official Bed Bath & Beyond logo |
| Scam Tactics | Pretends to be a Bed Bath & Beyond store closing sale with deep discounts |
| Pricing | Extremely low prices |
| Examples | Professional 600 bowl – lifting series 10 speed 6 quarts. for $8.49, real price over $600; 2023 Patio wicker swing chair for $9.99, real price over $800 |
| Payment Risk | High risk of fraudulent activity |
| Contact Information | Email: info@peneloper.shop; Company Name: Supic Company Limited; 344-354 Gray's Inn Road, London, United Kingdom, WC1X 8BP company number: 12550956 |
| WHOIS Information | Creation Date: 2023-05-03, Registry Expiry Date: 2024-05-03 |
| Recommendation | Avoid making purchases, report the website as a scam |
Other Suspicious Online Shops to Avoid
As part of our ongoing effort to protect our readers from potential scams, we have compiled a list of other suspicious online shops that you should be aware of. These shops share similar characteristics and tactics to Peneloper.shop, and they use deceptive practices to lure in unsuspecting buyers. It's crucial to remain vigilant when shopping online and to be aware of the warning signs of a potential scam. Below we will highlight some of the other suspicious online shops that you should avoid to protect your personal and financial information.
Here are a few examples of the suspicious online shops: Mommyloveshop.com, Heydudestores.com, and Aonzy.com.