Another scam store has been discovered in the Hey Dude Shoes $19.99 Sale Scam — Goodtogo-to.com. This website, pretending to be a legitimate "Hey Dude" store, claims to offer a 25% discount on almost everything with free shipping on orders over $20. However, it is important to note that this discount claim is fake, as all products are priced at an unrealistic $19.99.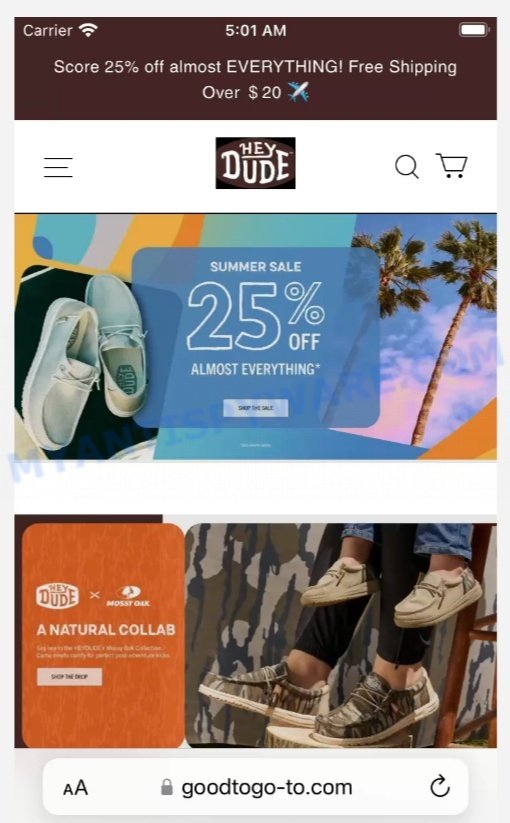 Goodtogo-to.com follows the same pattern as previously reported fake "Hey Dude Shoes" stores, such as Footwearuzone.com, Heydude2008.com, Heydudestores.com, and Heydudeus.co, all associated with the Hey Dude Shoes $19.99 Sale Scam. The website utilizes a typical template design and copies the logo of the authentic "HEY DUDE" (heydude.com) store entirely.
With no positive reviews found online, suspicions have been raised about Goodtogo-to.com being a scam. The store heavily advertises on Facebook, enticing potential customers with ads claiming unbeatable prices and limited-time offers. However, it is crucial to exercise caution when encountering such advertisements.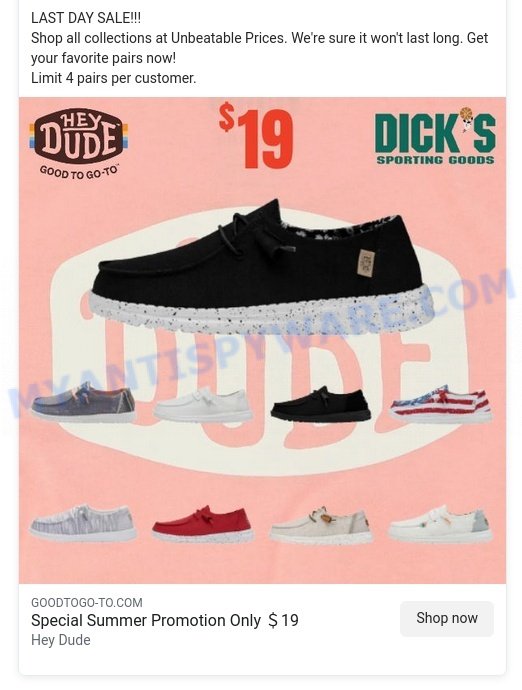 Goodtogo-to.com offers various categories, including women's and men's shoes, with images and photos that appear to be taken from official "Hey Dude" and other reputable sites. However, the prices listed are significantly lower, with all products priced at $19.99, while the genuine Hey Dude website sells them for $65.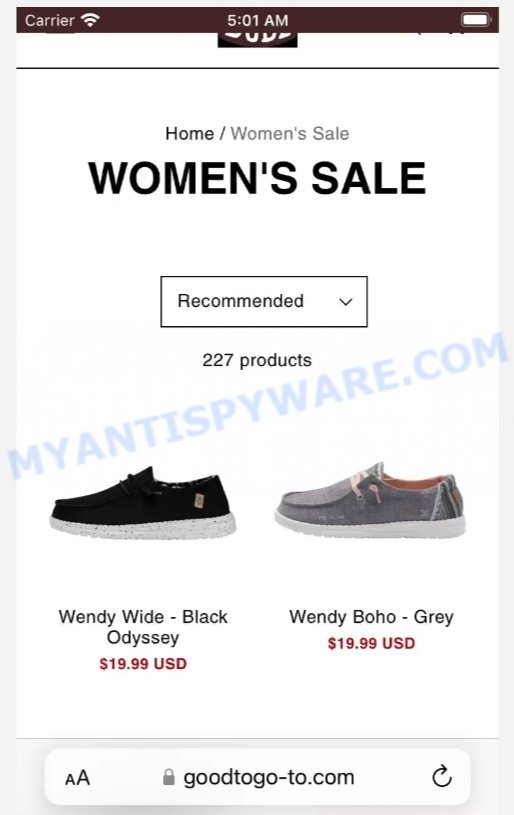 Contact information provided on Goodtogo-to.com includes an email address (jessie@peachcher.com) associated with other scam stories and a company name, AIMARK LTD, registered under number 10853964. The company address, located at Chase Business Centre in London, United Kingdom, is presented as an image, with no phone number or links to social media pages provided. It is important to note that AIMARK LTD has been consistently associated with creating fraudulent ecommerce websites, suggesting a vast network of scams linked to the company.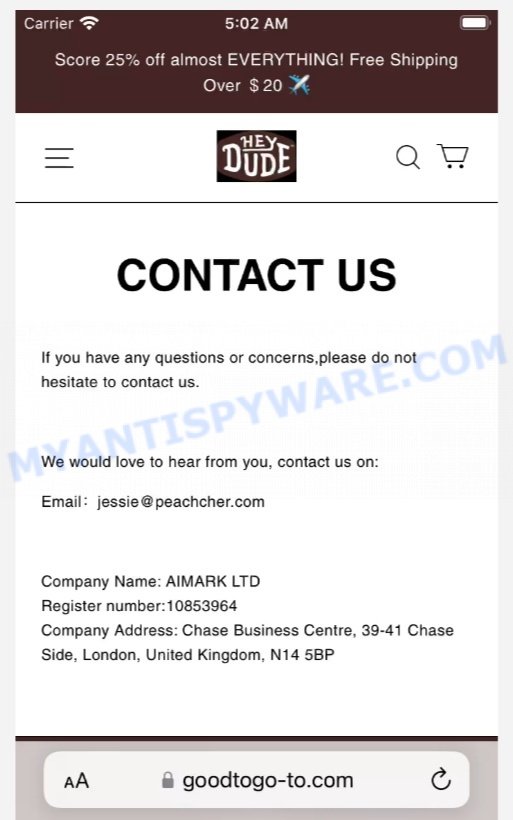 The whois information for Goodtogo-to.com reveals that it was created on July 1, 2023, and is set to expire on July 1, 2024. Contacts in the whois information are hidden, further obscuring the identity of the scammers behind the website.
Similar to other scam shops, Goodtogo-to.com employs JavaScript that detects the user's device. If accessed from a mobile phone, users are shown the main and product pages, while other devices, such as computers, are redirected to a page displaying the address "https://www.compliment-cite.com/pages/404". This tactic is likely employed to hinder analysis of the Goodtogo-to.com site.
To conclude, the discovery of "Good to Go to" as another addition to the Hey Dude Shoes $19.99 Sale Scam reinforces the need for heightened vigilance when shopping online. The alarming prevalence of these fraudulent stores, along with their deceptive tactics, should serve as a red flag for consumers. Remember, if an offer appears too good to be true, it likely is. Unrealistically low prices, generic website designs, lack of valid contact information, and discrepancies between prices and official sources are all warning signs to watch out for. Protect yourself and your hard-earned money by exercising caution and verifying the legitimacy of online stores before making any purchases.
If you want to delve deeper into the tactics employed by scammers, learn how to identify fake Hey Dude stores, and discover what steps to take if you find yourself falling victim to their schemes, we invite you to read our comprehensive article about the Hey Dude Shoes $19.99 Sale Scam. Gain valuable insights into the strategies used by scammers, preventive measures you can take, and reporting information to report fraudulent activities. Knowledge is your best defense against online scams, so empower yourself by accessing the full article and equip yourself with the tools to navigate the digital marketplace safely.
Summary
| | |
| --- | --- |
| Name | Goodtogo-to.com Scam, Good to Go to Scam |
| Logo and Design | Replica of official Hey Dude logo and design |
| Scam Tactics | Pretends to be a Hey Dude sale with deep discounts |
| Pricing | Extremely low prices |
| Examples | Wendy Wide Black Odyssey for $19.99 USD, real price $65; Wendy Boho- Grey for $19.99 USD, real price $65 |
| Payment Risk | High risk of fraudulent activity |
| Contact Information | Email: jessie@peachcher.com; Company Name: AIMARK LTD; Register number:10853964; Company Address: Chase Business Centre, 39-41 Chase Side, London, United Kingdom, N14 5BP |
| WHOIS Information | Creation Date: 2023-07-01, Registry Expiry Date: 2024-07-01 |
| Recommendation | Avoid making purchases, report the website as a scam |
Other Suspicious Online Shops to Avoid
As part of our ongoing effort to protect our readers from potential scams, we have compiled a list of other suspicious online shops that you should be aware of. These shops share similar characteristics and tactics to Goodtogo-to.com, and they use deceptive practices to lure in unsuspecting buyers. It's crucial to remain vigilant when shopping online and to be aware of the warning signs of a potential scam. Below we will highlight some of the other suspicious online shops that you should avoid to protect your personal and financial information.
Here are a few examples of the suspicious online shops: Mommyloveshop.com, Heydudestores.com, and Aonzy.com.