Patever.store is an online retailer that sells women's pants, dresses, and fashion jewelry. While the website's simple design and straightforward layout may seem appealing at first glance, a closer look reveals several red flags and warning signs that suggest the site may not be entirely legitimate. In this review, we'll examine some of the most concerning aspects of Patever.store and explore whether or not it's safe to shop on this website.
Design and Information: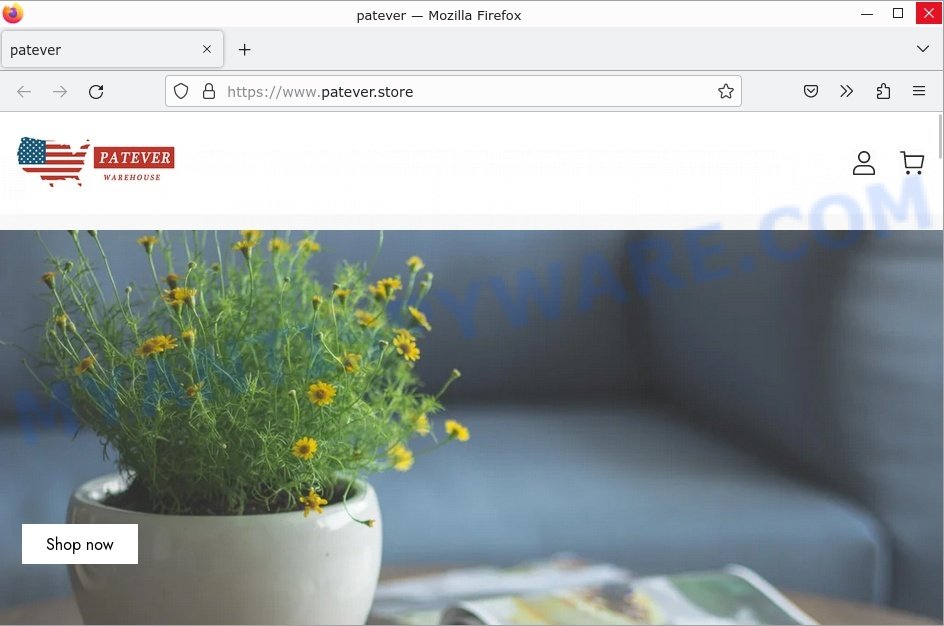 The design of Patever.store is simple and lacks originality, which gives it the feeling of being made according to a template. The logo contains the word "warehouse", but nowhere else does it say so. The website also provides limited information about the company, products, and services they offer. The description of the site does not say at all that it sells women's pants, dress, and fashion jewelry. Overall, the lack of detail and generic design raises suspicion about the legitimacy of Patever.store.
Domain Information: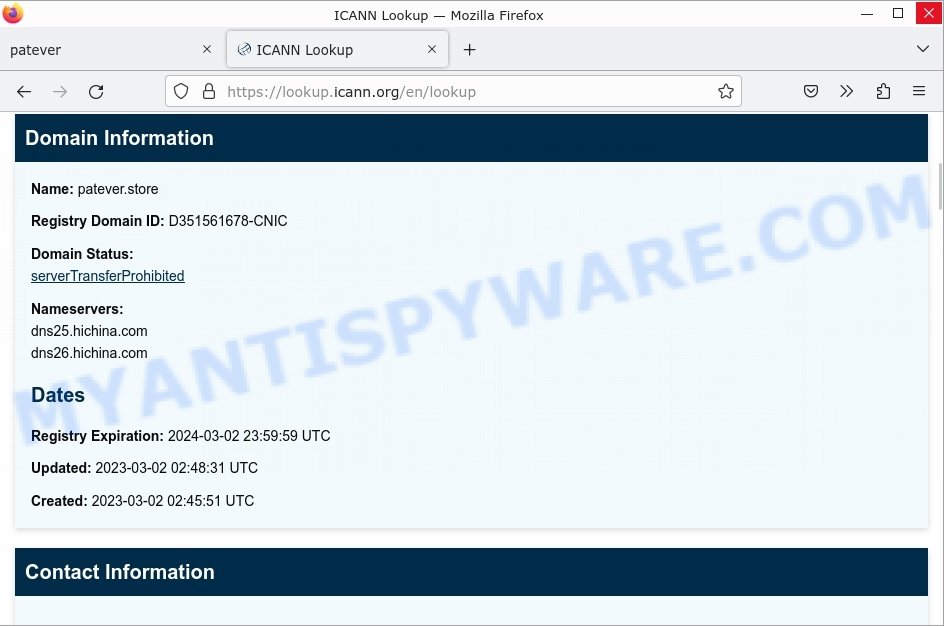 Patever.store's domain was created on March 2, 2023, and it is set to expire on March 2, 2024. This indicates that the website is relatively new and has only been in operation for a short period. The short lifespan of the domain name, coupled with the lack of reviews or feedback, raises some concerns about the legitimacy of the website.
It's also worth noting that there are several suspicious websites with similar content and design to Patever.store. This information could indicate that the website is part of a larger scam operation.
Pricing: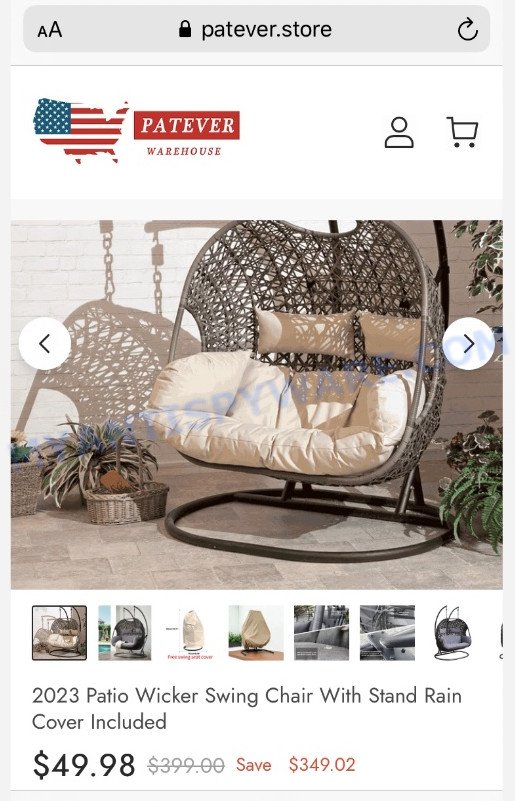 One of the most suspicious aspects of Patever.store is its pricing. The website sells a "2023 Patio Wicker Swing Chair With Stand Rain Cover Included" at a price of $49.98, which is significantly lower than the market price. The fact that the product is only advertised through online ads or social media further raises suspicions. The real price of the chair is near $1000, making the discount seem too good to be true. This kind of pricing may be a tactic used by scammers to attract potential customers.
Reviews:
There are no positive reviews for Patever.store online, which is another red flag. The absence of any positive feedback suggests that the company may not have a good reputation, and there may be previous customers who have been dissatisfied with their services. Some reviews even state that the site is a scam.
Redirects: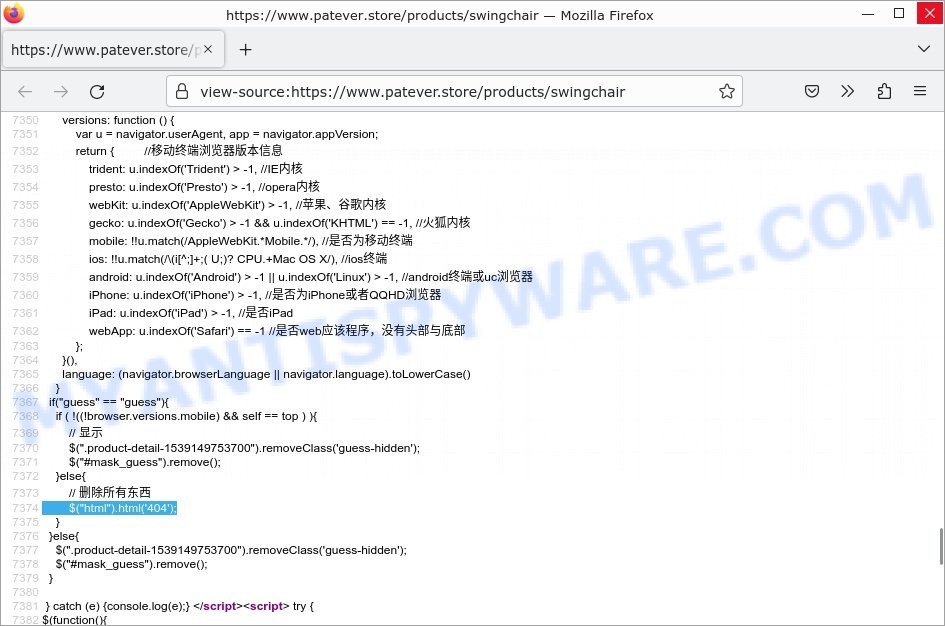 Patever.store uses a JavaScript to redirect visitors to a different page depending on whether they are browsing from a mobile phone or a computer. This is unusual and may be a way for scammers to hide content from certain users. If users try to access the https://www.patever.store/products/swingchair "2023 Patio Wicker Swing Chair With Stand Rain Cover Included" page from a computer, they are shown a 404 error page. However, if users try to access the same page from a mobile phone, they are shown the content of the https://www.patever.store/products/swingchair page, where the product is on sale. This kind of redirect is a red flag and could be a sign of a scam.
Customer Support: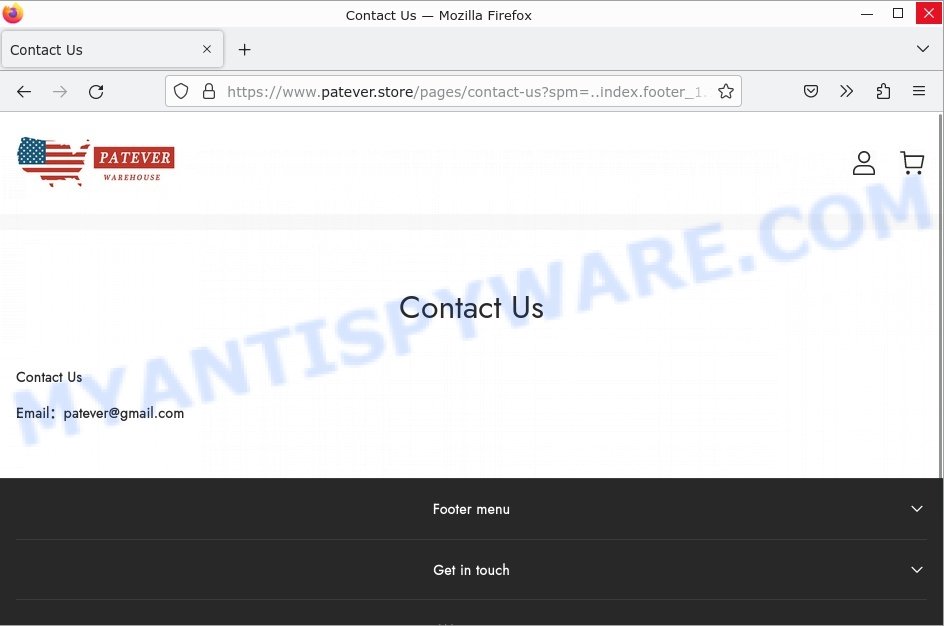 Patever.store only provides an email address for customer service, which is patever@gmail.com. There is no phone number, physical address, or social media page, which may make it difficult to contact the company if there are any issues with products or services. The lack of customer support options is another cause for concern.
Conclusion:
Based on the information, Patever.store raises several red flags, including suspicious pricing, lack of positive reviews, unusual redirects, and limited customer support options. These factors suggest that the site may be a scam, and potential customers should be cautious when considering making a purchase from Patever.store. It may be safer to look for alternative online stores with better reputations and more transparent information.