Beware of a new WhatsApp scam that is currently circulating and targeting users in different parts of the world. The scam involves a message that claims to offer a chance to win a prize, such as a mini fridge filled with beer or a gift card for a shopping website. The message contains a link that takes users to a website called Urltiny.ru, which is not a legitimate URL shortener service. Instead, it is a fake website designed to trick users into providing their personal information and/or installing malware on their devices. Read on to learn more about this scam and how to protect yourself from falling victim to it.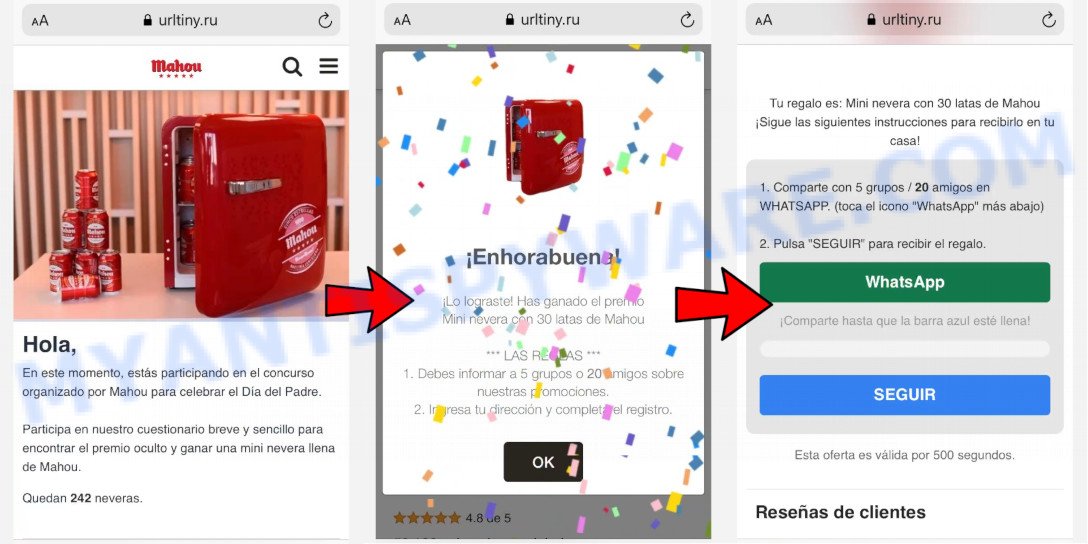 QUICK LINKS
Urltiny.ru Whatsapp Scam Explained
The Urltiny.ru WhatsApp scam is a type of phishing scam that tricks users into revealing personal information or downloading malware onto their device. It typically starts with a message that appears to come from a well-known brand or company, such as Mahou or Sagres, offering a prize in exchange for participation in a survey or quiz. The message contains a link to the Urltiny.ru website, where the user is asked to complete a series of steps to claim their prize.
A typical Urltiny.ru Whatsapp Scam message:

This scam has several variants, but the end goal is always the same: to trick the user into providing their personal and financial information. The scam uses the names of popular brands, such as Mahou and Sagresn, to make it seem more legitimate. Once the user reaches the final stage of the scam, they are asked to fill out a form, which redirects them to another site called thehappinessisbought.net.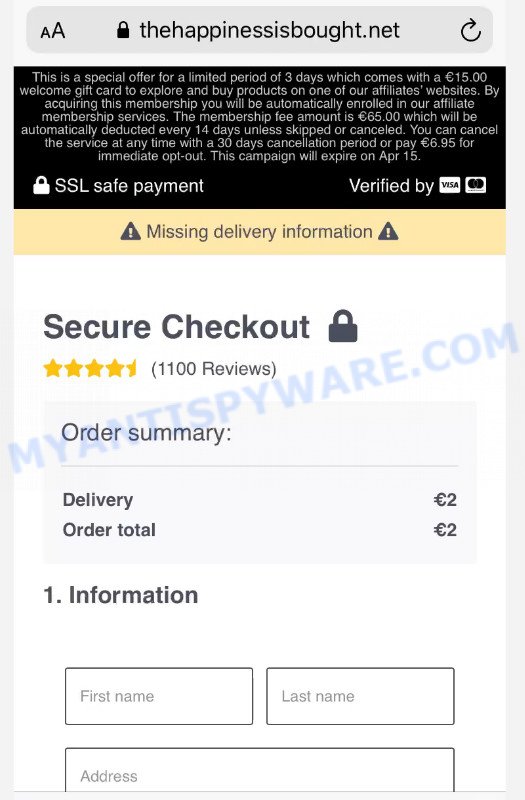 This site uses the heading "Missing delivery information" to make it seem like the user needs to provide their information to receive their prize. However, the small print reveals that the user is actually signing up for an expensive subscription service. The user is automatically enrolled in affiliate membership services, and a fee of €65.00 will be automatically deducted every 14 days, unless canceled. The site also offers a €15.00 welcome gift card, but this is just a ploy to get the user to sign up for the subscription service.
It's worth noting that a similar scam used the domain Wa8.ru. Like the Urltiny.ru scam, this scam used the names of popular brands to make it seem more legitimate. The final stage of the scam involved redirecting the user to another site where they were asked to provide their personal and financial information.
In conclusion, users should be wary of any messages they receive on WhatsApp that offer prizes or ask them to complete a series of steps. They should also be cautious of any sites that ask for their personal and financial information. If something seems too good to be true, it probably is.
Step-by-Step Screenshots of the Urltiny.ru WhatsApp Scam
Is the Urltiny.ru WhatsApp message a virus?
No, receiving a Urltiny.ru message itself does not mean that the device is infected with a virus. The message is simply a phishing scam that aims to trick users into revealing their personal information or completing a survey. However, if a user clicks on a link within the message and visits a fake website, there is a risk that the website may contain malware or viruses that can infect the device. It is important for users to be cautious and only click on links from trusted sources.
Examples of such scams
Urltiny.ru WhatsApp Scam is just one of many scams that exist on the internet. Other common scams include phishing, lottery, and investment scams. It is important to be aware of these types of scams and take precautions to protect yourself. For more information on how to avoid falling victim to scams, check out the following articles: Wa8.ru WhatsApp Scam, Elon Musk Giveaway Scam, KOHL'S Le Creuset Scam, and Mr Beast Giveaway SCAM.
What to do when you receive the Urltiny.ru WhatsApp message?
If you receive a WhatsApp message with a Urltiny.ru link, it is recommended that you do not click on it. This is especially true if the message came from an unknown sender or if the sender is not someone you know and trust. If the message came from a friend or relative, it is still important to exercise caution and verify the authenticity of the message before clicking on any links.
If you have already clicked on the link and provided any personal information, you should take immediate steps to protect yourself from potential identity theft or financial fraud. This includes monitoring your bank and credit card accounts for any suspicious activity, changing your passwords, and contacting your financial institutions to alert them of the potential breach. You may also want to consider placing a fraud alert or credit freeze on your accounts to prevent any unauthorized access. Use the steps (https://consumer.ftc.gov/articles/what-do-if-you-were-scammed) to try to stop a transaction, get a transaction reversed, or get a refund.
Additionally, you should report the message to WhatsApp by tapping and holding on the message, selecting "Report", and choosing the appropriate reason for the report. This will help WhatsApp to identify and take action against any accounts involved in spreading the scam.
Finally, you can take proactive measures to protect yourself from similar scams in the future by enabling two-factor authentication on your WhatsApp account, avoiding clicking on links from unknown or untrusted sources, and keeping your device's operating system and antivirus software up to date.
Threat Summary
| | |
| --- | --- |
| Name | Urltiny.ru WhatsApp Scam, "Urltiny.ru spam", "Urltiny.ru virus" |
| Type | Phishing Scam |
| Fake claims | Offers fake prizes such as gift cards, smartphones, and laptops |
| Damage | Theft of personal information, identity theft, financial fraud |
| Distribution methods | Spread through WhatsApp messages containing malicious links or forwarded by friends and family members |
| Prevention Tips | Avoid clicking on suspicious links or messages, do not provide personal information, do not forward the message to others, use antivirus software and keep it up-to-date |
| Reporting Info | Report the message to WhatsApp by selecting "Report" within the message or contact local authorities if you have fallen victim to the scam. |
Scam Texts Used in Urltiny.ru Scam
To help readers recognize and avoid falling victim to the Urltiny.ru WhatsApp scam, we've compiled examples of the different messages that users may receive throughout the various stages of the scam. By familiarizing yourself with the language and content of these messages, you can learn to spot the signs of a potential scam and protect yourself from financial and personal harm.
A scam WhatsApp message:
Concurso Mahou Dia del Padre 2023
2.000 mini neveras con cerveza gratis.
mahou.es

https://urltiny.ru/GvenyMLx/
Urltiny.ru text #1:
Hola,

En este momento, estas participando en el concurso
organizado por Mahou para celebrar el Dia del Padre.

Participa en nuestro cuestionario breve y sencillo para
encontrar el premio oculto y ganar una mini nevera llena
de Mahou.

Quedan 242 neveras.
Urltiny.ru text #2:
Mahou

Felicitaciones, tus
respuestas han sido
guardadas con éxito.

jEsta es tu oportunidad!

Debes seleccionar la caja correcta con el regalo
dentro.

Tienes 3 intentos. Suerte!
Urltiny.ru text #3:
¡Enhorabuena!

¡lo lograste! Has ganado el premio.
Mini nevera ohn 30 latas de Mahou

LAS REGLAS
1. Debes informar a 5 grupos o 20 amigos sobre
nuestras pfomociones.

2. Ingrese tu dirección y complete el registro.
Urltiny.ru text #4:
jFelicitaciones!

Tu regalo es: Mini nevera con 30 latas de Mahou
jSigue las siguientes instrucciones para recibirlo en tu
casa!

1. Comparte con 5 grupos / 20 amigos en
WHATSAPP. (toca el icono "WhatsApp" mas abajo)

2. Pulsa "SEGUIR" para recibir el regalo.

WhatsApp

jComparte hasta que la barra azul esté llena!

Esta oferta es valida por 500 segundos.
Urltiny.ru text #5:
Tu regalo es: Mini nevera con 30 latas de Mahou
jSigue las siguientes instrucciones para recibirlo en tu
casa!

jMuy bueno! El ultimo paso:

1. Debes completar el formulario para hacer llegar
tu regalo haciendo clic en "TERMINAR".
(Recuerda que este paso es muy importante)
Después de completar las instrucciones anteriores,

espera a la revision del administrador, la cual se
completara en 24 horas.

TERMINAR

Esta oferta es valida por 500 segundos.
Urltiny.ru text #6:
thehappinessisbought.net
This is a special offer for a limited period of 3 days which comes with a €15.00
welcome gift card to — and buy products on one of our affiliates' websites. By
acquiring this membership you will be automatically enrolled in our affiliate
membership services. The membership fee amount is €65.00 which will be
automatically deducted every 14 days unless skipped or canceled. You can cancel
the service at any time with a 30 days cancellation period or pay €6.95 for
immediate opt-out. This campaign will expire on Apr 15.

SSL safe payment Verified by Visa

Missing delivery information

Secure Checkout
(1100 Reviews)

Order summary:

Delivery €2
Order total €2

1. Information
First Name Last Name
Address
Urltiny.ru variant 2, text #1:
Ola,
Neste momento, esta participando do concurso
organizado pela Sagres para celebrar o Dia do Pai.

Participa no nosso questionario breve e simples para
descobrir 0 prémio oculto e ganhar um mini-frigorifico
cheio de Sagres.

Restam 236 presentes.

Questao 1 de 4: Conhece a Sagres?
Urltiny.ru variant 2, text #2
Parabéns, suas respostas
foram salvas com sucesso!

Esta é a sua chance!

Deve seleccionar a caixa correcta com o presente
dentro.

Tem 3 tentativas – boa sorte!:
Report a Scam
If you have received the Urltiny.ru WhatsApp scam message or a similar fake message, please post it as a comment on this article. Make sure to include the telephone number from which the text came. This will help us to warn other users about current scams, monitor trends, and take steps to disrupt such scams wherever possible.