If you are a gamer or use NVIDIA graphics cards, you may have come across the process VGTray.exe on your computer. While VGTray.exe is a legitimate software component associated with the NVIDIA GeForce Experience, some users may mistake it for malware due to its unfamiliar name and potential risk of malicious file disguising as VGTray.exe. In this article, we will explore what VGTray.exe is, how it works, and whether it can be a trojan, as well as provide tips on how to check if the VGTray.exe file on your computer is legitimate.
VGTray.exe is a software component that is linked to the NVIDIA GeForce Experience, which is used to optimize the performance of NVIDIA graphics cards. The file is typically installed automatically when you install the GeForce Experience software, and it is located in the "C:\Program Files (x86)\NVIDIA Corporation\Update Core" directory on Windows systems.
This file is generally safe to run in the background of your computer, as it does not use up a lot of system resources. However, if you experience any problems with the GeForce Experience, you may want to try closing the application via the Task Manager or disabling it from running at startup through the "Startup" tab or using the GeForce Experience settings.
Legitimate VGTray.exe file passes antivirus scan without detection:
While VGTray.exe is not malware in itself, it is possible for malware to disguise itself as VGTray.exe or to use a similar file name to evade detection. It is important to make sure that the VGTray.exe file on your computer is legitimate and not a malicious file.
To check if the VGTray.exe file on your computer is genuine, you can follow these steps:
Open the Task Manager by pressing Ctrl+Shift+Esc or right-clicking the taskbar and selecting "Task Manager".
Locate the VGTray.exe process in the "Processes" tab.
Right-click on the VGTray.exe process and select "Open file location".
Verify that the file location is "C:\Program Files (x86)\NVIDIA Corporation\Update Core".
Use a reputable anti-malware software to scan the file for any malicious content.
If you are unsure whether VGTray.exe is malicious or a false positive, you can submit the file to VirusTotal to be scanned with multiple antivirus engines.
It's worth noting that VGTray.exe can also be used as a component of a Trojan virus, which is designed to carry out various malicious actions on an infected computer. These actions can include stealing sensitive information, installing additional malware, and giving attackers unauthorized access to the affected system.
Risks and Dangers of the VGTray.exe Trojan
The VGTray.exe Trojan is dangerous because it can perform a variety of malicious actions on an infected computer. These actions may include stealing sensitive information, installing additional malware, and allowing attackers to gain unauthorized access and control of the affected system.
The Trojan may also download and install other malware on the infected computer, use the computer for click fraud, record keystrokes and browsing history, send information about the computer and user to a remote malicious hacker, give remote access to the computer, display unwanted advertisements, and redirect the user's browser search queries. Additionally, the Trojan may use the computer's resources to mine cryptocurrencies without the user's knowledge or consent.
One of the dangers of the VGTray.exe Trojan is that it can be distributed through various methods, such as malicious advertisements, spam emails with infected attachments, and exploiting vulnerabilities in the operating system and installed software. The Trojan may also be spread through the use of cracks or other methods that exploit security weaknesses in the computer system.
If left undetected, the VGTray.exe Trojan can cause serious damage to the infected computer and compromise the user's sensitive information. It is important to take immediate action to remove the Trojan and scan the computer for other malicious programs using reputable malware removal software.
How to remove VGTray.exe trojan from computer (Malware removal guide)
If you suspect that your computer has been infected with the VGTray.exe malware, it is important to take the following steps to remove it: update your antivirus software, delete the malware manually, restore System Settings, change Passwords.
To remove VGTray.exe trojan, use the following steps:
Kill VGTray.exe process
Open Task Manager by pressing Ctrl+Shift+Esc.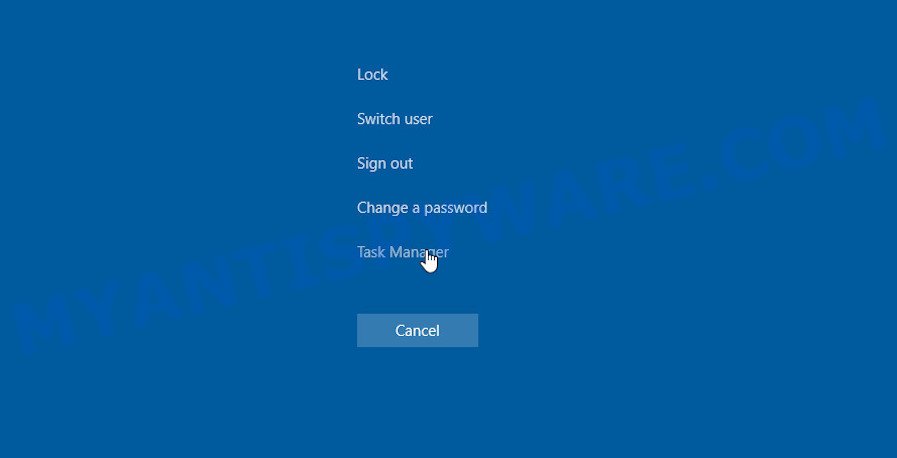 Navigate to the "Processes" tab and locate the VGTray.exe Trojan. Right-click on it and select "End Task" or "End Process." If you're unable to open Task Manager or receive a message stating that it has been disabled by your administrator, refer to this guide: How to Enable Task Manager.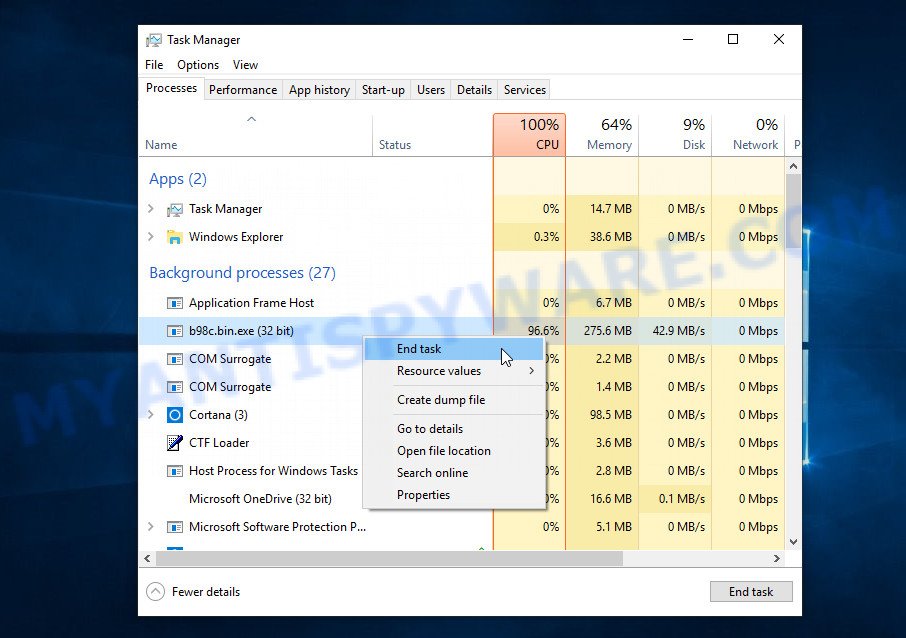 This malware disguises itself as a legitimate Microsoft Windows process to evade detection. If you notice a process consuming an unusually high amount of memory, even though you've closed all your applications, and its name is unfamiliar to you, it may be suspicious. To confirm your suspicions, you can search for the process name on Google, Yahoo, or Bing.
Disable VGTray.exe start-up
Select the "Start-Up" tab, look for something suspicious that is the VGTray.exe malware, right click to it and select Disable.

Close Task Manager.
Uninstall VGTray.exe related software
Take a look at the list of apps installed on your computer and uninstall any that you don't recognize or that were recently installed. If you come across a program with a suspicious name, misspellings, or inconsistent capitalization, it may have been installed by malware. In this case, use a reputable malware removal tool like Malwarebytes to remove it from your system.
Windows 7
Windows 8

Click 'Start'.
In the Start menu select 'Control Panel'.
Find and select 'Programs and Features' or 'Uninstall a program'.
Select the program.
Click 'Uninstall'.

Press and hold Windows key and hit X key.
Select 'Programs and Features' from the menu.
Select the program.
Click 'Uninstall'.

Windows 10
Mac OS

Press and hold Windows key and hit X key.
Select 'Programs and Features' from the menu.
Select the program.
Click 'Uninstall'.

On the top menu select 'Go', then 'Applications'.
Drag an unwanted application to the Trash bin.
Right-click on the 'Trash' and select 'Empty Trash'.
Scan computer for malware
If you're not confident in removing VGTray.exe manually or want to ensure that your computer is completely free of any potential threats, using a reputable anti-malware program can be a good option. These programs are designed to detect and remove malicious software, including adware and PUAs like PC App Store, and can also provide real-time protection against future threats.
Malwarebytes is a reputable anti-malware program that can effectively detect and remove the VGTray.exe trojan as well as other potentially unwanted programs and malware. It has a user-friendly interface and offers both free and paid versions, with the paid version offering real-time protection and other advanced features. To use Malwarebytes to remove adware, you can download and install the program, perform a scan of your system, and follow the prompts to remove any detected threats.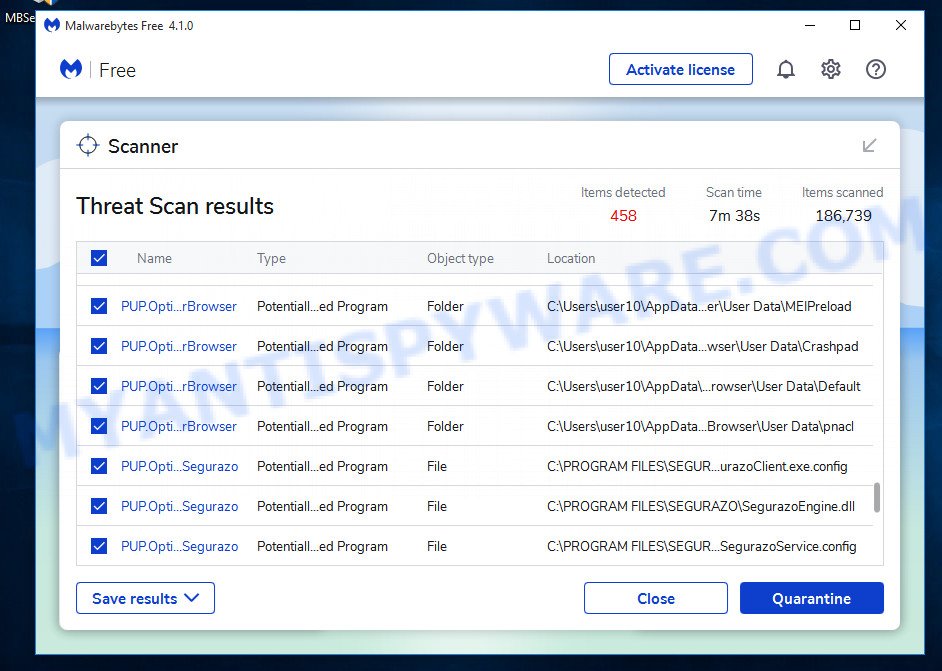 Visit the following link and download the latest version of Malwarebytes. Once the download is complete, run the installer and follow the instructions to install the program on your computer.

Open Malwarebytes and click on the "Scan" button. The program will start scanning your computer for any malware or potentially unwanted programs. Depending on the size of your hard drive, this may take a few minutes to complete.
Once the scan is complete, Malwarebytes will display a list of any threats it has found. Review the list carefully and make sure that all the items are checked for removal. Then, click on the "Quarantine" button to remove the threats from your computer. After the removal process is complete, you may be prompted to restart your computer to complete the process.
Please follow this step-by-step video tutorial to learn how to use Malwarebytes to scan and remove any potential threats from your computer. The video will guide you through the entire process, from downloading and installing Malwarebytes to running a scan and removing any identified threats.
To ensure complete removal of the VGTray.exe trojan from your computer, we suggest utilizing the Kaspersky virus removal tool (KVRT) which is both cost-free and user-friendly. With its ability to detect and delete different types of malware, including trojans, spyware, adware, worms, trojans, potentially unwanted apps, and more, KVRT is a powerful tool. Additionally, it can locate and remove malicious files and registry entries that may be concealed on your system.
Download Kaspersky virus removal tool by clicking on the following link. Save it directly to your Windows Desktop.

After the downloading process is complete, double-click on the KVRT icon. Once initialization procedure is complete, you'll see the KVRT screen as displayed below.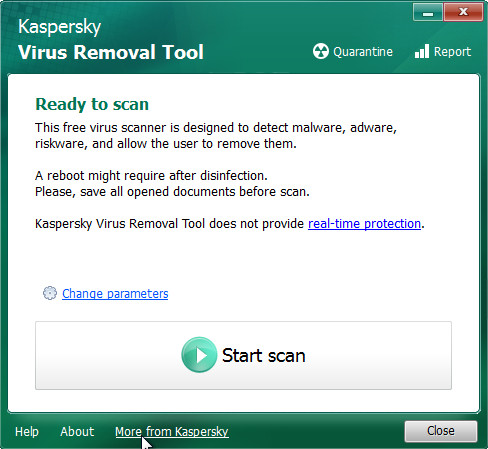 Click "Change Parameters" and set a check near all your drives. Click OK to close the Parameters window. Next click "Start scan" button to scan your computer for the VGTray.exe trojan and other known infections. This task can take quite a while, so please be patient. While the tool is scanning, you can see how many objects and files has already scanned.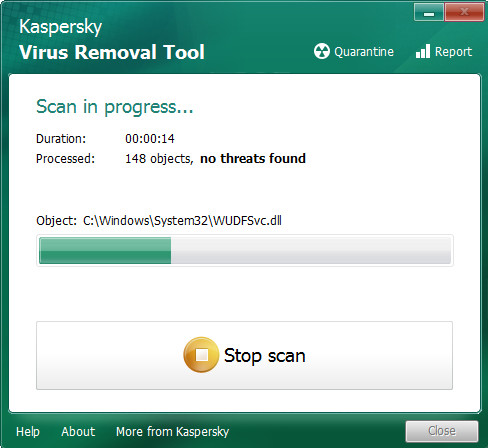 As the scanning ends, Kaspersky virus removal tool will create a list of malware found, as displayed in the figure below.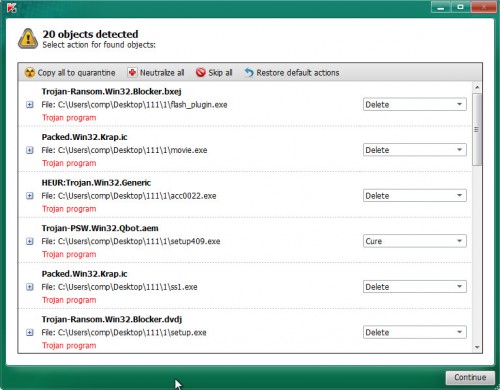 All detected threats will be marked. You can delete them all by simply clicking Continue.
Reset Google Chrome
In this step we are going to show you how to reset Google Chrome settings. Malware can make changes to your web-browser settings, add toolbars and unwanted extensions. By resetting Chrome settings you will reset unwanted changes caused by malicious software. However, your saved passwords and bookmarks will not be changed, deleted or cleared.
Open the Google Chrome menu by clicking on the button in the form of three horizontal dotes (

). It will display the drop-down menu. Choose More Tools, then click Extensions. You can also type chrome://extensions into Chrome's address bar.
Examine your list of installed extensions and find any that you don't recognize, you know are malicious or simply want to remove. Click the "Remove" button below the extensions you want to remove. In the pop-up that comes up, click "Remove" once again. The extension box and icon should disappear from the screen.
If the "Remove" option is not available as the extension is being detected as "Installed by administrator" or "Managed by your organization" then the easiest way to fix this is to follow the instructions: Remove Google Chrome extensions installed by enterprise policy, Chrome Managed by your organization malware removal guide.
To completely remove any changes made by the VGTray.exe malware, reset your browser settings to their default values. To do this, go to the Chrome main menu again, click "Settings". Click Reset settings and then "Restore settings to their original defaults".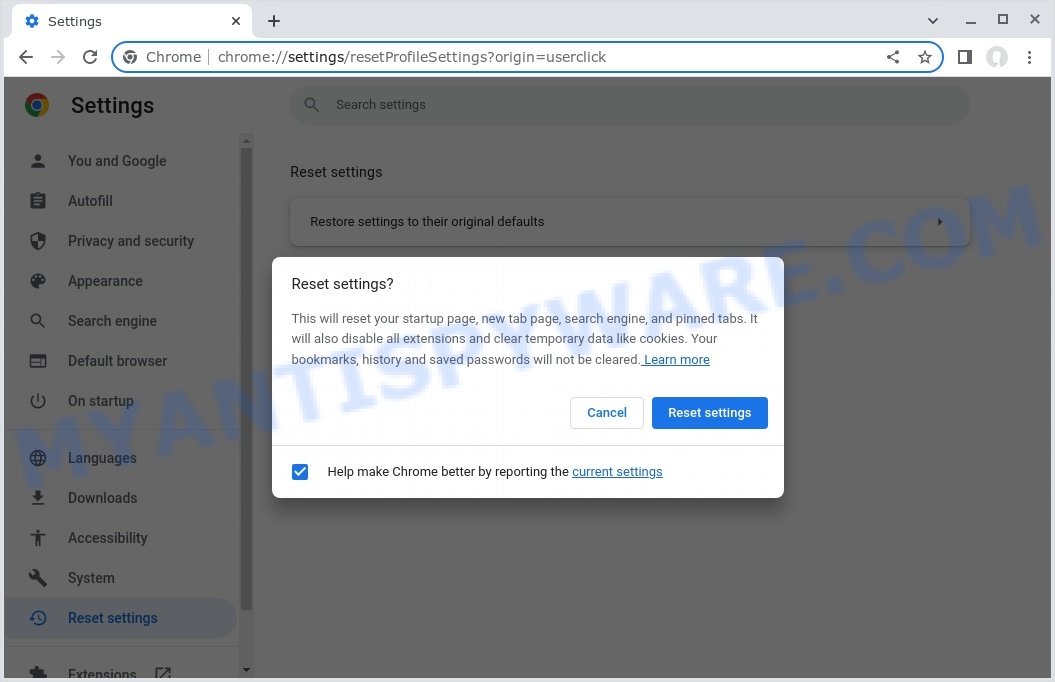 Confirm your action, click the "Reset settings" button.
Tips to Prevent Infection
Here are some steps you can take to prevent infection from the VGTray.exe trojan:
Only download software from official sources or trusted third-party websites. Avoid downloading from peer-to-peer (P2P) networks or free file hosting websites.
Avoid using key generators or software cracks to activate software. These tools are often bundled with malware, including the VGTray.exe trojan.
Use reputable antivirus software and keep it up-to-date. Antivirus software can detect and remove malware before it can cause damage to your system.
Keep your operating system and software up-to-date with the latest security patches and updates. These updates often include security fixes that can prevent malware infections.
Be cautious of suspicious emails or attachments. Hackers often use social engineering tactics to trick users into downloading malware. Avoid clicking on links or downloading attachments from unknown senders.
Use strong and unique passwords for all your accounts. Avoid using the same password for multiple accounts, and consider using a password manager to help you generate and store strong passwords.
By following these steps, you can significantly reduce your risk of infection from the VGTray.exe trojan and other types of malware.