Teahfeete.com is an online store that claims to sell women's pants, T-shirts, and dresses, among other products. However, there are several red flags that suggest this site may not be legitimate. Upon further investigation, several other aspects of the site also appear suspicious. In this review, we will examine these aspects in detail to determine whether Teahfeete.com is a legitimate online store or a possible scam.
Design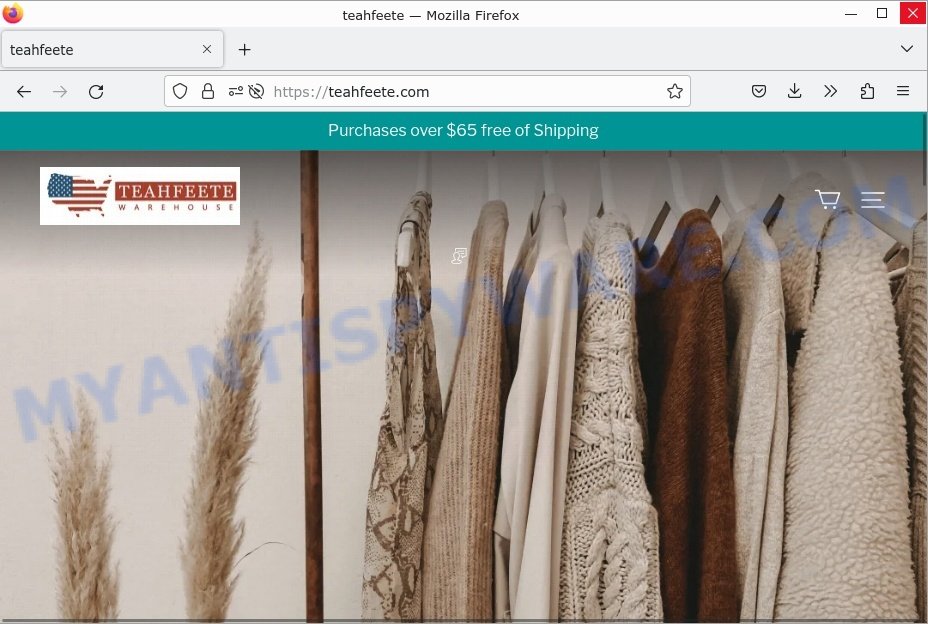 Teahfeete.com has a simple design that appears to have been made using a template. The logo and overall design do not inspire confidence in the site's authenticity.
Product offerings
The site only offers a few products across three categories. There is a suspiciously low number of products on offer, which raises concerns about the site's legitimacy.
Pricing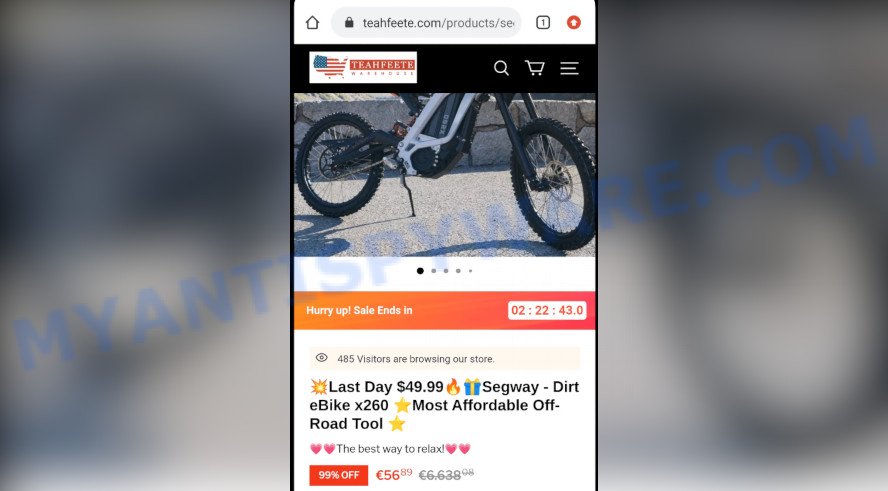 One of the most suspicious elements of the site is the pricing for the Dirt eBike – 3 hours fast charging + 140KM battery, which is listed at $49.99 instead of the actual price of $6,999. This is an obvious attempt to lure in unsuspecting customers with a seemingly too-good-to-be-true deal.
Domain Information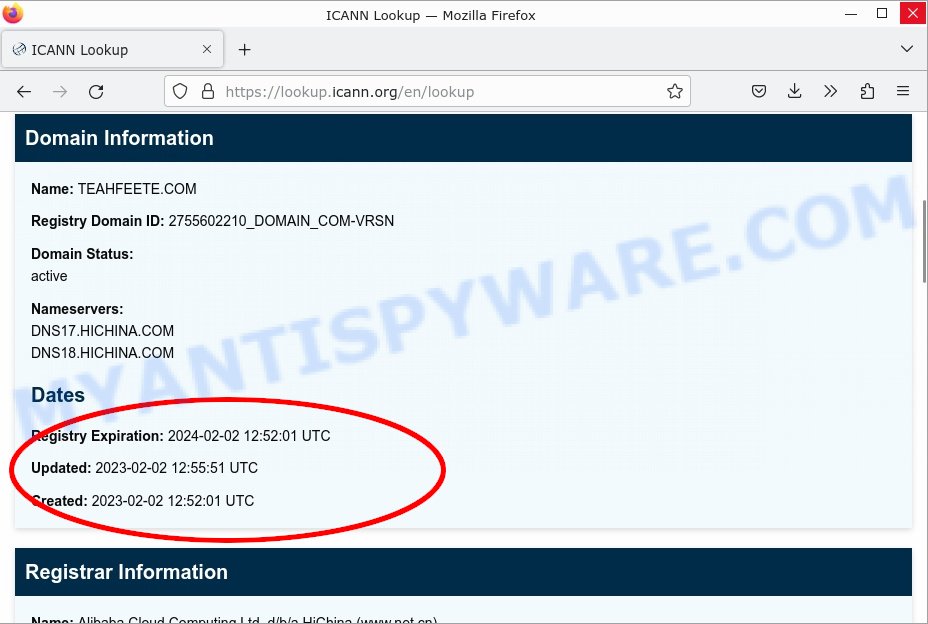 The domain name was registered in February 2023, which is a very recent registration. This lack of history is another reason for concern.
Suspicious Redirects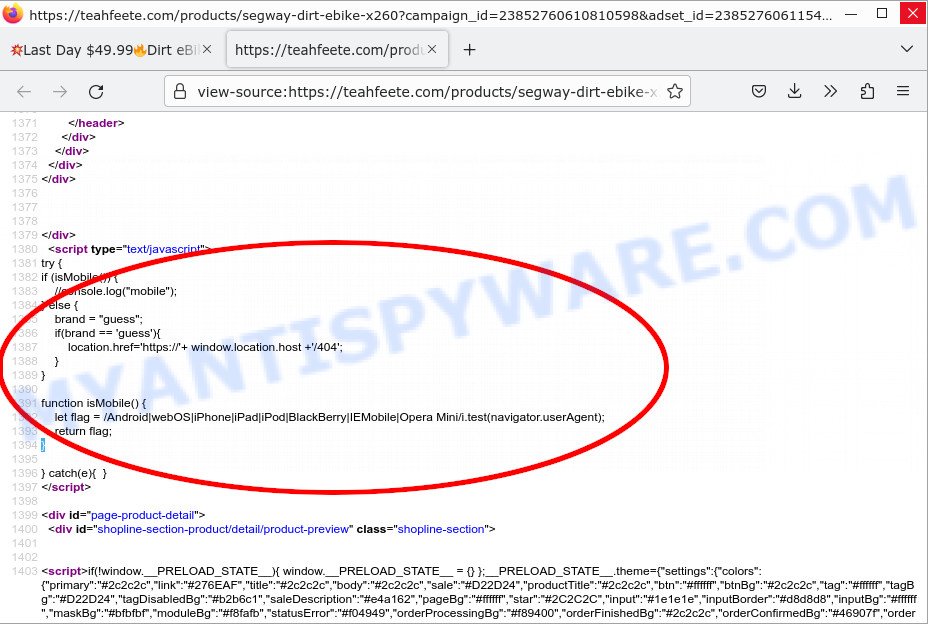 Teahfeete.com uses JavaScript to redirect visitors to a different page depending on whether they are browsing from a mobile phone or a computer. If users try to access the Dirt eBike product page from a computer, they will be redirected to a 404 error page.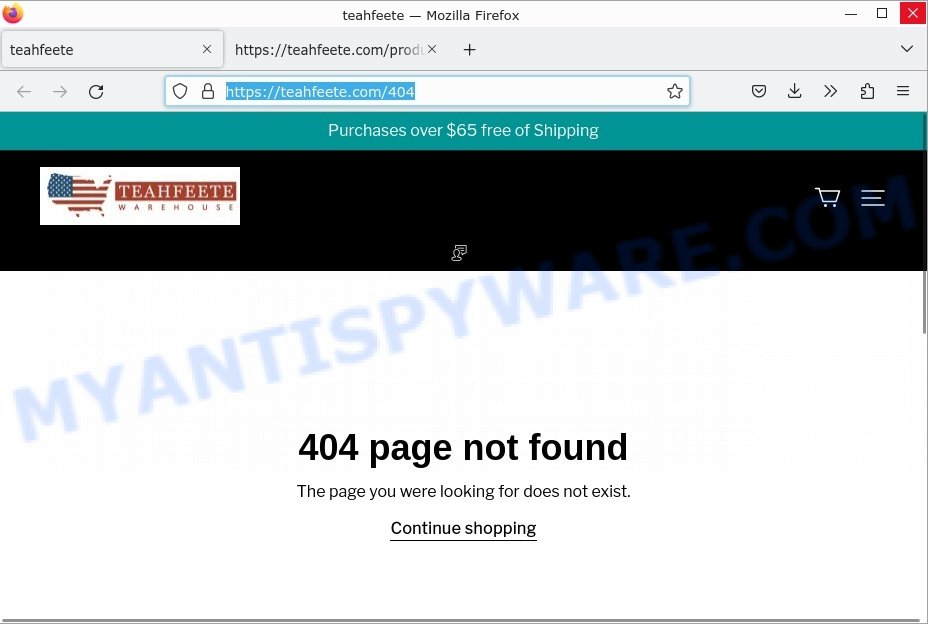 However, if users try to access the same page from a mobile phone, they will be directed to a page where the Dirt eBike is on sale for an incredibly low price. This is another clear sign that the site is not legitimate.
About Us
The site's "About Us" section is vague and does not provide any concrete information about the company. It merely states that the company is made up of a team of young, passionate and visionary people dedicated to sourcing. This lack of detail is another red flag for potential customers.
Reviews
There are no positive reviews of the site online, which is another red flag. Several reviews label the site as a scam.
Contact Information
The site only provides an email address for customer service, which is teahfeete@gmail.com. There is no phone number, physical address, or social media page, which makes it difficult to contact the site if there are any issues.
Conclusion
Based on the information available, it seems that teahfeete.com is a suspicious site that may be attempting to scam its customers. The lack of detailed information, the suspiciously low number of products, the pricing discrepancies, the recent domain registration, the lack of positive reviews, and the use of JavaScript redirects are all major red flags. It is best to avoid this site and look for a more reputable online retailer.
What To Do if You Were Scammed
If you have been scammed, it can be a frustrating and distressing experience. However, there are steps you can take to minimize the damage and potentially recover any lost funds. Here is a more detailed guide on what to do if you were scammed:
Stop all transactions. If you have any ongoing transactions with the scammer, stop them immediately. If possible, cancel any payments that have not yet been processed.
Contact your bank or credit card company. If you made the payment through your bank or credit card, contact them immediately and explain the situation. They may be able to block the transaction or reverse the charges. If you have given the scammer access to your bank account, contact your bank and ask them to freeze your account.
Report the scam. Report the scam to the appropriate authorities, such as the Federal Trade Commission (FTC) at reportfraud.ftc.gov or your local law enforcement agency. Provide as much information as possible, including any receipts or emails you may have received from the scammer. This will help the authorities investigate and potentially bring the scammers to justice.
Change your passwords. If you used the same password for the scammer as you do for other accounts, change your passwords immediately to prevent any further security breaches. Use strong and unique passwords for each account.
Check your computer for malware. If you provided personal information or downloaded anything from the scammer, run a virus scan on your computer to check for any malware or viruses. Make sure your antivirus software is up-to-date and regularly run scans.
Be vigilant. Scammers often target people who have fallen victim to a scam once before. Be vigilant of any suspicious calls, emails or text messages, and do not click on any links or download any attachments from untrusted sources.
Warn others. Spread the word about the scam to warn others and prevent them from falling victim to the same scam. Share your experience on social media or forums where people are discussing the scam.
In summary, if you were scammed, it is important to take immediate action to protect yourself and potentially recover any lost funds. Contact your bank or credit card company, report the scam, change your passwords, check your computer for malware, be vigilant and warn others.