GPT Search Navigator is a browser extension that promises to enhance users' Google searches. However, our investigation has revealed that this seemingly harmless extension is actually a browser hijacker that promotes a fake search engine called ask.gptsearchnavigator.com. This browser hijacker can cause a range of problems for users, from redirecting their search queries to collecting their personal information without their consent.
In this article, we will provide a detailed analysis of GPT Search Navigator, its features, and the risks associated with its use. We will also provide recommendations for protecting your system from browser hijackers and other forms of malware.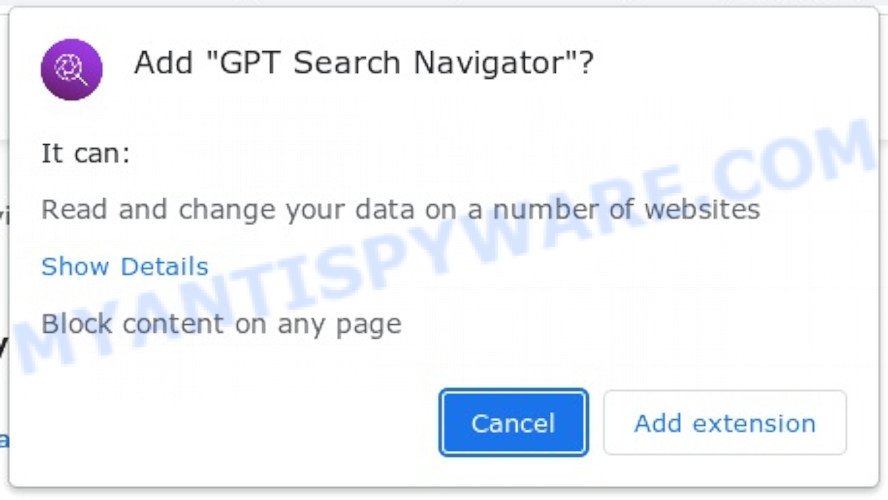 QUICK LINKS
What is GPT Search Navigator?
Once installed on a user's browser, GPT Search Navigator assigns ask.gptsearchnavigator.com as the default search engine. This means that whenever a user enters a search query into the URL bar, they will be redirected to the ask.gptsearchnavigator.com website. This fake search engine is usually incapable of providing search results and instead redirects users to legitimate ones, such as Google. However, the redirection may depend on certain factors, such as user geolocation.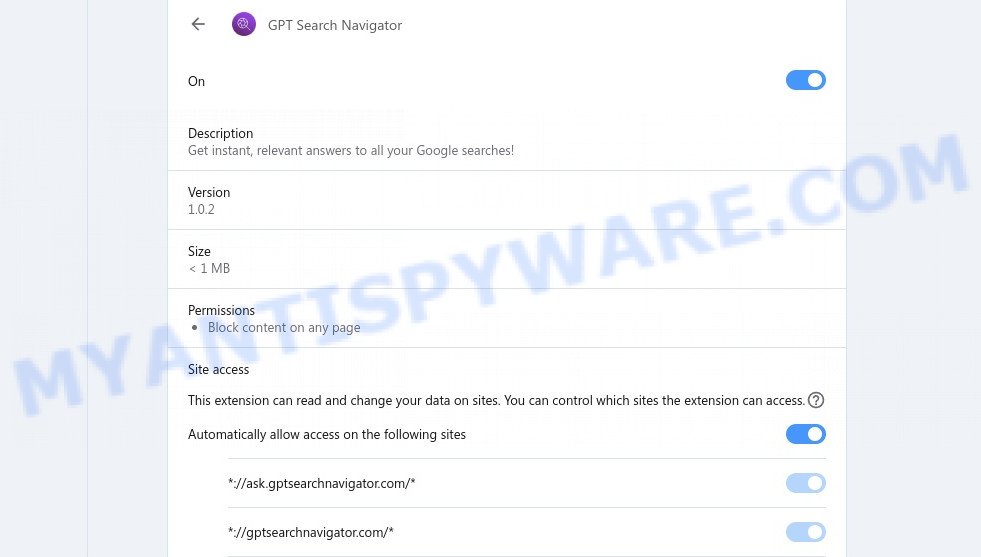 GPT Search Navigator not only promotes a fake search engine, but it also poses a severe threat to users' privacy. Browser hijackers are notorious for collecting sensitive information such as browsing history, search queries, personal details, credit card numbers, and passwords, which can be exploited for profit by selling it to third parties.
Furthermore, one of the most concerning aspects of browser hijackers is their ability to employ persistence-ensuring techniques. These techniques are designed to prevent users from recovering their browser settings even if they try to uninstall the extension. This makes it challenging for users to get rid of a browser hijacker and its associated risks.
The presence of browser-hijacking software like GPT Search Navigator on a user's system can result in serious consequences, including privacy breaches, financial losses, and identity theft. As such, it is crucial to take the necessary precautions to prevent browser hijackers from infecting your system and to remove them immediately if detected.
How Did the browser hijacker Get Into Your Browser?
There are several other ways that browser hijackers can get into your browser. Here are some possible methods:
Browser hijackers can be bundled with free software that you download from the internet. When you install the free software, GPT Search Navigator may be installed as well, without your knowledge or consent.
Cybercriminals can also spread browser hijackerss through spam emails. The emails may contain attachments that, when opened, can install the hijacker onto your computer.
Some websites may host malicious scripts that can install browser hijackers onto your computer. These websites may be disguised as legitimate websites, such as online shopping sites, gaming sites, or social networking sites.
Cybercriminals can also create fake software update notifications that appear legitimate. When you click on the notification and download the update, a hijacker may be installed onto your computer along with the supposed update.
It is important to be cautious when downloading and installing software from the internet, opening email attachments, and clicking on suspicious links. Always use reputable sources for software downloads and keep your anti-virus and anti-malware software up to date to help protect against potential threats.
Examples of Browser hijackers
Browser hijackers can be used to distribute other malware. They install trojans, adware, keyloggers, ransomware, spyware and more. Some of the malware designed to collect user data, others install ransomware and trojans on computers, and still others add infected computers to botnets, and so on. In any case, each malicious program is a huge threat to both user privacy and computer security. Therefore, malicious programs must be removed immediately after detection; using an infected computer is very dangerous.
More examples of browser hijackers are below:
Threat Summary
| | |
| --- | --- |
| Name | GPT Search Navigator, "GPT Search Navigator extension" |
| Type | browser hijacker, PUP |
| Affected Browser Settings | home page, newtab page URL, default search engine |
| Associated websites | ask.gptsearchnavigator.com |
| Distribution | bundled software, spam email attachments, malicious websites, fake software updates |
| Damage | Privacy invasion: browser hijackers can collect and transmit personal information, such as search queries, browsing history, and login credentials; security risks: browser hijackers can expose the computer to other forms of malware; ad revenue generation: browser hijackers can display unwanted pop-up ads; performance degradation: browser hijackers can cause the affected web browser to become slow; altered search results: browser hijackers can alter search results to display sponsored or unwanted websites. |
| Symptoms | Changes to the homepage: browser hijackers may change the homepage of the affected web browser; changes to the default search engine: browser hijackers may change the default search engine of the affected web browser; new toolbars or extensions: browser hijacker may install new toolbars or extensions; pop-up ads: browser hijackers may cause the display of unwanted pop-up ads while the user is browsing the web; redirection to unfamiliar and scam websites; slow or unresponsive web browser. |
| Removal | If you experience any of these symptoms above, it is a sign that your web browser has been hijacked. To remove the hijacker, GPT Search Navigator removal guide |
How to remove GPT Search Navigator from Windows 11 (10, 8, 7, XP)
To remove GPT Search Navigator from your browser, go to the browser's extensions or add-ons settings and uninstall any suspicious extensions. Then, change the default search engine in the browser's settings to a trusted source such as Google or Bing. If the fake search engine is still present, reset the browser to its default settings. Additionally, it's important to scan your computer for malware using an antivirus program.
If you have any questions or need help, write a comment below. Some steps will require you to restart your device or exit this web page. So, read this guide carefully and then bookmark this page or open it on your smartphone for future reference.
To remove GPT Search Navigator, perform the steps below:
Read this section to know how to manually remove the GPT Search Navigator hijacker. Even if the step-by-step guide does not work for you, there are several free removers below which can easily handle such hijackers.
Uninstall any suspicious programs
The first step is to check your computer for any suspicious programs or extensions and remove them. To do this, go to the Control Panel (on Windows) or Applications (on Mac) and uninstall any programs that you don't recognize or that you think may be associated with the GPT Search Navigator hijacker.
Windows 7
Windows 8

Click 'Start'.
In the Start menu select 'Control Panel'.
Find and select 'Programs and Features' or 'Uninstall a program'.
Select the program.
Click 'Uninstall'.

Press and hold Windows key and hit X key.
Select 'Programs and Features' from the menu.
Select the program.
Click 'Uninstall'.

Windows 10
Mac OS

Press and hold Windows key and hit X key.
Select 'Programs and Features' from the menu.
Select the program.
Click 'Uninstall'.

On the top menu select 'Go', then 'Applications'.
Drag an unwanted application to the Trash bin.
Right-click on the 'Trash' and select 'Empty Trash'.
Remove GPT Search Navigator from Google Chrome
Open the Google Chrome menu by clicking on the button in the form of three horizontal dotes (

). It will display the drop-down menu. Choose More Tools, then click Extensions. You can also type chrome://extensions into Chrome's address bar.
Examine your list of installed extensions and find any that you don't recognize, you know are malicious or simply want to remove. Click the "Remove" button below the extensions you want to remove. In the pop-up that comes up, click "Remove" once again. The extension box and icon should disappear from the screen.
If the "Remove" option is not available as the extension is being detected as "Installed by administrator" or "Managed by your organization" then the easiest way to fix this is to follow the instructions: Remove Google Chrome extensions installed by enterprise policy, Chrome Managed by your organization malware removal guide.
To completely remove any changes made by the GPT Search Navigator hijacker, reset your browser settings to their default values. To do this, go to the Chrome main menu again, click "Settings". Click Reset settings and then "Restore settings to their original defaults".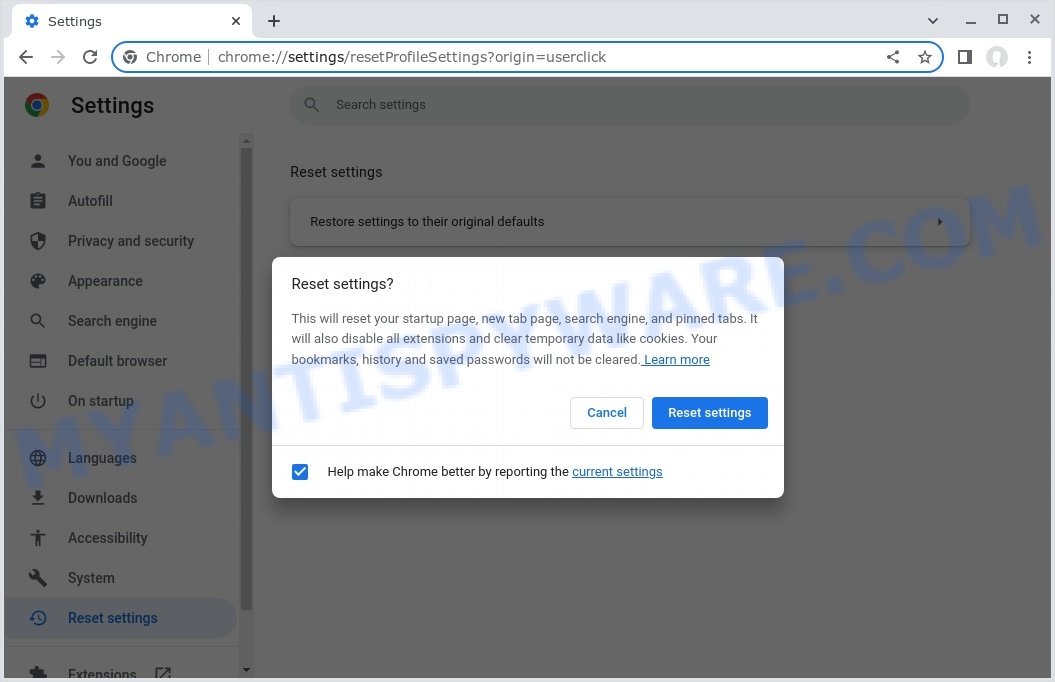 Confirm your action, click the "Reset settings" button.
Scan your computer for malware
It is possible that the browser hijacker came bundled with PUPs (potentially unwanted programs) and other unwanted software. To ensure that your computer is clean, run a full system scan with a reputable antivirus software.
You can automatically get rid of the browser hijacker with MalwareBytes. Malwarebytes is a reputable anti-malware software that is commonly used to remove various types of malware, including browser hijackers like GPT Search Navigator.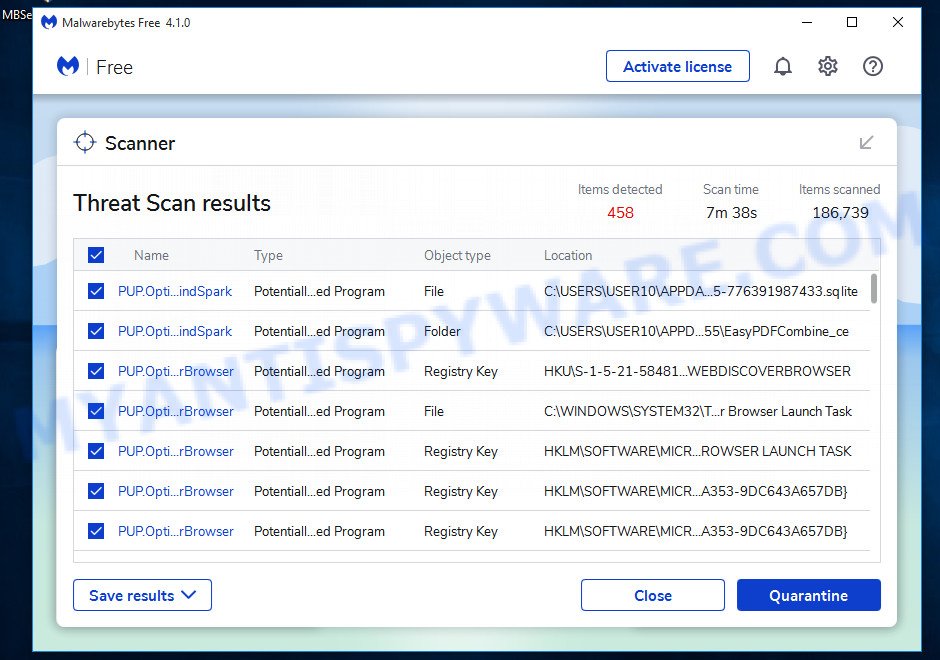 Download Malwarebytes by clicking on the link below. Save it on your Windows desktop.


Once the download is done, close all applications and windows on your personal computer. Open a folder in which you saved it. Double-click on the icon that's named MBsetup.
Choose "Personal computer" option and press Install button. Follow the prompts.
Once installation is finished, scan your computer. Run a full scan of your computer to detect and remove any browser hijackers and other forms of malware. The scan may take several minutes to complete, depending on the size of your hard drive and the speed of your computer.
Remove detected threats. If the scan finds any threats, click Quarantine to remove them. The software will automatically remove the browser hijacker and any associated malware. After the removal process is complete, restart your computer to ensure that any changes made by the hijacker are fully removed.
The following video demonstrates how to remove hijackers, adware and other malware with MalwareBytes.
What to Do After Removing the GPT Search Navigator Hijacker
After successfully removing the GPT Search Navigator hijacker, there are a few important steps you should take to ensure that your browser and computer are fully secure:
It's important to change your browser settings back to your preferred search engine and homepage. Make sure that GPT Search Navigator is completely removed from your browser's settings and that it cannot reappear.
Use a reputable anti-malware program like Malwarebytes to scan your computer for any remaining malware or potentially unwanted programs (PUPs). This can help ensure that there are no hidden threats or malicious files on your computer.
Make sure that your browser and operating system are up-to-date with the latest security patches and updates. This can help prevent future security issues and keep your system protected.
To avoid getting infected with similar malware in the future, be cautious of downloads and only download from reputable sources. Avoid clicking on suspicious links or downloading attachments from unknown sources.
Finish Words
To conclude, the GPT Search Navigator hijacker is a dangerous threat to your online security and privacy. Browser hijackers can be installed on your browser without your knowledge or consent, and can cause a number of problems including intrusive advertisements, browser redirects, and the theft of your personal data. It's important to take action to remove this hijacker from your browser as soon as possible.
If you suspect that your browser has been hijacked by GPT Search Navigator or any other similar threat, follow the steps outlined above to remove it. Be sure to also take steps to protect yourself from future threats by using reputable antivirus and anti-malware software, keeping your browser and other software up to date, and avoiding suspicious websites and downloads.
Remember, staying vigilant and taking proactive measures to protect your online security is key to staying safe in today's digital world. By taking the necessary steps to protect yourself, you can browse the web with confidence and peace of mind.