What is Dear Google Customer Congratulations?
Dear Google Customer Congratulations is a survey scam that uses social engineering methods to trick unsuspecting victims into providing sensitive personal information. Survey scam is yet another form of phishing. In this technique, scammers invite users to participate in a survey and win a prize. The survey is just an excuse to phish for valuable personal and financial information.
In the current case, the scam uses phishing sites disguised as legitimate Google pages. It must be emphasized that Google has nothing to do with these sites. These sites should be avoided!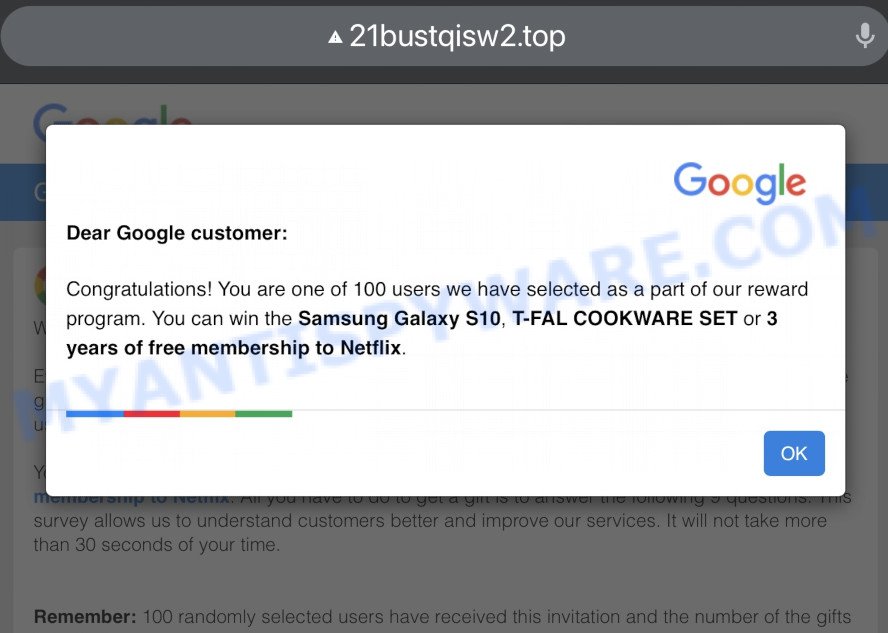 QUICK LINKS
Dear Google Customer Congratulations Scam in detail
Survey scams are similar in that they are "recommended" or "sponsored" by such famous brands or companies as Microsoft, Yahoo, Amazon, but in fact these brands have nothing to do with them. In this particular case, the scam claims that the survey is sponsored by Google.
Text presented in the Dear Google Customer Congratulations Scam Pop-Up:
Google
Dear Google customer:

Congratulations! You are one of 100 users we have selected as a part of our reward
program. You can win the Samsung Galaxy S10, T-FAL COOKWARE SET or 3
years of free membership to Netflix.
The scam states that the user is one of 100 selected users who got a chance to win a Samsung Galaxy S10, T-FAL COOKWARE SET or 3 years of free membership to Netflix. In the next step of the scam, users are informed that all they have to do to receive a gift is answer a few questions. As soon as users answer the questions, they are invited to collect the prize, click the "Claim" button. Clicking this button displays a message that the gift is reserved and requires users to go to the next page to enter their shipping and credit card details and pay the $1 shipping fee.
VirusTotal flagged a "Dear Google Customer Congratulations" page as malicious: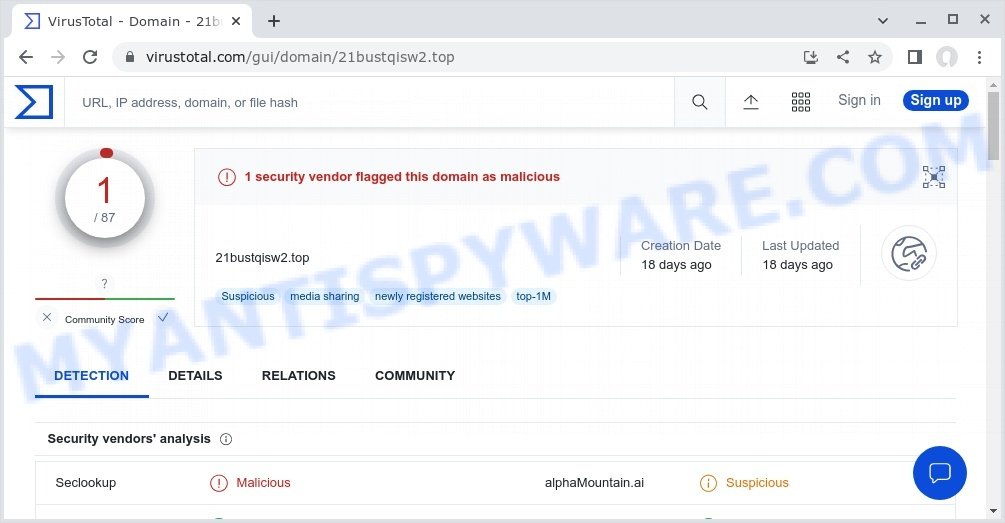 As mentioned above, the goal of scammers is to obtain personal data of users, as well as their credit card information. Scammers can use personal information to steal identities for personal and financial gain. Moreover, the criminals can use stolen email addresses and phone numbers to send spam and malspam (spam emails containing malware or links to malware).
In addition, the "Dear Google Customer Congratulations" page may ask users to allow it to display browser notifications. If enabled, it will deliver notifications promoting untrustworthy/dangerous pages, various types of scams, and even malware.
Here are some examples of the scam notifications:
If you accidentally clicked on a link/button in the scam or suspect that your device is infected with malware, then use one of the best free malware removal tools. Here are a couple more guides you might need: How to remove virus from Android phone, How to remove pop-up ads, Adware from Mac
To summarize, "Dear Google Customer Congratulations" is a survey SCAM! The scam can lead to loss of data, financial losses, theft of personal information and other serious problems.
How to Spot Scams and Phishing pages?
There are always a few details that can give away a scam. Make sure you know what to look out for.
If you receive a message congratulating you on a cash prize win, don't respond or click on any links. Stop and think. An unexpected message is often the first sign of a scam. Scammers use this tactic to harvest your personal information.
The most obvious way how to spot a phishing page is finding inconsistencies in domain names, phone numbers and email addresses. If the message claims to be from the Google, but the message is being sent from a random phone number or email address, it's probably a scam.
If you have the slightest suspicion a message may be a scam, do not click on the links you see.
The message creates a sense of urgency. Creating a false sense of urgency is a common trick of phishing scams. Be suspicious of messages that claim you must call or click a link immediately.
Examples of Survey Scams
The "Dear Google Customer Congratulations" scam is not the only scam on the Internet that aims to deceive users into providing financial and/or personal information or to send money directly to the attacker. We have already reported other similar scams such as You've made the 5-billionth search, Win new Apple iPhone 13, Chrome search contest 2022, 2023 Annual Visitor Survey.
Why am i getting the Dear Google Customer Congratulations pop-ups?
Scammers use different ways to promote the "Dear Google Customer Congratulations" scam, most common of which is usually social networks (Facebook, YouTube, Twitter, Instagram). In addition, the scam can be promoted through deceptive ads and push notifications, as well as Adware and potentially unwanted applications (PUAs).
Adware is type of malware. It can generate numerous additional popup, banner, pop-under and in-text link advertisements; gather your personal data such as login details, online searches, etc; run in the background and drag down your computer running speed; give more chances for other adware, PUAs even malware to get on your PC.
Typically, adware ends up on personal computers bundled with freeware, malicious downloads, fake updates, shared files, and other unsafe software downloaded by users from the Internet. To avoid installing any adware: choose only the option of manual, custom or advanced installation and disable any third-party applications that you are not sure about.
How to protect against the Dear Google Customer Congratulations scam
To avoid becoming a victim of scammers, it is important to always keep in mind:
No one has ever received prizes promised by "survey scams".
Never trust "survey scams", don't click links and buttons they contain, it can be dangerous for you and your computer.
Legitimate surveys do not require the disclosure of confidential, personal or financial information.
Use the official website of the company sponsoring the survey to verify that the survey is legitimate.
Close the "Dear Google Customer Congratulations" pop-up as soon as it appears on your computer screen. Scammers can prevent you from closing it in various ways. In such cases, close your browser using Task Manager or restart your computer. If the next time you launch the browser, it prompts you to restore the previous session, abandon it, otherwise this scam will reopen on your screen.
Use an ad blocker when browsing the internet. It can block known scam sites and protect you from scammers.
Threat Summary
| | |
| --- | --- |
| Name | Dear Google Customer Congratulations |
| Type | survey scam, phishing, fake survey |
| Affected devices | Android smartphones, iPhones, Windows computers, Macs |
| Associated phishing websites | 22104tekeuad.xyz, 21bustqisw2.top |
| Distribution | rogue ad networks, misleading ads, hacked websites, malicious links, push notifications, adware, potentially unwanted programs |
| Symptoms | fake security warnings, fake system messages, pop-up errors, fake Windows Defender (Norton, McAfee) computer scan |
| Removal | Dear Google Customer Congratulations removal guide |
Report a Phishing page
If you spot a "Dear Google Customer Congratulations" scam that is similar but not the same as the example above, then post it as comment on this article. This helps us to warn users about current scams, monitor trends and disrupt scams where possible.