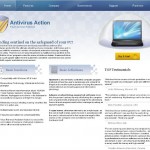 Antispyway.com is a fresh misleading web site that used to promote and distribute a program called "Antivirus Action". The program is not a legitimate security application. It is a malware which classified as rogue antispyware tool because detects a lot of false infections and displays numerous fake security notifications, nag screens and popups as a method of scaring you into buying the software.
Like similar fake security programs, Antivirus Action is installed onto a computer through the use of trojans and malware without your knowledge and permission. During installation, the rogue changes browser proxy settings, so that it will display an antispyway.com fake page instead a sites that you want to visit.

What is more, antispyway.com will offer to buy the full version of the Antivirus Action. Most important do not purchase anything here. This malicious site is only one component of deceptive tactics that uses the rogue to trick you.
If you find that your computer is infected with this malware and your browser is redirected to antispyway.com, then use the step by step removal instructions which will help you to remove Antivirus Action and antispyway.com browser hijacker from your computer for free.