HijackThis examines certain key areas of the Registry and Hard Drive and lists their contents. These are areas which are used by both legitimate programmers and hijackers. It's up to you to decide what should be removed. Some items are perfectly fine. You should not remove them. Never remove everything. Doing that could leave you with missing items needed to run legitimate programs and add-ins.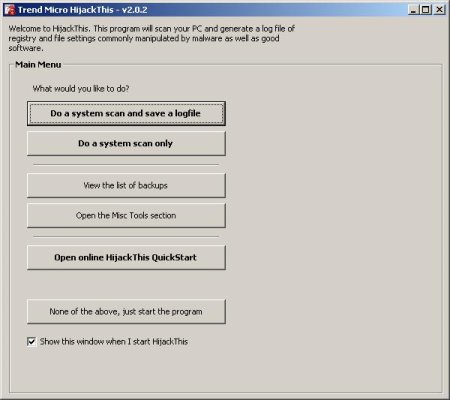 How to make a HijackThis log.
Download HijackThis and save it to your Desktop.
Doubleclick on the HJTinstall.exe icon for install (By default it will install to C:\Program Files\Trend Micro\HijackThis). Click on Install, It will create a HijackThis icon on the desktop.
Once installed, it will launch Hijackthis. Click on the Do a system scan and save a logfile button. It will scan and the log should open in Notepad.
How to remove malware using HijackThis.
Run HijackThis.
Click on the Do a system scan only button.
Place a checkmark in the box in front of each item you plan to remove.
Click the Fix checked button.
A confirmation box will appear. Click Yes. HijackThis will now remove the checked items.
How to make a Startup List using HijackThis.
StartupList is a utility which creates a list of everything which starts up when you boot your computer plus a few other items.
Run HijackThis.
Click on the Open the Misc Tools Section button.
Click the Generate StartupList log button. A confirmation box will pop up. Click Yes.
The Startup list text file will now be generated and opened on the screen.
If you are posting at a Forum, please highlight all, and then copy and paste the contents into your Reply in the same post where you originally asked your question.
Note: If you have run and fixed anything with Spybot Search and Destroy or AdAware, please reboot before scanning.
Download HijackThis
Use the following link: HijackThis download link.
If you are seeking help, then I would recommend that you follow the instructions and post your HijackThis log in the spyware removal forum. Myantispyware.com team will help you.