The Roblox 30,000 Robux giveaway scam, circulating primarily on WhatsApp, capitalizes on the game's massive player base. Originating from dubious domains like wp-link.ru and tinyfy.cc, this scam presents tailored messages based on language and region, such as a Halloween theme for Spanish speakers or a Dia das Crianças promotion for Portuguese speakers. The scam's strategy is multifaceted, from feigning legitimacy with CAPTCHAs to coercing victims to spread the scam further. If you've encountered this message or want to safeguard against it, understanding its mechanisms is crucial. Here's a closer look.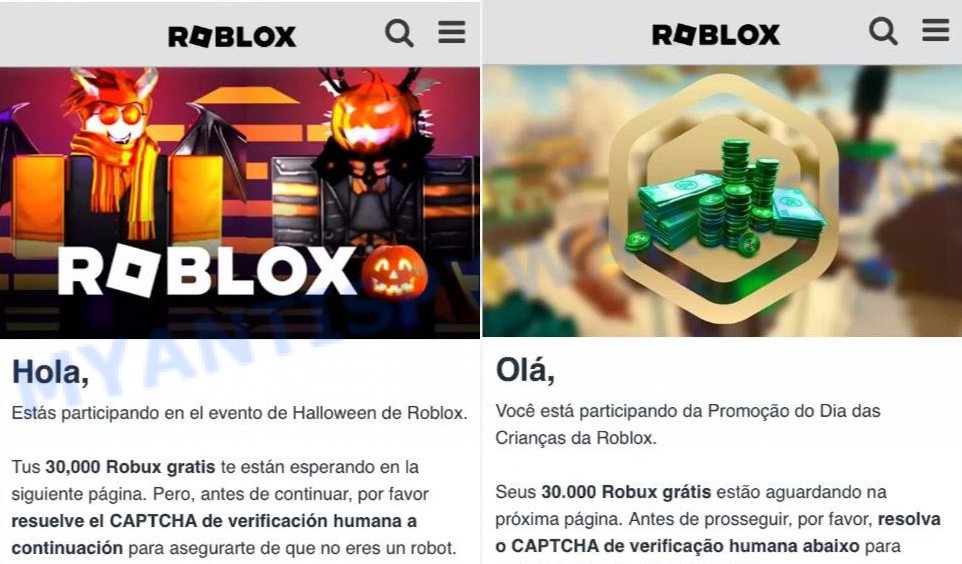 Inside the Roblox 30k Robux Scam
It all starts with a direct message on WhatsApp. Recipients find an unsolicited invite to join a Robux giveaway. This message might come from an unknown number or even a contact whose device has been compromised. The text contains a compelling call to action, often embedded with a link, nudging the user to participate in this too-good-to-be-true offer.
Redirect to Scam Sites 🌍
Upon tapping the link, users are redirected to dubious websites like wp-link.ru and tinyfy.cc. These domains might appear as genuine URL shorteners, but they're the epicenter of the scam. Here, the content is localized. Depending on the user's detected language or region, they are presented with tempting offers, such as the Halloween event for Spanish speakers or a Dia das Crianças promotion for those in Portuguese-speaking regions.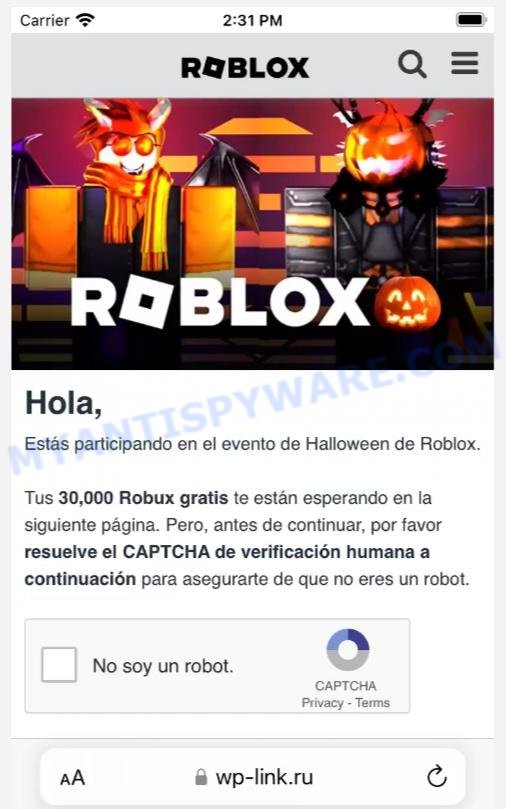 Fake CAPTCHA Test 🤖
As the user gets further ensnared in the scam, they are then presented with a task: a CAPTCHA test. This is framed as a necessary "human verification" step. While CAPTCHAs are common security measures on many genuine websites, in this context, it's used to reinforce the scam's authenticity and keep the user engaged.
Spreading the Scam 🔄
The scam then takes a viral turn. Users are coerced into sharing the deceptive link with their contacts and groups on WhatsApp. This stage might feature visual elements to deceive and pressure the user further, like a progress bar that supposedly tracks the sharing process. The false promise? Sharing enough will unlock the coveted Robux reward.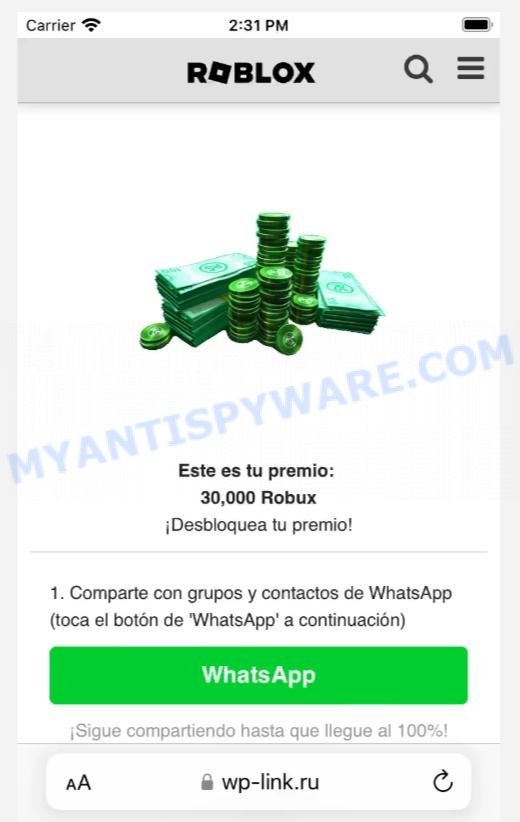 Deceptive Final Actions ⏰
Finally, when users believe they're at the finish line, they're hit with another request. They might be prompted to input personal details, provide Roblox login credentials, or even download potentially malicious software. This final step is further pressurized with elements of urgency — timers or statements like "This offer is valid for 500 seconds" — to rush users into action without thinking.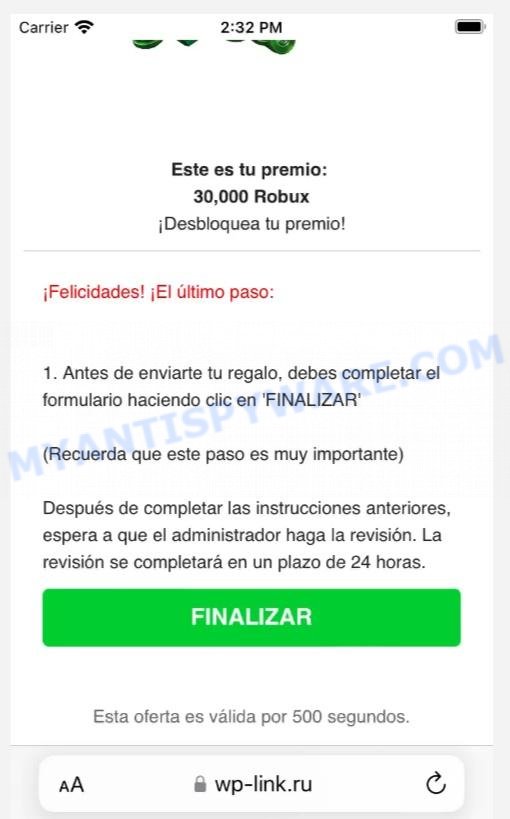 In summary
The Roblox Giveaway Scam preys on people's desire to win a large amount of Robux and tricks them into sharing personal information and promoting the scam to their friends. It is important to be cautious when receiving messages about supposed giveaways and to never provide personal information or promote a scam to others.
Examples of such scams
Scams that prey on the allure of free items, be it virtual currency in online games like Roblox or exclusive products linked with celebrity names, are rampant on the internet. Crafted with cunning intent, these scams lure individuals into a web of deceit, leading them to fake websites or making them perform tasks that benefit the fraudsters. This either results in direct monetary gains for the scammers or gives them access to victims' sensitive information. While the Roblox 30,000 Robux Giveaway Scam is a notable example, it's far from being an isolated incident. Here, we delve into other infamous scams to illustrate the depth and breadth of these deceptive practices.
Promising fans a chance to own a free grill from a renowned brand, this scam circulates primarily on Facebook. Users are invited to participate in a giveaway where they stand a chance to win a "Pit Boss" grill endorsed by celebrity chef Guy Fieri. To participate, users are often asked to share the post, tag friends, or click on external links — actions that further propagate the scam or potentially expose the user to malicious software.
Mr. Beast, a well-known YouTube philanthropist famous for his lavish giveaways, has unfortunately been impersonated in various online scams. These counterfeit promotions claim that users can win large sums of money or other prizes by performing certain online actions, such as sharing links, providing personal information, or making a small "entry fee" payment. The real Mr. Beast has no connection to these scams, and his official giveaways are always conducted on his verified social media channels.
Fashion e-commerce platform Shein is another brand that has been exploited by scammers. Users receive messages or see posts claiming they can win a $500 gift card to spend on Shein. To "win", users might be directed to click on questionable links, share the post, or provide sensitive personal information. Such scams not only mislead users with fake promises but also risk compromising their online security.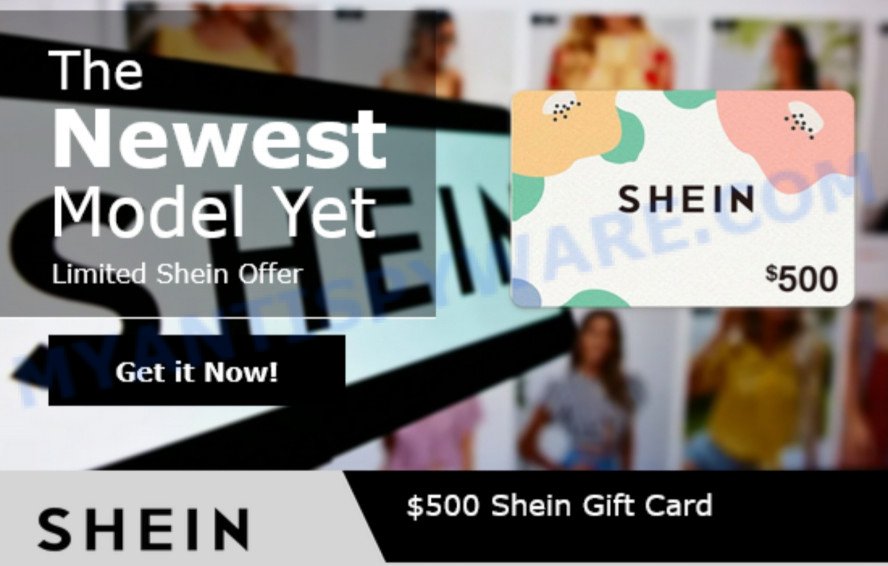 ---
These examples emphasize the importance of always verifying the source and being skeptical of offers that seem too good to be true. Cybercriminals continually adapt their tactics, capitalizing on popular names and trends to ensnare unwary individuals. Always exercise caution and conduct due diligence before engaging with online promotions.
Steps to Take When Faced with the Robux WhatsApp Scam
As the Robux giveaway scam spreads through WhatsApp messages, it's essential to know how to react. If you receive a suspicious link or promise of free Robux on WhatsApp, here's what you should do.
Do Not Click 🚫🔗
If you receive a message promoting the Robux giveaway, refrain from clicking any links. These links could redirect you to scam websites, download malware, or compromise your personal information.
Report the Message 📢
Use the reporting feature within WhatsApp to report the sender or the message. This helps in alerting the platform about potential scammers and might protect others from receiving similar messages.
Inform Your Contacts 👥
Let your friends and family know about the scam. This can be as simple as sending a cautionary message to your contacts or discussing it in groups. Informing others raises awareness and reduces the chances of someone you know falling for the scam.
Delete the Message 🗑️
Once you've reported the scam message, delete it from your chat history. Keeping it could lead to accidental clicks or further engagement with the scammer.
Secure Your Account 🔐
For added safety, regularly update your WhatsApp to the latest version and ensure two-step verification is enabled. This adds an additional layer of security to your account, making it harder for scammers to compromise it.
Stay Updated and Informed 📚
Scammers are continuously evolving their tactics. Stay updated about new scams by following trusted cybersecurity websites or platforms that frequently report on such matters. Knowledge is your first line of defense.
---
In conclusion, while the allure of free Robux is tempting, it's essential to remain vigilant and cautious. By following these steps, you can ensure your safety and that of those around you. Always remember: if something seems too good to be true, it probably is.
What to Do If Scammed 🚫🔐
If you've been caught up in the "30000 Robux Giveaway" Scam, don't panic. It's important to act quickly to protect yourself and your finances.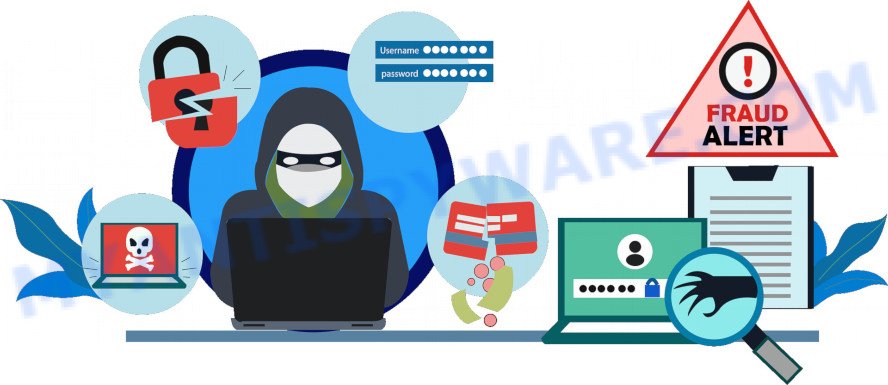 🏦 Contact Your Financial Institution:
Immediately inform your bank or credit card company about the unauthorized transaction. They may be able to stop the transaction, reverse it, or even issue a chargeback. Request a new credit/debit card if you believe your card details have been compromised. Document any financial losses. This can be essential for investigations and potential reimbursements.
🔐 Change Passwords:
If you suspect your personal information, especially passwords, have been compromised, change them immediately. This is crucial for accounts linked to financial institutions or personal data. Consider using a reputable password manager to ensure strong, unique passwords for each account.
👀 Monitor Your Accounts:
Keep a close eye on your bank and credit card statements for the next several months. Look for any unauthorized or suspicious transactions, no matter how small. Consider enrolling in a credit monitoring service. Some services will alert you to changes in your credit report, potentially indicating identity theft.
🚔 Report the Scam
Forward the scam email to the Federal Trade Commission (FTC) at spam@uce.gov. Report the scam to your local law enforcement and provide them with all the details and evidence you have.
💻 Check Your Computer
If you've downloaded any attachments or clicked on any links in the scam email, your device might be infected. Run a comprehensive antivirus scan. Consider consulting with a professional to ensure your computer is clean from malware or spyware.
📘 Educate Yourself
Familiarize yourself with common scam tactics to avoid falling victim in the future. Stay updated on recent scams or phishing methods by following news sources or official government warnings.
📢 Inform Others
Warn friends and family about the scam, especially if it's widespread. Sharing your experience can help protect others from the same pitfalls.
Threat Summary
| | |
| --- | --- |
| Name | Roblox 30000 Robux Giveaway Scam, Roblox 30k Robux Scam |
| Type | Phishing Scam |
| Fake claims | Offers free 30k Robux virtual currency for Roblox in exchange for personal information and social media sharing |
| Scammers websites | wp-link.ru, tinyfy.cc, and similar domains |
| Disguise | Pretends to be an official Roblox promotion or giveaway |
| Symptoms | Messages from unknown senders or fake accounts, suspicious URLs, fake web pages |
| Damage | Theft of personal data, financial loss, identity theft, malware infection |
| Distribution | Social media, messaging apps, search engines, and other online channels |
| Target Audience | Young Roblox players and their parents |
| Prevention Tips | 1) Do not click on suspicious links; 2) Verify the legitimacy of the promotion through official channels; 3) Warn your contacts about the scam; 4) Protect your personal information |
| Reporting Info | 1) Report the message to WhatsApp or other social media platforms; 2) Report the scam to the relevant authorities (such as the National Fraud and Cyber Crime Reporting Centre in the UK); 3) Consider reporting the scam to ROBLOX Customer Service or social media channels |
Roblox 30,000 Robux Scam: How to Stay Safe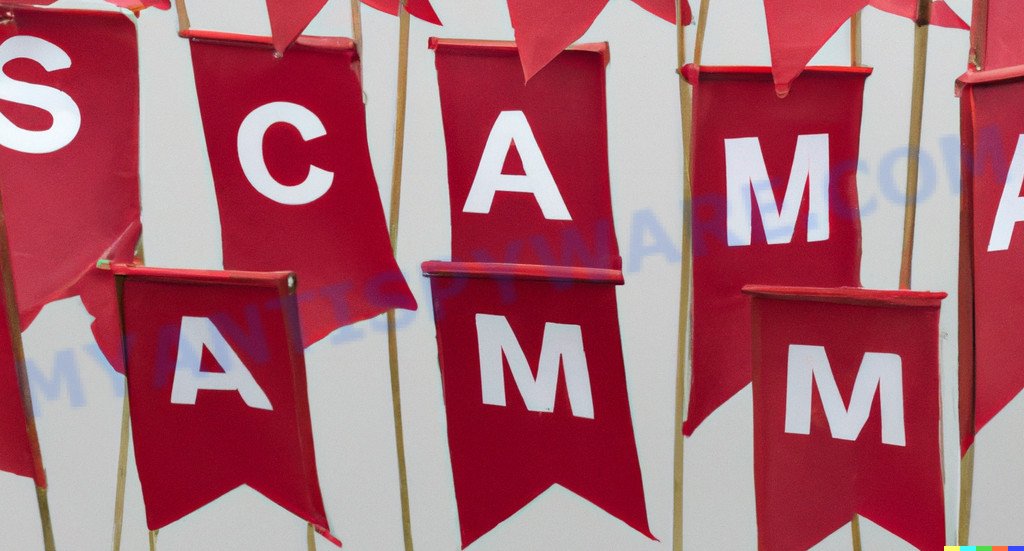 1. Beware of Unexpected Messages 📩
If an unexpected message or email lands in your inbox, especially from an unfamiliar sender, tread with caution. Avoid clicking links or downloading attachments until you're sure about the sender's authenticity.
2. Grammar and Spelling Red Flags 📝
Noticeable spelling and grammatical mistakes are often telltale signs of scams. Remember, established companies invest in polished communication.
3. Double-check Website Addresses 🌐
Before inputting any personal or financial details, ensure you're on a genuine platform. A quick glance at the URL can help you gauge its authenticity and ensure it matches the company's recognized website.
4. Validate Suspicious Links 🔍
Leverage online tools like VirusTotal or URLScan.io to inspect dubious links. Simply copy-paste the URL into these platforms to get a quick safety check.
5. Guard Your Personal Details 🛡️
Always think twice before sharing personal details like your name, address, or contact information. Genuine entities won't ask for these without a valid reason tied to a service or transaction.
6. If It's Too Good to Be True… 💭
… it often is. Extremely appealing offers can be bait set by scammers. Always approach such deals with skepticism. And remember, if you ever suspect a scam, promptly alert the appropriate authorities. 🚨📢
Conclusion
The Roblox 30,000 Robux scam, active on WhatsApp and sourced from wp-link.ru and tinyfy.cc, is a glaring example of the sophisticated techniques scammers employ. Utilizing localized messages, fake human verifications, and the temptation of free virtual currency, it preys on both the uninformed and the hopeful. It's vital to recognize such schemes, avoid clicking on unverified links, and immediately report suspicious activity. Above all, sharing information about such scams can help protect the larger community from falling victim.