Have you come across a viral Twitter post claiming that avsweepstakes.com is giving away $1000 Amazon gift cards? Don't be so quick to believe it. Amid the flood of enticing promises, it's crucial to approach such offers with skepticism. The post, boasting over 1.5 million views, lures users with the allure of easy money and quick rewards. However, a closer examination of avsweepstakes.com reveals a web of deceit and potential dangers.
In this article, we dissect the suspicious promotion, shed light on the hidden risks associated with avsweepstakes.com, and provide practical tips to safeguard yourself from falling victim to online scams. Read on to unravel the truth behind this dubious Twitter campaign and protect yourself from potential harm.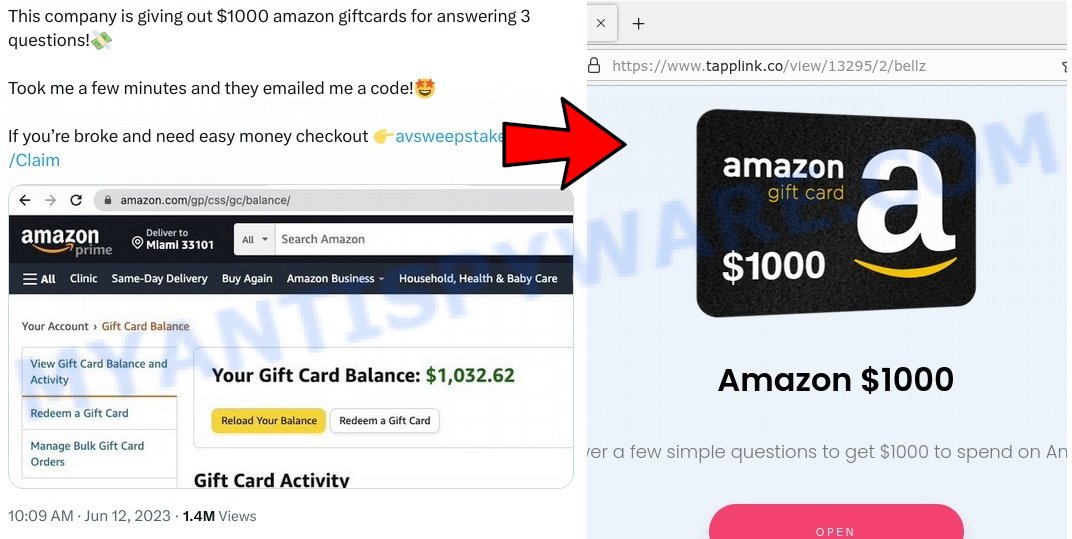 QUICK LINKS
How the Avsweepstakes.com Twitter Scam works?
The avsweepstakes.com scam is a deceptive scheme designed to lure unsuspecting users with the promise of winning a $1000 Amazon gift card. The scam originates from a promotional post shared on Twitter, attracting attention with claims of easy money and minimal effort. However, upon closer inspection, it becomes evident that avsweepstakes.com is part of a malicious scheme aimed at exploiting users and potentially compromising their personal information.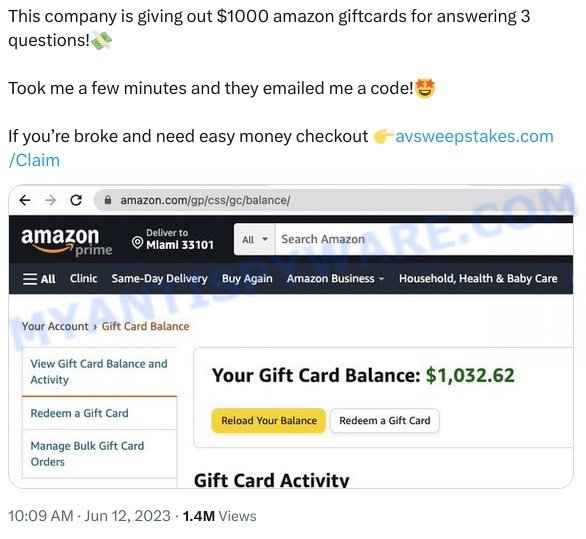 The suspicious Twitter post, which has garnered millions of views, presents a screenshot of an Amazon webpage displaying a gift card balance of $1032.62, seemingly validating the legitimacy of the offer. Users are enticed to click on the provided link, leading them to avsweepstakes.com. Upon arrival, the site quickly redirects to tapplink.co, a domain flagged as phishing and malicious by VirusTotal. Here, users are presented with a simple webpage featuring an image of a $1000 Amazon gift card and the text "Answer a few simple questions to get $1000 to spend on Amazon!". Users are then encouraged to click the "Open" button.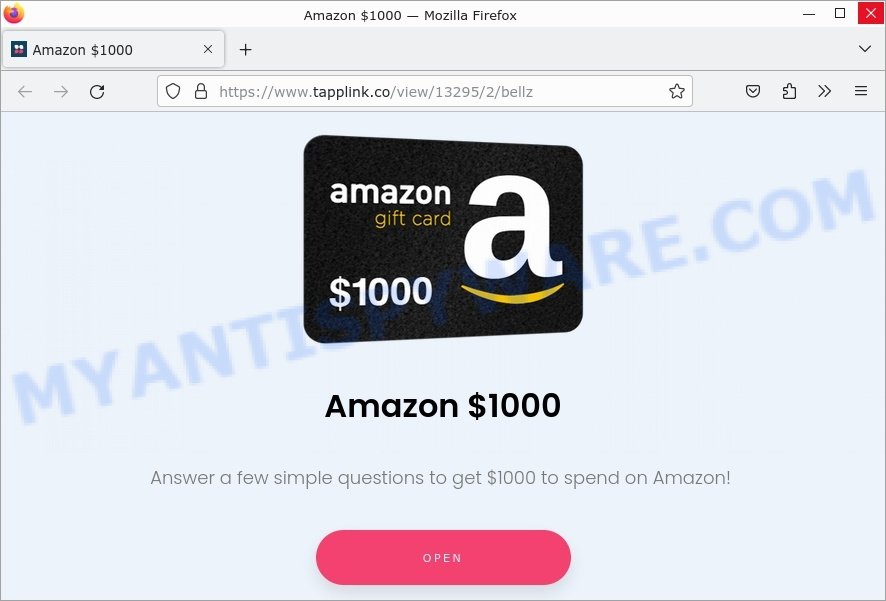 Once the button is clicked or a short waiting period elapses, a series of redirects occur, leading users to rewardsgiantusa.com. While rewardsgiantusa.com presents itself as a platform where users can complete deals to claim their rewards, it has garnered negative reviews and a low rating on BBB (Better Business Bureau). Numerous complaints from individuals who were unable to receive their promised prizes despite fulfilling the requirements.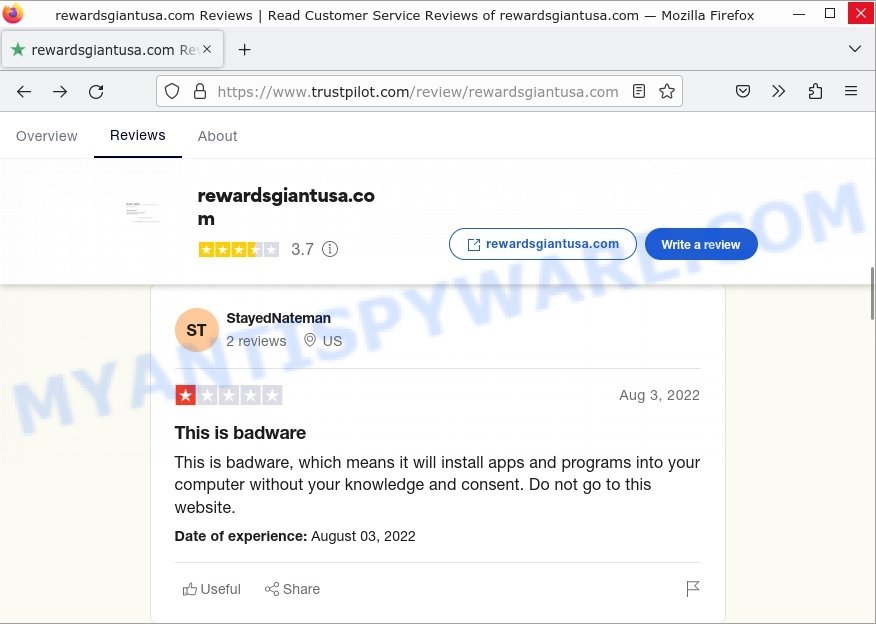 Similarly, Trustpilot reviews for rewardsgiantusa.com reflect mixed experiences from users. While some reviewers express satisfaction and rate the platform positively, others share alarming accounts of their encounters with the website. One review highlights rewardsgiantusa.com as "badware," a term associated with the installation of unwanted programs and apps without user consent. Such reports contribute to a sense of distrust and raise concerns about the platform's integrity. The overall Trustpilot rating for rewardsgiantusa.com stands at 3.7, indicating a somewhat average reputation but with significant negative feedback.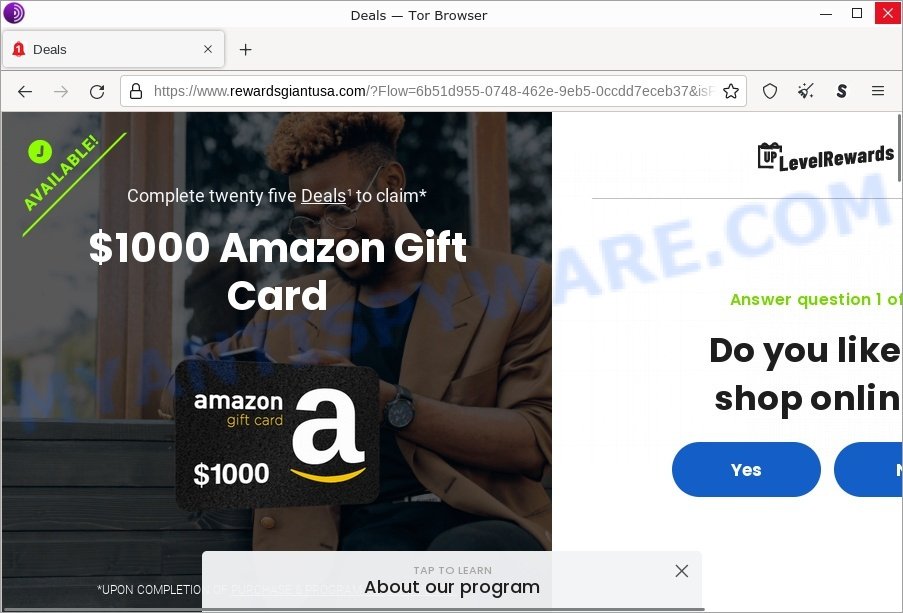 To participate in the avsweepstakes.com scam, users are prompted to answer a few questions and sign up for the reward program, which is allegedly free. However, completing the process requires users to engage in multiple deals, often involving purchases, subscriptions, or installations of mobile apps. These deals may come with hidden costs, and even if completed, there is no guarantee that the promised rewards will be delivered.
The avsweepstakes.com scam preys on the vulnerability and desire for quick financial gain, enticing users with the allure of a substantial reward. However, it is crucial to approach such offers with caution and skepticism. The scam operates by manipulating users into engaging with potentially harmful websites and divulging personal information. To protect yourself, it is advisable to avoid clicking on suspicious links, verify the credibility of websites before sharing personal details, and be wary of offers that sound too good to be true.
Examples of such scams
The avsweepstakes.com scam is just one of many deceptive schemes that prey on unsuspecting individuals seeking quick rewards or prizes online. Unfortunately, the digital landscape is riddled with similar scams that employ enticing offers, false promises, and manipulative tactics to exploit users for personal gain. Here are some examples of similar scams that you should be aware of: Guinness Father's Day Giveaway Scam, Mr Beast Giveaway Scam, and Gordon Ramsay HexClad Cookware Giveaway Scam.
Always remember to be cautious when encountering offers that seem too good to be true, and to thoroughly research before providing any personal information or payment.
How to spot a scammer on Twitter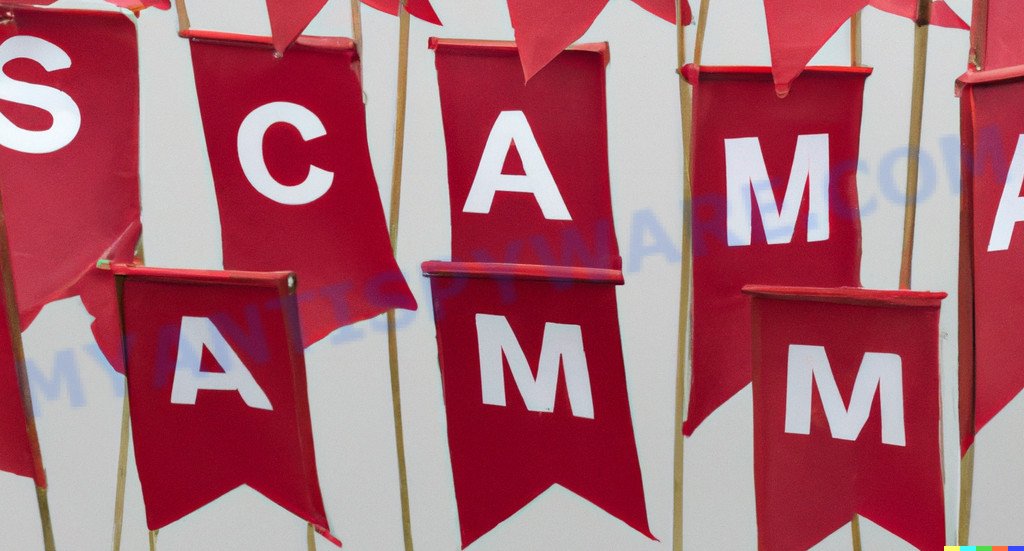 With the rise of social media platforms like Twitter, scammers have found new avenues to target unsuspecting users. Recognizing the signs of a scammer is crucial in protecting yourself from falling victim to their deceptive tactics. Here are some key indicators to watch out for when encountering potential scammers on Twitter:
Scammers often use newly created or recently acquired accounts with limited activity. Look out for profiles with a low number of followers, few tweets, and a lack of personal information. They may also engage in aggressive or spammy behavior, such as following a large number of users in a short period
Scammers lure users with enticing offers that seem too good to be true. Whether it's free giveaways, easy money, or extravagant prizes, exercise caution when encountering posts that make unrealistic promises. Remember, genuine opportunities rarely come without effort or genuine participation.
Many scammers operate from regions where English may not be their first language. As a result, their posts may contain noticeable grammatical errors or spelling mistakes. While not all accounts with such errors are scams, it's often an indication of a suspicious or untrustworthy profile.
Scammers frequently include links that lead to phishing websites or malicious pages designed to steal personal information. Be wary of shortened URLs or URLs that redirect to unfamiliar domains. Before clicking on any link, hover your cursor over it to see the actual web address and verify its legitimacy.
Genuine companies and individuals will never ask for sensitive personal information, passwords, or financial details over Twitter. If someone reaches out to you asking for such information or requesting money, it is likely a scam. Exercise caution and never share personal or financial data through Twitter or other social media platforms.
By knowing these tactics, you can spot potential scammers and avoid falling victim to their schemes.
How to report scammers on Twitter
If you come across a potential scammer or suspicious account on Twitter, it's crucial to report them to help protect other users from falling victim to their fraudulent activities. Twitter provides a reporting feature that allows you to flag accounts and content that violate their rules. Here's a step-by-step guide on how to report scammers on Twitter:
Before reporting, ensure that you have gathered sufficient evidence to support your claim. Take note of the account's username and any relevant tweets, direct messages, or interactions that demonstrate their fraudulent behavior.
Visit the suspicious account's profile page by clicking on their username or avatar.
On the account's profile page, locate the three-dot menu icon (•••) located next to the "Follow" button.
Click on the "Report" option from the drop-down menu. This will open the reporting form.
Twitter provides several categories for reporting, such as "Impersonation", "Spam", or "Phishing". Choose the category that best describes the scammer's behavior. If none of the pre-defined options fit, select "Something else".
In the reporting form, provide as much specific information as possible about the scammer's activities. Describe the nature of the scam, share relevant URLs or tweets, and include any additional details that can assist Twitter in their investigation.
Once you have completed the form, review your information for accuracy and submit the report. Twitter will review the report and take appropriate action based on their policies and guidelines.
Remember, reporting a scammer helps protect the Twitter community, but it's important to exercise patience as Twitter's response time may vary. Additionally, if you have fallen victim to a scam or have shared personal information with a scammer, consider taking further action such as changing passwords, contacting your bank, or reporting the incident to local law enforcement.
Threat Summary
| | |
| --- | --- |
| Name | Avsweepstakes.com Twitter Scam |
| Type | Phishing Scam |
| Fake claims | False promises of lucrative rewards and gift cards |
| Scammers websites | avsweepstakes.com |
| Disguise | Masquerades as a legitimate sweepstakes or rewards program |
| Damage | Financial loss, identity theft, spamming and phishing attempts |
| Distribution | Primarily spread through Twitter and other social media |
| Indicators of the Scam | Suspicious Twitter message with enticing reward offers |
| Prevention Tips | Be skeptical of offers that seem too good to be true; Verify website legitimacy before engaging; Avoid clicking on unknown or suspicious links |
| Reporting Info | Report the scam to the Federal Trade Commission (FTC); Report the scam to the respective social media platform where encountered |
Actions to Take If You've Fallen Victim to the Avsweepstakes.com Scam
Discovering that you have fallen victim to the Avsweepstakes.com scam can be alarming, especially considering the potential risks associated with installing programs or applications as a requirement for claiming a reward.

If you have clicked on the Avsweepstakes.com link shared on Twitter and engaged with the scam, it is essential to take immediate action to mitigate the potential consequences. Here's what you should do:
If you have installed any programs or applications prompted by the Avsweepstakes.com scam, it is crucial to remove them from your device immediately. Go to your device's settings or control panel, locate the installed programs section, and uninstall any unfamiliar or suspicious applications. Be thorough and ensure you remove all the programs related to the scam.
Scammers often use deceptive tactics to distribute malware or malicious software. Run a comprehensive malware scan on your device using reputable antivirus software. This will help detect and remove any potentially harmful programs or files that may have been downloaded during your interaction with the scam.
If you unknowingly subscribed to mailing lists or provided personal information, it's essential to unsubscribe immediately. Check your email inbox for any communication from the scammers or their affiliates and mark them as spam. Additionally, review your online accounts and change passwords for any platforms that you may have accessed during the scam.
If you provided any personal information or login credentials during the Avsweepstakes.com scam, it's essential to change your passwords immediately. Start by changing passwords for the accounts associated with the scam, such as the one used for signing up on Rewardsgiantusa or any other platforms you were directed to. Additionally, enable two-factor authentication wherever possible to enhance the security of your accounts.
If you provided any financial information or made transactions as part of the scam, closely monitor your bank and credit card statements for any unauthorized activity. If you notice any suspicious transactions, contact your financial institution immediately to report the issue and take necessary steps to secure your accounts.
Reporting the Avsweepstakes.com scam is crucial to help authorities take action against the scammers and protect others from falling victim. File a complaint with the Federal Trade Commission (FTC) at reportfraud.ftc.gov and provide them with all the relevant details, including the website URL (avsweepstakes.com) and any communication or accounts associated with the scam. Additionally, report the scam to the social media platform where you encountered the fraudulent link.
Conclusion
The Avsweepstakes.com scam, promoted on Twitter, serves as a cautionary tale about the dangers of online scams and the importance of staying vigilant while browsing social media platforms. This particular scam tricks users into clicking on a link that redirects them through potentially malicious websites before leading them to Rewardsgiantusa, where they are prompted to install programs, watch ads, and perform other tasks to claim a reward. Falling victim to this scam can expose individuals to various risks, including malware infections, privacy breaches, and financial fraud.
To protect yourself from scams like Avsweepstakes.com, it's crucial to exercise caution and follow some essential guidelines. First and foremost, be skeptical of offers that seem too good to be true and always verify the legitimacy of websites and promotions before engaging with them. Be cautious when clicking on links from unknown sources and never provide personal or financial information to untrusted websites.
Remember, your online safety and security are paramount. By staying informed, maintaining a healthy skepticism, and taking prompt action when encountering scams, you can safeguard yourself from becoming a victim. Always prioritize your online security, and remember that if an offer seems too good to be true, it probably is.