A wave of fraudulent emails has recently emerged, targeting unsuspecting individuals with false promises of substantial financial gifts from renowned tech investor and philanthropist, Ron Conway. These deceptive emails, crafted to appear as personal messages from Conway himself, are designed to exploit people's trust and goodwill. Scammers are using the allure of philanthropy to deceive recipients into sharing personal information or even paying fees in the hopes of receiving these promised funds. It is crucial to stay vigilant and informed about this evolving scam to protect yourself and your loved ones from falling victim. Read on to uncover the specifics of this alarming scam and arm yourself with the knowledge needed to thwart these malicious schemes.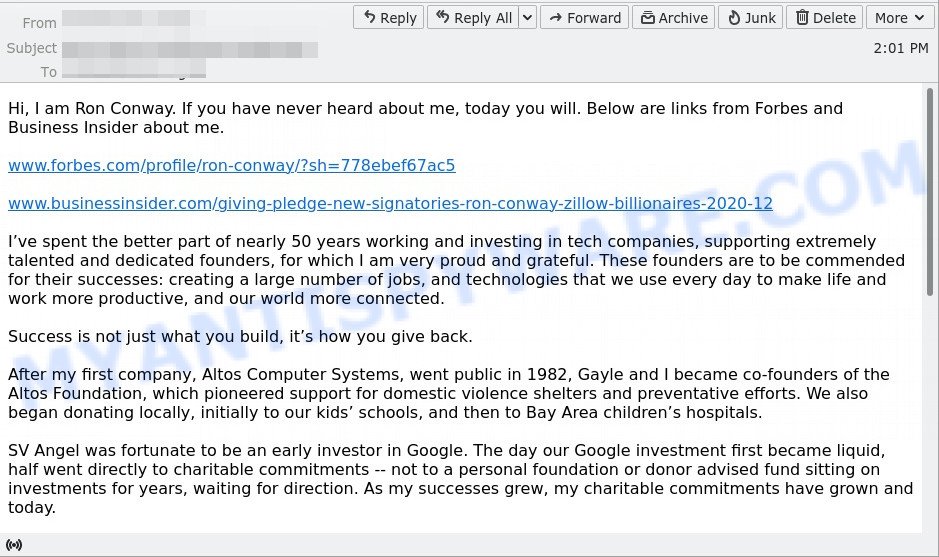 QUICK LINKS
The Ron Conway Scam: How It Works and What to Look Out For
The scam involving Ron Conway operates by sending emails claiming to be from him, a renowned figure in the tech industry. These emails aim to exploit Conway's reputation as a successful investor and philanthropist to deceive unsuspecting individuals. While similar scams have been observed with other individuals, such as Kim Beom-su, we will focus primarily on the variant involving Ron Conway.
To give you a clearer picture, here is the complete text of the first email sent by the scammers in this particular variant of the Ron Conway scam:
Hi, I am Ron Conway. If you have never heard about me, today you will. Below are links from Forbes and Business Insider about me.

www.forbes.com/profile/ron-conway/?sh=778ebef67ac5

www.businessinsider.com/giving-pledge-new-signatories-ron-conway-zillow-billionaires-2020-12

I've spent the better part of nearly 50 years working and investing in tech companies, supporting extremely talented and dedicated founders, for which I am very proud and grateful. These founders are to be commended for their successes: creating a large number of jobs, and technologies that we use every day to make life and work more productive, and our world more connected.

Success is not just what you build, it's how you give back.

After my first company, Altos Computer Systems, went public in 1982, Gayle and I became co-founders of the Altos Foundation, which pioneered support for domestic violence shelters and preventative efforts. We also began donating locally, initially to our kids' schools, and then to Bay Area children's hospitals.

SV Angel was fortunate to be an early investor in Google. The day our Google investment first became liquid, half went directly to charitable commitments — not to a personal foundation or donor advised fund sitting on investments for years, waiting for direction. As my successes grew, my charitable commitments have grown and today.

As I have grown older in age, I decided that rather than give money to many worthy charities, I challenged myself to create an organization that actually delivers results. The same skills I used to create highly effective companies would be required for this next chapter of my life.

My personal inspiration has been Chuck Feeney, one of the most impactful business leaders of the past century. After building his business, Chuck, co-founder of Duty Free Shoppers, founded Atlantic Philanthropies and gave away 99% of his over $8B fortune over 40 years.

Chuck, is the blueprint for a successful technology founder to become a "never-billionaire."

The purpose of this long boring letter to you is very straightforward, Going forward, I decided my philanthropy will be more direct, I have directed $500 Million towards this cause, I intend on contacting lucky individuals using their email address and giving them money.

I am a tech guy and this is the way I see philanthropy trending. Every email address ever opened belongs to somebody somewhere in the world, You have received this email now you are part of my journey.

Provide your name and address and I will contact you again on how you will be paid.

I am a proud "never-billionaire." I continue to pursue high growth investments with SV Angel and I will be directing nearly all future gains directly to philanthropy.

Ron Conway
The scam operates in multiple stages, targeting individuals via email. In the variant associated with Ron Conway, victims receive an email purportedly from the influential tech investor and philanthropist, Ron Conway. Similarly, in the variant associated with Kim Beom-su, victims receive an email claiming to be from Kim Beom-su, the founder of KakaoTalk and a prominent figure in the tech industry known for his philanthropic efforts. The emails aim to establish credibility by including links to reputable sources such as Forbes or news articles about the individuals.
In the first stage, victims are urged to respond to the email expressing their interest in receiving a significant sum of money. The scammers use persuasive language, emphasizing that the recipients are lucky and selected to be part of the philanthropic endeavor.
Upon responding, victims enter the second stage of the scam. They receive a follow-up email stating that the funds have been allocated to them and providing instructions on how to proceed. In the variant associated with Ron Conway, victims are urged to contact the scammer's personal banker via the email address "payments@bplc-onlineprivatebank.com." However, this email address raises suspicion as it does not match the official domain typically used by legitimate banking institutions. (In the variant associated with Kim Beom-su, victims are directed to contact the scammer's banker via the email address "internationalpayment@bplc-onlineprivatebank.com," which also raises suspicion for the same reason.)
To provide a closer look at the scam email, here is a screenshot and the corresponding text of the follow-up email received by potential victims: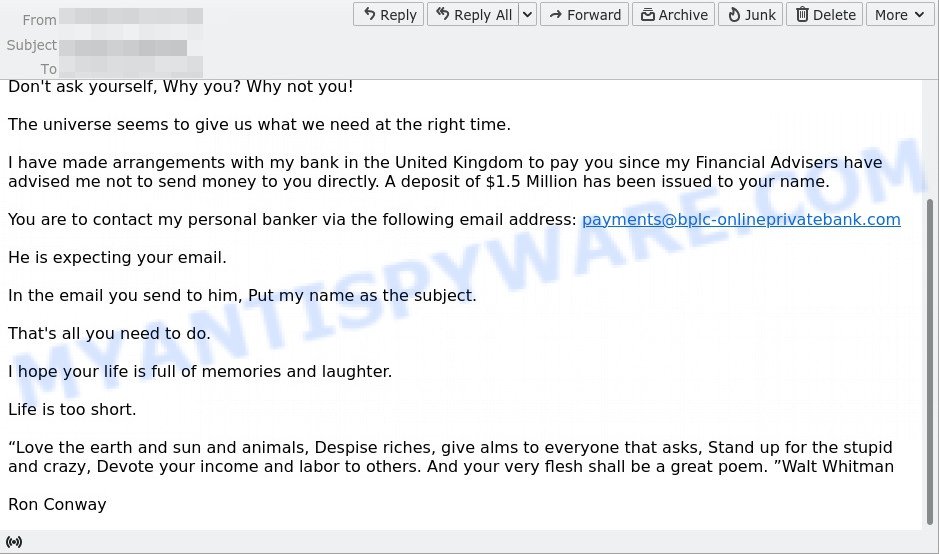 The corresponding text of the follow-up email:
When I started this program, I really didn't know it would be as successful as it is now, My banker just informed me he has successfully paid 12 people I instructed him to pay, You are going to be the 13th person he will be paying.

This is a personal journey of Self-Fulfillment and I am doing it this way because this is how I dreamed about it.

Don't ask yourself, Why you? Why not you!

The universe seems to give us what we need at the right time.

I have made arrangements with my bank in the United Kingdom to pay you since my Financial Advisers have advised me not to send money to you directly. A deposit of $1.5 Million has been issued to your name.

You are to contact my personal banker via the following email address: payments@bplc-onlineprivatebank.com

He is expecting your email.

In the email you send to him, Put my name as the subject.

That's all you need to do.

I hope your life is full of memories and laughter.

Life is too short.

"Love the earth and sun and animals, Despise riches, give alms to everyone that asks, Stand up for the stupid and crazy, Devote your income and labor to others. And your very flesh shall be a great poem. "Walt Whitman

Ron Conway
In the next stage, victims correspond with the scammer's supposed banker or financial representative, who may request additional personal information and banking details to facilitate the fund transfer. Victims are led to believe that their cooperation is necessary to comply with legal and taxation requirements.
However, the scammers' ultimate goal is to exploit victims for financial gain or engage in identity theft. They may request advance payment of fees, taxes, or other expenses, citing various reasons to further deceive their targets.
It's crucial to be cautious and skeptical when receiving unsolicited emails promising large sums of money. Legitimate individuals or organizations typically do not randomly select recipients to receive substantial funds. If you encounter such emails, refrain from providing personal information or sending money. Instead, verify the authenticity of the offer through official channels and report any suspicious activities to relevant authorities.
Examples of such scams
Scammers are constantly evolving their tactics to deceive unsuspecting individuals and exploit their trust. The Ron Conway Email Scam is just one among many similar scams that have targeted people around the world. These types of scams often rely on the names and reputations of well-known individuals or organizations to lend credibility to their fraudulent schemes. By familiarizing ourselves with these examples, we can better equip ourselves to recognize and avoid falling victim to these deceptive practices. Below are some notable instances of scams that share similarities with the Ron Conway Email Scam.
Financial Hardship Department Email Scam, Mr Beast Giveaway Scam and Elon Musk Giveaway Marathon Scam are some of the scams we reported recently. Take a closer look at their tactics, patterns, and warning signs to safeguard your personal and financial well-being. Remember, awareness is the first line of defense against online scams.
What to do if you receive the email
If you receive an email similar to the Ron Conway Email Scam or any suspicious email promising large sums of money, it is crucial to proceed with caution and take appropriate steps to protect yourself. Here are some actions you can take if you find yourself in such a situation:
Do not respond. Avoid engaging with the scammers or providing any personal or financial information. Responding to the email may confirm your email address as active and potentially lead to further attempts at scamming.
Do not click on any links or download attachments. Scammers often include malicious links or attachments that can compromise your computer or steal your personal information. It is best to avoid clicking on any links or downloading any files from suspicious emails.
Mark it as spam. Use your email provider's spam or junk mail feature to report the email as spam. This helps train the system to identify similar scam emails in the future and protect other users.
Delete the email. Safely delete the email from your inbox and trash folder to ensure you don't accidentally interact with it again.
Educate yourself. Stay informed about the latest scams and fraud tactics. Familiarize yourself with the common warning signs and red flags to better protect yourself from falling victim to scams.
If you have already clicked on a link or provided personal information and suspect that you may have fallen victim to the scam, it is important to take immediate action. Contact your financial institution to report any unauthorized charges, monitor your accounts for suspicious activity, and consider placing a fraud alert or credit freeze on your credit reports. Use the steps (https://consumer.ftc.gov/articles/what-do-if-you-were-scammed) to try to stop a transaction, get a transaction reversed, or get a refund.
Remember, if an offer seems too good to be true, it likely is. Trust your instincts, and if you have any doubts about the authenticity of an email, seek advice from a trusted source or contact the relevant authorities. By being vigilant and proactive, you can protect yourself and others from falling victim to scams.
Threat Summary
| | |
| --- | --- |
| Name | Ron Conway Email Scam |
| Type | Phishing, Social Engineering |
| Scammers' Websites | bplc-onlineprivatebank.com (and other variations) |
| Fake Claims | Promise of large sums of money |
| Disguise | Impersonating a prominent philanthropist |
| Damage | Financial loss, identity theft |
| Distribution | Mass emails, targeted spam campaigns |
| Indicators of the Scam | Unsolicited emails, poor grammar and spelling, suspicious email address, requests for personal/financial information, suspicious website URLs. |
| Prevention Tips | Be cautious of unsolicited emails; verify offers independently and never share personal or financial information without verification |
| Reporting Info | Report the scam email to your local authorities, the FTC at https://reportfraud.ftc.gov/, and the Anti-Phishing Working Group (APWG). |
Spotting Email Scams: Protecting Yourself from Fraudulent Messages
In order to protect yourself from falling victim to email scams like the Ron Conway Email Scam, it is essential to develop a keen eye for identifying suspicious messages. Scammers employ various tactics to deceive individuals and manipulate their trust. By understanding the common red flags and warning signs, you can enhance your ability to spot such scams and safeguard your personal and financial information.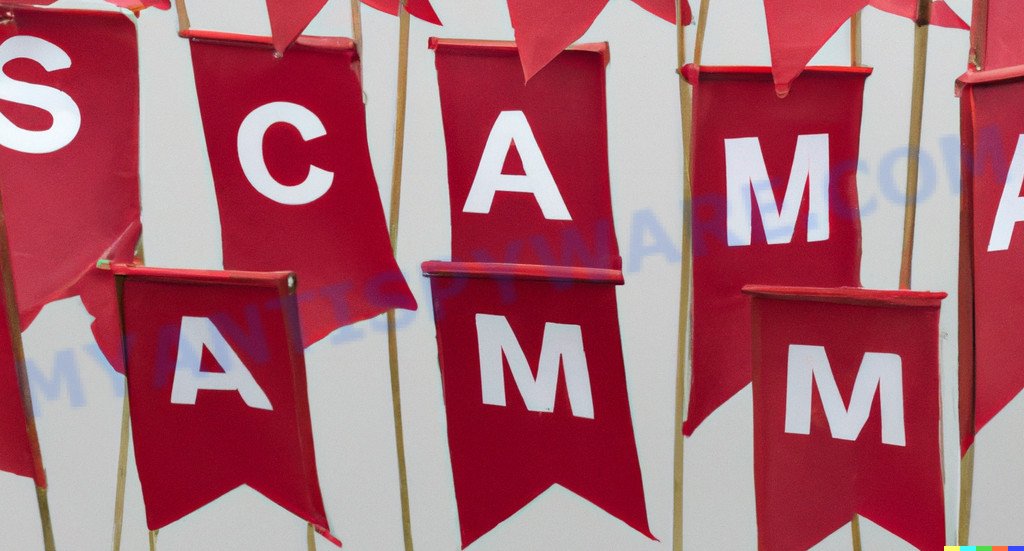 Here are some red flags to help you recognize and differentiate fraudulent emails from legitimate ones, empowering you to stay one step ahead of scammers.
Be cautious of unsolicited emails claiming to offer large sums of money or donations from prominent individuals or organizations. Scammers often initiate contact out of the blue, without any prior relationship or interaction.
Pay attention to the quality of language used in the email. Many scam emails contain grammatical errors, misspellings, or awkward phrasing. This can be a red flag indicating that the sender is not a legitimate entity.
Examine the email address from which the message is sent. Scammers often use email addresses that imitate legitimate organizations or individuals but have slight variations or unusual domain extensions. Verify the authenticity of the email address by cross-checking with official sources.
Be skeptical of emails promising large sums of money or donations for little or no effort on your part. If an offer seems too good to be true, it likely is. Legitimate philanthropic initiatives typically have formal processes in place and do not randomly select individuals to receive substantial amounts of money.
Exercise caution when asked to provide personal information, such as your full name, address, bank account details, or social security number. Legitimate organizations usually have secure channels for sharing sensitive information and do not request it via email.
Scammers often create a sense of urgency, pressuring recipients to respond or take immediate action. This urgency is a tactic to prevent victims from thoroughly evaluating the legitimacy of the email. Take your time to research and verify the claims made in the email before proceeding.
Independently verify the claims and legitimacy of the email by conducting online research, checking official websites or news sources, and reaching out to trusted contacts. Do not solely rely on the information provided in the email itself.
Conclusion
The Ron Conway Email Scam, along with similar email scams, continues to be a persistent threat targeting unsuspecting individuals. These scams rely on social engineering techniques to exploit trust and manipulate victims into disclosing sensitive information or sending money. By familiarizing yourself with the tactics used by scammers, being cautious of suspicious emails, and adopting best practices for online security, you can significantly reduce the risk of falling victim to such scams.
Remember to always verify the authenticity of emails, refrain from sharing personal information or financial details with unknown entities, and report any suspicious activity to the appropriate authorities. By staying vigilant and informed, you can protect yourself and help create a safer online environment for everyone.