The internet is still plagued by online scams, and scammers are becoming more inventive with their deceptive tactics. One of the newest scams is Beast-dip.com, which offers visitors a $1,000 reward for completing sponsor tasks. The website employs the name and image of the popular YouTube personality MrBeast to make the scam appear more credible. However, in reality, it is a scheme aimed at tricking people into divulging personal information or finishing sponsor tasks. In this article, we will provide an in-depth look at the Beast-dip.com scam, how it operates, and what you can do to safeguard yourself against similar scams in the future.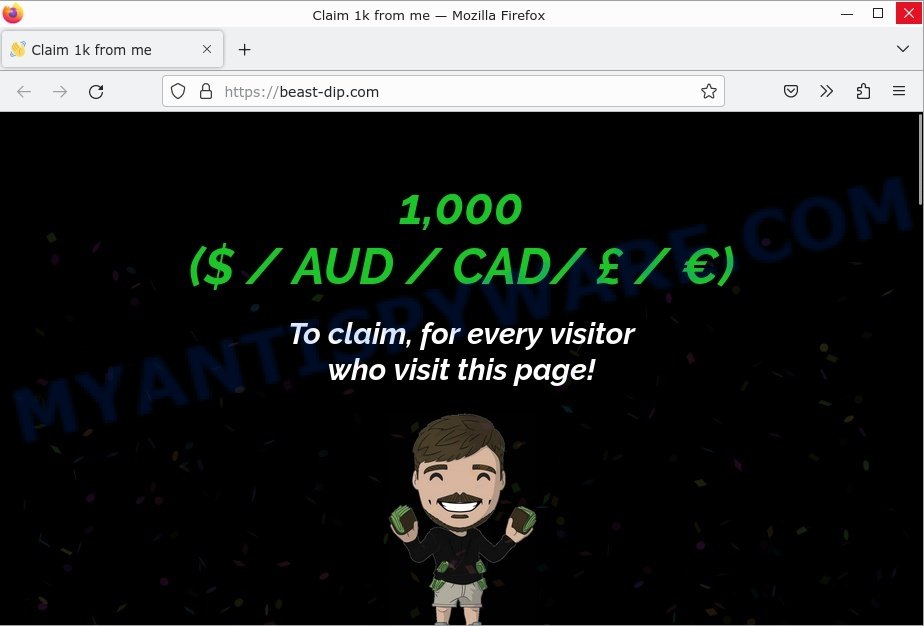 QUICK LINKS
How the scam works
The Beast-dip.com scam is a fraudulent scheme that lures visitors to the website with the promise of a $1,000 reward for completing sponsor tasks. The website appears credible as it uses the name and image of MrBeast, a famous YouTube personality, to make the offer seem legitimate.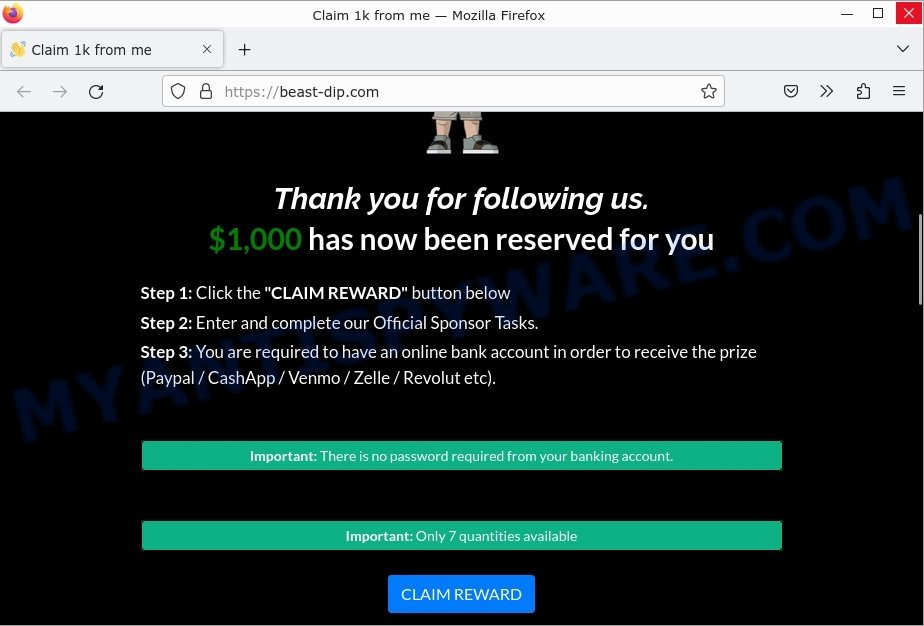 However, once visitors click on the "CLAIM REWARD" button, they are redirected to a page where they are asked to complete sponsor tasks, such as filling out surveys or downloading apps. The tasks may seem easy and harmless, but they are designed to collect personal information or deceive visitors into providing sensitive data.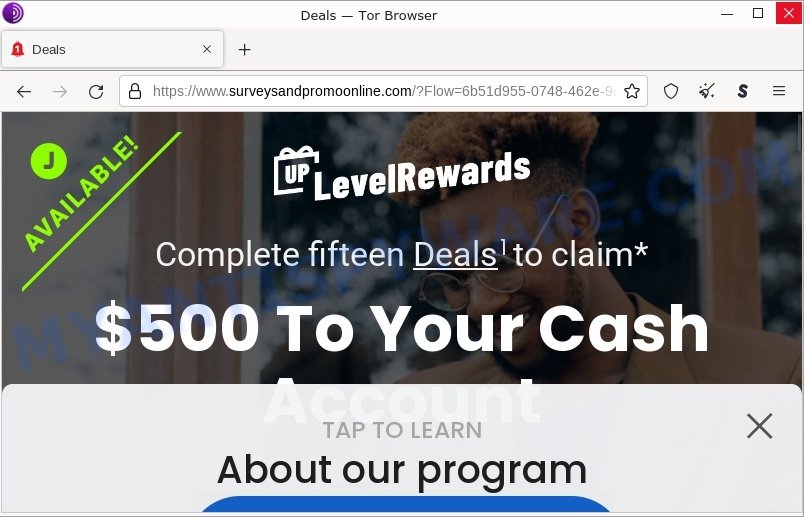 Moreover, the website may require visitors to have an online bank account, such as PayPal, CashApp, Venmo, Zelle, or Revolut, to receive the prize. This is a red flag, as scammers often use this tactic to gain access to victims' bank accounts and steal their money. By providing their account details, visitors are unknowingly granting the scammers permission to access and withdraw funds from their bank accounts.
After completing the sponsor tasks and providing personal information, visitors may be informed that they did not qualify for the reward or that it will be sent to them at a later date. In reality, the reward was never available, and the website's operators have collected personal information or stolen money from unsuspecting visitors.
In conclusion, the Beast-dip.com scam is a fraudulent scheme that entices visitors with the promise of a $1,000 reward in exchange for completing sponsor tasks. The website uses MrBeast's name and image to make it appear credible, but it is actually a ploy to collect personal information or steal money. To avoid falling victim to such scams, internet users should exercise caution when encountering suspicious websites and be wary of any requests for personal information or bank account details.
A Beast-dip.com Claim Reward Scam Text:
1,000
($ / AUD / CAD/ £ / €)

To claim, for every visitor
who visit this page!
Thank you for following us.
$1,000 has now been reserved for you

Step 1: Click the "CLAIM REWARD" button below

Step 2: Enter and complete our Official Sponsor Tasks.

Step 3: You are required to have an online bank account in order to receive the prize (Paypal / CashApp / Venmo / Zelle / Revolut etc).

Tuesday, March 21, 2023

We will stop accepting new visitors in
18:39 minutes!
Beast-dip.com is just one of many scams that exist on the internet. Other common scams include phishing, lottery, and investment scams. It is important to be aware of these types of scams and take precautions to protect yourself. For more information on how to avoid falling victim to scams, check out the following articles: Geek Squad Email Scam, Netflix Account on Hold Scam Text, and Onlinehome.us Scam.
How to spot such scam?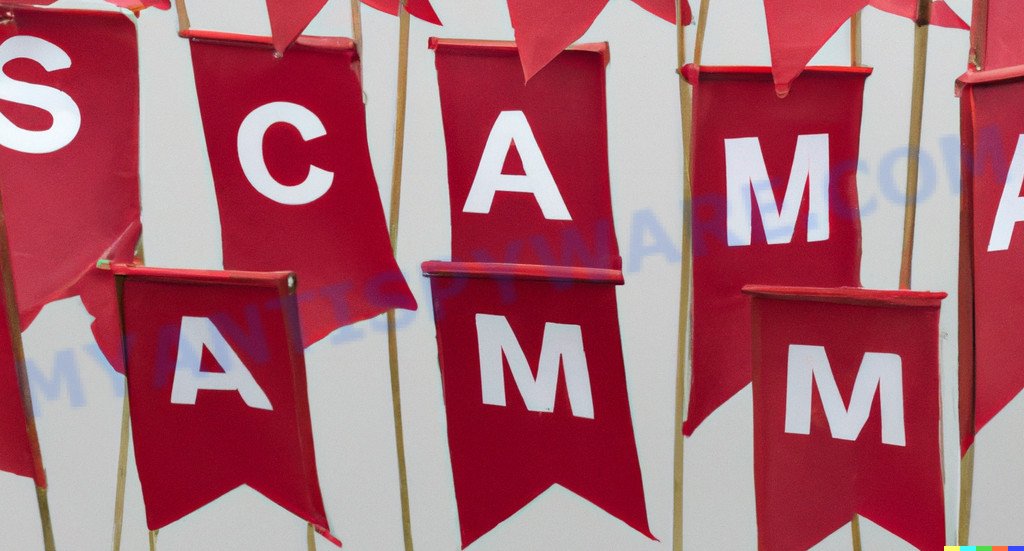 Here are some tips on how to spot and avoid scams like the one found on "Beast-dip.com":
Be skeptical of offers that seem too good to be true – If an offer appears too good to be true, it probably is. Be wary of offers that promise large sums of money for little effort.
Check the website URL – Scammers often create websites with URLs that are similar to legitimate websites, but with slight variations. Check the website URL carefully to make sure it is the correct website. Use a free URL Checker (https://www.virustotal.com/gui/home/url) to check the website URL. It allows checking the safety of a URL without visiting it.
Look for warning signs – Be on the lookout for warning signs, such as poor grammar or spelling mistakes, unusual or suspicious requests for personal information, or pressure to act quickly.
Do research – Before providing any personal information or completing any tasks, do some research on the company or organization offering the promotion or reward. Check for reviews or complaints online, and make sure the company is legitimate.
Trust your instincts – If something doesn't feel right, trust your instincts and do not proceed with the offer.
Threat Summary
| | |
| --- | --- |
| Name | Beast-dip.com 'Beast Promo' Claim Reward Scam |
| Type | Scam, Phishing, Social Engineering |
| Fake Claims | The website falsely claims to offer a cash reward for completing sponsor tasks. |
| Associated IP address | 2606:4700:3035::ac43:a75b |
| Damage | Victims may suffer financial loss, identity theft, or be exposed to other online scams. |
| Distribution methods | The scam is primarily distributed through online channels, such as social media, email, or messaging apps, and may be spread through word of mouth or shared links. |
How to protect against the Beast-dip.com scam?
To protect against the Beast-dip.com scam, you can take the following steps:
Be cautious of links that seem suspicious or are from unknown sources. It is always best to verify the legitimacy of a website before visiting it.
Use strong and unique passwords for each online account, and avoid using the same password for multiple accounts.
Do not share your personal information with anyone online unless you trust them and the website is legitimate.
Use reputable anti-virus software on your computer or mobile device to protect against malware and other threats.
Be cautious of unsolicited messages or emails that ask for personal information or contain suspicious links.
Stay informed about the latest scams and threats, and be vigilant in protecting yourself and your personal information.
By taking these precautions, you can reduce the risk of falling victim to the Beast-dip.com scam or any other online scam. Always remember to verify the legitimacy of any offers or promotions before providing personal information or completing tasks online.