Is Uskps.com text a Scam?
Uskps.com "Provide the correct delivery address to avoid delay in receiving the goods" text is a phishing scam that uses a text message to try to fool people into giving away their personal details, financial information, or even money.
Scammers use SMS/text/email messages to promote the Uskps.com scam and get new victims. In addition, the scam can be promoted through social networks (Facebook, YouTube, Twitter, Instagram), deceptive ads and push notifications, as well as Adware and potentially unwanted applications (PUAs).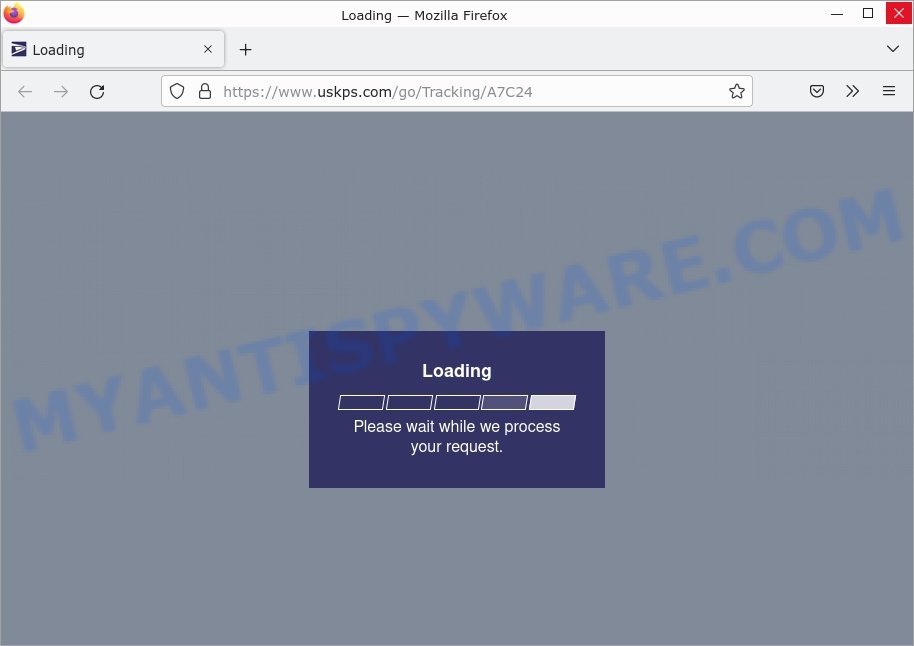 QUICK LINKS
Uskps.com Scam in detail
Uskps.com is a phishing site that has been designed to look like a legitimate site that asks for your login and other personal information. The site URL is sent via a text message and has a subject pertaining to the delivery of a parcel. A text message that is used to redirect users to the Uskps.com Scam:
Delivery service: Provide the correct delivery address to avoid delay in receiving the goods due to incomplete door number. After replying "OK", reconfirm your address
hxxps://www.uskps.com/go/Tracking/A2B2C
Please update it timely.
A text message purporting to be from a delivery service. It says that there are some problems with your package and the package has been suspended. In response to this message, a link is sent, which leads to Uskps.com which will ask for contact and payment details. The goal of the scammers is to lure victims into clicking on a fake link in the message, which is presented as a way to reactivate the package.
Obviously, in this way, scammers try to obtain personal data of users and information about their credit card. This information can be used for identity fraud, to conduct unauthorized financial transactions and make fraudulent purchases, to sell to criminals on the dark web, or other malicious purposes.
While less likely, scammers may ask victims to call a given number. Scammers may try to trick victims into purchasing fake support services or installing a remote control tool, which they pretend to be a program to diagnose a computer. It is important to understand that having access to a computer, scammers can steal private information and personal files, install malware (spyware, ransomware or Trojan horses).
To summarize, "Uskps.com – Provide the correct delivery address" is a SCAM. It can lead to loss of data, financial losses, theft of personal information and other serious problems.
How to Spot Scams That Mimic the United States Postal Service?
There are always a few details that can give away a scam. Make sure you know what to look out for.
If you receive a text asking for redelivery fees, don't respond or click on any links. Stop and think. An unexpected text message is often the first sign of a scam. Scammers use this tactic to harvest your personal information.
The most obvious way how to spot a fake USPS/UPS/FedEx text is finding inconsistencies in domain names, phone numbers and email addresses. If the text claims to be from the United States Postal Service, but the message is being sent from a random phone number or email address, it's probably a scam.
Copy the tracking code from the text message, track it on the United States Postal Service – https://tools.usps.com/go/TrackConfirmAction_input
If you have the slightest suspicion a text may be a scam, do not click on the links you see.
The text message creates a sense of urgency. Creating a false sense of urgency is a common trick of phishing scams. Be suspicious of texts that claim you must call or click a link immediately.
Examples of such scams
The Uskps.com Scam is just one of the many types of scams that exist. In some emails and text messages, scammers use threats to intimidate and bully a victim into paying, others contain links to malicious files. Devon & Claire Beds Scam, US9514961195221 – Your Package Cannot Be Delivered, Geek Squad EMAIL SCAM 2023, Whatsapp Scam, Norton Subscription Has Expired and DPD Delivery Email are some of the scams we reported recently.
What to do when you receive the "Uskps.com – Provide the correct delivery address " SCAM text
We advise everyone who receives this text to follow a few simple steps below.
NEVER give your personal information or credit card details
Don't reply directly to Uskps.com message.
Don't click on any links in the Uskps.com text.
If there's a link in the scam message, do not click it, otherwise you could unwittingly install malware or ransomware on your device.
Report the scam text to the FTC at https://www.ftc.gov/
If you have paid a scammer, the sooner you act, the better. Use the steps (https://consumer.ftc.gov/articles/what-do-if-you-were-scammed) to try to stop a transaction, get a transaction reversed, or get a refund.
Install an anti-phishing software.
Threat Summary
| | |
| --- | --- |
| Name | Uskps.com Scam, "Uskps.com text" |
| Type | scam, phishing |
| Fake Claims | Provide the correct delivery address, Reply [ok] and take steps to reconfirm your address |
| Detection names | Phishing, Malware, Malicious |
| Damage | identity theft, serious privacy issues, financial losses, additional malware infections |
| Distribution methods | SMS spam campaigns, social networks |
Report a Scam
If you have received the Uskps.com Scam text or a message that is similar but not the same as the example above, then post it as comment on this article. Please include the telephone number the text came from. This helps us to warn users about current scams, monitor trends and disrupt scams where possible.