Is Amazonidscure Text a SCAM?
YES! Amazonidscure Text is a fake text message. Myantispyware Team warning users about a new scam that aims to trick victims into handing over their Amazon account credentials. The purpose of this scam is to trick recipients into clicking the provided malicious link (contacting scammers). Scammers send texts with a fake Amazon Security Message in an attempt to get confidential information for fraudulent purposes. These texts are a scam and do not come from Amazon.
Here's an example of a scam text, claiming to be sent from Amazonidscure (Amazon Security Message):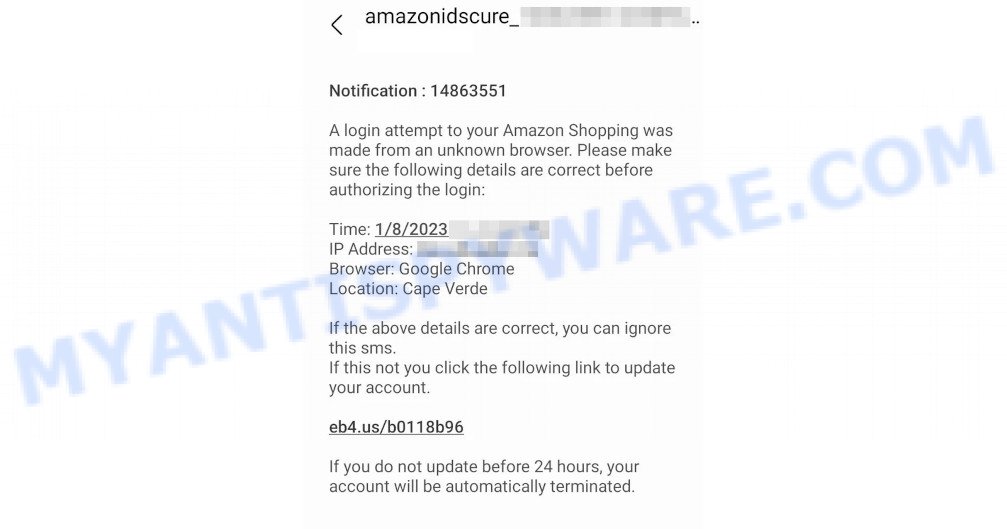 An Amazonidscure Scam Text:
A login attempt to your Amazon Shopping was made from an unknown browser. Please make sure the following details are correct before authorizing the login:

Time: 1/8/2023 4:21:17 PM

IP Address: xxx.xxx.xxx.xxx

Browser: Google Chrome

Location: Cape Verde

If the above details are correct, you can ignore this sms.

If this not you click the following link to update your account.

eb4.us/b0118b96

If you do not update before 24 hours, your account will be automatically terminated.
QUICK LINKS
How Does the Amazonidscure Scam Work?
Scammers may utilize a variety of phishing techniques. Spoofing is one common technique used by scammers. Scammers are using software that masks their real identity by displaying a fake telephone number.
Scammers send messages that mimic texts from Amazon. These messages falsely claim that "A login attempt to your Amazon Shopping was made from an unknown browser" and encourage victims to click a link (eb4.us/b0118b96) to update account information. This link is a phishing attempt link and should not be clicked or followed!
VirusTotal flagged eb4.us as malicious and phishing: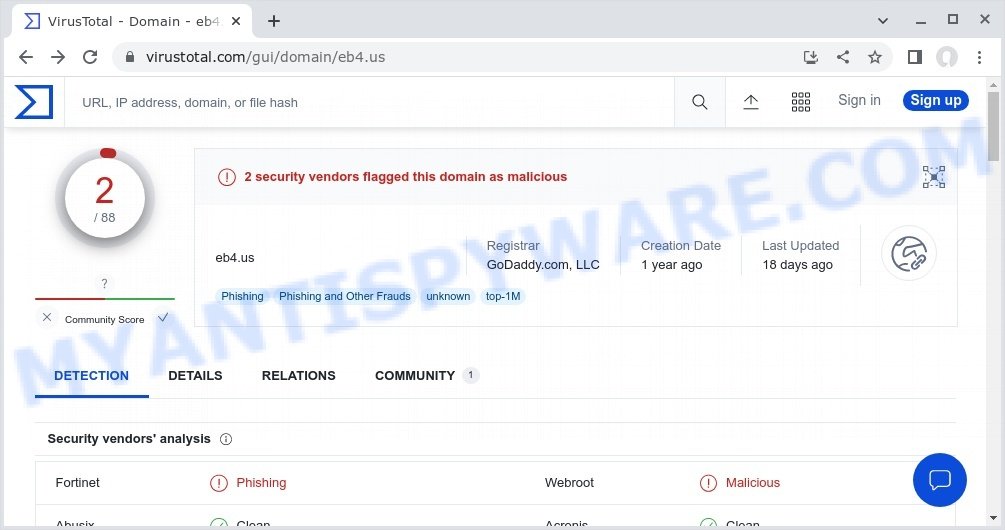 Attackers may use long redirect chains to hide malicious content. Most malicious redirects are conditional. It means that redirection only occurs when a certain condition is met. For example, users are redirected only if they click from a smartphone.
Eb4.us is not the final redirect destination. Depending on the browser and the IP, the visitor gets redirected further. We detected the following URLs were used in the redirect chain:
https://suzuporlog-amz.dynnamn.ru/cc33e775dc1bdc27e91b8da80f881a81/100561ec311a36c2cf4749f4e350c5f1.aspx
https://suzuporlog-amz.dynnamn.ru/697b2f55ceeb7540df2902c6c441d5a9/478c812014dabb4705a9bd3456202dcb.aspx
These links are a phishing scam masquerading as an Amazon page.
A fake Amazon page:
Typically, Scammers ask victims to divulge their personal information and card details. This information can be used for identity fraud, to conduct unauthorized financial transactions and make fraudulent purchases, to sell to criminals on the dark web, or other malicious purposes.
While less likely, scammers may ask victims to call a given number. Scammers may try to trick victims into purchasing fake support services or installing a remote control tool, which they pretend to be a program to diagnose a computer. It is important to understand that having access to a computer, scammers can steal private information and personal files, install malware (spyware, ransomware or Trojan horses).
To summarize, the Amazonidscure Text (Amazon Security Message) is a SCAM. It can lead to loss of data, financial losses, theft of personal information and other serious problems.
How to Spot Scams That Mimic the Amazon text
There are always a few details that can give away a scam. Make sure you know what to look out for.
If you receive an Amazon text, don't respond, call or click on any links. Stop and think. An unexpected text message is often the first sign of a scam. Scammers use this tactic to harvest your personal information.
The most obvious way how to spot a fake Amazon text is finding inconsistencies in domain names, phone numbers and email addresses. If the text claims to be from the Amazon, but the message is being sent from a random phone number or email address, it's probably a scam.
If you have the slightest suspicion a text may be a scam, do not click on the links you see.
The text message creates a sense of urgency. Creating a false sense of urgency is a common trick of phishing scams. Be suspicious of texts that claim you must call or click a link immediately.
Examples of such scams
The Amazonidscure Scam Text is just one of the many types of scams that exist. In some emails and text messages, scammers use threats to intimidate and bully a victim into paying, others contain links to malicious files. Whatsapp Scam, Geek Squad EMAIL SCAM, US9514961195221 – Your Package Cannot Be Delivered text, Norton Subscription Has Expired are some of the scams we reported recently.
What to do when you receive the Amazon SCAM text?
We advise everyone who receives this text to follow a few simple steps below.
Do not believe this message.
Do not call scammers back.
If you are unsure if a message is coming from Amazon, contact the Amazon directly through their official website or using an official phone number.
If there's a link in the scam text, do not click it, otherwise you could unwittingly install malware or ransomware on your device.
Report the scam text to the FTC at https://www.ftc.gov/
If you have paid a scammer, the sooner you act, the better. Use the steps (https://consumer.ftc.gov/articles/what-do-if-you-were-scammed) to try to stop a transaction, get a transaction reversed, or get a refund.
Install an anti-phishing software.
Threat Summary
| | |
| --- | --- |
| Name | Amazonidscure Scam Text, Amazon Security Message Scam, Amazonidsecure Text Scam |
| Type | Phishing, Scam, Social Engineering |
| Fake Claims | A login attempt to your Amazon Shopping was made from an unknown browser, click the following link to update your account; If you do not update before 24 hours, your account will be automatically terminated |
| Fake Amazon sites | suzuporlog-amz.dynnamn.ru |
| Senders | Amazonidscure, Amazonidsecure |
| Distribution methods | SMS spam campaigns |
Report a Scam
If you have received the Amazonidscure SCAM text or a fake Amazon Security Message that is similar but not the same as the example above, then post it as comment on this article. Please include the telephone number the text came from. This helps us to warn users about current scams, monitor trends and disrupt scams where possible.