What is Wewowshop.com?
Wewowshop.com is an unsafe site that is used to trick users into sharing personal info or downloading software. The site can be promoted through text messages, FaceBook, Whatsapp, YouTube, Twitter, Instagram, deceptive ads and push notifications, as well as Adware and potentially unwanted applications (PUAs).
QUICK LINKS
Wewowshop.com site in detail
Wewowshop.com is an unsafe page that has been designed to look like a legitimate one. The page URL (http://wewowshop.com/wow/?n=, http://wewowshop.com/gg/?n=, http://wewowshop.com/n/?n=) is sent via Facebook (WhatsApp) and has a subject "I am sent you a surprise message. Open it…". This message is used to redirect users to the Wewowshop.com phishing page.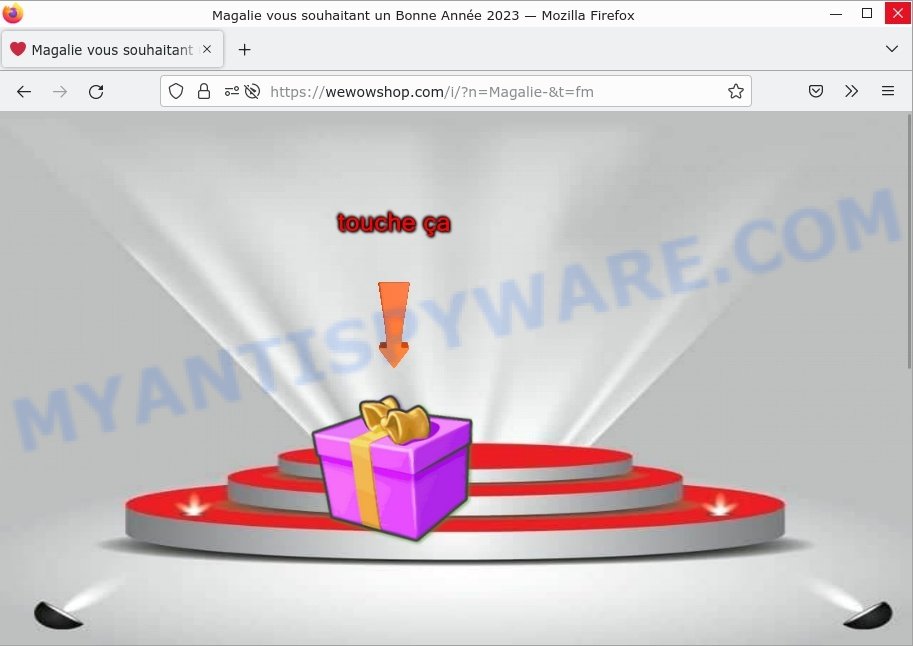 Like most phishing attacks, this message has a link at the bottom, which leads to the Wewowshop page. The goal of the scammers is to lure victims into clicking on a link in the message. Once on the webpage, the site asks people to enter their names and displays a surprise message wishing them a happy day, Happy Xmas and New Year 2023.
The personal information collected by Wewowshop.com can be used for identity theft, to sell to criminals to criminals on the dark web, or other malicious purposes. Moreover, the criminals can use stolen email addresses and phone numbers to send spam and malspam (spam emails containing malware or links to malware).
While less likely, scammers may ask victims to call a given number. Scammers may try to trick victims into purchasing fake support services or installing a remote control tool, which they pretend to be a program to diagnose a computer. It is important to understand that having access to a computer, scammers can steal private information and personal files, install malware (spyware,
ransomware or Trojan horses).
To summarize, Wewowshop.com is an unsafe site! It can lead to loss of data, financial losses, theft of personal information and other serious problems.
How to Spot Scams and Phishing pages?
There are always a few details that can give away a scam. Make sure you know what to look out for.
If you receive a message congratulating you on a cash prize win, don't respond or click on any links. Stop and think. An unexpected message is often the first sign of a scam. Scammers use this tactic to harvest your personal information.
The most obvious way how to spot a phishing page is finding inconsistencies in domain names, phone numbers and email addresses. If the message claims to be from the Google, but the message is being sent from a random phone number or email address, it's probably a scam.
If you have the slightest suspicion a message may be a scam, do not click on the links you see.
The message creates a sense of urgency. Creating a false sense of urgency is a common trick of phishing scams. Be suspicious of messages that claim you must call or click a link immediately.
Examples of such scams
You've made the 9.68-billionth search, $750 Cash App Survey, Mr Beast Giveaway, Netflix Job Pop-Up Scam are some of the most recent giveaways scams that we have reported on our website.
In fact, there are many more, the Internet is full of fraudulent and scam websites ready to steal user information and money. Scammers very often use schemes that are based on: fake prizes and online surveys. Regardless of the scheme, the goal of scammers is to make money by deceiving people. Due to the large number of fraudulent sites, you need to be careful when clicking on links and close suspicious sites as soon as they appear on the screen.
How to protect against Phishing and Scam
To avoid becoming a victim of scammers, it is important to always keep in mind:
NEVER share your personal information.
Never trust scam sites, don't click links and buttons they contain, it can be dangerous for you and your computer.
Close a phishing pop-up as soon as it appears on your computer screen. Scammers can prevent you from closing it in various ways. In such cases, close your browser using Task Manager or restart your computer. If the next time you launch the browser, it prompts you to restore the previous session, abandon it, otherwise this scam will reopen on your screen.
Use an ad blocker when browsing the internet. It can block known scam sites and protect you from scammers.
Threat Summary
| | |
| --- | --- |
| Name | Wewowshop.com, Make your wish card pop-Up |
| Type | phishing |
| Detection names | unsafe site |
| Distribution | rogue ad networks, adware bundles, suspicious websites |
| Damage | loss of personal data, disclosure of confidential information, financial losses |
| Distribution methods | Facebook, WhatsApp, SMS spam campaigns |
Report a Phishing page
If you have received a "I am sent you a surprise message" text or a message that is similar but not the same as the example above, then post it as comment on this article. This helps us to warn users about current scams, monitor trends and disrupt scams where possible.