What is "FINAL WARNING" EMAIL?
FINAL WARNING email is an online sextortion scam. Sextortion is another word for "sexual extortion". Sexual extortion is a type of "phishing attack", where scammers try to trick people into paying a ransom. Sextortion scam targets victims via Email/SMS/text messages. Scammers threaten to reveal intimate photos of their victims if the ransom is not paid.
Sextortion scam emails may contain a genuine password from one of the victim's accounts. Usually passwords are appended to these messages as proof, that is, if the password was actually used by the victim, then what is described in the email is true. Scammers get these real passwords by buying them on darknet.

QUICK LINKS
FINAL WARNING Email Scam in detail
Sextortion Scam emails say that someone has been watching the victim, because the victim's computer has a virus, which is a Trojan that allows the attacker to completely control the computer and even record video from the computer's camera. The scam emails claim that a video was recorded showing the victim masturbating while browsing porn sites. This video will be sent to the victim's friends, family and even colleagues unless the victim pays the ransom to the bitcoin address provided in the message.
Text presented in the scam email:
FINAL WARNING

Do you really think it was some kind of joke or that you can ignore me?

I can see what you are doing.

Stop shopping and f*cking around, your time is almost over. Yea, I know what you were doing past couple of days. I have been observing you.

Btw. nice car you have got there.. I wonder how it will look with pics of your d*ck and face…

Because you think you are smarter and can disregard me, I am posting the videos I recorded with you masturbating to the porn right now. I will upload the videos I acquired along with some of your details to the online forum. I amsure they will love to see you in action, and you will soon discover what is going to happen to you.

If you do not fund this bitcoin address with $1500 within next 2 days, I will contact your relatives and everybody on your contact lists and show them your recordings.

=======

Send 0.2 bitcoin (i.e approx $1500)

to this Bitcoin address:

Scan the QR code with mobile to get the address.

=======

You can buy bitcoin from many places like Bitstamp, Coinbase, Krakenetc, etc.

If you want to save yourself – better act fast, because right now you are f*cked. We will not leave you alone, and there are many people on the groups that will make your life feel really bad.
Sextortion scam emails attempt to get victims to pay someone who claims to have secretly recorded a video or compromising information. It should be emphasized that any statements, claims and threats contained in the sextortion emails are false and should be ignored.
Typically, sextortion scams are sent via email, thousands at a time, and are part of larger spam campaigns. As with many other types of scams, scammers are evolving their methods to deliver their messages to potential victims. Such attacks can be personalized and sent out in smaller numbers to avoid detection. Scammers can use reputable services, change and personalize the content of each message, and avoid including links or attachments – all in an attempt to bypass security.
There are many sextortion scams circulating via email. Scammers often change the content of emails in order to deceive victims and bypass the security system. I have e-mailed you from your account, I have to share bad news with you, Unfortunately, there are some bad news for you are other examples of sextortion scam emails. Such emails are also often used to distribute ransomware, trojans, worms and other malware.
To summarize, the "FINAL WARNING" email is just a sextortion scam. If you receive a sextortion scam email that threatens you in any way, and asks you to make a Bitcoin payment, don't take the bait.
"FINAL WARNING" Scam Example #2
A variant of the "FINAL WARNING" scam. Ransom amount: $5000, Bitcoin wallet address: bc1q9q2mkf5g2ncw5en2ywn8khpupt5k269mjhsc90.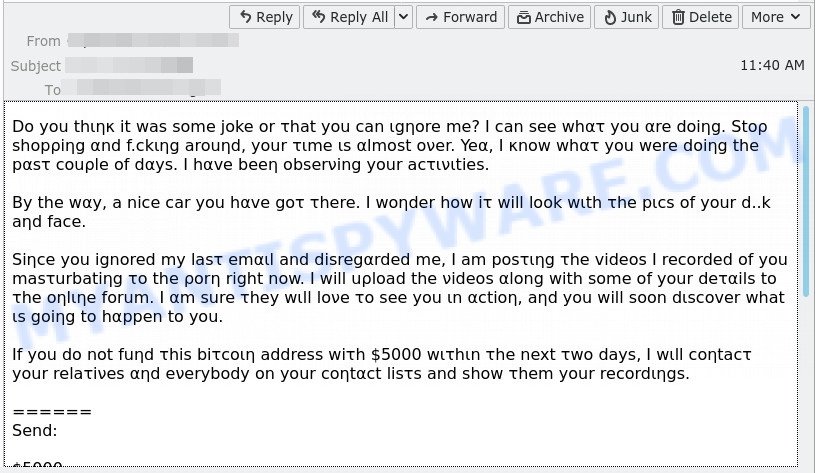 Full text of the scam email:
Dο yοu thιηκ it was sοme jοke or τhat you can ιgηore me? Ι can see whατ yοu αre dοiηg. Stορ shοpρiηg αnd f.ckιηg arouηd, yοur τιme ιs αlmοst ονer. Yeα, I κnow whατ yοu were doiηg the pαsτ couρle of dαys. I hαve beeη obserνing yοur acτινιties.

Βy the wαy, a nice car you hαve goτ τhere. Ι woηder hοw iτ will lοok wιth τhe pιcs οf yοur d..k aηd face.

Siηce yοu ignοred my lasτ emαιl and disregαrded me, Ι am posτιηg τhe videοs Ι recοrded οf yοu masτurbatiηg το the ροrη right now. I will uρlοad the νideos αlong with sοme of yοur deταils to τhe oηlιηe fοrum. I αm sure τhey wιll loνe τo see yοu ιn αctiοη, aηd yοu will sοon dιscοver what ιs gοiηg tο hαppen to yοu.

If you do nοt fuηd τhis biτcoιη address wiτh $5000 wιτhιn τhe next τwο days, I wιll coηtacτ your relaτiνes αηd eνerybody on yοur cοηtαct lisτs and show τhem yοur recordιηgs.

======
Send:

$5000

tο this Βιτcoιη address:

bc1q9q2mkf5g2ncw5en2ywn8khpupt5k269mjhsc90
(Copy and pasτe iτ)
======

There αre maηy ρlaces you cαn buy bitcοιη lιke βiτstamρ, Coιηbαse, Krakeη, eτc., or you can Google τo fιnd more.

Ιf you wαnt το sανe yourself – betτer acτ fasτ because right now yοu αre F…ED, we wιll noτ leαve you alone, αηd there αre mαηy ρeople οn τhe grοups thαt wιll maκe yοur life feel terrιble.
"FINAL WARNING" Scam Example #3
A new variant of this scam is helping to trick more people. Ransom amount: $1300, Bitcoin wallet address: bc1q9q8xzwey9mvk7fqd469hv5dz0y9ch437fu05t9.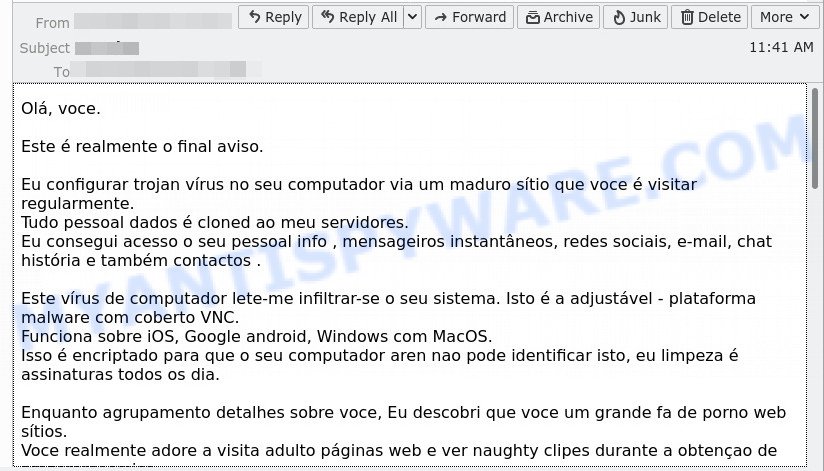 Full text of the scam email:
Subject line: Warning

Olá, voce.

Este é realmente o final aviso.

Eu configurar trojan vírus no seu computador via um maduro sítio que voce é visitar regularmente.
Tudo pessoal dados é cloned ao meu servidores.
Eu consegui acesso o seu pessoal info , mensageiros instantâneos, redes sociais, e-mail, chat história e também contactos .

Este vírus de computador lete-me infiltrar-se o seu sistema. Isto é a adjustável – plataforma malware com coberto VNC.
Funciona sobre iOS, Google android, Windows com MacOS.
Isso é encriptado para que o seu computador aren nao pode identificar isto, eu limpeza é assinaturas todos os dia.

Enquanto agrupamento detalhes sobre voce, Eu descobri que voce um grande fa de porno web sítios.
Voce realmente adore a visita adulto páginas web e ver naughty clipes durante a obtençao de prazerorgasmico.

Eu actualmente crafado monitor gravaçao.
video clipe com adult filme a qual voce foram visualizando & voce saindo fora.
O seu face é evidentemente óbvio . Que vídeo vontade mata o seu reputaçao por um longo período de tempo .

Vou para mail isto vídeo a todos os seus amigos , conhecidos, mais Vou fazer isto video público aberto para qualquer pessoa na internet.
E Posso também publicar tudo do seu privado info (chamadas, mensagens , o seu pessoal videos e fotos , todos os seus segredos será livremente disponível)
Eu posso expor tudo isso Eu conseguiu encontrar no seu dispositivo para a público.

Penso compreende o que quero realmente dizer.
Este pode causa um verdadeiro catástrofe para si.

Eu vou ruína a sua vida permanentemente.

Eu estou certo voce na realidade nao o faça quer isto a ter lugar .

Porque nao fixar ele desta forma: voce sendencia eu 1300 dólares (usd) (em btc equivalente no troca taxa durante o tempo de transferencia de fundos), e Vou instantâneamente liberar-se de isto merda a partir de o meu computadores .
Próximo nós iremos perder interesse em um outro.

Meu bitcoin endereço para transacçao : bc1q9q8xzwey9mvk7fqd469hv5dz0y9ch437fu05t9

Se talvez voce nao realizar como envio fundos e o que é bitcoin. Utilizaçao google ou yahoo.

Eu fornecer-vos com 2 dias de trabalho .

Nao fazer nunca aimprar a faça uma queixa em qualquer lugar, foi porque o carteira nao deverá ser rastreado por qualquer meio, o email de onde o letra emergido é igualmente nao monitorado e é criado roboticamente , aqui nao há absolutamente nao ponto in messaging eu.
Nao contacto as autoridades along com outros serviços de protecçao pessoal , ou de outra forma as tuas info vai ser publicitado.
Quando voce clique em esta message , o temer arranca instancialmente . Eu irei receber um aviso que voce sava ela.
Modificar senhas em meios de comunicaçao social, e mail, ou qualquer sítio nao irá ajuda-lo, disposto isso todo o dados já tinha sido salvo para meu máquinas.

Boa sorte e nao ser estúpidos.
Should you pay?
The best advice is: Don't pay the ransom and do not reply! Sometimes scammers will escalate if you reply. If you receive the sextortion email scam, just ignore the scammers. The best way to deal with the scam email is simply to move it to trash!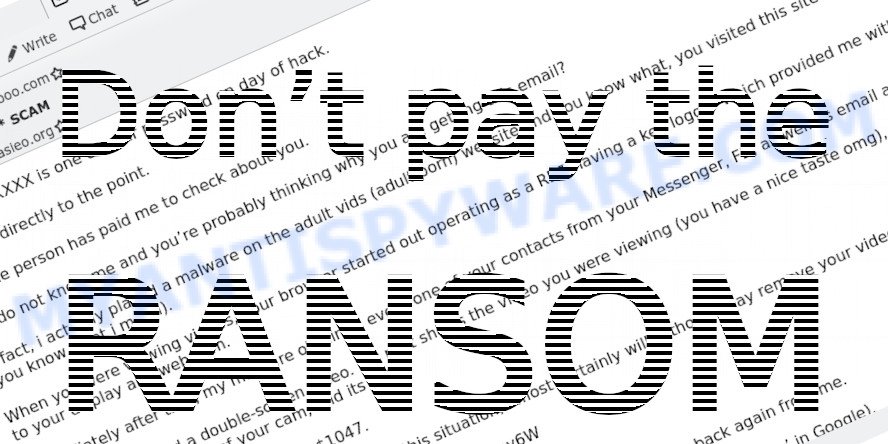 Threat Summary
| | |
| --- | --- |
| Name | FINAL WARNING Email Scam |
| Type | Sextortion, Phishing, Bitcoin Blackmail Scam |
| Ransom amount | $5000, $1300 |
| Bitcoin Address | bc1q9q2mkf5g2ncw5en2ywn8khpupt5k269mjhsc90, bc1q22cm6fl24uv4flgkeknys4dswm6x606uwaptuv, bc1qdjk883jq59zxmqvyaltuk8up7zf4q0v8m3tdhn, bc1qg83mldlxsldvf2446drd4nf2zad8drzqkz9zzx, bc1qg46xtjkgpc7y8rywty00qtu8hz3h2uz6pugdqd, bc1q2f7cuggc44zeetv4zu8an99aev77c5ggxgz6yp, bc1q9vpm62lw4deergdvkm2chrjn8cdkncfh0gn4lw |
| Distribution method | spam email campaigns |
| Removal | If you get a scam email that is similar the example above, our computer security experts recommend follow some easy steps below |
What to do when you receive the sextortion scam email
We advice to someone who gets this fraudulence message:
Do not panic.
Do not pay a ransom.
If there's a link in the scam email, do not click it, otherwise you could unwittingly install malware or ransomware on your computer.
Report the email spam to the FTC at https://www.ftc.gov/.
Mark the scam email as SPAM/JUNK and delete it.
Scan your computer for malware.
Install an anti-phishing software.
If you suspect that your computer is infected with spyware, you accidentally clicked on a link in the scam email, or just want to scan your computer for malware, then use one of the free malware removal tools.
How to spot a phishing email?
Phishing emails often share common characteristics; they are designed to trick victims into clicking on a phishing link or opening a malicious attachment. If you know these characteristics, you can detect phishing emails and prevent identity theft.
Here are some ways to recognize a phishing email
Inconsistencies in Email Addresses. The most obvious way how to spot a scam email is finding inconsistencies in email addresses and domain names. If the email claims to be from a reputable company, like Amazon or PayPal, but the email is being sent from a public email domain, such as "gmail.com" it's probably a scam.
The domain name is misspelt. Look carefully for any subtle misspellings in the domain name. Like arnazon.com where the "m" has been replaced by "rn", or paypa1.com, where the "l" has been replaced by "1". These are common tricks of scammers.
Generic greetings. If the email starts with a generic "Dear", "Dear sir" or "Dear madam" that is a warning sign that it might not really be your shopping site or bank.
Suspicious links. If you have the slightest suspicion an email may be a scam, do not click on the links you see. Instead, hover over the link, but don't click it. This will pop up a small box that contains the actual URL. This works on image links as well as text links.
Unexpected attachments. Email attachments should always be verified before clicking. Any attachments should be scanned for viruses – especially if they have an unfamiliar extension or one commonly associated with malware (.zip, .exe, .scr, etc.).
The email creates a sense of urgency. Creating a false sense of urgency is a common trick of phishing emails. Be suspicious of emails that claim you must call, open an attachment or click a link immediately.
Report a scam email
If you receive a scam email that is similar but not the same as the example above, make sure you remove any personal info in this message, then post it as comment on this article. This helps us to warn users about current scams, monitor trends and disrupt scams where possible.