What is My-cleaner.info?
My-cleaner.info is a scam designed to trick unsuspecting victims into installing unnecessary, unreliable or even malicious software. The scam works by impersonating the messages of Google Chrome, so users believe they are installing 'official' updates. It is important to emphasize that My-cleaner.info is in no way associated with Android OS, Google, and its products.
QUICK LINKS
My-cleaner.info Scam in detail
My-cleaner.info is a site that is a part of the Cleaner Update for Android is Recommended Scam. The scam masquerades as Android Update and displays fake alerts. It states that an important update is available and needs to be installed. The scam instructs users to click the "Update Now" button and follow the instructions to install the update.
Text presented in the My-cleaner.info scam:
Cleaner Update for Android is Recommended!

Your phone can work faster, we released a Cleaner update, and it is recommended for every phone.

Your smartphone might be slowed down and your battery may discharge quickly.

Update now for FREE on Google Play to clean and boost your Android immediately!

5 minutes 57 seconds
Cancel Update Now
Clicking on the button redirects users to a legitimate Google Play page that offers to download and/or purchase the Cleaner tool. The scammers earn a commission for every sale from this page.
My-cleaner.info and similar sites can promote legitimate software, but are more commonly used to distribute untrustworthy and unreliable apps among which may be fake antivirus software, spyware, trojans, browser hijackers, adware and other malicious software. These apps can redirect users to deceptive sites, display unwanted ads, change browser settings (to promote fake search engines), lead to slow phone performance and collect user personal data (including logins and passwords, browser history).
Scammers can use stolen personal information to make fraudulent purchases and unauthorized transfers, sell to criminals on the dark web, or other malicious purposes. Moreover, criminals can use stolen email addresses to send spam and malspam (spam emails containing malware or links to malware).
To summarize, My-cleaner.info is a SCAM. The scam can lead to malware infection, loss of data, financial losses, theft of personal information and other serious problems.
How to protect against "My-cleaner.info" scam
To avoid becoming a victim of scammers, it is important to always keep in mind:
Never install browser extensions and apps promoted by My-cleaner.info. It can be dangerous for you and your computer.
Close My-cleaner.info as soon as it appears on your browser screen. Scammers can prevent you from closing it in various ways. In such cases, close your browser using Task Manager or restart your phone. If the next time you launch the browser, it prompts you to restore the previous session, abandon it, otherwise this scam will reopen on your screen.
Use an ad blocker. Ad blockers allow you to browse sites without ads, thus eliminating the possibility of clicking on something malicious and preventing it from being downloaded to the machine.
Pay for premium versions of popular services. The easiest way to avoid adware is to pay for the service you use. Many Internet services make it possible to use them without ads if you purchase a premium subscription. This helps ensure that malicious adware cannot reach you.
Buy devices from trusted companies with built-in security. There have already been many cases where people who bought inexpensive Android devices found that adware was already installed on their devices. Cheap Android devices do not receive security updates and are therefore particularly susceptible to infection and should be avoided.
Use an antivirus. Most antivirus programs can block malicious adware. Some malicious adware can block antiviruses, in which case a more aggressive method should be used, which is to use adware removal software. This software can detect and remove adware that has a negative impact on the device.
Threat Summary
Name
My-cleaner.info
Type
scam, phishing, fake alerts, redirect virus
Distribution
rogue ad networks, malicious links, deceptive ads, push notifications, fake updates, potentially unwanted apps
Fake claims
Cleaner Update for Android is Recommended!, Your smartphone might be slowed down and your battery may discharge quickly.
Promoted software
Cleaner Tool
Symptoms
Advertising banners appear in places they shouldn't be. When you go to a website, you're constantly redirected to a suspicious site that you do not intend to visit. There is an unwanted program in the 'Uninstall a program' section of your Control Panel. Unexpected browser extensions or toolbar keep coming back. Your internet browser homepage has replaced without your permission.
Removal
My-cleaner.info removal guide
Examples of such scams
The "Cleaner Update for Android is Recommended" scam isn't the only one on the Internet that aims to trick users into downloading/installing and/or purchasing untrustworthy apps. We have already reported on such scams many times: VPN Update pop-up, Your IP address & personal information might be exposed, Your iPhone Has Been Hacked, SYSTEM NOTIFICATION scam.
Where the My-cleaner.info pop-ups comes from
Scammers use different ways to promote "Cleaner Update" scams, most common of which is usually social networks (YouTube, Telegram, Instagram, Facebook, WhatsApp, Twitter). In addition, the scam can be promoted through rogue ad networks, deceptive ads and push notifications, as well as Adware and potentially unwanted apps (PUAs).
If your browser redirects to the My-cleaner.info scam regularly, then it is possible that Adware or PUAs are installed on your device. Adware is type of malware that can cause problems for your Android device. It can generate numerous additional popup, banner, pop-under and in-text link advertisements flooding on your web-browser; gather your personal data such as login details, online searches, etc; run in the background and drag down your Android OS running speed; give more chances for other adware, PUAs even malware to get on your phone.
Adware spreads bundled with various malicious downloads, fake updates and free applications. This means that you need to be very careful when installing apps downloaded from the Internet, even from Google Play. Be sure to read the Terms of Use and the Software license.
How to Remove My-cleaner.info pop-ups (removal tutorial)
In the steps below, we'll provide general help to get rid of My-cleaner.info pop-up scam. You may find some minor differences in your Android device. No matter, you should be okay if you follow the steps outlined below: uninstall suspicious and unknown apps, reset web browsers settings, scan your device for viruses using free malware removal utilities. Some of the steps below will require you to close this webpage. So, please read the step-by-step instructions carefully, after that bookmark it or open it on your smartphone for later reference.
To remove My-cleaner.info pop-ups, please follow the steps below:
Remove unknown and suspicious apps
First of all, make sure that the Android phone does not have any apps running. To do this, open the list of running applications and remove all apps from it. Another option, just restart the phone, after which do not start anything.
Now you can start removing unknown and suspicious apps. Open Android Phone settings, select APPS here. You will be shown a list of installed applications, similar to the one shown in the following example.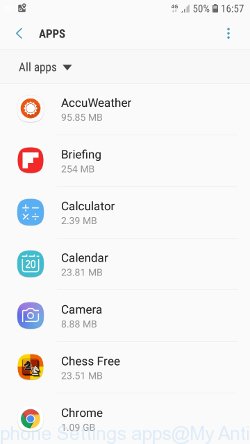 Several times, very carefully review this list, most likely one of the apps listed here is a virus, adware or malware that shows ads or installs unwanted apps on your phone. To remove a suspicious app from Android Phone, just click on its name and select UNINSTALL in the window that appears, as shown in the figure below.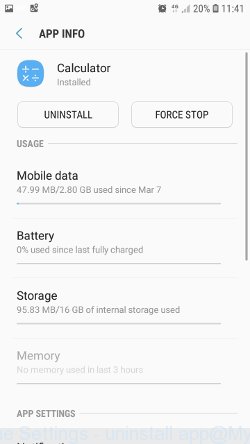 If you can not figure out what to delete and what to leave, use the following criteria for determining adware, malware and viruses. The app is suspicious if: it consumes a lot of memory (for example, it's called a calculator, and consumes hundreds of megabytes of memory), the app name is completely unfamiliar to you (check the app name through Google search), the app requires strange permissions (for example, a calculator requires permission to send sms and access to the address book). At this stage, you need to be even a bit suspicious than usual.
Remove My-cleaner.info pop-ups using Malwarebytes
Malwarebytes Mobile Security (Malwarebytes for Android) is a free app for phones running Android operating system. It can easily find and quickly remove viruses, potentially unwanted programs (PUPs), adware, trojans and other malicious software.
Download Malwarebytes, using the following link, and install it on your phone. After the application is installed, start it. You will see a window similar to the one shown in the example below.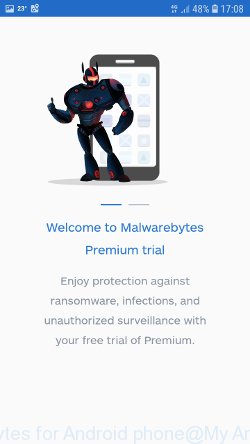 Read the information about the Malwarebytes for Android, and then click "Got it" button.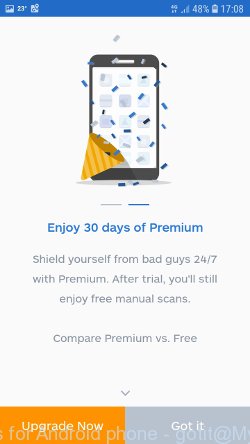 You will see the main window, as shown in the figure below. Click "Fix now" button.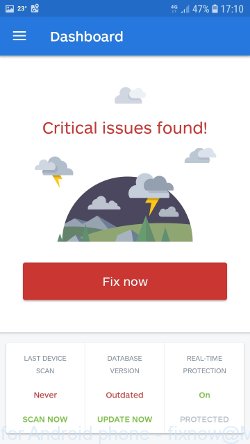 Malwarebytes will attempt to automatically update the virus database, and then immediately start the full scan procedure. In the process of scanning, Malwarebytes for Android will check your phone for the presence of Trojans, viruses and other malicious programs.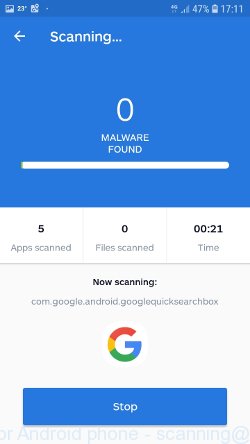 When the scan is completed, Malwarebytes will report the detected viruses and in case of detection of malicious programs, offer to remove them. Just follow the prompts.
To use Malwarebytes for Android, you do not need to buy a premium (paid) version of the app. The first 30 days you can use all the features of this antivirus completely for free, and after 30 days, the device's auto-protection will be turned off, but you can continue to use Malwarebytes for Android to check your phone for malware and remove it in case of detection.
Reset Android browser
Adware and other malware can change the Android settings. But most often malicious software makes changes to the browser settings, modifying the home page or search engine. Therefore it is very important, after scanning the Android device with antivirus software, also check the browser settings and restore its normal values.
Start the browser. Click on the icon in the form of three points, which is located in the right corner of your phone. In the menu that opens, select Settings.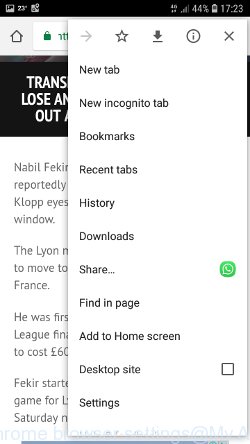 You will see a list of browser settings. Find the "Search Engine" option and click on it. In the window that opens, select Google.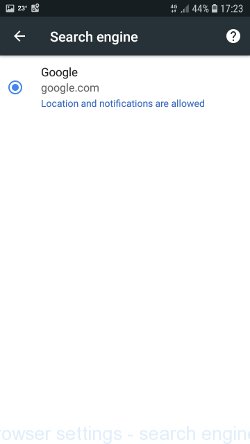 Go back to the list of browser settings. Now click "Home page". Check that the switch is in the ON position. If necessary, move it to this position. Then click on the line below, which says "Open this page". In the window that opens, enter the address of your home page or the line "about:blank" (without quotes). In this case, the blank page will be used as the homepage.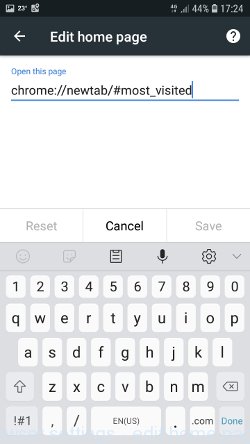 In addition to the above, it is also recommended to clear data that was saved by the browser while the phone was infected. To do this, in the list of settings, find the Privacy item and click it. Scroll the page to the bottom until you find "Clear browsing data", press it. You will see the window as shown in the figure below.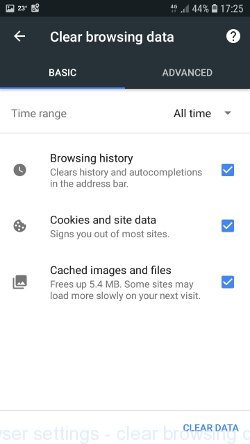 In the "Time range", select the time period that covers the period when your Android phone was infected with malware, then click "CLEAR DATA" button. During this procedure, your Google account will not be deleted, passwords, bookmarks and other personal information will be saved.
Reset Android phone (Factory Data Reset)
If nothing of the above is helpful and you failed to get rid of My-cleaner.info pop-ups manually or using antivirus software, then most likely the malware can only be removed by resetting the phone.
In order to reset Android phone, and thus remove scam pop-ups, do the following. Open Phone Settings, scroll down to General management. Click it. You will see a window similar to the one shown in the pictures below.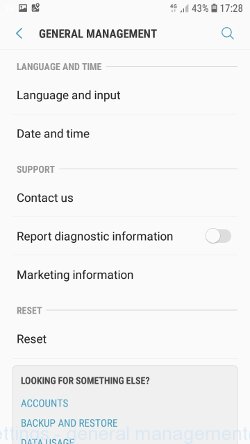 Find the "Reset" option and click on it. You will see a list of possible ways to reset the phone settings, select the "Factory Data Reset" option.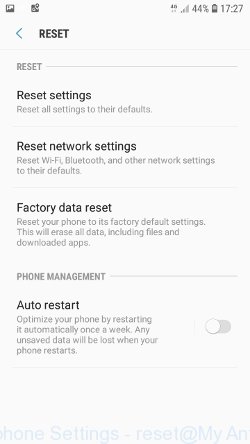 Click "Factory Data Reset" button. ATTENTION! All your personal data from the phone's internal memory will be deleted, all phone settings will be restored to their original state. The internal memory of the phone will be TOTALLY cleared.
To sum up
We hope this article helped you learn more about the "My-cleaner.info" Scam and avoid the scammers. If you have questions or additional information for our readers, please leave a comment.