JRT or Junkware Removal Tool is a small free security tool. Once started, it will perform a scan for malicious software such as adware, toolbars and potentially unwanted programs (PUPs). When the scan will be done, JRT will try to clean all of infections that has been found.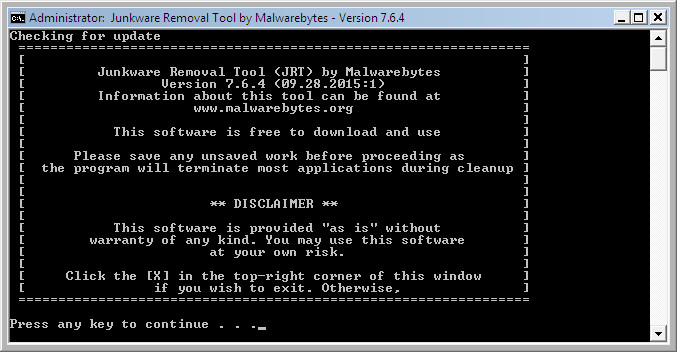 While running, Junkware Removal Tool will delete all parts of these malicious software including their services, processes, files, folders, registry keys, registry values, browser plugins and browser BHOs.
Small part of detected adware, toolbars and potentially unwanted programs (PUPs):
24×7 help, Advanced System Protector, AppGraffiti, Ask Toolbar, Astromenda, Babylon, Baidu, Blekko, Browserprotect, Browsersafeguard, Claro, Complitly, Conduit, DataMgr, Dealio, DealPly, Delta, Driver Pro, Driver Cure, Eorezo, ESafe, Facemoods, Fantastiames, Findgala, Freecause, Getsavin, Globaearch, Guffins, Hao123, ILivid, Iminent, Inbox Toolbar, Incredibar, Industriya, Istartsurf, JollyWallet, KingBrowse, Lasaoren, Linkury, Lyrics, Mighty Magoo, MoboGenie, Mocaflix, MyPC Backup, MyWebSearch, NewTab, Omniboxes, OoVoo Toolbar, OtShot, PC MightyMax, PC Optimizer Pro, PC Performer, PC Speed Maximizer, PC Speed Up, PCFixSpeed, PCSafeDoctor, Plus-HD, Pricepeep, Privitize, QuestBasic, Quiknowledge, Qvo6, Qwiklinx, RocketTab, Savesense, Search Protection, Searchqu, Snap Do, Speeditup Free, Strongvault, Swag Bucks, SweetIM, SysTweak, Tidynetwork, TopArcadeHits, Visualbee, Wajam, Web Assistant, WebEnhance, Whitesmoke, XTab, Yontoo, Yrjie, Zoomex, Zugo
How to use JRT (Junkware Removal Tool) Step-by-step
Download Junkware Removal Tool from the link below.
JRT (Junkware Removal Tool) download link.
Open a directory in which you saved the JRT. You will see an icon like below.

Run it. Junkware Removal Tool will try to update itself, if a new version is available. Once updating is done, you will see JRT DISCLAIMER.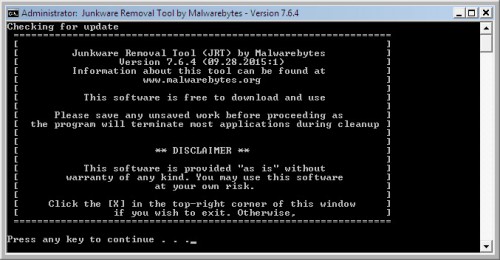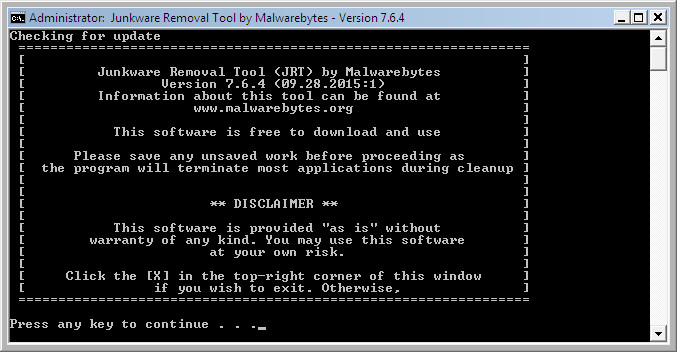 Please read and press any key to continue. First, JRT creates a restore point and once complete, it will start a scan of a computer.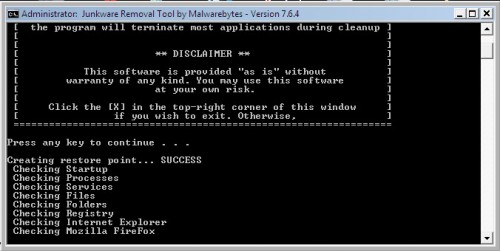 During the scan, Junkware Removal Tool will check Startups, Services, Processes, Files, Folders, Registry keys, Registry values, Mozilla Firefox, Internet Explorer (EDGE), Google Chrome addons and remove all malicious software that has been found.
When cleaning a computer is completed, JRT will display a log file.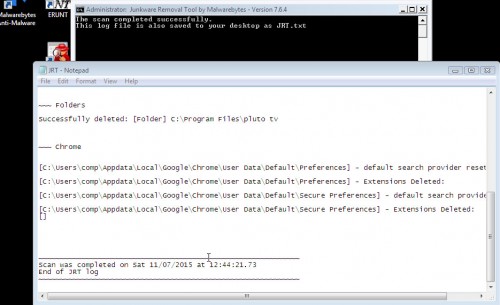 Video guide on how to use Junkware Removal Tool
If Junkware Removal Tool does not help and you still having a problems then try to use AdwCleaner or Malwarebytes Anti-Malware or ask the Myantispyware Team for help here.