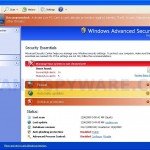 Live PC Care is a rogue antispyware program. It is a clone of Windows Enterprise Defender, which is also rogue antispyware application. The rogue spreads mostly with the help of fake online malware scanners.
Once downloaded and installed, Live PC Care configures itself to run automatically and creates a lot of harmless files with random names in %UserProfile%\Recent folder, which later during the scan will be detected as worms, trojans and viruses. Of course, the scan results are false, because Live PC Care identifies harmless files as dangerous infections. So, you may easily ignore all that the rogue shows you!
When running, Live PC Care will flood your computer with warnings, fake security alert and notifications from Windows task bar. The fake alerts state:
System alert!
malicious applications, which may contains Trojans, were found
on your computer and are to be removed immediately. Click
here to remove these potentially harmful items using Live PC
Care.
System alert!
Potentially harmful programs have been detected in your
system and need to be dealt with immediately. Click here to
remove them using Live PC Care.
System alert!
Live PC Care has detected potentially harmful software in
your system. It is strongly recommended that you register
Live PC Care to remove all found threats immediately.
Warning
Warning! Virus detected
Threat detected: Virus.BAT.Gray.705
What is more, Live PC Care will block Task Manager and legitimate antivirus and antispyware programs (Kaspersky Antivirus, DrWeb, AdAware, McAfee, Norton AV, etc) and hijack Internet Explorer so that it randomly shows a warning page when you browsing the Internet. The title of the page is "There is a problem with this websites`s secuirty. Possible spyware threat detected". However, all of these alerts and warnings are fake and like scan false results should be ignored!
As you can see, this program is a scam and should be removed from the system upon detection. Please follow the guidelines below to remove Live PC Care and any associated malware from your computer for free.
More screen shoots of Live PC Care
Symptoms in a HijackThis Log
O4 – HKLM\..\Run: [Live PC Care] "C:\Documents and Settings\All Users\Application Data\17c1f\LPf9a.exe" /s /d
Use the following instructions to remove Live PC Care (Uninstall instructions)
Download MalwareBytes Anti-malware (MBAM). Close all programs and Windows on your computer.
Double Click mbam-setup.exe to install the application. When the installation begins, keep following the prompts in order to continue with the installation process. Do not make any changes to default settings and when the program has finished installing, make sure a checkmark is placed next to Update Malwarebytes' Anti-Malware and Launch Malwarebytes' Anti-Malware, then click Finish.
If an update is found, it will download and install the latest version.
Once the program has loaded you will see window similar to the one below.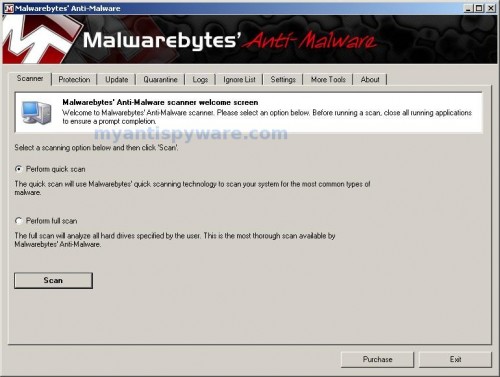 Malwarebytes Anti-Malware Window
Select Perform Quick Scan, then click Scan, it will start scanning your computer for Live PC Care infection. This procedure can take some time, so please be patient.
When the scan is complete, click OK, then Show Results to view the results. You will see a list of infected items similar as shown below. Note: list of infected items may be different than what is shown in the image below.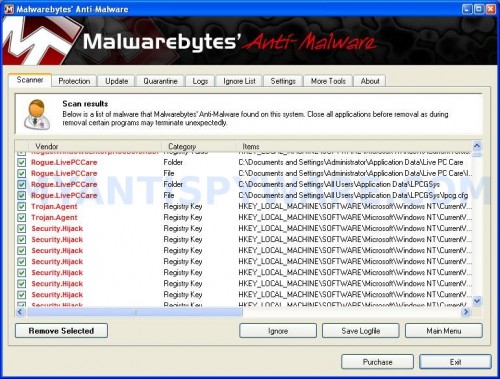 Malwarebytes Anti-malware, list of infected items
Make sure that everything is checked, and click Remove Selected for start Live PC Care removal process. When disinfection is completed, a log will open in Notepad and you may be prompted to Restart.
Note: if you need help with the instructions, then post your questions in our Spyware Removal forum.
Live PC Care creates the following files and folders
%UserProfile%\Application Data\Live PC Care
C:\Documents and Settings\All Users\Application Data\LPCGSys
C:\Documents and Settings\All Users\Application Data\17c1f\LPf9a.exe
%UserProfile%\Application Data\Live PC Care\Instructions.ini
C:\Documents and Settings\All Users\Application Data\LPCGSys\lpcg.cfg
%UserProfile%\Desktop\Live PC Care.lnk
%UserProfile%\Application Data\Microsoft\Internet Explorer\Quick Launch\Live PC Care.lnk
%UserProfile%\Start Menu\Live PC Care.lnk
%UserProfile%\Start Menu\Programs\Live PC Care.lnk
Live PC Care creates the following registry keys and values
HKEY_LOCAL_MACHINE\SOFTWARE\Microsoft\Windows\CurrentVersion\Run\live pc care