MalwareProtector2008 is a rogue antispyware, uses deceptive means for installation and purpose, may display fake scan results. This program usually installed itself onto your PC without your permission, through Zlob Trojan, Virus, fake audio/video codecs.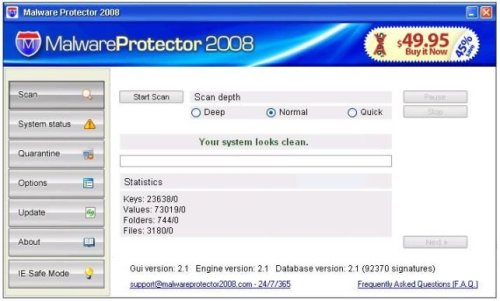 MalwareProtector2008 looks like AdvancedXPFixer.
Hijackthis shows MalwareProtector2008 infection:
O4 – HKLM\..\Run: [SMshcev9j0e1b1] C:\Program Files\shcev9j0e1b1\shcev9j0e1b1.exe
How to remove:
The first place to look when attempting to remove MalwareProtector2008 is in the "Add/Remove Programs" utility in the Control Panel.
Download and install SuperAntiSpyware. Run and scan your computer.
If you are still having problems, then I would recommend you follow these instructions and post your logs in the spyware removal forum. I will check your logs and advise you on MalwareProtector2008 removal.