TDSS trojan also known as Backdoor.Tidserv [PCTools], Backdoor.Tidserv.I!inf [Symantec], Rootkit.Win32.TDSS.y [Kaspersky Lab], Patched-SYSFile.a [McAfee], Mal/TDSSRt-A [Sophos], Virus:Win32/Alureon.F [Microsoft] is very dangerous. It installs onto your computer through a vulnerability in an already installed programs (mostly in InternetExplorer) or with the help of a rogue antispyware programs. Trojan TDSS uses rootkit-specific techniques designed to hide the software presence in the system. It is practically not detected by standard means Windows, you will not find its files on the disk, as well as writing about it in the Windows registry.
When installed, it will be configured to start automatically when Windows starts. While is running, TDSS (Backdoor.Tidserv, Alureon) trojan may:
display a lot of popups and fake security alerts
hijack Internet Explorer
redirect search results in Google, Yahoo, MSN to non related sites
block an access to security websites
disable Windows Task Manager, Windows Security Center and Registry editor
What is more, TDSS, Backdoor.Tidserv, Alureon trojan blocks the ability to run a lot of antivirus and antispyware programs, including Malwarebytes Anti-Malware. Also it is usually installed in conjunction with a rogue antispyware programs.
If your computer is infected with the trojan, then use these removal instructions below, which will remove TDSS, Backdoor.Tidserv, Alureon trojan and any associated malware for free.
Symptoms in a RootRepeal Log
Hidden Services
——————-
Service Name: H8SRTd.sys
Image Path: C:\WINDOWS\system32\drivers\H8SRTnfvywoxwtx.sys
Service Name: _VOIDd.sys
Image PathC:\WINDOWS\system32\drivers\_VOIDaabmetnqbf.sys
Use the following instructions to remove TDSS, Backdoor.Tidserv, Alureon trojan.
Download TDSSKiller from here and unzip to your desktop.
Open TDSSKiller folder. Double click the TDSSKiller icon to start scanning Windows registry for Rootkit TDSS. If it is found, the you will see a screen similar to the one below.
TDSSKiller
Type delete and press Enter. Once TDSSKiller has finished removing rootkit TDSS, you will see a windows as shown below.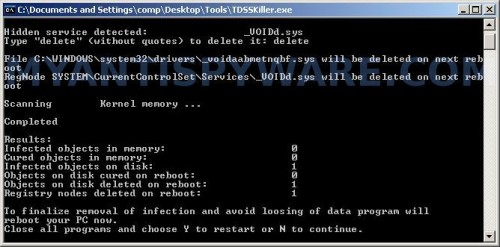 TDSSKiller
Type Y and press Enter. Your computer will be rebooted.
Download MalwareBytes Anti-malware (MBAM). Close all programs and Windows on your computer.
Double Click mbam-setup.exe to install the application. When the installation begins, keep following the prompts in order to continue with the installation process. Do not make any changes to default settings and when the program has finished installing, make sure a checkmark is placed next to Update Malwarebytes' Anti-Malware and Launch Malwarebytes' Anti-Malware, then click Finish.
If an update is found, it will download and install the latest version.
Once the program has loaded you will see window similar to the one below.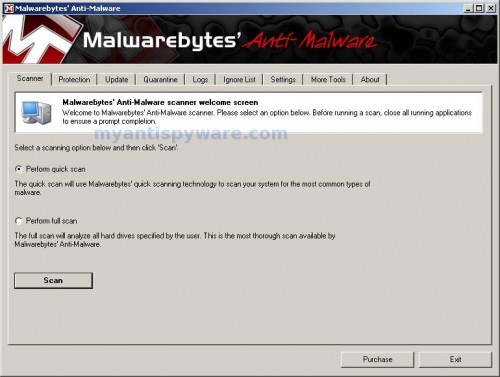 Malwarebytes Anti-Malware Window
Select Perform Quick Scan, then click Scan, it will start scanning your computer for TDSS, Backdoor.Tidserv, Alureon trojan infection. This procedure can take some time, so please be patient.
When the scan is complete, click OK, then Show Results to view the results. You will see a list of infected items similar as shown below. Note: list of infected items may be different than what is shown in the image below.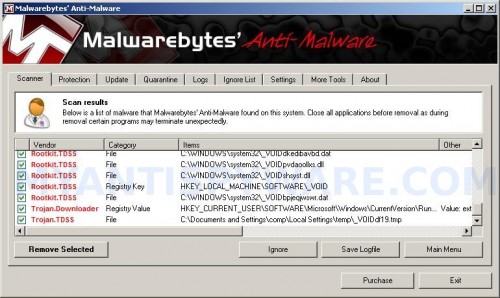 Malwarebytes Anti-malware, list of infected items
Make sure that everything is checked, and click Remove Selected for start TDSS, Backdoor.Tidserv, Alureon trojan removal process. When disinfection is completed, a log will open in Notepad and you may be prompted to Restart.
Note: if you need help with the instructions, then post your questions in our Spyware Removal forum.
TDSS, Backdoor.Tidserv, Alureon trojan creates the following files:
C:\Windows\System32\TDSS[RANDOM CHARACTERS].tmp
C:\Windows\System32\drivers\TDSS[RANDOM CHARACTERS].sys
C:\Windows\System32\TDSS[RANDOM CHARACTERS].sys
C:\Windows\System32\TDSS[RANDOM CHARACTERS].dat
C:\Windows\System32\TDSS[RANDOM CHARACTERS].log
C:\Windows\System32\TDSSserv.sys
C:\Windows\System32\TDSSerrors.log
C:\Windows\System32\TDSSservers.dat
C:\Windows\System32\TDSSl.dll
C:\Windows\System32\TDSSlog.
C:\Windows\System32\TDSSmain.dll
C:\Windows\System32\TDSSinit.dll
C:\Windows\System32\TDSSlog.dll
C:\Windows\System32\TDSSadw.dll
C:\Windows\System32\TDSSpopup.dll
TDSS, Backdoor.Tidserv, Alureon trojan creates the following registry keys and values
HKEY_LOCAL_MACHINE\SOFTWARE\TDSSserv
HKEY_LOCAL_MACHINE\SOFTWARE\TDSSserv\connections
HKEY_LOCAL_MACHINE\SOFTWARE\TDSSserv\disallowed
HKEY_LOCAL_MACHINE\SOFTWARE\TDSSserv\injector
HKEY_LOCAL_MACHINE\SOFTWARE\TDSSserv\versions
HKEY_LOCAL_MACHINE\SYSTEM\ControlSet001\Services\TDSSserv.sys