The latest in a string of fraudulent schemes is making rounds, this time involving a website called Usps.uspswq.com. This site is impersonating the United States Postal Service (USPS) and aims to deceive people expecting package deliveries. The scam operates by sending messages that prompt the recipient to visit Usps.uspswq.com under the guise of providing information about a parcel's delivery status. Such interactions are traps set to steal personal information or to lead to financial theft. In the forthcoming article, we'll dissect the mechanics of the Usps.uspswq.com scam, highlight how it differs from legitimate USPS communications, and give clear, actionable steps to ensure your personal security is not compromised.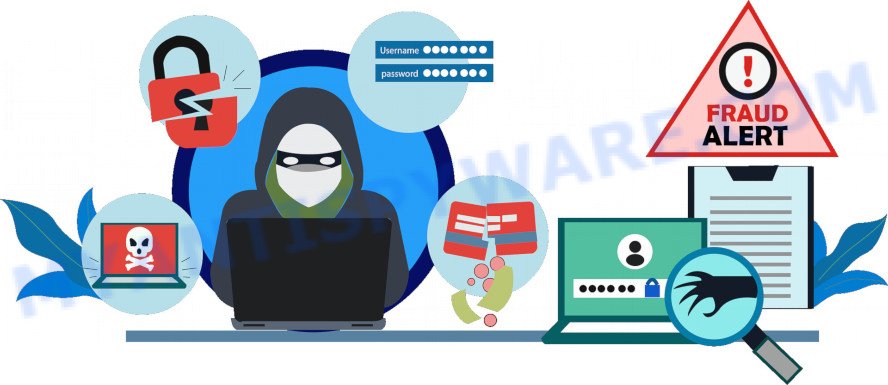 Table of Contents
What is Usps.uspswq.com – The Fake USPS Website
Usps.uspswq.com is a fraudulent website posing as an official platform for the United States Postal Service (USPS). It aims to deceive individuals by sending out text messages that claim the address on a package you're supposedly receiving is undeliverable. But there's a catch: it prompts you to pay a small fee ($1 – $3) to rectify the issue and complete the delivery. At first glance, this may seem like a minor inconvenience, and many might be tempted to just pay the small fee to get their package. However, the real objective of the site is far more nefarious. It's designed to steal your personal information, including login credentials and credit card details, which could be used for identity theft or financial fraud.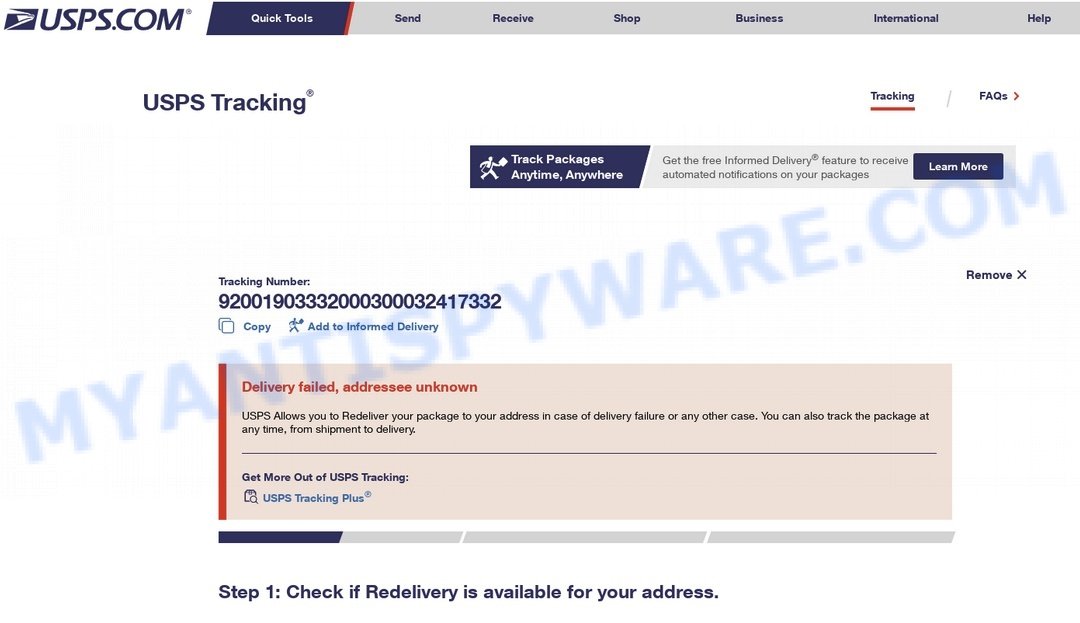 Signs of Usps.uspswq.com Phishing Scam
Unsolicited Text Message: If you receive a text message from USPS without any prior request or package order, it may be a scam.
Fake Tracking Number: The text message may contain a tracking number that you didn't request or expect.
Suspicious Link: The link provided in the text message might lead to Usps.uspswq.com or any other unfamiliar domain instead of the official USPS website.
Urgent Tone: The message may use urgency or fear tactics to prompt you to click the link immediately.
VirusTotal flagged Usps.uspswq.com as phishing and malicious: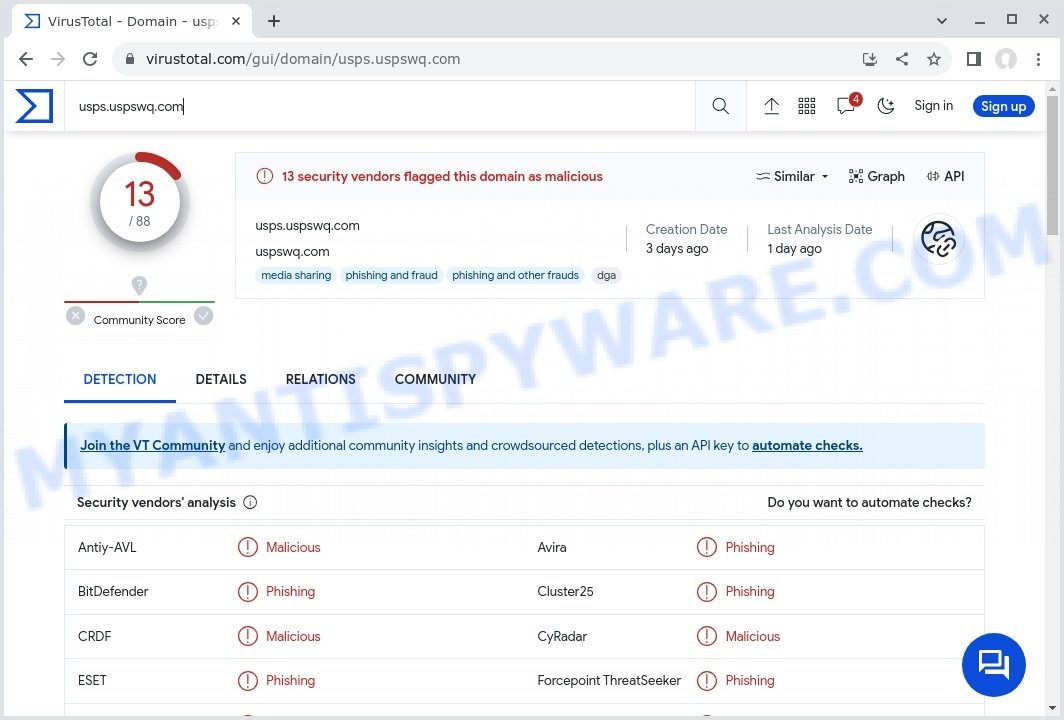 How Usps.uspswq.com Scam Works
The Usps.uspswq.com scam usually starts with a fake email or text that looks like it's from USPS. The message often says something urgent like "Package couldn't be delivered" or "Extra fee needed". It might also give you a fake tracking number to make it seem real. The scam operates on several fronts:
Scam Text Messages
Texts messages also appear to come from USPS and may include fake tracking numbers to add a veneer of legitimacy. Typical messages may say:
The USPS package has arrived at the warehouse and cannot be delivered due to incomplete address information. Please confirm your address in the link. www.uspscd.com (Please click the link to open) The USPS team wishes you a great day!
USPS – Your package has incorrect shipping information, please change it or it will be sent to the wrong address. Usps.uspswq.com.
USPS: the arranged delivery for the shipment 7z5A126 got changed. Please confirm here: Usps.uspswq.com.
USPS: Pay $1.76 extra for delivery by Monday at Usps.uspswq.com.
Scam Emails
These are crafted to look as if they're from USPS's official email address. The subject often states there's been an "unsuccessful delivery attempt" or that your "shipping details need to be updated". Inside the email, you'll find false issues related to:
Shipping address errors
Failed delivery attempts
Labeling problems
Additional fees
Customs clearance issues
Visiting the Fake Website
Once you click the link, you're directed to Usps.uspswq.com, a lookalike of the real USPS site. Here, you're prompted to enter personal and financial details, ranging from your name and address to your credit card's CVV code. After entering your information, an "error" message usually appears, asking you to contact customer service—a clever ruse to gather even more data from you.
The primary objective of Usps.uspswq.com is to collect your information for identity theft or financial fraud, all while you believe you're resolving a genuine delivery issue. Be vigilant and protect yourself against such scams.
What to Do If Scammed 😱
If you think you've been tricked by the Usps.uspswq.com scam, don't panic! Here are some steps you can take:
1. Stop All Interaction 🛑
If you're still in contact with the scam website, stop immediately. Don't provide any more information.
2. Alert Your Bank 💳
Contact your bank or credit card provider right away to tell them what happened. They can help you take steps to protect your account.
3. Change Passwords 🔒
Change the passwords for your online accounts, especially for email and any financial services you use.
4. Monitor Your Accounts 👀
Keep a close eye on your bank and credit card statements for any strange transactions.
5. File a Report 🚨
Report the scam to the US Postal Inspection Service at https://www.uspis.gov/report, the Federal Trade Commission (FTC) at reportfraud.ftc.gov and to the Internet Crime Complaint Center (IC3) at ic3.gov. This helps stop the scammers and protects others.
6. Alert Others 🗣️
Tell your friends and family about the scam so they can be on the lookout and not fall for the same trick.
7. Be Extra Cautious Moving Forward ⚠️
Use this experience as a lesson. Always double-check any unexpected messages about deliveries or fees, especially if they ask you for personal information or money.
Examples of such scams
Unfortunately, the Usps.uspswq.com Scam is not the only one of its kind. There are several other similar scams that fraudsters use to trick people into giving away their personal information and money. In this section, we will take a look at some of the other scams that you need to be aware of. By being informed, you can better protect yourself and your loved ones from falling victim to these scams.
Here are some examples of such scams: Financial Hardship Department Scam Email, Cash Settlement Awarded Email Scam, and Geek Squad Email Scam.
How to Avoid Falling Victim to Similar Scams 🛡️
Scams like Usps.uspswq.com may come and go, but new ones pop up all the time. Here's how you can stay safe:
1. Watch the Language 📝
Scams often have typos and weird phrases. Real companies use good spelling and grammar.
2. Check the Source 🧐
Don't click links in the message. Go to the real company's website yourself and ask them if the message is true.
3. Who Are They Talking To? 🤔
Real companies will call you by your name, not "Dear customer". Watch out for vague names in the message.
4. Don't Rush 🕰️
Scammers want you to act fast without thinking. Take your time before you click any links or give info.
5. Check the Links 🖱️
Hover over links to see where they really go. The real URL will show up at the bottom-left of your browser. Make sure it starts with "https://" and matches the company's real website. For extra safety, use a URL checker tool online (urlscan.io) to make sure the link isn't known for scams.
6. Keep Personal Info Safe 🔒
Never give passwords, credit card numbers, or Social Security numbers in an email or text.
7. Use Security Tools 🔐
Use antivirus software and turn on a firewall. These can spot scams and block bad websites.
8. Block Spam 🚫
Set your email to filter out scam messages so you don't even see them.
By following these tips, you can better protect yourself from falling for scams like these in the future. 🛡️
Summary Table for Usps.uspswq.com Phishing Scam
| | |
| --- | --- |
| Name: | Usps.uspswq.com Phishing Scam |
| Type: | Phishing Scam Impersonating USPS |
| Damage: | Potential Identity Theft, Financial Fraud |
| Distribution: | Email, Text Messages, Scam websites |
| Tactics: | Impersonating USPS, Sending Fake Tracking Numbers, Using Urgency |
| Prevention Tips: | Avoid clicking suspicious links, Verify with USPS directly, Report phishing messages, Educate yourself about common scams |
| Reporting Info: | Report the scam to USPS and relevant authorities |
Conclusion
Usps.uspswq.com emails and text messages aim to trick you by mimicking the real USPS. These scams are designed to make you act fast and without thinking, but you have the power to stop them in their tracks. By taking the time to check URLs carefully, using URL checker tools, and being aware of the signs of a scam, you're doing your part to protect not just yourself but others who could fall victim. So, the next time you get a "urgent" message about a package, take a moment to think: is this the real USPS or someone trying to scam me? Stay smart, stay safe. 🛡️