Beware of the Beast-surf.com scam! This site is yet another fraudulent attempt to deceive people into participating in a fake Mr Beast Giveaway. It lures visitors in with a similar message promising free cash prizes, but it is only a trap to steal personal information.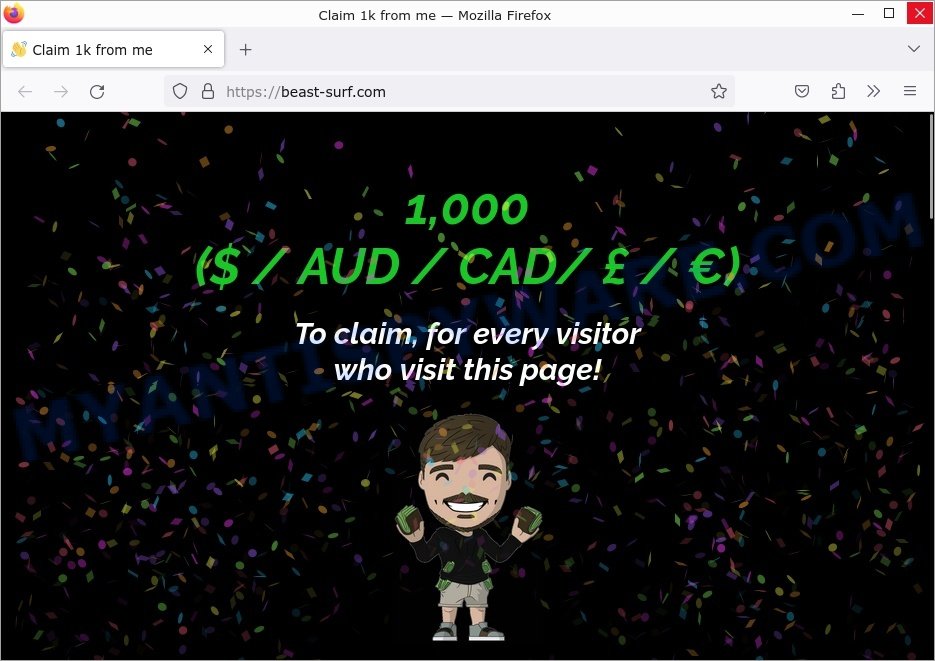 The Beast-surf.com scam operates similarly to other Mr Beast Giveaway scams. The site displays a message stating that every visitor will receive a substantial cash prize if they follow the instructions on the page. The instructions often involve clicking on a "CLAIM REWARD" button, downloading sponsor applications or completing sponsor tasks, and providing personal information, including bank account or PayPal credentials.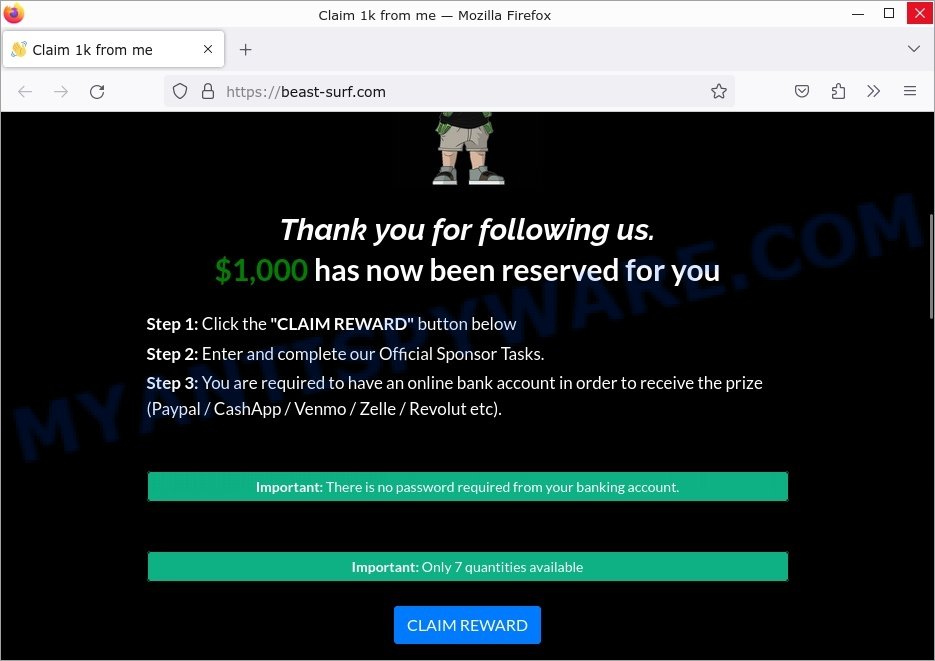 However, the site is a phishing attempt designed to trick visitors into giving away their personal information. The scammers behind the Beast-surf.com scam use misleading ads to direct visitors to their fake website. They create a sense of urgency by presenting a countdown timer, suggesting that visitors have a limited time to claim their reward. However, the "CLAIM REWARD" link is a trap that redirects visitors to a phishing webpage that harvests their personal data.
To protect yourself from falling victim to the Mr Beast Giveaway Scam or any other online scam, it's important to stay informed and cautious when browsing the internet. If you have encountered the Beast-surf.com website or any suspicious Mr Beast Giveaway ads, be sure to report them to the relevant authorities.
For a comprehensive guide on how the Mr Beast Giveaway Scam works and tips on how to protect yourself, be sure to check out our article on the topic Mr Beast Giveaway Pop-Up Scam: How to Identify and Avoid the Latest Online Scam. Stay vigilant and always remember to think twice before clicking on any links or providing personal information online.
Examples of such scams
Unfortunately, the Beast-surf.com scam is not an isolated case. There have been numerous scams in the past that have used similar tactics to prey on unsuspecting individuals. These scams often involve promises of easy money or prizes in exchange for completing certain tasks or providing personal information. Here are some examples of such scams that you should be aware of:
Shein Summer Giveaway Scam, Guinness Father's Day Giveaway Scam, and Gordon Ramsay HexClad Cookware Giveaway Scam.