If you've ever managed a Facebook page, you're likely familiar with the unsettling feeling of receiving an unexpected notification claiming that your page has been disabled due to alleged violations. Enter the 'Your Page Has Been Disabled' Scam, a cunning scheme where scammers impersonate "Meta Business Support" and send messages demanding immediate action to prevent your page from being permanently taken down. The truth? It's a well-orchestrated hoax designed to deceive. In this article, we'll dissect the mechanics of this scam, expose its red flags, and provide you with practical steps to safeguard your online presence. Keep reading to empower yourself against this and similar online threats. Don't be a victim – read on to stay safe!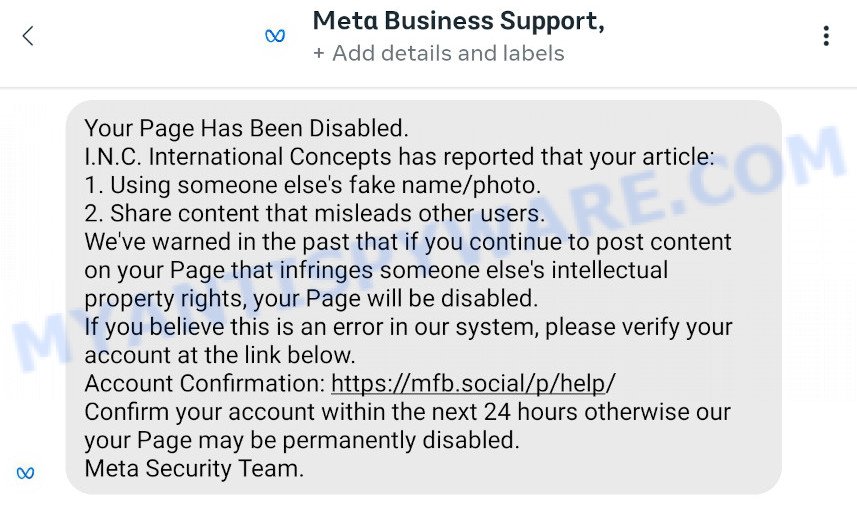 Quick links:
🚫 What is the 'Your Page Has Been Disabled' Scam?
The 'Your Page Has Been Disabled' Scam is a malicious attempt to deceive Facebook users, particularly those who manage pages on the platform. In this scheme, scammers impersonate trusted entities like "Meta Business Support", sending out unsolicited messages to unsuspecting victims.
📩 Where the Scam Begins
The scam starts with a seemingly official message, appearing to be from "Meta Business Support". It falsely claims that your Facebook page has been disabled due to alleged violations. Here's an example of what such a message might look like:
📬 Message
Sender: Meta Business Support,

Your Page Has Been Disabled.
I.N.C. International Concepts has reported that your article:
1. Using someone else's fake name/photo.
2. Share content that misleads other users.
We've warned in the past that if you continue to post content on your page that infringes someone else's intellectual property rights, your Page will be disabled. If you believe this is an error in our system, please verify your account at the link below. Account Confirmation: hxxps://mfb.social/p/help/
Confirm your account within the next 24 hours, otherwise, your Page may be permanently disabled.
Meta Security Team.
🚩 Signs that this Message is a Scam
To recognize the scam, watch out for these telltale signs:
Unsolicited Message: If you receive such a message out of the blue, without any prior contact with Facebook or Meta, it's suspicious.
Pressure and Threats: Scammers create a sense of urgency by threatening to permanently disable your page within a short timeframe, often 24 hours.
Suspicious Links: The message contains a link like https://mfb.social/p/help/, which may appear convincing but is designed to steal your information.
Grammar and Spelling Errors: Scam messages often contain grammatical and spelling mistakes, revealing their illegitimate nature.
🧭 What Happens When You Click on a Link in a Scam Message
Clicking on the link provided in the scam message takes you to a fake web page. This page closely mimics a legitimate Facebook or Meta page and asks you to confirm your account. However, it's a trap! Scammers aim to capture your login credentials.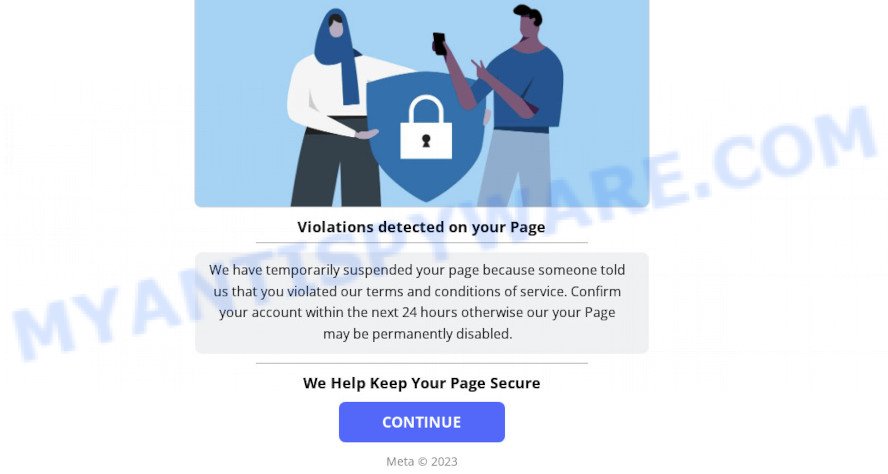 ---
In conclusion, the 'Your Page Has Been Disabled' Scam is a devious ploy to trick Facebook page managers. To stay safe, be alert, double-check message authenticity, avoid clicking on suspicious links, report scams to Facebook, and educate yourself about online security. Always remember that genuine companies won't ask for account confirmation via unsolicited messages or shady links. Stay safe online! 🛡️
🤔 What to Do If You Receive the 'Your Page Has Been Disabled' Message
Receiving the 'Your Page Has Been Disabled' message can be unsettling, but it's crucial to respond wisely to protect your Facebook account and personal information. Here's what you should do:
1. 🚫 Do Not Panic
Maintain your composure, as scammers often use fear and urgency to manipulate victims.
2. 🕵️ Verify the Sender
Check the message sender's details. Ensure it's from a legitimate source like Facebook or Meta. Remember that official communications are usually sent through recognized channels.
3. 🤚 Don't Click on Suspicious Links
Avoid clicking on any links within the message, especially if they seem unusual or contain misspellings.
4. 📧 Report the Message
Report the suspicious message directly to Facebook. They can investigate and take action against the scammer's account.
5. 🧰 Secure Your Account
Change your Facebook password immediately, especially if you've already clicked on the link. Use a strong, unique password.
6. 🔐 Enable Two-Factor Authentication (2FA)
If you haven't already, activate 2FA for your Facebook account. This adds an extra layer of security.
7. 📢 Educate Others
Share your experience with friends and family to raise awareness about this scam and help others stay safe online.
8. 📞 Contact Official Support
If you have concerns about the message's legitimacy, reach out to Facebook or Meta's official support through their website or customer service channels. They can confirm whether there are actual issues with your page.
9. 🧠 Stay Informed
Stay updated on common online scams and phishing tactics. Knowledge is your best defense against cyber threats.
---
By following these steps, you can safeguard your Facebook account and reduce the risk of falling victim to the 'Your Page Has Been Disabled' scam. Remember, staying vigilant and informed is key to protecting yourself in the digital age. 🛡️💻
Examples of such scams
Scams using emotional manipulation and fake news are unfortunately common tactics used by cybercriminals to exploit people's vulnerabilities and steal money or personal information. The "Your Page Has Been Disabled" scam is just one example of such schemes. These scams often rely on shock value or sensational claims to get people to click on a link or provide sensitive information. Below are some other examples of similar scams to watch out for.
Here are some examples of similar scams: Your iPhone Has Been Hacked Scam, Just Died In An Accident Scam, 'Hi Mum' Scam, I sent you an email from your account Scam, and Financial Hardship Department Scam.
🚨 How to Report the 'Your Page Has Been Disabled' Scam on Facebook Messenger?
If you encounter the 'Your Page Has Been Disabled' scam on Facebook Messenger, it's crucial to report it promptly to protect yourself and others from falling victim to the scam. Here's a step-by-step guide on how to report the scam on Facebook Messenger:
📱 Open the Messenger App: Launch the Facebook Messenger app on your mobile device or visit the Messenger website on your computer.
💬 Locate the Scam Message: Find the message that you suspect is part of the scam. Tap on the conversation containing the suspicious message to open it.
📌 Long Press the Message: To select the message for reporting, long-press on the scam message within the conversation.
🚩 Report as Spam: A menu will appear at the bottom of the screen. Among the options, you'll see "Report as Spam." Tap on this option to start the reporting process.
📝 Provide Additional Details: Facebook may ask you to provide additional details about the message or the sender. Follow the on-screen instructions and provide any requested information.
✅ Confirm the Report: After providing the necessary details, review your report to ensure accuracy. Once you're satisfied, confirm the report.
✔️ Report Submitted: You'll receive a confirmation that your report has been submitted to Facebook's security team.
🛡️ Monitor for Updates: Facebook will investigate the reported message, and if it's indeed a scam, they will take appropriate action against the sender's account. Monitor your Messenger for any updates or notifications related to the report.
By reporting the 'Your Page Has Been Disabled' scam on Facebook Messenger, you play a vital role in helping Facebook identify and address fraudulent activity, making the platform safer for all users. Reporting scams promptly is a responsible and effective way to combat online threats.
Summary table
Scam Name
'Your Page Has Been Disabled' Scam
Targeted Platform
Facebook
Scam Description
Scammers impersonate official sources, claim page violations, and demand action.
Initiation
Unsolicited messages, often from "Meta Business Support".
Scam Message Content
False claims of page violations, threats of permanent disablement, and links to fraudulent websites.
Red Flags
– Unsolicited message
– Pressure and threats
– Suspicious links
– Grammar and spelling errors
Recommended Actions
– Don't panic
– Verify sender
– Don't click suspicious links
– Report the message
– Secure your account
– Enable 2FA
– Educate others
Reporting Process
Report the message within Facebook Messenger, providing details and following on-screen instructions.
Purpose of Reporting
To alert Facebook's security team, prevent further scams, and protect user accounts.
Safety Precautions
Stay vigilant, verify message authenticity, avoid clicking suspicious links, and educate yourself about online security.
Conclusion
The 'Your Page Has Been Disabled' Scam is a deceptive scheme that preys on Facebook users, particularly those managing pages on the platform. Scammers send unsolicited messages posing as "Meta Business Support" and falsely claim page violations, creating a sense of urgency with threats of permanent disablement.
Recognizing the warning signs, such as unsolicited messages, pressure tactics, suspicious links, and language errors, is crucial for staying safe online. Clicking on the scam message's link can lead to the theft of login credentials and potential account compromise.
Taking immediate action is vital when encountering this scam: report the message, secure your account, enable two-factor authentication (2FA), and educate others to prevent further victimization.
By staying vigilant and informed, you can protect your online presence and contribute to a safer digital community. 🛡️💻