Recently, a new text message phishing scam has been circulating that misuses the name of a Canadian furniture wholesaler. If you have come across this scam and are unsure of what is happening, it is important to understand the details.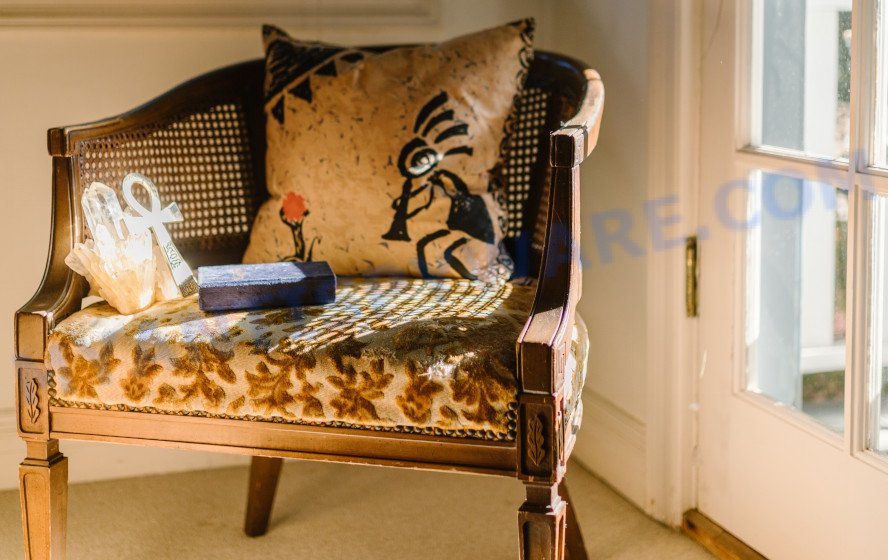 Phishing scams are fraudulent attempts to obtain sensitive information, such as passwords, credit card numbers, or bank account information, by disguising as a trustworthy entity. In this particular case, scammers are using the name of a well-known furniture wholesaler in Canada to trick individuals into believing they are receiving a legitimate message from Amazon. By doing so, they hope to obtain sensitive information or convince people to make payments for products or services that will not be delivered. To protect yourself from such scams, it is crucial to be vigilant and educate yourself about the common tactics used by scammers.
QUICK LINKS
Lilola Recliner Scam Explained
Lilola Recliner Scam is one of many that have emerged in recent years, all of which are related to Amazon in some way. The tactics used by these scammers are diverse and constantly evolving, but they often involve tricking people into giving up sensitive information or paying for goods or services that will never be received. Some common forms of Amazon-related scams include fake customer service calls, phishing emails, and counterfeit product listings. These scams can be very convincing and may appear to come from a trusted source, making them especially dangerous.
A Lilola Recliner Scam Text:
Your 0rder APPX-OL187482 for LILOLA RECLINER is Dispatch, 504 USD.will be taken from your card. Call Help-Desk 18053943494 to change or Cancel
Here is a step-by-step explanation of how Lilola scam works
A victim receives an SMS message that appears to be from Lilola, Amazon or one of its affiliates.
The message includes a phone number that the victim is encouraged to call.
The scammer on the other end of the line will pretend to be a representative of Lilola, Amazon or one of its affiliates.
The scammer will request sensitive information from the victim, such as passwords, credit card numbers, or bank account information.
The scammer may also offer a false deal or offer that seems too good to be true, such as a discounted product or gift card.
The scammer may request payment for a product or service that will never be delivered, or may use the payment information to make unauthorized purchases.
It is important to remember that Amazon and its affiliates will never initiate contact through an unsolicited SMS message and request sensitive information. If you receive a message that appears to be from Amazon, do not call the number provided and instead verify the source through official channels.
Lilola Recliner Text Scam Examples
Here are some illustrations of what these fraudulent text messages appear as.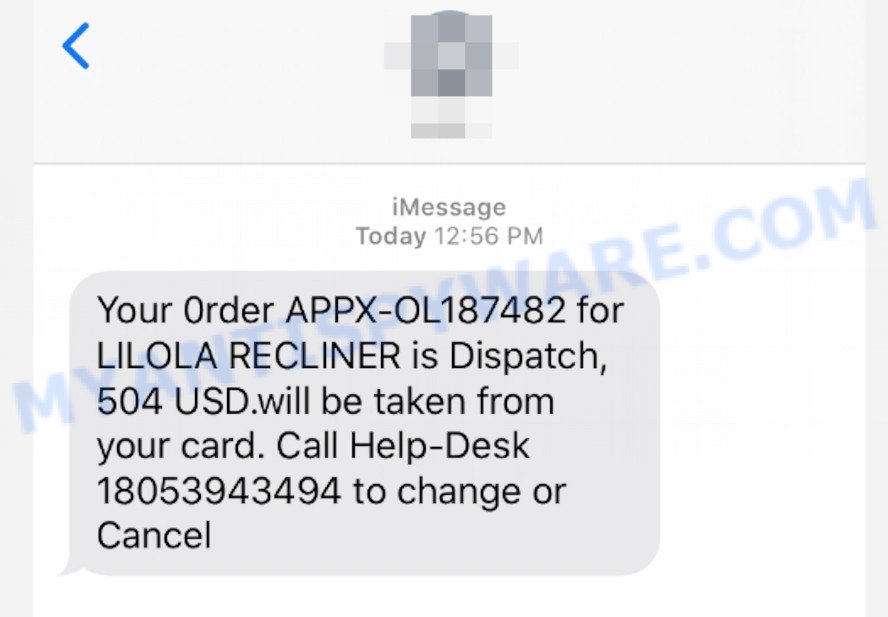 Most Lilola Recliner scam text messages will have a fake Amazon order number, just like the ones shown in the examples. However, not all of them do. Regardless, the goal is always the same – to trick you into paying for something you never ordered or giving away sensitive information. The messages usually contain a fake payment reference and a scam phone number. Be cautious and don't give away personal information unless you're sure the source is legitimate.
Examples of such scams
The Lilola Recliner Scam Text is just one of the many types of scams that exist. In some emails and text messages, scammers use threats to intimidate and bully a victim into paying, others contain links to malicious files. Mikrotik LLC PayPal Scam, Unfortunately, there are some bad news for you, PNC Scam Text Frozen Account Message, Your Package Cannot Be Delivered text, Whatsapp Scam, Geek Squad EMAIL SCAM are some of the scams we reported recently.
How to Spot Amazon-related Scams
Here are some ways to identify and avoid Amazon-related scams:
Verify the sender
Amazon and its affiliates will only contact you through official email addresses and phone numbers, so be wary of messages from unknown or suspicious sources.
Check for typos or grammatical errors
Scammers often use poor grammar and make spelling errors in their messages, which is a red flag.
No unsolicited requests for personal information
Amazon and its affiliates will never request sensitive information such as passwords, credit card numbers, or bank account information through an unsolicited message.
Unusual payment request
If you are asked to pay for an order outside of Amazon's official payment channels, it is likely a scam.
Too good to be true
If a deal or offer seems too good to be true, it probably is. Scammers may offer free or heavily discounted products or gift cards in exchange for payment or personal information.
Verify with Amazon
If you're unsure about a message, you can contact Amazon directly to verify its authenticity.
What to do when you receive a scam text
If you receive the Lilola Recliner scam text message, here's what you should do:
Do not respond to the message or call the number, as this may only confirm that your phone number is active and increase the likelihood of receiving further scams.
If possible, block the number to prevent future unsolicited messages.
Log in to your Amazon account to verify if any unauthorized orders or transactions have been made.
If you suspect that your Amazon account has been compromised, contact Amazon customer service immediately.
Save a copy of the scam text message, including the phone number, in case you need it for future reference or to provide to law enforcement.
Let your friends, family, and social media followers know about the scam and how to avoid it.
Report the scam text message to your mobile carrier, as they may have systems in place to track and stop these scams. You can also report it to Amazon.
Do not provide personal or financial information to anyone who contacts you unsolicited, even if they claim to be from Amazon.
By following these steps, you can help prevent becoming a victim of the scam and protect your personal information.
Threat Summary
| | |
| --- | --- |
| Name | Lilola Recliner Scam Text |
| Type | Amazon-related Scam, Phishing, Social Engineering |
| Fake Claims | Your Order APPX-xxxxxxx for LILOLA RECLINER is Dispatch, XXX USD will be taken from your card, Call Help-Desk to change or Cancel |
| Scammers' Phone Numbers | 18053943494, 16124250106, 18053943494, 802 200 0806, 860-507-9036, 18604678374, 18605079036 |
| Damage | theft of your sensitive information (Amazon login credentials or payment information), significant financial loss, identity theft and further fraud |
| Distribution methods | SMS spam campaigns |
Report a Scam
If you have received the Lilola Recliner SCAM text or a fake Amazon message that is similar but not the same as the example above, then post it as comment on this article. Please include the telephone number the text came from. This helps us to warn users about current scams, monitor trends and disrupt scams where possible.