What is I have e-mailed you from your account EMAIL?
Have you recently noticed that I have e-mailed you from your account is a 'sextortion' scam that relies on psychological manipulation tactics. The scammers claim that they obtained material compromising victims' reputations. It should be emphasized that any statements, claims and threats contained in the 'sextortion' scams are false and should be ignored. Criminals usually contact potential victims through email, but in some cases, criminals can use online web forms, whatsapp and sms messages.

QUICK LINKS
The Scam in detail
The email is an example of a common sextortion scam. The email falsely claims that the victim's computer has been infected with a Trojan virus that allows the attacker to have full control over the computer, including recording video from the camera. The email further claims that the attacker has recorded a video of the victim masturbating while browsing porn sites and threatens to release the video to the victim's social networks and email contacts unless the victim pays a ransom to the provided bitcoin address.
There are many similar scams that follow a similar pattern, with attackers claiming to have hacked the victim's computer and webcam and demanding a ransom to prevent the release of compromising material. Attackers may claim to have gained access through malware on adult websites, exploiting vulnerabilities in software such as Zoom or Pegasus, or obtaining login credentials from hackers.
Victims are typically given a deadline of 24 to 48 hours to pay the ransom in Bitcoin. The emails may also claim that the attacker has stolen the victim's contact information and social media credentials and will release compromising materials to their contacts if the ransom is not paid.
These types of scams are typically sent out in large spam campaigns via email, but scammers are also evolving their methods to avoid detection. They may personalize their messages and avoid including links or attachments to bypass security measures. It is important to recognize these scams as fraudulent and to avoid responding to them or sending any money. Victims should report the scam to their email provider and delete the email, and may also want to run a virus scan on their computer to ensure it has not been infected with malware.
A typical "Have you recently noticed that I have e-mailed you from your account" scam email reads as follows:
Hello!
Have you recently noticed that I have e-mailed you from your account?
Yes, this simply means that I have total access to your device.

For the last couple of months, I have been watching you.
Still wondering how is that possible? Well, you have been infected with malware originating from an adult website that you visited. You may not be familiar with this, but I will try explaining it to you.

With help of the Trojan Virus, I have complete access to a PC or any other device.
This simply means I can see you at any time I wish to on your screen by simply turning on your camera and microphone, without you even noticing it. In addition, I have also got access to your contacts list and all your correspondence.

You may be asking yourself, "But my PC has an active antivirus, how is this even possible? Why didn't I receive any notification?" Well, the answer is simple: my malware uses drivers, where I update the signatures every four hours, making it undetectable, and hence keeping your antivirus silent.

I have a video of you wanking on the left screen, and on the right screen – the video you were watching while masturbating.
Wondering how bad could this get? With just a single click of my mouse, this video can be sent to all your social networks, and e-mail contacts.
I can also share access to all your e-mail correspondence and messengers that you use.

All you have to do to prevent this from happening is – transfer bitcoins worth $1450 (USD) to my Bitcoin address (if you have no idea how to do this, you can open your browser and simply search: "Buy Bitcoin").

My bitcoin address (BTC Wallet) is: 1A2BsswHPrE2RvUusSQY4w53P1WjuUdpbN

After receiving a confirmation of your payment, I will delete the video right away, and that's it, you will never hear from me again.
You have 2 days (48 hours) to complete this transaction.
Once you open this e-mail, I will receive a notification, and my timer will start ticking.

Any attempt to file a complaint will not result in anything, since this e-mail cannot be traced back, same as my bitcoin id.
I have been working on this for a very long time by now; I do not give any chance for a mistake.

If, by any chance I find out that you have shared this message with anybody else, I will broadcast your video as mentioned above.
Should you pay?
No, you should not pay the ransom demanded in a sextortion scam email. The threats made in the email are baseless and are designed to intimidate and scare you into paying. Remember that scammers often use fake videos and do not actually have access to your device or personal information. Paying the ransom will only encourage the scammer to continue their fraudulent activities, and there is no guarantee that they won't demand even more money in the future.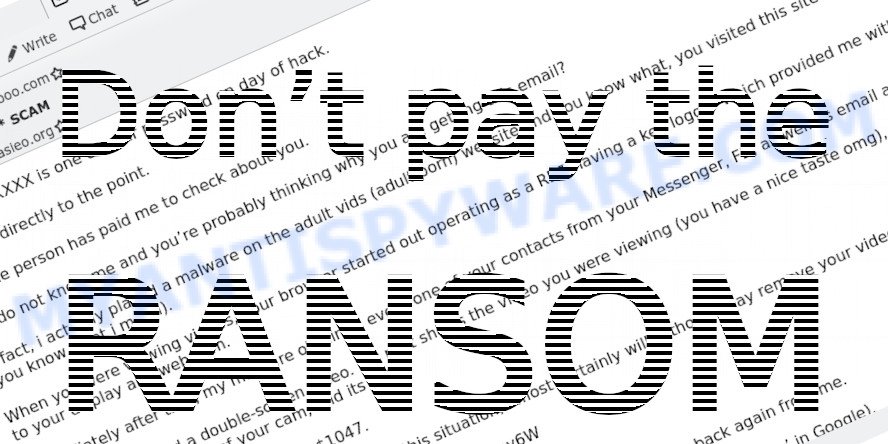 The best course of action is to ignore the scam email, delete it, and report it to the relevant authorities. It's also a good idea to take steps to protect your computer and personal information, such as installing reputable antivirus software and using strong passwords.
Threat Summary
| | |
| --- | --- |
| Name | Have you recently noticed that I have e-mailed you from your account SCAM |
| Type | Phishing, Bitcoin Email Scam, Fraud, Scam |
| Ransom amount | $1450, $950, $1450, $1650 |
| Bitcoin Address | 1KRBGGiiVLq5zNkBtp5LYnKWtD3tSKdMSJ, 15WXLWo8mH79dJiUiHJ7UMgrpXD33ky9XU, 1LrQJeowKsXbuPSJWVnVqz3Y79EftJSPt7, 1P3eUgQzL12tDo2oh9csyo7HFxLer8vJsG, 1D8qdtNLNbvugZyMYUyhzcGiCdFinxHgtH, 1AbhXaiFxR52NDTrjAtzsdyhooVNoVchy1, 15KLVjRbmKGsvGkAeJAxMLoN8iAn9agFNf, 1Lsx7zGBeJSZCAv7zRu128Ho8K6uRKHVnt, 1A2BsswHPrE2RvUusSQY4w53P1WjuUdpbN |
| Distribution method | spam email campaigns |
| Removal | If you gets an email like Have you recently noticed that I have e-mailed you, our computer security experts recommend follow some easy steps below |
Examples of such scams
There are many sextortion scams circulating via email. Scammers often change the content of emails in order to deceive victims and bypass the security system. Unfortunately, there are some bad news for you, Settle your debt in order to avoid additional fees, I have to share bad news with you are other examples of sextortion scams. Such emails are also often used to distribute ransomware, trojans, worms and other malware.
What to do when you receive the Have you recently noticed that I have e-mailed you SCAM
We advice to someone who gets this fraudulence message:
Do not panic.
Do not pay a ransom.
Do not reply.
Don't open any attachments. It might contain malware.
If there's a link in the scam email, do not click it, otherwise you could unwittingly install malware or ransomware on your computer.
Report the email spam to the FTC at https://www.ftc.gov/
Scan your computer for malware.
Install an anti-phishing software.
If you suspect that your computer is infected with spyware, you accidentally clicked on a link in the scam email, or just want to scan your computer for malware, then use one of the free malware removal tools.
How to spot a phishing email?
Phishing emails often share common characteristics; they are designed to trick victims into clicking on a phishing link or opening a malicious attachment. If you know these characteristics, you can detect phishing emails and prevent identity theft.
Here are some ways to recognize a phishing email
Inconsistencies in Email Addresses. The most obvious way how to spot a scam email is finding inconsistencies in email addresses and domain names. If the email claims to be from a reputable company, like Amazon or PayPal, but the email is being sent from a public email domain, such as "gmail.com" it's probably a scam.
The domain name is misspelt. Look carefully for any subtle misspellings in the domain name. Like arnazon.com where the "m" has been replaced by "rn", or paypa1.com, where the "l" has been replaced by "1". These are common tricks of scammers.
Generic greetings. If the email starts with a generic "Dear", "Dear sir" or "Dear madam" that is a warning sign that it might not really be your shopping site or bank.
Suspicious links. If you have the slightest suspicion an email may be a scam, do not click on the links you see. Instead, hover over the link, but don't click it. This will pop up a small box that contains the actual URL. This works on image links as well as text links.
Unexpected attachments. Email attachments should always be verified before clicking. Any attachments should be scanned for viruses – especially if they have an unfamiliar extension or one commonly associated with malware (.zip, .exe, .scr, etc.).
The email creates a sense of urgency. Creating a false sense of urgency is a common trick of phishing emails. Be suspicious of emails that claim you must call, open an attachment or click a link immediately.
Report Scam Email
If you receive a scam email that is similar but not the same as the example above, make sure you remove any personal info in this message, then post it as comment on this article. This helps us to warn users about current scams, monitor trends and disrupt scams where possible.