Is Lnkshort.ru a Scam?
Lnkshort.ru Whatsapp Scam is a phishing scam that is similar to this Whatsapp Scam, which we analyzed earlier. Victims receive a link in a chat (WhatsApp or Telegram), often from friends, as scammers use the Chain-letter method, click on the link and find a familiar image of the Albert Heijn brand with an inviting message: Gefeliciteerg! Je hebt de prijs gewonnen 800€ Albert Heijn cadeaukaarten.
Of course, it's all fake. Albert Heijn is not running a giveaway on Whatsapp (Telegram) and is not associated with the Lnkshort.ru site in any way. Lnkshort.ru scam is used to trick users into giving away their personal information and even financial information.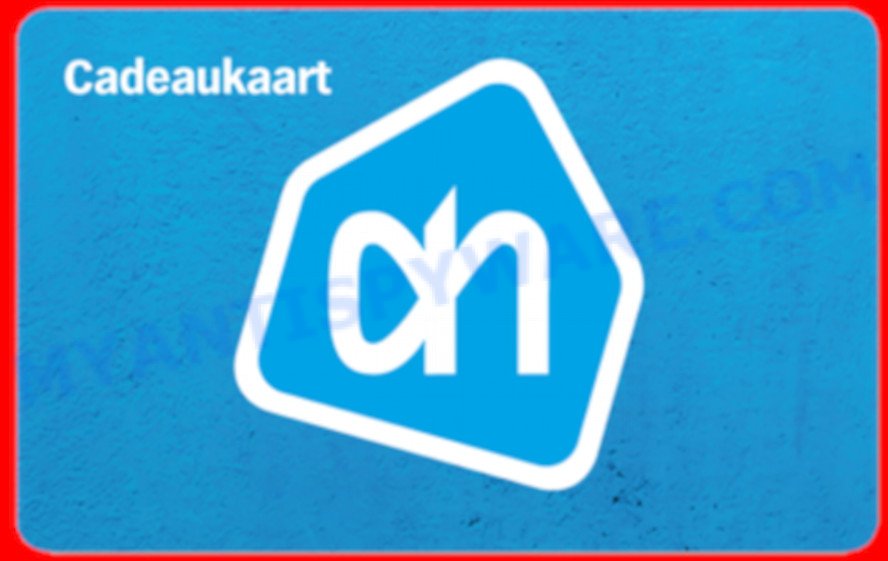 QUICK LINKS
Lnkshort.ru Whatsapp Scam in detail
Lnkshort.ru phishing campaign uses an offer of a free 800€ gift card (and other tempting offers) as bait in an attempt to lure people into clicking a malicious link. This activity has been seen since December 2022. In this case, the scam uses the Albert Heijn brand as its bait. The message, which is delivered via WhatsApp, suggests that Albert Heijn is offering free 800€ gift cards.
Lnkshort.ru Whatsapp Scam Text Message: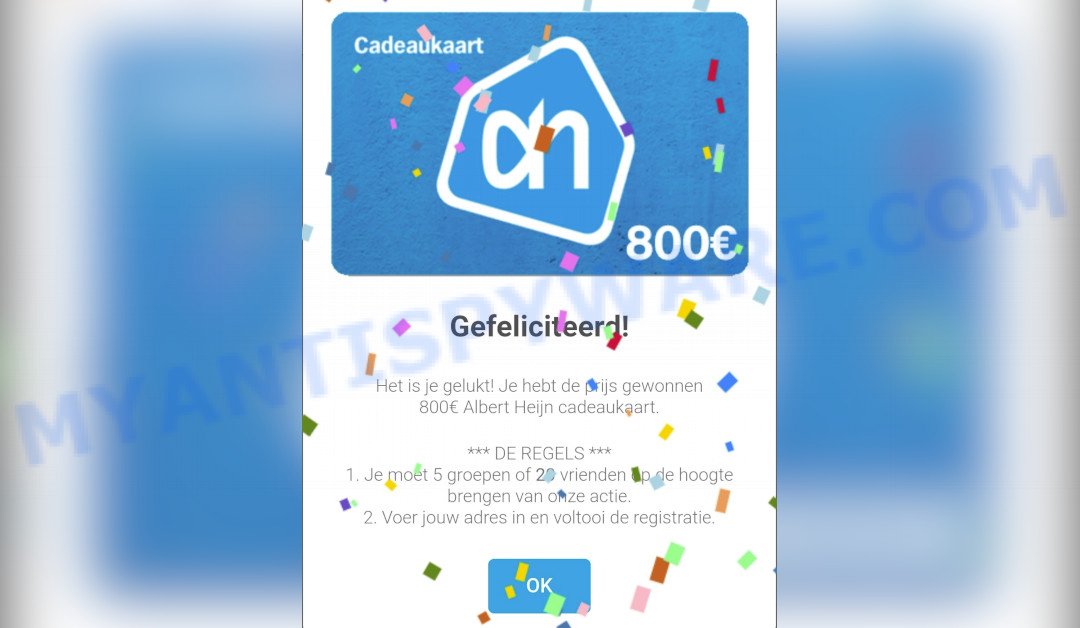 Once the malicious link (which is part of the message) is clicked, it triggers a few checks using JavaScript code that validates whether the request is coming from a mobile device, such as a smartphone. If validation passes, the website obtains geolocation data for the victim's IP address and, depending on the country, the victim may be redirected. If validation fails, the victim is redirected to a URL which displays a 404 error.
Text presented in the Lnkshort.ru scam message:
Gefeliciteerg!

Het is je gelukt! Je hebt de rijs gewonnen
800€ Albert Heijn Cadeaukaarten.

*** DE REGELS ** *
1 Je moét 5 groepen of 20 vrienden toge hoogte
brengen van ofze actie.
2. Voer jouw adres in en voltooi de registratie.
Google translate:
Congratulations!

You did it! You have won the row
800€ Albert Heijn Gift Cards.

*** THE RULES ** *
1 You must have 5 groups or 20 friends
bring or take action.
2. Enter your address and complete the registration.
If the validation is successful, the victim is redirected to a page that states that the user has a chance to receive a prize simply by taking a short and anonymous survey. After answering the questions, users are redirected to a site containing a form that they must fill out with their personal data. This information can be used to make fraudulent purchases and unauthorized transfers, sold to criminals on the dark web, or other malicious purposes. Moreover, the criminals can use stolen email addresses and phone numbers to send spam and malspam (spam emails containing malware or links to malware).
Is Lnkshort.ru Safe?
To summarize, Lnkshort.ru is not safe! It can lead to malware infection, financial losses, theft of personal data and other serious problems.
WhatsApp Scams – Similar to Lnkshort.ru:
Threat Summary
| | |
| --- | --- |
| Name | Lnkshort.ru Whatsapp Scam, "Lnkshort.ru spam", "Lnkshort.ru virus", "Lnkshort.ru malware" |
| Type | scam, phishing, fake alerts |
| Fake claims | Gefeliciteerg! Het is je gelukt! Je hebt de rijs gewonnen 800€ Albert Heijn Cadeaukaarten.; Congratulations! You have won the 800€ Albert Heijn Gift Card. |
| Phishing websites | Lnkshort.ru |
| Malicious links: | https://lnkshort.ru/ZzkaAAOP/, https://lnkshort.ru/ZGGKCQAy/, https:/lnkshort.ru/DNlnluui/#1671574473127/ |
| Distribution | Whatsapp,Telegram,Viber,Facebook, YouTube, Twitter, Instagram, deceptive ads, push notifications, adware, potentially unwanted apps |
| Symptoms | spam Whatsapp messages, fake security warnings, fake system messages, pop-up errors |
| Removal | Lnkshort.ru Whatsapp Scam removal guide |
Examples of such scams
The Lnkshort.ru scam is not the only scam on the Internet that aims to trick victims into voluntarily providing account credentials, personal and/or financial information. We have already reported other similar scams such as Geek Squad EMAIL SCAM 2022, USPS Redelivery text Scam, Become a Netflix Video Tagger Scam, Chrome search contest 2022, You've made the 5-billionth search.
Why am i getting Lnkshort.ru spam text messages?
Usually, Whatsapp spam messages are not coming from another smartphone. They mainly originate from a computer and are sent to your smartphone via a Whatsapp messaging account. Some adware can infect your smartphone so it turns into a spam-sending machine. So, if your Whatsapp messenger displays or sends the Lnkshort.ru Whatsapp Scam regularly, then it is possible that Adware or PUAs are installed on your device.
Adware is type of malware that can cause problems for your Android device. It can generate numerous additional popup, banner, pop-under and in-text link advertisements; gather your personal data such as login details, online searches, etc; run in the background and drag down your Android OS running speed; give more chances for other adware, PUAs even malware to get on your mobile device. Usually, adware gets into smartphones as part of a bundle with free software, sharing files and other unsafe apps that users downloaded from the Web.
How to protect against Lnkshort.ru Whatsapp Scam?
To avoid becoming a victim of scammers, it is important to always keep in mind:
Don't reply directly to Lnkshort.ru message.
Don't click on any links in the Lnkshort.ru message.
Don't give out personal information.
Report spammers to WhatsApp.
Mark the Lnkshort.ru message as SPAM and delete it.
Scan your device for adware/malware/PUAs.
Install an anti-phishing software.
Remove Lnkshort.ru virus
If you suspect that your smartphone is infected with malware, you accidentally clicked on a link in the Lnkshort.ru scam, or just want to scan your device for malicious apps, then use this guide. You may find some minor differences in your Android device. No matter, you should be okay if you follow the steps outlined below: remove all suspicious and unknown apps, reset web browsers settings, run free malicious software removal utilities. Some of the steps below will require you to close this webpage. So, please read the step-by-step instructions carefully, after that bookmark it for later reference.
To remove Lnkshort.ru Whatsapp Scam pop-ups, please follow the steps below:
Remove unknown and suspicious apps
The best way to start removing Lnkshort.ru Whatsapp Scam pop-ups is to uninstall all unknown and suspicious apps. Using the standard features of Android, you can do it easily and quickly. This step, despite its simplicity, should not be missed, as removing unnecessary and suspicious apps, you can get rid of unwanted advertisements, browser redirects, malware, adware and viruses.
First of all, make sure that the Android phone does not have any apps running. To do this, open the list of running applications and remove all apps from it. Another option, just restart the phone, after which do not start anything.
Now you can start removing unnecessary apps. Open Android Phone settings, select APPS here. You will be shown a list of installed applications, similar to the one shown in the following example.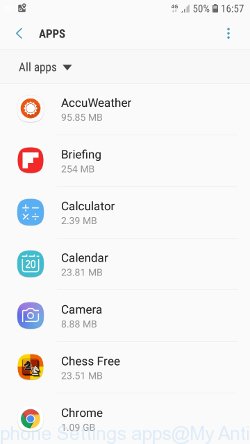 Several times, very carefully review this list, most likely one of the apps listed here is a virus, adware or malware that shows ads or installs unwanted games on your phone. To remove a suspicious app from Android Phone, just click on its name and select UNINSTALL in the window that appears, as shown in the figure below.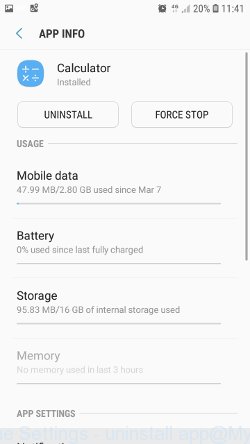 If you can not figure out what to delete and what to leave, use the following criteria for determining adware, malware and viruses. The app is suspicious if: it consumes a lot of memory (for example, it's called a calculator, and consumes hundreds of megabytes of memory), the app name is completely unfamiliar to you (check the app name through Google search), the app requires strange permissions (for example, a calculator requires permission to send sms and access to the address book). At this stage, you need to be even a bit suspicious than usual.
Remove push notifications
If you want to remove notifications (unwanted ads) from the notification area of your Android phone, you need to change some settings, which determines which websites can send you browser notifications. These notifications are often used to send various unwanted ads to Android device.
Tap 'Settings'.
Tap 'Notifications'.
Find and tap the internet browser (Chrome) that shows spam notifications.
Find unknown and suspicious websites, other rogue notifications and set the toggle button to 'OFF' on them one-by-one.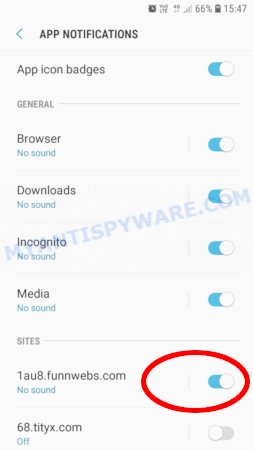 Remove Lnkshort.ru Whatsapp Scam pop-ups using Malwarebytes
Malwarebytes Mobile Security (Malwarebytes for Android) is a free app for phones running Android operating system. It can easily find and quickly remove viruses, potentially unwanted programs (PUPs), adware, trojans and other malicious software.
Download Malwarebytes, using the following link, and install it on your phone. After the application is installed, start it. You will see a window similar to the one shown in the example below.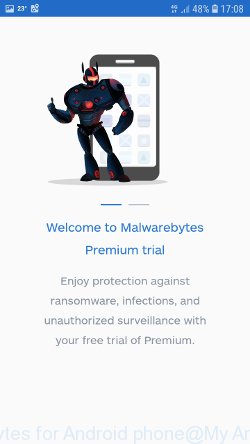 Read the information about the Malwarebytes for Android, and then click "Got it" button.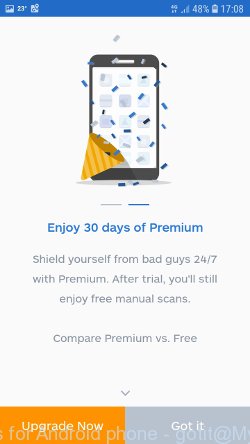 You will see the main window, as shown in the figure below. Click "Fix now" button.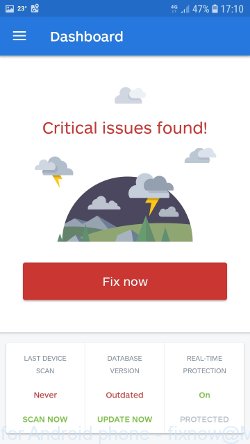 Malwarebytes will attempt to automatically update the virus database, and then immediately start the full scan procedure. In the process of scanning, Malwarebytes for Android will scan your phone for Trojans, spyware, viruses and other malicious programs.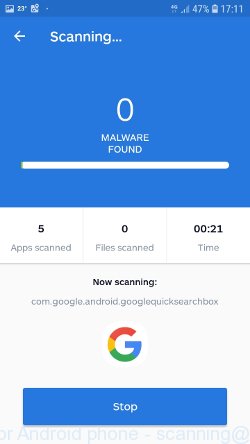 When the scan is completed, Malwarebytes will report the detected viruses and in case of detection of malicious programs, offer to remove them. Just follow the prompts.
To use Malwarebytes for Android, you do not need to buy a premium (paid) version of the app. The first 30 days you can use all the features of this antivirus completely for free, and after 30 days, the device's auto-protection will be turned off, but you can continue to use Malwarebytes for Android to check your phone for malware and remove it in case of detection.
Reset Android browser
Adware and other malware can change the Android settings. But most often malicious software makes changes to the browser settings, modifying the home page or search engine. Therefore it is very important, after scanning the Android device with antivirus software, also check the browser settings and restore its normal values.
Start the browser. Click on the icon in the form of three points, which is located in the right corner of your phone. In the menu that opens, select Settings.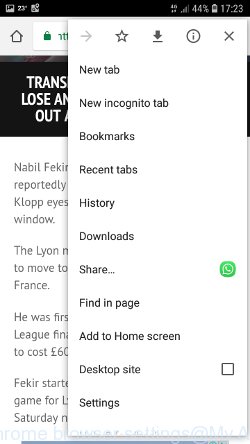 You will see a list of browser settings. Find the "Search Engine" option and click on it. In the window that opens, select Google.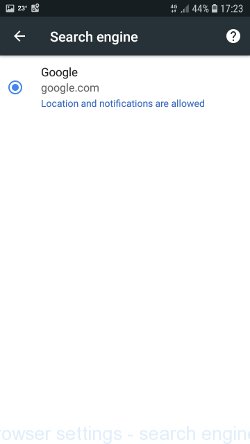 Go back to the list of browser settings. Now click "Home page". Check that the switch is in the ON position. If necessary, move it to this position. Then click on the line below, which says "Open this page". In the window that opens, enter the address of your home page or the line "about:blank" (without quotes). In this case, the blank page will be used as the homepage.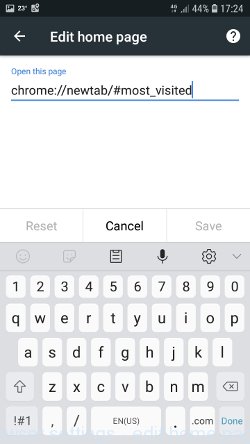 In addition to the above, it is also recommended to clear data that was saved by the browser while the phone was infected. To do this, in the list of settings, find the Privacy item and click it. Scroll the page to the bottom until you find "Clear browsing data", press it. You will see the window as shown in the figure below.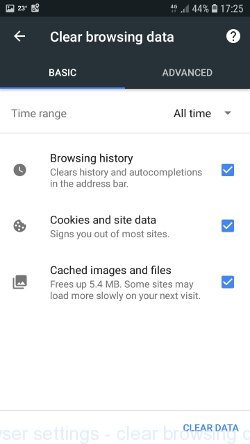 In the "Time range", select the time period that covers the period when your Android phone was infected with malware, then click "CLEAR DATA" button. During this procedure, your Google account will not be deleted, passwords, bookmarks and other personal information will be saved.
Reset Android phone (Factory Data Reset)
If nothing of the above is helpful and you failed to get rid of Lnkshort.ru Whatsapp Scam pop-ups manually or using antivirus software, then most likely the malware can only be removed by resetting the phone.
In order to reset Android phone, and thus remove scam pop-ups, do the following. Open Phone Settings, scroll down to General management. Click it. You will see a window similar to the one shown in the pictures below.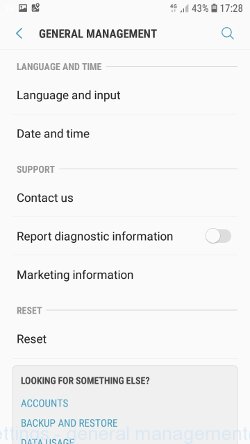 Find the "Reset" option and click on it. You will see a list of possible ways to reset the phone settings, select the "Factory Data Reset" option.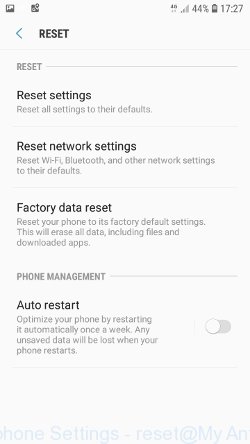 Click "Factory Data Reset" button. ATTENTION! All your personal data from the phone's internal memory will be deleted, all phone settings will be restored to their original state. The internal memory of the phone will be TOTALLY cleared.
Report Lnkshort.ru Scam
If you receive a scam message that is similar but not the same as the example above, make sure you remove any personal info in this message, then post it as comment on this article. This helps us to warn users about current scams, monitor trends and disrupt scams where possible.